Cult Beauty: 20 Buys Your Make-Up Bag Shouldn't Be Without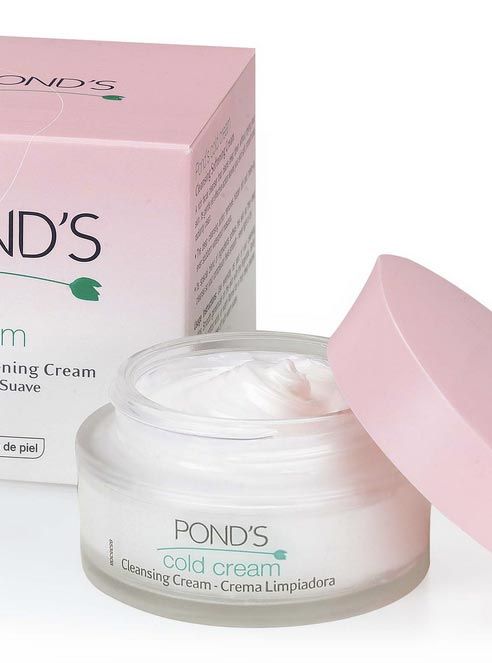 These cult beauty buys will never let you down...
Pond's Cold Cream, £3.29
This hard-working day and night cream will hydrate, nourish and clear your skin. A secret weapon for sorting out problem-prone skin and adult acne in a hurry, Pond's Cold Cream has been widely praised for its soothing and repairing properties. And that's not gone unnoticed by the A-listers.
Kylie Minogue has been using the cream for years. She told the Daily Mail, "It's all I really use to look after my skin. It's such an old classic.
"My mum uses it and it really does work. It's made such a difference."
The Cure-all Face And Body Moisturiser
This £3.89 blue pot is the very definition of a cult beauty product. Spanning generations, the cold cream has been used by our grandmother's mothers, and it's just as brilliant now. Joanna Lumley is one gorgeous lady who swears by the product, admitting that it's "Cheap as chips - adore!" The cream can be used to replenish and revive skin just about anywhere on your body, and is guaranteed to leave you with smooth and polished skin. Simply apply to skin, gentle wipe off with a wet cloth, rinse, and bask in the feel of your baby-soft skin. What could be easier? BUY Astral Cold Cream from Superdrug for just £3.89
The Award-Winning Beauty Buy
Elemis Pro-Collagen Marine Cream, £40 If you're looking to overhaul your beauty bag, cult beauty buys are the best products to invest in. Hundreds of new products come out every year, but only some make the 'Hall of Fame' - the all-time beauty favourites, as voted for by you and our panel of judges in this year's Best in Beauty Awards. From skin creams that can make you feel new again to the perfume that can give you a confidence boost with just one spritz, every woman needs those beauty products that she can turn to on days when getting ready seems like a struggle. Forget bargain buys that just about do the job - you need a reliable go-to that will make you feel fabulous in an instant! This year's Best in Beauty Awards judging panel includes Ruth Newman (Director of Beauty at House of Fraser), Jo GB (w&h Beauty Director), Mary Greenwell (A-list make-up artist), Sam McKnight (celebrity hairstylist) and more. And not to forget you - our woman&home readers, who voted in an online survey for the following buys - the very best of the best! So who did you choose as the ultimate winners in our Hall of Fame? Click through to find out, then start shopping for a new you today!
The Beauty Groomer
OPI chick flick cherry nail polish, £11.95 'Fantastic colours, won't chip and constantly being updated.' '
The Moisturiser
Clinique Dramatically Different Moisturising Loti 'It makes your face feel relaxed, refreshed and happy!'
The Beauty Secret
YSL Touche Eclat, £25 'The perfect treatment for tired eyes.'
The Beauty Soother
Elizabeth Arden Eight Hour Cream Skin Protectant, £26 'Loved by my mum and me.'
The Skin Reviver
Liz Earle Cleanse & Polish, £14 'I don't know anyone who hasn't been amazed by it.'
Best-Loved Icon
No7 Protect & Perfect Intense Advanced Serum, £24 'I use this every day; luxurious yet amazingly priced.'
The Fragrance
Chanel No5 Eau de Parfum, £65 for 50 ml 'It's ageless and beautiful.'
The Hair Saviour
Batiste Dry Shampoo Tropical 200ml, £2.99 from Boots 'Great when your hair needs an emergency fix.'
The Style Setter
L'Oreal Elnett Satin Hairspray, £3.79 'Works for me - it does the job but brushes out easily too.'
The Beauty Bargain
Vaseline Lip Therapy Petroleum Jelly Original, £2.03 'Great for softening lips, dry skin and as a gloss.'
The Beauty Serum
Estee Lauder Advanced Night Repair Synchronized Recovery Complex II, £69 'Sleep in a bottle!'
Beauty Heroes: Fragrance
Chanel Coco Mademoiselle Eau de Parfum, 100ml, £96 Oriental-fresh, a floral jasmine-rose scent, as light as a petal...no wonder it received the most number of votes!
Hottest Lips
Estee Lauder Pure Color Envy Sculpting Lipstick, £24 Transforms your look and attitude. Saturates lips with high-intensity colour - in one stroke.
Skincare Saviour
Clarins Double Serum, £69 The two-phase system targets all aspects of skin ageing in one complex concentrate.
Complexion Perfector
Clinique Beyond Perfecting Foundation + Concealer, £25 A natural, perfected look that lasts all day - colour stays true.
Pick For Him
Clarins Revitalizing Gel, £33 A lightweight face gel that gives skin an energising boost. It smoothes fine lines and provides hydration to give a healthy glow.
Perfect Mascara
Benefit Roller Lash, £19.50 The eye-opening Hook 'n' Roll brush separated, lifts and curls. The formula holds for 12 hours!