23 best sex toys to help you reach a mind-blowing orgasm in no time
We've got the expert take on the best sex toys for every skill level and budget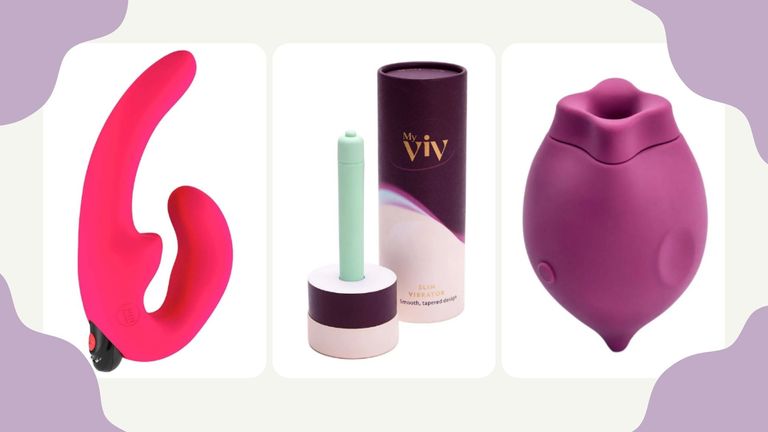 (Image credit: Fun Factory/ My Viv/ Smile Makers)
The best sex toys are the ultimate self-care investment and when it comes to our sexual pleasure, we all have unique preferences. However, not all sex toys are created equal. There are some brands, styles and technologies that pop up again and again as frontrunners, and the likes of We-Vibe, LELO, and Lovehoney are just some of the top picks.
But with so many developments in sextech and femtech in recent years, the pleasure sector has seen a boom in innovation and there are some incredible new designs and brands worth getting excited about. With sleek aesthetics, high-tech extras, and pleasure-enhancing features like gentle suction and stimulating textures, sex toys have entered a new era.
Finding the best sex toy for you, your needs and your body can be a total game-changer when it comes to enhancing your solo and partnered sex life. Whether you're opting for one of the best rabbit vibrators, one of the best app-controlled vibrators for long-distance connection or looking for the best bullet vibrators, we've ranked our favourites according to their best features.
How we tested and selected the best sex toys
We spoke with experts to determine the 27 best toys available for beginners, for the more practiced, solo sex and partnered sex. Not to mention the best budget sex toys, high-end thrills, innovative sextech, hands-free and miniature devices. As well as seeking expert advice, we tested the sex toys using our matrix of key factors to consider.
When considering the best sex toys we considered:
Shape and size—ergonomics and accessibility are potentially the most significant points of consideration when it comes to pleasure devices. When a toy is created with a particular use, scenario or body in mind, it makes all the difference.
Design—from weight and hand-feel to texture, handles, and the spacing of buttons, the design of the very best sex toys is what makes them elite.
Number and strength of functions—secret functions and hidden features can add that special something to a sex toy. Powerful vibrations and robotic movements, as well as speeds and patterns, when applied in isolation or blended, can take your experiences to new and thrilling heights and help you to learn what works best for you.
Battery life—if you've ever been seconds away from orgasm and had your vibrator die, you'll know how significant battery life can be. Charging type and time also factors into this.
Appearance—today we're fortunate that what's available to us not only feels good but looks good, too. The aesthetic of the sex industry is catered far more to women than it ever has been before—and we have female entrepreneurs to thank for that. Gone are the days in which the only devices on offer would be packaged in a garish box with a terrible pun stamped across the front.
Sustainability—much like everything we shop for, where and how our sex toys are made and by whom matters. We take materials, packaging and the ripple effect of buying a toy into account when we assess its star quality.
The best sex toys as chosen by our experts
1. The Curvy 1+ by Satisfyer
Best for a clitoral orgasm
Specifications
Dimensions: 12 x 7.5 x 19 cm; 143.8 Grams
With vibration: Yes
Waterproof: Yes
Charging: Magnetic USB
Materials: ABS plastic, Silicone
Compatible with app: Yes
Battery life: 8 hours
Functions: 11 vibrations and 11 pressure waves
RRP: $49.95 / £44.95
Reasons to buy
+
Offers air suction and vibrations
+
Ergonomic and easy to hold
+
Wider suction point
+
Connects to Satisfyer app
+
Very quiet
Reasons to avoid
-
Not ideal for pinpoint stimulation
-
Gentler suction than other toys
According to a 2016 study from the Archives of Sexual Behavior, just over 18% of women in the US reported orgasming from penetration alone. We know clitoral stimulation really matters when it comes to female pleasure so suction toys have really had a moment in the last few years. The Curvy 1+ by Satisfyer is a great example of how pleasure brands have innovated in line with consumer demand, offering different styles and sizes to suit different body types.
Winner of 287 international design awards, this powerful little suction toy uses air pressure technology to provide focused stimulation. This particular edition boasts a range of functions for vibration as well as air pressure, from gentle buzzing to deep rumbling, and offers a larger suction nozzle than other devices of this type. This is great for anyone who prefers a broader area of the vulva to be stimulated, rather than a highly focused—direct clitoral stimulation to the glans can be uncomfortable for some.
The clitoris glans is the small nub that can be seen at the top of the vulva, but the clitoral bulbs along with the crus and corpus, which make up the long trailing legs of the organ, wrap around the entire vulva so stimulating different areas can produce varied sensations that lead to a clitoral orgasm. There's no one way to achieve this so do whatever feels good for you.
For those who might feel sensitivity or even discomfort from pinpointed stimulation, the wider nozzle is a winner. With a suction toy like this, it's always a good idea to test the strength of suction on the underside of your arm before applying directly to your vulva. This toy is great for a slow build, offering gentle air pressure that increases with the addition of vibrations for mixed stimulation.
If you find pressing buttons to increase power and speed distracting, this device comes with the added benefit of an app. The Satisfyer Connect app has four main screens, Close Range, Remote Partner, Community Share, and Alarms. Depending on how brave you're feeling, you can either hand control over to a partner, set functions for yourself, or give up control to a stranger using the app. However, our favorite mode is Music Vibes. Connect the toy to Spotify and have it function in sync with your favorite playlist. Then lie back and enjoy the various pulses and vibrations in time with your sexiest jams.
2. The Ina Wave by LELO
Best toy for a g-spot orgasm
Specifications
Dimensions: 2.3 x 7.6 inches / 2.36 x 7.69 inches
With vibration: Yes
Waterproof: Yes
Charging: USB jack cord
Materials: Body-safe silicone
Compatible with app: No
Battery life: 2 hours
Functions: 10 vibrations and 10 movements
RRP: $179.99 / £149.99
Reasons to buy
+
Clitoral and g-spot stimulation
+
Internal movement
+
Ergonomic and easy to hold
Reasons to avoid
-
Too intense for some
-
Noisy
A g-spot orgasm is not always the easiest to achieve as it requires a particular combination of angle, depth, and motion. At least that was the case before toys like the Ina Wave hit the scene. This smooth silicone device by luxury pleasure brand LELO looks like a classic rabbit but doesn't behave like one. With a rounded shaft and a smaller arm for clitoral stimulation, both arms move independently with added functions for vibration.
"The sensation that the Ina Wave offers is completely unique due to its WaveMotion technology, and with 10 vibration and wave settings, there are lots of options to choose from, meaning it can take a little time to discover what works best for you and your body. For that reason, I often recommend the Ina Wave for the more experienced sex toy user," says Ellen, founder of intimate lifestyle store Ellen Terrie. The rounded shaft, once inserted into the vagina, curves up and round to put pressure on the vaginal wall where the g-spot is located. It then mimics a 'come hither' motion while the clitoral arm moves independently for stimulation in both areas. Finding the right combination of settings can move you to achieve incredible blended orgasms in record time.
However, this toy does feel a little robotic. It's been created to do a job and it will get that job done. The mechanism is loud and mechanical and it does feel a little like your vagina is being gripped by an efficient orgasm robot. This may be a little too intense for some, or the feeling might be strange or inauthentic. But it must be said, LELO has really excelled in function with the Ina Wave. "WaveMotion is Lelo's very own technology replicating the caress of a partner's fingers," says Ellen. "Also, unlike the best rabbit vibrators, the internal arm is flexible and angled at 30 degrees, while the external arm is also flexible and curved, ensuring that the Ina Wave complements all body shapes and hits all your pleasure points with perfect aim."
Use plenty of the lube with this toy (our guide to the best lube might be useful here). Its design means the broad curved shaft is perfect for hitting all the right spots inside the vagina, however, unlike other rabbit vibrators the tip isn't a tapered penis replica. Make sure you are relaxed when inserting it and keep it turned off until it's fully inside the vagina to avoid the movement of the shaft putting pressure anywhere uncomfortable on entry. Once it's in position, experiment with the settings and let this little robot do its thing.
3. The Billionaire by Smile Makers
Best sex toy for beginners
Specifications
Dimensions: 5.6 x 1.3 x 1.3 inches
With vibration: Yes
Waterproof: Yes
Charging: 1 x AA battery
Materials: Body-safe silicone
Compatible with app: No
Battery life: 4 hours
Functions: 4 speeds and 2 vibrations
RRP : $60 / £44.95
Reasons to buy
+
Super silent
+
Internal and external use
+
Optimized rotational diameter
+
Good size for beginners
Reasons to avoid
-
Limited functions
-
Firm and not flexible
If you've never used a sex toy before and aren't sure where to start, it's always best to begin with a high-quality device with only a few functions. The Billionaire by Smile Makers is just that. Created by a female entrepreneur who sought to refresh the sex toy market with beautiful designs and shapes crafted to compliment the body, The Billionaire is just one of a collection of good-looking silicone toys with great battery life. Smile Makers toys are cool, colorful, and design-led. There's nothing too complex or intimidating about them. In fact, they look a little like stylish design objects that certainly wouldn't look out of place on a bookshelf or a nightstand.
The Billionaire is an upgrade from The Millionaire—the previous iteration of this toy. The creators took user feedback on board and made the device slightly larger, weightier, and more powerful. However, The Billionaire is still the perfect entry-level toy. Slim, and smooth with a simple function button at the base, it's easy to use and easy to clean (check out our guide to how to clean sex toys if you're unsure).
The smooth club shape means you can experiment with rolling, pressing, or dragging it across your vulva or other erogenous zones. If you're inserting this toy for the first time, use plenty of water-based skin-safe lube and take your time as it is pretty firm. Using slow circular motions around the entrance to the vagina and stimulating the clitoral nerve endings within the first third of the vaginal canal is a good place to start. But if penetration isn't for you, use The Billionaire to tease and stimulate your vulva and inner thighs, nipples, and neck for varied sensations.
4. The Tentacle from Lovehoney
Best glass sex toy
Specifications
Dimensions: 4.5 x 4.5 x 6 inches
With vibration: No
Waterproof: Yes
Charging: N/A
Materials: Glass
Compatible with app: No
Battery life: N/A
Functions: Manual
RRP: $44.99 / £34.99
Reasons to buy
+
Stimulating textures
+
Easy to clean
+
Loop makes it easy to hold
+
Can be used either way up
Reasons to avoid
-
Could be bigger and longer
-
Uncomfortable for some
Experimenting with new textures and weights can be great, especially if you're a more seasoned sex toy user. If you're not so experienced, don't be put off. The Tentacle is a personal massage toy with a range of bumps, lumps, and varying thicknesses to caress the inside of your vaginal canal and the vaginal wall. It was an unexpected hit in plenty of trials, and you'll be seeing tentacle toys everywhere soon.
A glass toy is very different in function from a silicone toy or a dildo, for example. There's zero flexibility, so the motion required is quite different. With a glass toy, pressure, massage, and slow purposeful movements are a must. The Tentacle can be used in pressing or sweeping motions, to lightly nudge the cervix for more intense sensations, or in a scooping motion to produce g-spot orgasms. You might also want to simply hold it inside your vagina and experiment with kegel exercises and pelvic squeezes for a pleasurable sensation. Adding clitoral stimulation while doing this can feel great. And of course, being glass, it's totally waterproof so suitable for bathtub or shower fun.
This toy is also known as a 'squirter' due to its particular shape and its ability to prompt female ejaculation—but don't believe everything you see in porn. Lots of people with vaginas can squirt, but equally, lots of people can't. This toy is a great way to train yourself to relax when certain pressures are applied inside the vaginal canal and in some circumstances, this can cause squirting, but don't be disappointed if this doesn't happen for you.
If you're into temperature play, you can also experiment with keeping The Tentacle in the freezer before you use it. The cold sensation of the chilled glass against your skin can make sensations much more intense. Just be sure to sterilize it thoroughly before and after use with vagina-friendly products.
5. LELO Smart Wand 2
Best body wand sex toy
Specifications
Dimensions: 304mm
With vibration: Yes
Waterproof: Yes
Charging: USB
Materials: Body-safe silicone
Compatible with app: No
Battery life: No limit
Functions: 10 settings
RRP: $140 / £101
Reasons to buy
+
Rolls and rumbles instead of buzzing
+
Can be used over the whole body
+
Steady, fluid speed increase
It's the best body wand vibrator, and for good reason. This ultra-powerful sex toy will provide endless fun for you and your partner. The stylish toy is available in black, dark pink, and aqua with a sleek gold handle that makes it easy to hold. The wand can be used to massage any area of the body pretty effectively and can take partnered sex to new heights. A gender-neutral toy with an endless list of applications, this is a great option for exploring your or your partner's erogenous zones, making it a great all-rounder.
The soft silicone material is body-safe, with an extra-long shaft making self-pleasure easier than ever. There are 10 super-intense vibrator settings and you can easily tell the difference between each of the settings. It's charged using a USB cable and has around four hours of battery life. While it rumbles rather than buzzes, it can still be quite noisy—so keep this in mind if you live with other people!
Use it during penetrative sex or slowly tease your partner's body with deep rumbles for hours at a time during slow and sensual tantric sex. If you're looking for a high-powered wand vibrator that never gives up, this is your best option.
6. The Vesper from CRAVE
Best premium sex toy
Specifications
Dimensions: 3.8 x 0.5 inches, chain length 26 inches
With vibration: Yes
Waterproof: Yes
Charging: USB
Materials: Stainless steel, 24K gold
Compatible with app: No
Battery life: 40 minutes
Functions: Four speeds
RRP: $84 / £65
Reasons to buy
+
Discreet in appearance
+
Wearable with included neck chain
+
Stylish as available in two colors of choice
The Vesper is now so iconic that it's not exactly the 'vibrator in disguise' it once was. This sleek wearable toy is a slim stainless steel bullet vibrator finished in 24K gold. Waterproof with four speeds and USB chargeable, this really is the crème de la crème of vibrators. The aesthetic says high-end and delicate, but this little bullet is surprisingly powerful. Lightweight and basically the perfect accompaniment to any outfit, the Vesper really shows how far sextech has come and how far it could still go.
"I can admit to wearing mine in front of my in-laws," says Ellen of Ellen Terrie. "Bold move, I know. But I love how it sparked some honest conversation about sex, pleasure, and the development of sex tech in recent years. There has been and still is shame and stigma associated with feminine pleasure, and the Vesper helps to make the experience of pleasure more accessible and approachable. You can leave it out on your nightstand and enjoy it being a part of your everyday life, which is a big step forward in the world of sex toys."
The Vesper has the added benefit of stimulating your mind as well as your body. Just wearing one is an exciting activity that can get you in the mood and set the tone. It can be layered with other pieces of jewelry and dressed up or down. High-grade gold makes this device skin safe, plus it quickly warms to your skin's temperature.
A special piece of sextech that represents liberation and luxe style in equal measure, The Vesper is perfect as a gift to yourself or your play partner.
7. The EVA II by Dame
Best hands-free sex toy
Specifications
Dimensions: 1.3 (2.4 inches with wings) x 1.7 inches x 1.1 inches
With vibration: Yes
Waterproof: Yes
Charging: Inductive charging case
Materials: Body-safe silicone
Compatible with app: No
Battery life: 1 hour
Functions: 3 speeds
RRP : $135 / £135
Reasons to buy
+
Hands-free wearable
+
Small and easy to use
+
Innovative ergonomic design
Reasons to avoid
-
Not suitable for those without a vulva
At first glance, the EVA II might not look like a sex toy but that's because this little wearable is unique in its design. Two small arms hook over the outer labia allowing hands-free clitoral orgasms. The main body of this small toy stays fixed over the clitoris, leaving you free to touch yourself or your partner, to add penetration, or to simply sit back and relax.
Made from smooth silicone with three intensity levels controlled by a small button on top of the device, the EVA II has a battery life of five hours—unless you're running it on the highest setting, then it may only last an hour. Sexologist Alexandra Fine and engineer Janet Lieberman of Dame developed this toy with practical pleasure in mind so it's waterproof and comes with a neat little charging case too.
"I think the real magic of Eva is in the thoughtful engineering. Holding a toy in place can sometimes be distracting and even counterproductive, but a hands-free toy can leave your hands free to support your weight, move around, use another toy at the same time, and focus on intimacy and pleasure. You can literally just leave it there to do its thing." says Ellen Terrie.
Dame toys are engineered according to testing by Dame Labs—a community of more than 10K real humans. The brand tests every detail with real people to ensure they're providing actual solutions. The Dame team comprises a wide range of ages, genders, ethnicities, backgrounds, and lifestyles. Helping them to develop products that address the needs of as many humans as possible, the team makes sexual wellness and pleasure far more accessible.
Due to its unique shape, the EVA II may take a little maneuvering the first time you use it. But once you have it comfortably in place, it can take solo or partnered sex to new heights. Providing consistent stimulation to the clitoris while the small arms hold it in place.
8. The Pivot by We-Vibe
Best toy for heterosexual couples
Specifications
Dimensions: 1.2 x 2.7 inches
With vibration: Yes
Waterproof: Yes
Charging: USB cord
Materials: Body-safe silicone
Compatible with app: Yes
Battery life: 2 hours
Functions: 11 vibrations and pulses
RRP: $109 / £79
Reasons to buy
+
Can be controlled with the app
+
Hands-free clitoral stimulation
+
Slight stretch to accommodate shaft size
Reasons to avoid
-
Requires skin-to-skin to maintain clitoral contact so not ideal for some positions and moves
A king among penis rings, the Pivot is a multi-function ring-shaped vibrator ideal for penetrative sex making is a favorite among hetero couples. A waterproof ring worn around the base of the penis during penetration, the Pivot is great for sex in the shower. It offers stimulation to the vulva and clitoris and the penis and testicles so it's pretty all-encompassing for a small device. It makes a great addition to oral sex and takes stimulation with hands to a new level. If you happen to be having sex with a strap-on and harness, adding the Pivot to your dildo makes it easy to boost the receiver's pleasure.
The Pivot also offers long-distance options with the free We-Connect app. The wearer and their partner can experiment with controlling the functions of the toy through their phones from separate locations. With 11 vibration modes and two-hour battery life, it's safe to say that any distance between you and your partner ceases to be much of an issue when this toy is involved.
However, when it comes to sex IRL, a particular level of closeness is required. Due to the position of the ring around the shaft of the penis, in order to maintain clitoral contact, close, deep penetration with both partners facing one another is needed. For anal sex, the wearer can enjoy the sensation of the Pivot while the receiver can achieve clitoral stimulation with another toy or their hands.
9. The ShareVibe by Fun Factory
Best toy for lesbian couples
Specifications
Dimensions: 5 x 1.5 inches (larger shaft) 3.5 x 1.6 inches (smaller)
With vibration: Yes
Waterproof: Yes
Charging: USB cord
Materials: Body-safe silicone
Compatible with app: No
Battery life: 2 hours
Functions: 5 speeds
RRP: $129.99 / £99.95
Reasons to buy
+
Quiet vibrations
+
Removable bullet vibrator
+
Allows dual penetration
Reasons to avoid
-
Not ideal for standing sex
The ShareVibe is a vibrating double dildo for close skin-on-skin sex. Mimicking strap-on style intimacy without the need for a harness, this toy is ideal for penetrative lesbian sex positions or pegging. The wearer is able to control the motion, depth, and intensity of this device thanks to a smaller, egg-shaped end worn inside and gripped using the pelvic floor muscles.
Featuring five functions and a rechargeable bullet vibrator that is inserted in the base and can be removed for easy cleaning, ShareVibe is made out of soft body-safe silicone and packs powerful vibrations. However, if you prefer to use this device without the addition of internal vibrations, you can do away with the additional functions and focus on manual stimulation.
Combining vibration and penetration for both partners, this toy offers closeness, intensity, and simultaneous blended orgasms.
The shape of the toy means that a range of positions is possible, but that you'll have to maintain skin-on-skin contact with your partner. "While strapless dildos are best for close, intimate moves with your partner, if you are wanting wilder moves, consider using a dildo in a harness," say the experts at Sh! Sex store for women.
10. The Curved 7 Inch by Lovehoney
Best dildo
Specifications
Dimensions: 7 x 4.75 inches
With vibration: No
Waterproof: Yes
Materials: Body-safe silicone
Compatible with app: No
Battery life: N/A
Functions: Manual
RRP: $26.99 / £22.99
Reasons to buy
+
Suction cup for hands-free use
+
Curved shaft
+
Tapered tip
Selecting the best dildo on the market is no easy task. With so many shapes, sizes, textures, and features, the definition of the best dildo is essentially the greatest crowd-pleaser. For this reason, the Curved 7 Inch is a winner, offering every feature you might need with a smooth silicone finish.
The head of this dildo is semi-realistic which makes it ideal for stimulation but the tapered shape means it's never too difficult to insert or remove. The flared base mimics the slight widening at the base of a penis and also allows for a suction feature, meaning you can stick this toy to a wall or the side of a bathtub for hands-free fun.
Ideal for intimate massage with a 1.5-inch diameter, the slight curve mimics the natural curve of the vaginal canal making this toy ideal for G-spot orgasms. The best position for achieving this is a seated kneel, using plenty of lube. If you're able to use the suction cup on the base to secure the dildo, even better, as your hands will be free to stimulate your clitoris. Experiment with leaning backward and forward for different sensations against the vaginal walls.
The Curved 7 Inch is also harness-compatible so can be used for strap-on sex too. Then there's the hollow section in the base. This improves versatility by creating a space for a bullet vibrator, meaning you can transform a standard dildo into a vibrator in an instant. Use plenty of water-based lube and experiment solo or with your partner.
11. The DiGiT by Hot Octopuss
Best mini sex toy and best inclusive sex toy
Specifications
Dimensions: 3.4 x 1.8 x 1.2 inches
With vibration: Yes
Waterproof: Yes
Charging: USB cord
Materials: Body-safe silicone
Compatible with app: No
Battery life: 40 minutes
Functions: 5 speeds and 5 vibrations
RRP: $69.95 / £55.95
Reasons to buy
+
Finger loop for easy use
+
Accessible ergonomic design
+
Intense vibrations
Reasons to avoid
-
Wider round tip does not offer highly pinpointed stimulation
The DiGiT looks a little different from other sex toys, but don't let it deceive you. This device is a small but mighty toy created as an extension of the wearer's hand. Curving to the contour of your fingers, it's discreet, elegant and it packs a punch when it comes to delivering an amazing orgasm.
"For me, finger rings are by far the best because not only can you enjoy the toy whilst not having to worry about holding it in position as much as standard bullet vibe, they're also great for some of our disabled customers too," says Kelly Gordon of Hot Octopuss. "People with limited or restricted dexterity are able to clip the ring to their hand and it takes all the worry of holding the toy away. The DiGiT is also great for clitoral stimulation during partnered sex and is waterproof so can be enjoyed in the bath, shower, or hot tub."
"It's important for us that we are inclusive, whether that be in our toy design, manufacturing process, or our marketing campaigns as we believe pleasure is for everyone and everybody," she continues. "Inclusivity has always been at the root of everything we do and is a huge part of our brand. We're working tirelessly to ensure that the orgasm gap is closed and that everyone can experience their own version of pleasure, whatever that looks like."
An elevated bullet vibrator offering multiple speeds and functions as well as the finger ring, the small tapered shape of The DiGiT is great for targeted clitoral stimulation. It can also be rolled or pressed on any area of the body such as nipples and inner thighs to heat things up. A nifty toy that's super easy to use.
12. The Slim Vibrator by My Viv
Best budget sex toy
Specifications
Dimensions: 5 inches x 0.6 inches
With vibration: Yes
Waterproof: Yes
Charging : 2 x AAA batteries
Materials: Body-safe silicone
Compatible with app: No
Battery life: 1 hour
Functions: 3 speeds 7 pulses
RRP: $21 / £18
Reasons to buy
+
Ideal for vaginismus sufferers
+
10% to Breast Cancer Now charity
+
Can be used all over the body
+
Affordable
Sleek, beautifully designed, and affordable, the Slim Vibrator by My Viv is ideal for shoppers on a budget. Its slim shape makes it incredibly versatile and accessible, especially for those who experience pelvic floor issues like pain during sex or vaginismus. In fact, using pressure and vibration just inside the entrance to the vagina can help with relaxing the pelvic muscles and increasing pleasure sensations. With three speeds and seven pulse settings, the Slim Vibrator can be used all over the body, for targeted clitoral stimulation and, with a length of five inches, for a comfortable internal massage.
The Slim Vibrator is battery powered so a simple button on one end controls both the speeds and pulse settings. This makes it easy to step things up a notch and ensures the device has a longer battery life than most affordable toys. The smooth tapered tip also makes pinpointed stimulation very easy allowing you to experiment with manual pressure.
The Slim Vibrator also makes a great introduction to sex toys, particularly if the likes of devices like The Billionaire by Smile Makers are a little too costly. Use sweeping motions and slow circular moves around the vulva and the entrance to the vagina to stimulate the clitoral nerve endings and get used to the sensation of a vibrating toy.
13. The Magic Wand from ohhcean by Sinful
Best for sustainable materials
Specifications
Dimensions: 9.4 x 1.7 inches
With vibration: Yes
Waterproof: Yes
Charging: USB
Materials: Recyled ocean plastic
Compatible with app: No
Battery life: 1 hour
Functions: 7 vibration types
RRP: £64.99
Reasons to buy
+
Made from sustainable materials
+
Lightweight
+
Waterproof
+
Powerful vibrations
Reasons to avoid
-
Only available to buy in UK and Europe
Very light, very flexible but surprisingly powerful, the Magic Wand by ohhcean represents the future of sex toys. Made with upcycled ocean-bound plastic, all ohhcean products are manufactured in collaboration with #tide, one of the world's leading organisations in the field of upcycling and recycling of ocean-bound plastics. With so many sex toys made from plastics and silicones, it's promising to see a new strain of products using body-safe sustainable materials and working with sustainable initiatives.
The Magic Wand is very flexible, offering seven vibration modes. Fully waterproof and rechargeable via the included USB cable, the battery life is approximately an hour, but when fully charged, you may get two out of it. Due to its lightness and 24cm length, this wand vibrator makes an ideal accessible sex toy. Measuring up around a medium size compared to say an aluminium Doxy wand or a mini LELO smart wand, the ohhcean wand can make for a great travel companion too.
The wand can be used all over the body, delivering powerful but relatively quiet vibrations at high speed. This isn't the wand for deep rumbly vibes and the head is small and slim so provides more of a pinpointed sensation that other wands, but it does pack a punch considering its size and weight.
14. The Poet by Smile Makers
Best for authentic oral sex replication
Specifications
Dimensions: 3.3 x 2.3 x 2.3 inches
With vibration: Yes
Waterproof: No
Charging: USB
Materials: Silicone
Compatible with app: No
Battery life: 90 minutes
Functions: 3 interchangeable heads
RRP: $131.40 / £95.20
Reasons to buy
+
Interchangeable mouths
+
Ergonomic shape
+
Both air and vibrations
Smile Makers makes it into this list twice but with two very different toys. The Poet is a relatively new addition to the beloved brand's line up, putting a signature spin on the aesthetics of the pleasure tech scene. Smile Makers is well known for transforming the aesthetic of sex toys, turning them into chic art objects you'd be proud to showcase on your nightstand. Part of this refashioning is down to the desire to create toys that cater to the female gaze but part of the brand's approach to design is ergonomics and accessibility.
Marrying body-friendly ergonomics and authentic sensations akin to real oral sex, The Poet is an air tech device that mimics suction while stimulating with vibration. With three interchangeable mouths to experiment with pinpointed stimulation or a wider area, this toy is made of silky smooth silicone.
The Poet is orb shaped, sitting comfortably in the palm of your hand. With buttons placed perfectly in line with your thumb, finger dips ensure better grip during use. The human hand naturally curls so when relaxed, it can often be challenging for users to hold some vibrators. The Poet fits naturally into the hand making it much easier to grasp – especially in the throes of pleasure when distractions are the last thing you need.
15. The LASKA by Love Not War
Best for customization
Specifications
Dimensions: 6.2 inches
With vibration: Yes
Waterproof: Yes
Charging: USB
Materials: Silicone, recycled aluminium
Compatible with app: No
Battery life: 1 hour
Functions: 4 speeds and patterns
RRP: $90.98 / £69.99
Reasons to buy
+
Sustainable materials and packaging
+
Interchangeable heads
+
Travel size
+
Powerful despite the size
+
USB charging
A new contender on the scene, Love Not War is a sustainable sex toy brand that minimizes waste and makes it easy to switch up your self love routine depending on your mood. With one sleek sustainable handle in a luxe gold finish with multiple interchangeable heads for different uses and body types, Love Not War blends tech, sex and sustainability seamlessly.
We've selected the LASKA head for its two pinpoints for use anywhere on the body, but you can choose between the Laska, Liebe, Miele, Koi, Gra, Amore, Kama heads with your original wand handle. Made from recycled and recyclable materials, including the packaging which includes a canvas storage bag, these vibrators can be used internally and externally, depending on which head you choose.
Ideally, you'd never need to buy another vibrator once you had the entire collection of pieces, however, the slim handle isn't to everyone's taste. Perfect for travelling – due to a travel lock which means it won't go off in your case – this toy is a compact and elegant size with a satisfying weight to it, but some users prefer a lighter or larger toy so this should be a consideration before you make a purchase.
Love Not War also works with One Tree Planted to ensure that for every product sold, a new tree will be planted. They're really thinking of solutions – short term pleasure for you, and long term, creating a better future for you, your community and generations to come.
16. The Lioness
Best for tech lovers
Specifications
Dimensions: 8 x 1.25 inches
With vibration: Yes
Waterproof: Yes
Charging: USB
Materials: Silicone
Compatible with app: No
Battery life: 2 hours
Functions: 100 intensities
RRP: $229
Reasons to buy
+
Biofeedback device with app
+
Classic rabbit shape
Lioness is the first and only smart vibrator and app that uses biofeedback. For some, this is wildly exciting and provides users with the power to track, assess and improve their orgasms, for others, this is another element of distraction that gets in the way of achieving climax.
Built by the creators of the best Femtech apps, Lioness uses built-in sensors and a mobile app to enable you to visualize your arousal and orgasms. The toy itself is a traditional rabbit shape, with a smooth shaft and a separate arm for clitoral stimulation. The idea is to use the toy as you usually would and then take a look at the data gathered by the sensors after your self love session.
The Lioness app will show you where, when and how your body responded to stimulation and what an orgasm looks like for you, if you experience one. If you struggle with climaxing or with maintaining pleasurable sensations, this piece of tech can be a great way to focus, train and reconnect with your sexuality.
17. Joystick Thruster by Lovers
Best for inclusive thrusting technology
Specifications
Dimensions: 5.05 x 3.89 x 2 inches
With vibrations: Yes
Waterproof: Yes
Charging: USB
Materials: Silicone
Compatible with app: No
Battery life: 1 hour
Functions: 10 settings and intensities
RRP: $99
Reasons to buy
+
Slim inclusive design
+
Vibrating base and shaft
+
Flexible
+
Hands free
+
Layered stimulation
If the idea of a toy that thrusts sounds a little intimidating, the Lover Joy Stick Thruster by Lovers is a great starting point. Slim and small with delicate ridges at the tip of the shaft, this clever piece of sex tech comprises a textured base, a thrusting shaft and a remote control.
It's a multi-purpose toy that can be used by any body, regardless of gender and can be used vaginally or anally. However, it is for use internally so if you prefer external stimulation, this might not be the product for you.
The textured base is designed to vibrate against the clitoris or perineum, for dynamic, layered orgasms. A two-speed magnetic impact motor provides targeted, hands-free stimulation and the remote control offers 10 speeds and means you can control the toy yourself or hand over control to a partner.
Made from smooth silicone with a button under the base and buttons on the remote, due to the powerful motor this isn't a silent toy so if you're concerned about anyone else hearing the sound of clicking buttons and a pumping motor, ensure you have a little privacy.
18. Plug Training Set by b-Vibe
Best for butt stuff
Specifications
Dimensions: 9.8 x 2.6 x 5 cm, 13.4 x 3.2 x 6.8 cm, 13.7 x 4.0 x 7.2 cm
With vibration: Yes
Waterproof: Splashproof
Charging: USB
Materials: Silicone
Compatible with app: No
Battery life: 90 minutes
Functions: Weighted, 1 vibration mode
RRP: $159.99
Reasons to buy
+
Beginner's guide included
+
7 part set
+
Three sizes and weights
+
With or without vibration
If experimenting with butt stuff is something you've been considering, diving off the deep end isn't recommended. Luckily, different types of sex and sexual pleasure are being more normalized and widely discussed and education is key when exploring them. Cue b-Vibe and its Anal Training Kit & Education Set. Complete with an inclusive guide book, an enema, a lube launcher and three plugs, this set is the perfect way to begin exploring your back passage.
Anal training is essentially training your anal sphincters to relax when stimulated and experimenting with the pleasurable sensations this causes. The anus has plenty of nerve endings, so anything from stroking to penetrating it can feel nice. However, working your way up from a finger to a small plug and then on to larger toys and your partners' fingers or penis is a process and isn't one that should be rushed.
Sanitation is also important for safety which is where the enema comes in. Too much douching can upset your body's natural microbiome and it's never advised to douche your vagina. However, an anal douche before doing butt stuff will make your experience a lot less messy. Remember, your butt doesn't naturally lubricate itself like a vagina does so always use lube and bear in mind that the best lubes for anal play might not be the same as your usual brand.
Complete with magnetic USB chargers for the vibrating plugs and a travel bag, this neat little set has everything you need to enter the world of anal orgasms. The only thing that may intimidate is the size of the plugs. It can be a jump going from a finger or two to a plug so if the size of the smallest seems too much, opt for a softer or slimmer toy before moving to the smallest plug size.
19. Fifty Shades Flickering Tongue by Lovehoney
Best for gentle stimulation
Specifications
Dimensions: 3 x 4.5 inches
With vibration: Yes
Waterproof: Yes
Charging: USB
Materials: Silicone
Compatible with app: No
Battery life: 180 minutes
Functions: 20 speeds and patterns
RRP: $44.99 / £36.99
Reasons to buy
+
Gentle stimulation
+
Replicates oral sex
Reasons to avoid
-
Too light touch for some
A unique cone-shaped toy with a tapered tip that mimics a flickering tongue, this product from the Fifty Shades of Grey range at Lovehoney delivers a unique sensation. Perfect for those who enjoy a lighter touch, this toy is made from smooth silicone which, with the addition of a little lube, strokes, vibrates and taps any part of your body.
With 20 speeds and patterns, it's possible to really vary the sensation this toy delivers, take your time, experiment with edging and mindful touch and use different kinds of lube to improve the sensation. However, those who enjoy powerful vibes might grow frustrated with the gentle licks the Flickering Tongue offers.
USB rechargeable and fully waterproof with a pretty decent battery life, this toy represents the tamer end of the scale within a huge range of Fifty Shades toys by Lovehoney. But pleasure isn't all about high impact and you certainly don't have to opt for chains and whips to have a good time.
To take things to the next level with this particular toy, try handing it to a partner and incorporating a blindfold. Not knowing where the next flicker will hit lends the light-touch sensations a new dimension.
20. OhMyG by Ioba Toys
Best for deep G-spot stimulation
Specifications
Dimensions: 6 x 3 x 2 inches
With vibration: Yes
Waterproof: No
Charging: USB
Materials: Silicone
Compatible with app: No
Battery life: 1 hour
Functions: 3 speeds
RRP: $169.00
Reasons to buy
+
Pinpointed g-spot stimulation
+
Curved shaft
+
Silent when in use
Reasons to avoid
-
Low battery life
-
Firm shaft
One of many newly developed innovations built to stimulate the g-spot specifically, the OhMyG is a sex toy meant for internal use. Created by Ioba Toys, the large C-shaped shaft has a unique pearl which moves up and down, massaging the g-spot. The g-spot is the soft, spongy area at the front of the vaginal canal, behind the pubic bone.
The OhMyG doesn't vibrate. Instead, it mimics the 'come hither' motion that a partner might use their fingers for, or that you might feel with a very curved toy. The massaging pearl meets your g-spot area and then offers three intensity modes so you can find the pace and position that suits you.
This toy is beloved by many, however, it must be said that for some, the size is off-putting. The large curved shaft is thick and not easy to insert without lube, unless you're already very wet and even then, it can sometimes be a challenge. The shaft is also quite firm with not much flexibility. This of course, is to ensure that the curve follows the shape of the body and the pearl makes contact with the correct area, however, this firmness can feel a little uncomfortable if you're changing positions while using the toy.
G-spot stimulation can be quite intense and while some people enjoy direct pressure on that spot, for others, it can be overwhelming. One thing that helps the user to relax with this one is the distinct lack of rumbly motor noise. The OhMG is virtually silent and packs a punch with no distractions.
21. The Onda by Lora DiCarlo
Best for lifelike stimulation
Specifications
Dimensions: 7.5 x 2 x 2.2 inches
With vibration: Yes
Waterproof: Yes
Charging: USB
Materials: Silicone
Compatible with app: No
Battery life: 1 hour
Functions: 10 intensity modes
RRP: $180 / £170
Reasons to buy
+
Customizable strokes
+
Pinpointed g-spot stimulation
Rather than tapping the g-spot, this micro-robotic sex toy blends vibration with stroking sensations. The Onda replicates human touch with four different stroke positions – long and short – that move on and around the g area.
Onda is shaped to follow the body's internal curves to help you explore and pinpoint your post sensitive and pleasurable areas, so if you've never had a g-spot orgasm, a toy like this will help you to experiment with sensations and intensities. The rhythmic pressure, when applied in a particular way, can cause some people to squirt so a toy like this is also a great way to experiment with whether that's something you want to try or might enjoy doing.
All bodies are different so the come-hither motion in Onda's G-spot Massager utilizes a custom motor and gearbox to provide a motion that offers a full length stroke –which can also be customized for a localized focus to the upper, middle or lower regions of the shaft – in a narrow area for optimal stimulation tailored to you.
Made from smooth silicone with a flared base and handle, the Onda by Lora Dicarlo comes in two colours – a soft sage green and a dreamy mauve purple.
22. The Jackie by Velvet Thruster
Best thrusting toy
Specifications
Dimensions: 7 inches
With vibration: Yes
Waterproof: Splashproof
Charging: Mains charger
Materials: Silicone
Compatible with app: No
Battery life: 6 hours
Functions: 6 speeds
RRP: $249.99 / £192
Reasons to buy
+
Thrusting technology
+
Realistic size
+
Suction cup base for hands-free use
Reasons to avoid
-
Splashproof rather than waterproof
If a thrusting toy is of interest and the Lovers Joystick seems too small, a more realistic-sized option is available. Probably the best thrusting dildo available, the Jackie, is Velvet Thruster's most popular Prime series dildo. A natural penis shape made from soft silicone, this toy uses thrusting technology and vibration for next-level stimulation.
Complete with a suction cup for hands free fun, The Velvet Thruster offers seven inches of insertable length, large-to-average width and an easy entry tip. A powerful motor inspired by aerospace engineering delivers a physical back and forth thrusting motion, while six speeds mean you can mix up the intensity as you experiment.
The Jackie is one of the Prime pre-configured products from Velvet Thruster but you can create your own thrusting dildo using the brand's build option, making a product that's perfect for you and your needs.
We've come a long way from toys that simply look like a phallus. Now we're occupying at an innovative world of sex tech in which orgasms can be mapped, hotspots can be expertly pinpointed and caressed and the likes of the Jackie can provide up to six hours of powerful thrusting action with the addition of rumbling vibrations.
23. Two Good by Toy Projects
Best for dual touch stimulation
Specifications
Dimensions: 3.2 x 1.8 inches
With vibration: Yes
Waterproof: Yes
Charging: USB
Materials: Silicone
Compatible with app: No
Battery life: 2.5 hours
Functions : 5 speeds
RRP: £39
Reasons to buy
+
Waterproof
+
Great for beginners
+
Can be used all over the body
A dual touch bullet vibrator with a smooth ergonomic shape, the Two Good by Toy Projects is another example of form and function meeting seamlessly. With a rabbit-style double-prong head, this massager can be used all over the body, but shines when used to stimulate different areas of your vulva.
Offering deep, rumbling vibrations—despite its compact size—thanks to a powerful Tungsten motor, the Two Good is also very quiet by comparison to other powerful vibes. Made from soft silicone in a pastel pink, it's another toy you wouldn't be embarrassed to leave out on show.
Bath and shower friendly, so fully immersible as well as splash proof, this bullet is a great all-rounder and an ideal option for anyone who is considering buying their first sex toy but isn't sure about penetration. The Two Good can be used externally while delivering powerful sensations that will hopefully lead to powerful orgasms for you and your partner.
How can a sex toy boost pleasure?
"Adding a few sex care tools can certainly support enhancing your sex life but it's not necessary to buy products to improve it," explains Megwyn White, certified clinical sexologist and director of education at sexual wellness brand Satisfyer. "One of the main ways you can upgrade your sex life is by upgrading your own masturbation techniques and routine. I recommend getting to know your body using your own hands to help feel the details of where you like the touch. Sexual wellness devices are then great for adding extra stimulation—think of them as tangible guides to pleasure helping you to tune in become more responsive to sensual touch."
Can a sex toy help relationships?
"Introducing toys with your partner can also enhance communication about how and where you want to be touched, while adding a bit of novelty to your play," explains White. "Some products can also help support couples when challenged with issues of stamina and performance. For instance, c-rings are wonderful tools to help support longer and stronger erections while also enhancing the experience for both partners with vibrations. Similarly, products which excite the clitoris can be incredibly helpful when exploring penetrative sex." She points to a 2017 survey in the journal Archives of Sexual Behavior that found 36% of women require some form of clitoral stimulation to orgasm.
Either way, whether the aim is a mind-blowing orgasm alone or with a partner, research from Rutgers University-Newark shows that masturbation is good for the body and that sex toys can elevate experiences to new heights. If used with a partner, toys can be the catalyst for new and refreshing experiences and when used solo, they can be an incredible way to explore and reconnect with your body and sexual identity.
Who makes the best sex toys?
Some of the most recognizable names, like LELO, Womanizer, Lovehoney and Smile Makers, make the best sex toys. But like we said, every body is different, so what one person considers to be the world's best vibrator, might not be the same to the next.
However, there is an index of quality, innovation and consideration for women's health and pleasure that factors in how we select the best sex toys. We know, for example, that certain body-safe materials, such as phylate -free, medical-grade, vegan and cruelty-free silicone are used by certain brands and not by others. We also know that rechargeable high-spec motors and batteries are used in the best vibrators in the world, but that in others, you can use AAA or AA batteries.
In a world where femtech and sex positivity are huge talking points, women all over the world are prioritizing their pleasure and self-care. As a result, sexual wellness categories are some of the most visited areas on many shopping sites and we're seeing new brands pop up every day. All of the contenders on this list, for example, have been carefully selected and many have been created by brands that are only a year or two old.
In order to select a toy that's right for you, consider your personal criteria in terms of the sensations you enjoy, things you'd like to experiment with and how you tend to practice self-touch. Then consider things like materials, sustainability credentials, weight, size, cost and whether the company supports any charity initiatives or supports women's health more broadly. Think about how the object might look on your nightstand, whether you plan on using it with a partner, or solo, whether you have plans to travel with it, the sound it makes and how it charges. Build a collection that suits you and your needs in order to fully embrace your sexual potential.
Emilie Lavinia is a writer, entrepreneur and women's wellbeing advocate. She is passionate about femtech, closing the gender health gap and campaigning for education and transparency across mental, physical and sexual health.