Top Facial Exfoliators To Invigorate Your Skin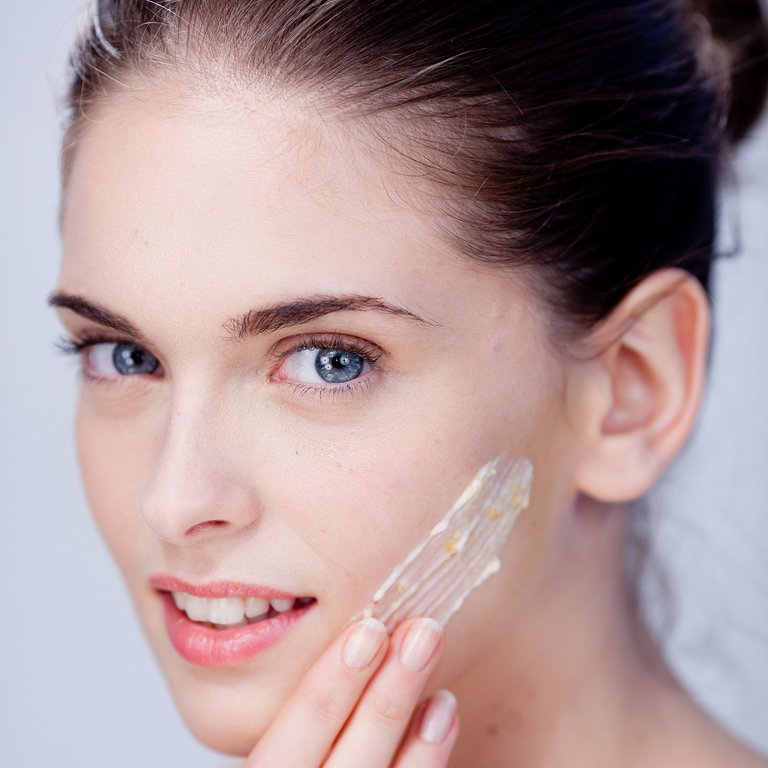 Brighter, clearer skin can be yours for the taking with our beauty editor's pick of the best facial exfoliators
Want gorgeous looking skin? The secret to a flawless complexion starts with a great facial exfoliator. Lavishing your complexion in state-of-the-art cleansers, lotions and creams is all very well, but if your skin is submerged in a build up of blocked pores and dead skin cells, those high-performance potions aren?t going to seep very far beneath the skins surface. Facial exfoliators ensure that your moisturisers, serums and cleansers are able to work their magic by giving them a clear surface to work on.
As well as freeing your skin of troublesome dead cells and excess sebum (natural oils and grease), regular facial exfoliation can reduce fine lines and wrinkles, not to mention giving your pores a chance to breathe which reduces the odds of spontaneous breakouts.
The trick however, is not to get too carried away. Scrubbing too vigorously or using the wrong type of facial exfoliator for your skin type can actually damage your complexion, accentuating red patches and unnecessarily agitating sensitive areas.
Often people with mature or overly oily skin will opt for a heavy duty exfoliator in an effort to tackle the onset of wrinkles and excessively blocked pores head on but this is a common mistake which can make the problem worse and ravage your skin in the process. Instead, opt for a gentle facial exfoliator that will minimise pores and fine lines without irritating the skin.
Surprisingly all skin types regardless of individual concerns can benefit from finer spherical grains crafted from naturally sourced ingredients opposed to the jagged grains found in more chemically enhanced concoctions.
Our beauty experts have tried and tested the very best facial exfoliators on the market to pinpoint exactly the right one for you. So whether you have dry skin, sensitive skin, dull skin or even clear skin, your perfect facial exfoliator awaits...
Kate Somerville ExfoliKate Intensive Exfoliating Treatment, £72
Best for: three times the glow in two minutes This multi-faceted product from the A-List LA facialist combines enzymes and lactic acid with gentle natural exfoliants so you get that satisfying de-flaking feel of a scrub, without the harshness of traditional sandpaper-like exfoliators. W&Hs Assistant Editor Jane Druker is a big fan, calling it a "skin game-changer" Buy Kate Somerville ExfoliKate Intensive Exfoliating Treatment here.
The Ordinary AHA 30% + BHA 2% Peeling Solution
Best for: Dry skin This is a current favourite with our Beauty Editor, and it's scientific formula guarantees a glowing complexion. Essentially, we have dead skin cells collecting on our skin, and if we don't exfoliate, these can build up and leave skin looking dry and dull. But the ingredients in this magic forumla ensures that this will never happen again. This exfoliator contains AHA and BHA, which unclog pores from the inside out. And a while ago, you'd have had to have to gone for a professional peel to get these kind of miracle ingredients, but this dreamy little product means we can get them straight in our bathroom cupboard. And it's easy-peasy to apply - simply pop it on a clean face with your fingers, wait 3-4 minutes, and rinse. Buy The Ordinary AHA 30% + BHA 2% Peeling Solution here.
The Body Shop Muslin Cloth, £2.50
Best for: Ageing skin Cleansing brushes have been the go-to for an exfoliating deep clean for years, but a new method is also proving effective and it's a fraction of the cost; muslin cloths. Kinder than vigorous electronic cleansing tools, they gently remove make-up and buff away dead skin cells to reveal your smooth glowing skin underneath. The best bit, is that you can use them daily rather than waiting a few days between treatments (as is such with some of the more expensive electronic exfoliators) so you'll be wiping away those fine lines in no time. Buy The Body Shop Muslin Cloth here
Frank Body Face Scrub, £15.95
Best for: Scarred Skin Targeting dry skin, uneven complexions and scarring, this groundbreaking exfoliator contains an unbeatable combination of white clay, rosehip oil, plus coconut, almond and grape seed oil. Rich in essential fatty acids, vitamins, antioxidants and high levels of caffeine this exfoliator works to stimulate blood flow, imporove the skin's firmness and reduce redness. Most importantly it scrubs away dry flaky skin, leaving you with a luminous, bright complexion. Also, it smells like your morning latte. Perfect.
Ren Rose Centifolia Gentle Exfoliating Cleanser, £15
Best for: Sensitive skin If you've got sensitive skin, then this gentle exfoliating cleanser is perfect for you. Containing an innovative formula with micro beads of Jojoba, this concoction will remove dirt from your pores and gently exfoliate the skin. It also contains 100% natural Rose Extract Complex that will tone, soften and soothe your face, leaving you with a radiant glow.
Elizabeth Arden Visible Difference, £11.44
Best for: Combination skin Cleaning combination skin can be slightly tricky, but with this magic potion from Elizabeth Arden you can still achieve the perfect balance of hydration. This exfoliator will leave oilier areas well cleansed without overdoing it, and will hydrate the dryer areas of your skin. Find more skincare advice
L'Oreal Revitalift Laser Renew Peeling Lotion, £16.66
Best for: Skin prone to dark spots Concerned about pigmentation and dark spots? A daunting chemical peel doesn't have to be the answer. Revitalift Laser Renew Peeling Lotion contains Glycolic Acid, an key ingredient used in those very peeling treatments administered by professional dermatologists. Designed to be applied to your complexion at night, the weightless formula absorbs quickly accelerating cell renewal whilst you sleep. The high-performance fast acting ingredients can help reduce pigmentation of existing dark spots whilst also preventing new ones from forming. Will you try it?
Aromatherapy Associates Polishing Essential Enzyme Peel, £40
Best for: City skin Dermatologists believe that city dwellers age on average 10 per cent faster than people who live in the country. Higher pollution levels and the busier environment are considered more stressful for our complexions. Aromatherapy Associates Enzyme Peel, is rich in replenishing vitamin E and youth preserving antioxidants. Whipped up with pineapple and grape fruit acids it gently sloughs away dead skin cells, before a drop of carrot oil sinks in beneath the skins surface to help diminish the tell-tale signs of ageing.
Dermalogica Daily Microfoliant, £41.30
Best for: Problem skin With celebrity fans such as Victoria Beckham and Cameron Diaz, the Dermalogica Daily Microfoliant has a great proven track record for fixing problem skin. Gentle enough to use daily, this ultra-fine exfoliator will lift dirt without stripping the skin. Great for oily skin with clogged pores. Find more skincare advice
Korres Wild Rose Peeling Mask, £26
Best for: Uneven Skintone Suffering from troublesome rosacea or dark pigment spots? You need Korres Wild Rose Peeling Mask. Packed with pomegranate enzymes and softening Vitamin C, this lightweight mask sloughs away dead skin cells to minimising fine lines and discolouration. Whipped up with nourishing Hyaluronic Acid and Aloe this pot of pore smoothing cream leaves skin noticeable brighter after just one application.
Clarins Gentle Refiner Exfoliating Cream, £25
Best for: Dull skin Ultra-fine but hard-working, Clarins' Gentle Refiner Exfoliating Cream will refresh and revive dull skin. Great for those with large pores and an uneven skintone, this scrub will refine the texture of your skin to reveal a smooth and flawless base. Find more skincare advice
Clinque 7-Day Scrub Cream, £19
Best for: All skin types Clinique's famous 7-day Scrub Cream is great for all skin types, leaving a soft base to apply make-up. Moisturiser is more easily absorbed and skin looks brighter and more radiant with regular use. Find more skincare advice
Darphin Age-Defying Dermabrasion, £52
Best for: Discoloured skin Turn around discoloured, ageing skin with Darphin's Age-Defying Dermabrasion. Gentle enough for senstive skin, this luxe scrub is still tough enough to act on age spots, large pores and fine lines and wrinkles. Find more skincare advice
Lancome Exfoliance Clarte, £30
Best for: Normal skin If you don't have any specific concerns, a luxe exfoliator like the Lancome Exfoliance Clarte will help you on your way to bright, radiant skin. Using pineapple and papaya extracts, this gentle exfoliator will slough away dead skin cells to leave a soft, fresh and flawless base. Find more skincare advice
Liz Earle Gentle Face Exfoliator, £15.75
Best for: Dry skin Slough away dry skin with Liz Earle's Gentle Face Exfoliator. Using cocoa butter and sweet almond oil to moisturise, skin becomes softer and more even than before. Perfect for summer skin that can become dry and hard to manage. Find more skincare advice
Chantecaille Bamboo and Hibiscus Exfoliating Cream, £73
Best for: Mature skin Renew skin with Chantecaille's Bamboo and Hibiscus Exfoliating Cream. This is our top pick for minimising pores, fine lines and smoothing out the skin to create a flawless base for make-up. The gentle formula won't irritate or cause redness - a must for sensitive, mature skin. Find more skincare advice