Expert tips and buys for frizzy hair - get to the root of frizz once and for all
Frizzy hair problems? These are your solutions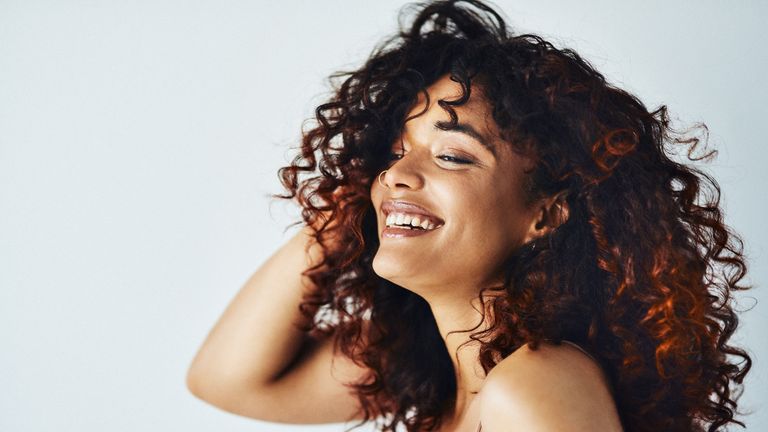 (Image credit: Getty images)
Frizzy hair is a beauty annoyance almost everyone can relate to. Chances are if you've got hair, you've got frizz.
That's not to say those wispy flyaways have to bother you, necessarily. If you live in harmony with the halo above your crowning glory, great stuff. There is nothing inherently bad, unhealthy, or wrong with frizz. So you won't hear me telling you it must be battled or 'tamed' unless that's what you're looking for.
But the thing is, you're here, aren't you? So making the fairly safe presumptive leap that you have landed on this page because you aren't a fan of your frizz and would like to find solutions aside from ironing it into oblivion with the best hair straighteners, welcome!
Whether you have a long hairstyle, short hairstyle, curly, straight, choppy crop, or artfully created box braids, frizz happens to us all. And just as there are many ways in which frizzy hair can manifest, there are also many ways we can go about taking it down a notch.
What causes frizzy hair?
Frizzy hair takes many forms, but all roads lead back to moisture - a lack of it within the hair and plenty of it in the atmosphere, to be precise. Hair that's damaged or dehydrated tends to have roughed-up cuticles (the outer layer of overlapping cells), making them vulnerable to the elements. That's why warm, wet weather equals haywire hair. "Humidity is moisture in the air which causes the hair to swell and become frizzy, wavy, and out of place," explains A-List stylist and Babyliss Ambassador Syd Hayes.
Some hair types are naturally more prone to frizzy hair. Those with fine hair often notice surface-level frizzies and baby hairs around the top of the hairline, with the rest of the hair lying flat underneath. Curly hair is susceptible to frizz at the ends as natural moisturizing oils find it trickier to travel from the scalp to the ends. Straight-haired types with damaged ends, perhaps from balayage hair or other color services, can also experience this fluffy tip phenomenon.
If you have thick, coarse hair that tends towards feeling dry from root to tip, you might have voluminous frizz that can cause the hair to swell up throughout into a candyfloss-like effect. Naturally, any mention of this kind of frizz means it's time to wheel out the example of Monica in that Barbados episode of Friends. No apologies for whipping out this shiny old chestnut of a beauty writing cliché - there's no sense in denying it paints the picture perfectly.
Whatever your hair type, frizz type, and reasons you have it in the first place, the benefit of frizzy being a common hair problem is that we have plenty of universal solutions at our disposal.
The best products and tips for frizzy hair
Long-term solutions for frizzy hair
The bare minimum starting point when fighting frizz is to use a mask once a week and get some hydration back into your hair. Essentially, if dry strands are the back door that frizz creeps into, moisturizing treatments are the double-bolted deadlock that'll keep the wiry old wolf from the door.
Living Proof No Frizz Intense Moisture Mask
Living Proof No Frizz Intense Moisturising Mask really delivers on its promises with a super-nourishing yet silicone-free formula. This makes it a great all-rounder for fine or thick hair as it won't coat strands in heavy residue. Use once a week to instantly smooth and boost hydration.
Hair supplements promise a lot - and it's important to remember there's no pill you can pop that'll magically transform dry strands into silky lengths, particularly if you have extreme damage or hair thinning. But, what a well-formulated supplement can absolutely do is give your body what it needs for healthy growth, resulting in steady condition improvements that'll pay dividends for frizzy hair in the long term.
Perfectil Hair Crush Gummies
Biotin, selenium, and zinc are the ingredients to know for healthy nourished hair and Perfectil Hair Crush Gummies pack in all three. Plus, they look and taste not unlike a Haribo sweet, which certainly helps with remembering to take them every day.
Yes, a silk turban seems a bit Joan Collins (not that there's anything wrong with that), but this is actually a supremely practical buy. It's 100% silk, so it stops your hair from roughing itself up against your pillow, helps it hold onto oils for natural moisture, and preserves a smooth style overnight. This is particularly good on thick, coarse, or natural afro hair types, but my fine flat locks benefitted too.
How to wash frizzy hair
Using the best shampoo and conditioner for your hair type is an absolute must to strike that tricky balance of smooth, well-hydrated yet not weighed-down hair.
After that, there is much to be gained from a professional-grade washing technique, which will deep-clean and moisturize strands, prevent damage, and, crucially, keep your cuticles smooth.
Have you ever sat at the salon backwash wondering what was going on back there and why it took three times longer than your home shower routine? Have you then got back to the salon chair and wondered why your hair already looked smoother before they even begin blow drying? All will be revealed.
This is your ultimate frizz-busting hair wash technique by Gareth Williams, senior stylist at SALON64.
Before washing: thoroughly brush your hair, taking your brush through the areas underneath your hair where friction can occur from scarves and coats.
Thoroughly wet the hair: Soaking the hair will help the product evenly spread. Water temperature should not be too hot or too cold, but a tepid temperate to prevent activation of the sebaceous glands.
Time to shampoo: Use a small amount of product and work this through your hands before running through your hair. Start with the hairline first before taking your hair into a ponytail and running the shampoo through. Use a technique called "rotary" – using tips of fingers and thumbs, starting at the hair line, and working the product down to the top of the ears and behind, going back up and then repeating the motion three times. Use the same technique in the center of the hair and work to the crown (repeating three times), and the same to in the main hair area up, eventually using the wider parts of your hands.
Once shampooed: Dry off the hair and then condition – use a small amount of conditioner and work it into the hands, focusing on the mid-length to end of the hair first. Bring your hair into a ponytail, and brush your hair down gently to allow your conditioner to work through the hair and for all the ingredients to soak in. Leave for a few minutes, so it receives all its benefits before rinsing.
When towel drying: Use a towel that is not too old and is still quite soft, wrap it around your hair gently. Firmly press onto the towel so it can soak up all moisture from the hair. Do not rub your hair! This will damage the cuticles, and it will cause friction and damage to the hair.
Finish off by brushing the hair gently downwards.
Tangle Teezer Fine and Fragile
Surely the best known - and best-loved - detangling brush of all time. This fine and fragile version is even more kind, with supremely soft and flexible teeth that gently detangle and smooth without even a suggestion of tugging or breakage.
Aquis Lisse Luxe Hair Towel
A thick, soft turban-style towel designed specifically for hair. The absorbent waffle material gently pulls moisture away from the hair without the need for any aggressive, cuticle-roughing back and forth. Looks chic on your towel rail too.
How to dry hair to combat frizz
Your hair drying technique is probably the most crucial piece of the puzzle for making frizzy hair appear smooth and sleek. Follow Syd Hayes' protocol for smoothing success.
"Firstly, prep hair with a heat protectant, " says Syd. "This will help to create a barrier between your hair and the tools. Simply, you wouldn't go to the beach without putting on SPF to protect your skin, so you need to do the same with your hair."


Sachajuan Thermal Protection Spray
To continue the SPF analogy, the absolute dream with hair heat protection - as with sun protection on the skin - is that you find one that does the job without feeling like it's there at all. This light mist from Scandi-chic brand Sachajuan is just that. Superfine to the point of total weightlessness, it creates a defensive, frizz-reducing barrier between your hair and your heated tools.
"It's so important to use a hairdryer effectively and efficiently," says Syd. "I think a bad habit most of us have is to turn our dryer up to the fastest and hottest setting, which can cause damage, overheat the cuticle and lead to frazzled, dry ends. Starting low will dry the hair efficiently without over-drying the ends."
After rough-drying to about 90% dry, it's time to finish and style your hair. You can use round brushes if you're going for a bouncy, salon-style blow-dry, or simply aim the nozzle down the hair shaft to ensure the cuticle lies flat and prevent frizzy hair.
"Once you have dried your hair, use the cool setting to set the style and for an added boost of shine," advises Syd. "Remember heat allows the hair to bend into a new shape, and cooling will set the hair – this will help maintain your hair health."
If you struggle to create a professional-looking home blow dry using round brushes (you and me both), I can't speak highly enough of hot rotating brushes, such as the BaByliss Hydro Fusion Air Styler.
BaByliss Hydro Fusion Air Styler
"Styling with the Hydro-Fusion Air Styler makes sure you have tension on your hair when drying," explains Syd. "The Advanced Plasma Technology in the new dryer helps to smooth hair. It also helps to seal the cuticle of the hair shaft, preventing moisture getting into the hair and causing frizz throughout the day."
Or, you could try the beauty editor-approved L'Oréal Professionnel SteamPod 3.0 that smoothes and shines and is great for thick hair.
Finally, Syd advises smoothing everything over with a finishing cream.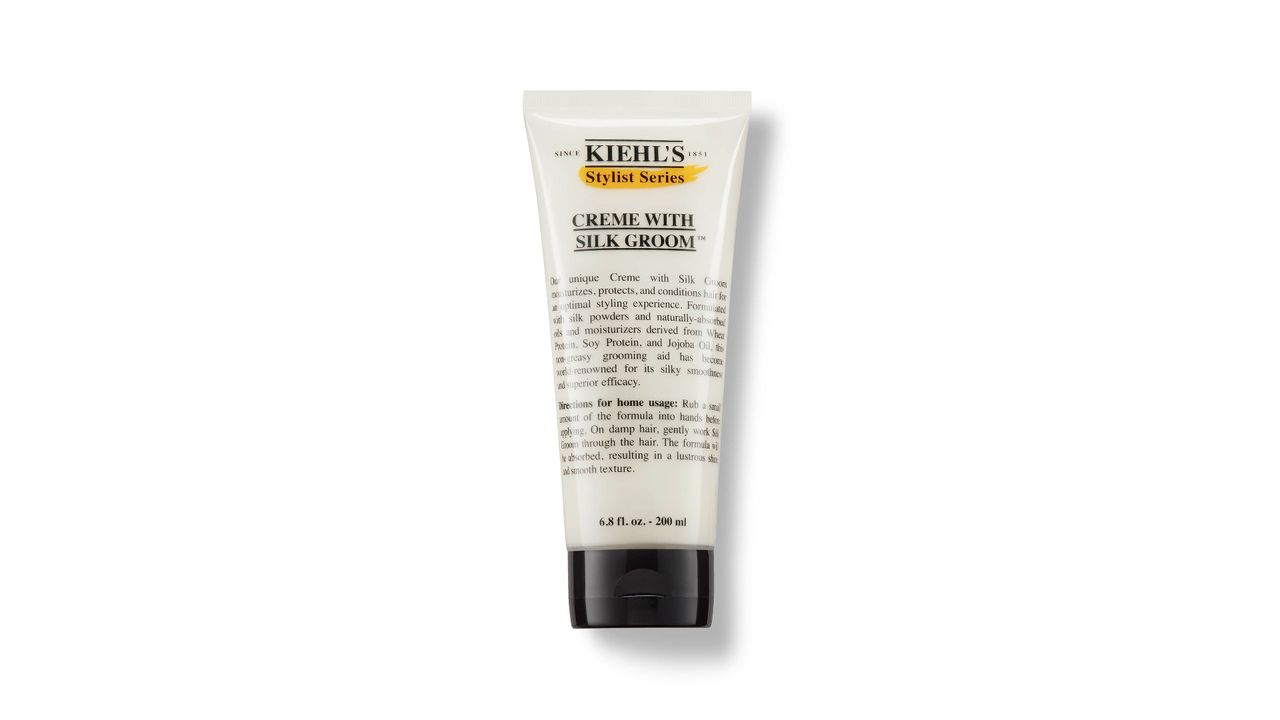 Kiehl's Creme with Silk Groom
"My favorite has to be Kiehl's Creme with Silk Groom, which holds down those flyaways without it getting greasy or sticky and allows you to run through your hands easily still without tension."
Finishing products for frizzy hair
Once you've finished drying, a go-over with either the best hair straighteners or another hot styler to help smooth and lock in your style.
If you have curly or textured hair and don't want to knock the life out of it in the name of de-frizzing, I highly recommend the GHD Glide. This heated ceramic brush releases ions, which help keep static at bay can be used to smooth lengths, add volume to roots, and, if you fancy, little kicks through the ends.
Now, pick a finishing product. This is your final step to help seal in rogue flyaways, add shine and fix your style.
The product you should use comes down to your hair thickness and type - the finer the hair, the lighter the texture. So thick, curly, and natural hair can use rich oils with a decent amount of weight, medium hair is best suited to lighter oil mists, while weightless serums are a good option for fine hair.
Charlotte Mensah Manketti Oil Finishing Mist
For medium-thick hair
A beautifully luxurious frizz-smoothing oil in lightweight mist form to stop you from going OTT with the application. It can be used wet or dry - if your hair is curly or on the thicker side dry is best, while medium or straighter hair may prefer to blow dry it in.
Herbal Essences Avocado Oil & Aloe Hair Oil
For thick, curly or natural hair
A heavier, ultra-nourishing oil to smooth and coat thick curls or coils and prevent frizzy hair. It smells great, can also be used to deeply moisturize the scalp, and is a real bargain to boot.
Percy & Reed Volumising No Oil Oil
For fine hair
Confusing name, great product. This is indeed no-oil oil because it's not an oil - it's a serum. This slippery, silky texture is perfect for keeping flyaways sealed down on finer hair types without making roots appear greasy or lank.