How long does a Brazilian blowout last and what does it do to your hair?
The Brazilian blowout promises to leave hair smooth and silky for months – we've asked the experts to explain how it's done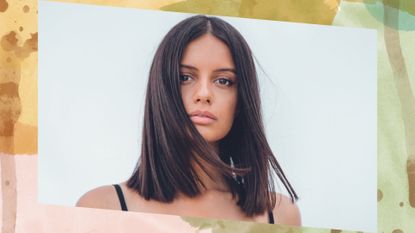 (Image credit: Future/Getty images)
Flirting with the idea of a Brazilian blowout? You'll want to do your research before you take the plunge.
In our opinion, anyone who considers themselves a slave to their best hair dryer, heated brush, or straightening irons could benefit from the long-term smoothing powers of a Brazilian blowout. It's the equivalent of sending your hair to boot camp, making it (semi-permanently) behave exactly how you want it to.
"A Brazilian blowout moisturizes the hair while smoothing down frizz and flyaways," explains James Samuel (opens in new tab), hair stylist and color consultant at Hershesons. "It is effective on very coarse and dry hair." If nailing how to make your blowout last longer without lifting a finger yourself sounds appealing, it's worth getting to know exactly how the Brazilian blow dry works, from how long it takes in the salon, to whether it damages the hair and how long this treatment can last. Here, the experts explain all.
Everything you need to know about the Brazilian blowout
What does a Brazilian blowout do to your hair?
Our hair is made from a protein called keratin, and is held together by different kinds of bonds. A Brazilian blow dry breaks down these bonds and binds them back in a different, smoother position. This makes the hair softer and silkier. Brazilian blowouts also seal extra keratin into the hair in order to act as a treatment for damaged hair that strengthen and protect the strands for a smoother look, hence why keratin is often included in the best hair straightening products.
According to Zoltan Vargyai (opens in new tab), hair texture expert and owner of Zoltan Hair, one of the biggest benefits of the Brazilian blow dry is that by smoothing the hair, "it makes it much easier to manage at home". As hair is better behaved, you won't need to rely as heavily on heated tools like the best hair dryer brushes, which means not only do you save time on styling but you can also reduce damage. And, as hair has been reinforced with extra keratin, it's generally stronger too.
Will my hair still curl after a Brazilian Blowout?
One of the most commonly asked questions about Brazilian blowouts is whether they're suitable for curly hair that wants to remain curly. Whether your Brazilian blow dry straightens your hair ultimately depends on the salon you go to and the solution they use. There is no one brand or approach used across all salons, and these treatments can come under many guises and names (our beauty editor's botox hair treatment review has more detail on that) this means the results can vary.
"I don't like to say Brazilian blow dry or keratin treatment anymore as they don't cover what you can achieve," says Vargyai. "I categorize these treatments as semi-permanent (which don't penetrate the hair, just coat it), demi-permanent (which penetrates into the hair), and permanent (which also penetrates and for longer).
"When we do a treatment that's closer to permanent (what people would call a Brazilian blow dry) it can straighten some hair types, but not all of them," continues Vargyai. "We can personalize the treatment to just remove some of the waves or the curls because I have some clients who want to keep some movement in the hair."
What happens during a Brazilian blow dry?
Exactly what happens during your Brazillian blowout appointment will vary slightly depending on the stylist, the salon you're visiting and the brand of product they're using. Most use a very similar system though. It's a lengthy process, which "usually takes two to two and a half hours depending on hair length," explains Vargyai.
Consulting: All Brazillian blow dry treatments start with a consultation where the hairdresser will chat with you about your hair type and what you hope to gain from the treatment. If you have naturally straight or fine hair, then the approach may be different compared to someone with very thick, coarse, curly hair.
Cleansing: "The hair is then shampooed twice," says Samuel "I remove most of the moisture with a towel or by gently rough drying." The key aim of the shampoo step is to open up the hair cuticle so that treatment can penetrate, as well as removing any product buildup that's coating the hair.
Treating: "Next, I apply the solution to the hair and get the client to sit under the heater for 15-20 minutes," continues Samuel. This exact length of time will differ from salon to salon – for Vargyai, "it's usually half an hour." Not all salons use a heater, but the aim of this is to help the product to penetrate the hair more effectively.
Rinsing (or leaving): The hair is now either shampooed again, or the solution is left in the hair. The latter is the more traditional route, which has been adapted by some stylists to the former so that clients don't leave the salon with coated, heavy-looking hair that can't be washed for days. "I do a same-day rinse so my clients don't have to wait any time between the treatment and washing their hair," explains Vargyai.
Styling: Whether the hair has been shampooed or not, the next step is always the same. "The hair needs to be dried," says Samuel. "The final step involves straightening the hair with straightening irons which seals the product into the hair." If the treatment wasn't washed out in the salon, your stylist will normally recommend you don't wash your hair for the next three days.
What not to do after getting a Brazilian Blowout
After a Brazilian blowout, most stylists agree that the best shampoo and conditioner to use will be one without a particular ingredient. "sulfate-free shampoo is a must," says Samuel. Sulfates are added to shampoos (as well as things like body wash and toothpaste) to give a satisfying foam. They can be stripping though, and run the risk of making your Brazilian blow dry fade faster.
"It's super important to wait three days before washing your hair after the treatment," explains Samuel. "This ensures the results last as long as possible." Your hair will be poker straight and flat-to-your-head sleek during this time, but resist the urge to shampoo or style it – leaving it down and straight. "
Avoid putting tight clips or grips in the hair as it can leave marks," adds Vargyai. If you get caught in the rain, simply run over the hair with your best straighteners. Don't be alarmed if your hair emits steam where it's still saturated with treatment. This can happen post-wash too.
However, not all hairdressers are in agreement. "I don't believe in specific shampoos or not going swimming or anything like that, I think you just have to live your life," says Vargyai. "I don't think you can do anything to make it last longer. Just take care of your hair – use a good shampoo, a good conditioner, and a good mask once a week.
How long does a Brazilian blowout last?
How long a Brazilian blowout lasts will depend on how well you care for your hair, as well as your hair type. Sometimes, it's just the luck of the draw. Hershesons say that their Brazillian blowout lasts for "around three months", but the results can be longer or shorter. "I usually find it lasts around six months," says Vargyai. "But in some cases, I have clients revisiting after two months, and in some cases I have clients revisiting after 10-12 months."
From personal experience, our Beauty Editor (and Brazilian blow dry regular) Jess Beech finds that four months is around average. If your hair is naturally curly and frizzy, you will find that the texture slowly reverts back to normal as the effects wear off with each wash. You may still be reaping the benefits six months later, but your hair won't be as silky and soft as it was a couple of weeks post-treatment. Keep in mind too that a Brazillian blowout will grow out. Newly grown roots won't have been treated with the solution, which is why you may find that your hair is fluffier on top with more flyaways than on the lengths.
How much does a Brazilian blow dry cost?
The fact that a Brazilian blow dry is a long-lasting treatment and takes a good couple of hours for the stylist to carry out is reflected in a higher price tag. Depending on which salon you visit, it tends to vary in price from around $120/£100 to close to $540/£450. Some salons will charge higher prices based on the length of your hair too. So if you have a very long hairstyle, you'll pay more than someone with a medium haircut or short hairstyle. A steeper price tag also comes with increased stylist experience, so it may be worth paying more to ensure you get exactly what you want.
If the deal looks too good of a deal to be true (e.g. under $100/£80 for the treatment) then it probably is. Brazilian blowout solutions contain potent chemicals which in the wrong hands can cause real damage to your hair – exactly the opposite of what you are hoping for. Do your research first, and if you're unsure, ask to see before and after images of previous clients.
Jess Beech is an experienced fashion and beauty editor, with more than eight years experience in the publishing industry. She has written for woman&home, GoodtoKnow, Now, Woman, Woman's Weekly, Woman's Own and Chat, and is a former Deputy Fashion & Beauty Editor at Future PLC. A beauty obsessive, Jess has tried everything from cryotherapy to chemical peels (minus the Samantha in Sex and The City-worthy redness) and interviewed experts including Jo Malone and Trinny Woodall.