Our beauty editor's botox hair treatment review: "no needles, no frizz"
It's the buzziest salon trend of 2023 – but what's the verdict of our botox hair treatment review?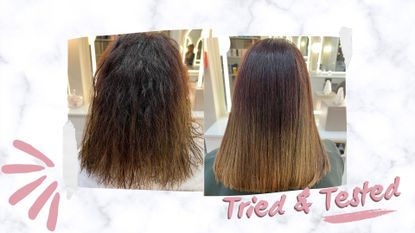 (Image credit: Future/Jess Beech)
Noticed lots of botox hair treatment reviews cropping up? It's fair to say this is the salon technique of the moment, but is it worth the buzz? I can answer that.
I have a naturally curly hairstyle, which sounds lovely, but the reality is that the bottom layer is very nice ringlets then it becomes wavier and frizzier as you reach the top. It's also far curlier on one side than the other, which doesn't make for a good look. I'll set my alarm to persuade it into a sleek style only to find it's let me down with a barrage of frizz. It's almost manageable during cold, dry weather (essentially two weeks in November) but with any kind of humidity, it becomes untameable. If my hair was a friend, I'd have stopped replying to its WhatsApp messages years ago.
I have tried hundreds of hair products over the years. From at-home keratin treatments and tools claiming to be the best hair straighteners, to bond builders for hair. I've found things I'd recommend, sure – but nothing that's offered a long-term solution to my (very regular) bad hair days. Is hair botox just what I've been waiting for? This botox hair treatment review explains all.
Botox hair treatment review: The need to knows
What is hair botox?
Wondering what is hair Botox? Despite the name, hair botox has no relation to Botox whatsoever. There are no needles involved and the treatment doesn't use any of the same muscle-relaxing toxin. The name hair botox was coined to reflect how the treatment renews and smooths the hair, in the same way as Botox treatments iron out wrinkles and freshen up the appearance of our skin.
What a botox hair treatment will do is deep condition hair. It is filled with proteins that coat the hair strands to reinforce them and make them stronger, and leaves hair sleeker, softer, and in most cases, straighter. The stylist that carried out my hair botox treatment told me that it contained more keratin (the protein that makes up the majority of our hair) than a Brazilian blow-dry. It also doesn't contain formaldehyde. Hair botox is marketed toward anyone with hair that is naturally curly (and they wish it wasn't), frizzy or dry.
Botox hair treatment review: what happened in the salon?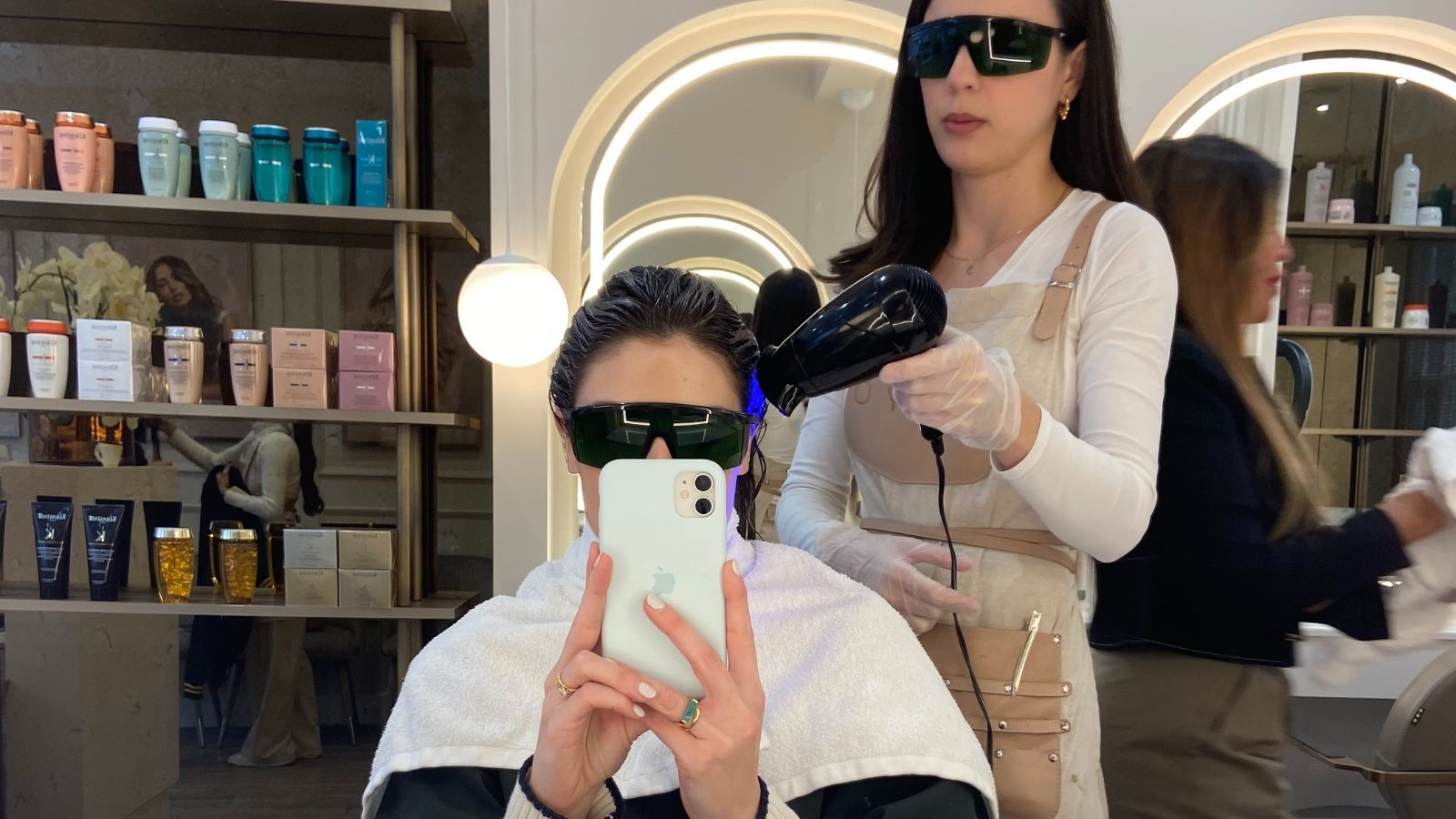 My botox hair treatment review took place at London's TRYO hair (opens in new tab), a salon that specializes in hair extensions and hair treatments. To kick off, my stylist washed my hair with a clarifying shampoo to remove residue. It felt squeaky clean and almost rubbery afterward, then was rough-dried, parted into sections and the hair botox solution was applied with a flat brush (the kind used for applying color). Once saturated, the product was combed through from root to tip, paying extra attention to the front of my hair where I have a lot of wispy baby hairs and breakage. This took about 20 minutes for my medium-length haircut.
After this, it got a bit space-age. We both donned tinted sunglasses and my stylist slowly passed a hairdryer-shaped blue laser over my hair. The idea is that this helps the treatment penetrate the hair. When I've had smoothing treatments in the past I've been put under a heated lamp to help the product absorb, so can only assume this is a more high-tech, less toasty take. My hair was then covered in a plastic cap for another ten minutes and then meticulously blow-dried. This was super steamy, with my hair emitting a Calpol-scented smog so potent that the (now two) stylists had to open the salon door for ventilation. It did sting my eyes a little, and you're very much aware of the product in the atmosphere.
Finally, my hair was straightened in teeny-tiny sections using a Brazilian straightener with a nano titanium coating, for shine. This (pretty painstaking) process took 45 minutes. In total, I was in the salon chair for just over two hours for my botox hair treatment review, and the finished result was very sleek, very shiny, and very straight hair. To give the treatment maximum opportunity to work its magic, my hairstylist advised to not wash my hair and avoid getting it wet for three days. You're not meant to tie it back either, as this can leave marks. As I always blow dry or straighten I wasn't too worried about that so I did tie my hair up at night – but used a soft scrunchie instead of a band.
Botox hair treatment review results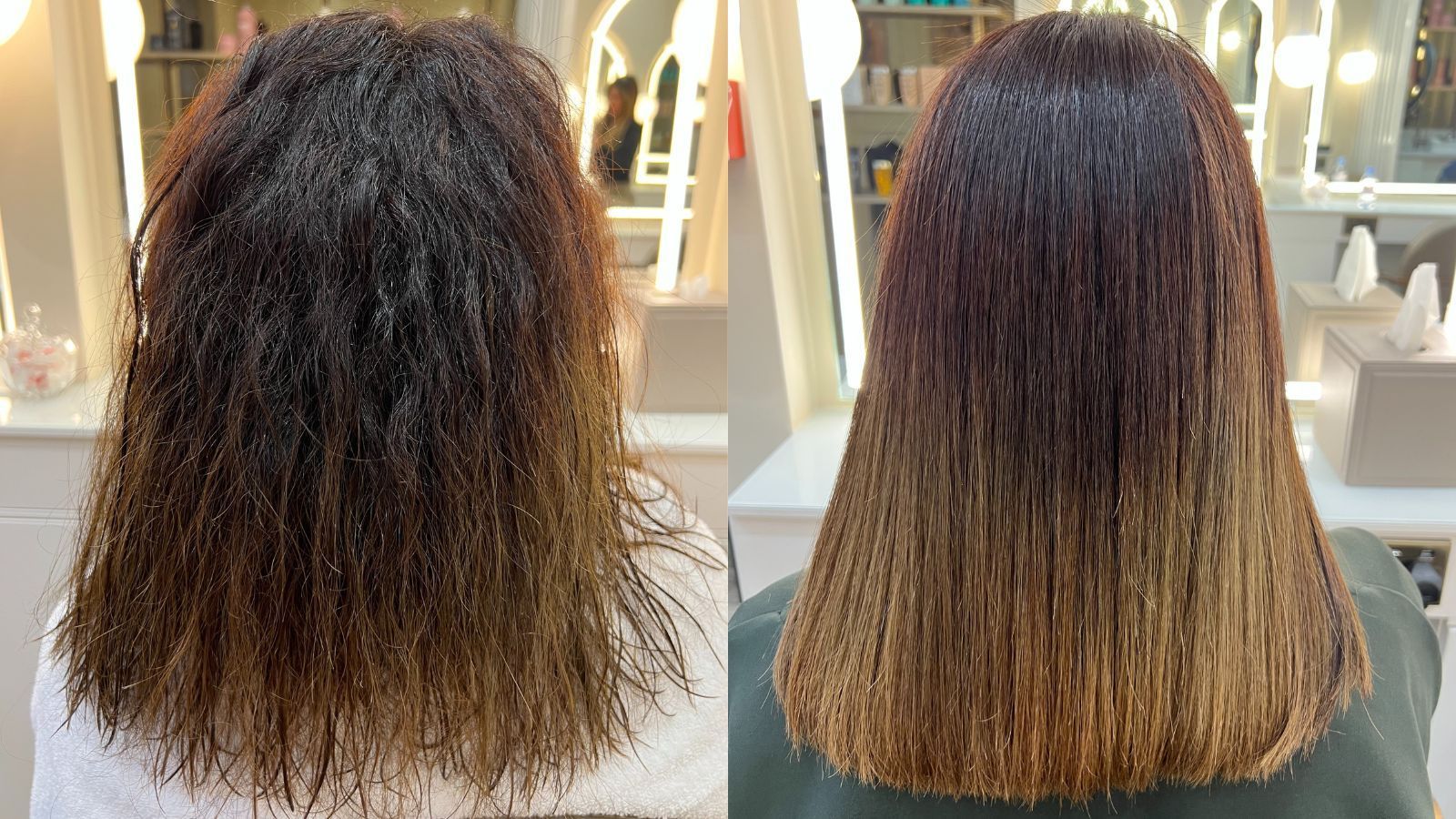 It feels hyperbolic to say that this hair botox treatment has transformed my hair, but I honestly couldn't be more chuffed with the results. Normally it takes me a good hour post-wash with my hairdryer, straighteners, and various products to wrestle my hair into a style I'd be willing to leave the house with. Now, it genuinely takes half the time.
If I leave my hair to dry naturally, I'm surprised every time I look in the mirror and my hair looks straight and sleek instead of a triangle-shaped bird's nest. My natural curl is gone, which I'm happy about, but others might not be. My stylist at TRYO did explain that the treatment can be used in different ways (e.g. if your hair is fine, they'd wash it out on the same day rather than leaving it in for three days) so it can be tailored in a way that lets you keep hold of your curl type.
As I'm not relying so heavily on heat, my hair is healthier, growing faster, and sporting fewer split ends. The biggest pro is that my hair doesn't frizz or kink throughout the day. I can pop back into my steamy bathroom to retrieve my moisturizer or get caught in the rain sans umbrella without my hair expanding into fluffy territory. Are these trivial wins in the grand scheme of life? Absolutely. Are they saving me time and making me feel less self-conscious about my hair when I arrive anywhere? Also yes.
Is hair botox better than a keratin or Brazilian blow dry?
Hair botox isn't one particular product or brand, so it's impossible to say how treatment results would compare to keratin or Brazilian blow dries from one salon to the next. I have had a number of smoothing hair treatments over the years under various aliases. Some were called keratin treatments, some were called Brazillian blowdries, but really it's all pretty much the same thing – and I have a sneaking suspicion hair botox is just the latest re-brand.
Brazilian blow-dries have received some bad press over the years. The high price tag, fears about the use of formaldehyde (a chemical thought to have health implications at high concentrations), and the inconvenience of leaving your hair down, slick, and poker-straight for three days have put all but those with the healthiest bank balances and the most frustrating of hair off the treatment.
There's also the fact that these treatments straighten curly hair, which is at odds with the shift toward embracing natural texture. How can salons make it more appealing? By jumping on the bandwagon of the tweakments boom with a buzzy (if not slightly confusing) name like hair botox.
How long does hair botox last?
They say nothing lasts forever and in the case of a botox hair treatment that is unfortunately true. TRYO advised me it would last for two to four months. In my experience with this kind of smoothing treatment, I've had results that lasted for as little as one month and as much as six months. I think it's dependent on the formula used, as well as how you care for your hair post-treatment.
I feel like a sad Cinderella at midnight every time I wash my hair as I'm a little bit closer to the day my hair botox treatment will have washed away, and I'll be left with my old hair. The more you shampoo, the quicker your treatment will wash out, and it's important to use sulfate-free shampoos. So are sulfates bad for your hair? Not necessarily, but they are cleansing agents that make products foam and lather which can be stripping. This is obviously not what you want when you're trying to extend the life of your botox hair treatment.
How much does a botox hair treatment cost?
The botox hair treatment review I had at TRYO normally costs $360/£300, which is about average, but you may find it costs slightly more, or slightly less, depending on the salon.
I'm always on the lookout for a bargain, but if you do see the treatment on offer for a price that feels too good to be true, then I'd say it probably is. As there isn't one brand of hair botox, you don't always know what's being put on your hair, and if the chemicals are too harsh, or used by someone inexperienced, then there is the risk of damaging your hair. If the price puts you off, be patient and keep an eye out, as some salons will run seasonal offers and discounts during quieter periods.
Jess Beech is an experienced fashion and beauty editor, with more than eight years experience in the publishing industry. She has written for woman&home, GoodtoKnow, Now, Woman, Woman's Weekly, Woman's Own and Chat, and is a former Deputy Fashion & Beauty Editor at Future PLC. A beauty obsessive, Jess has tried everything from cryotherapy to chemical peels (minus the Samantha in Sex and The City-worthy redness) and interviewed experts including Jo Malone and Trinny Woodall.