The best hair straightening products to help you achieve smooth, shiny strands
We reveal the best hair straightening products to keep your hair sleek post-styling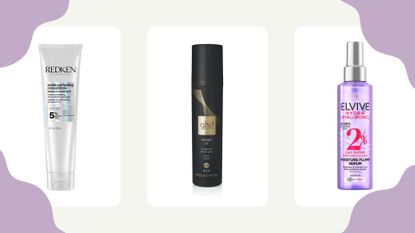 (Image credit: Future/brands pictured)
Styling your hair poker straight? Not only will the best hair straightening products help you to achieve sleek strands, but they can also prevent damage and add a mirror-like shine to your tresses.
While we're all about embracing natural curls in all their glory, there may be times you want to create an ultra-smooth, frizz-free look. Using the best hair straighteners to do so is a no-brainer, but applying the right prep products is also important if you want to create straight hair that will last all day or night. To be clear, when we say "hair straightening products" we're referring to those that'll help you maintain sleek, smooth, and straight hair. No styling product replicates what a flat iron or Brazilian blowout can do, but happily many of them, from balms to leave-in conditioners, do double up as heat protection for hair, which is a non-negotiable when heat styling.
Having spent weeks' worth of time styling our own hair, not to mention speaking to the industry's leading experts and watching them in action, we know a thing or two about which formulas cut the mustard. This is our tried-and-tested edit of the very best hair straightening products to shop in 2023.
How we tested the best hair straightening products
Why you can trust Woman & Home Our expert reviewers spend hours testing and comparing products and services so you can choose the best for you. Find out more about how we test.
To truly assess how well a formula helps to create straight hair and keeps it in place, we washed our hair and styled it straight, judging both the user experience and how well it performed. We also tested on hair that is naturally curly and frizz-prone to really put them through their paces. During the testing process, we assessed the following factors:
Price
Packaging
Formula type – e.g. balm, serum, spray
Ease of use
How it felt in the hair – barely detectable or slightly sticky?
Fragrance
How well hair stayed straight after using
Whether the hair developed frizz throughout the day
The best hair straightening products, reviewed by a beauty editor
1. Redken Acidic Perfecting Concentrate Leave-In Treatment
Best leave-in treatment for straightening hair
Specifications
RRP : $30/£23
Formula type : Leave-in balm
Key features: Heat protects, repairs, smooths, strengthens
Reasons to buy
+
Heat protection up to 450°F/230°C
+
Repairs and reduces breakage
+
Smooths
+
Protects against color fade
Reasons to avoid
-
Scent might not be to everyone's taste
This leave-in balm is a true smooth operator that does it all. The first thing we liked about it is that it comes with the added bonus of heat protection, shielding your hair from temperatures up to 450°F/230°C, so there's no need to apply a separate heat protection spray. Without getting into too much of a science lesson, it also cleverly has an acidic pH to fend off the damaging effects of coloring and heat styling your hair.
More importantly, we loved the results; it seems to disappear into damp hair with no hint of a sticky finish, leaving it silky soft – in part because of its smoothing and moisturizing properties, but also because it repairs and strengthens your hair. It's perfect both for blow drying and straightening your hair to get that all-important smooth finish, leaving it looking shiny and feeling healthy. The Acidic Perfecting range also contains one of the best shampoo and conditioner pairings for damaged hair, so if you get on well with this treatment, we recommend picking those up, too.
2. Virtue Frizz Block Smoothing Spray
Best luxury product for humidity-proof straightening
Specifications
RRP : $44/£42
Formula type: Spray
Key features: Heat activated, prevents frizz, locks moisture, trademarked keratin protein
Reasons to buy
+
Features brand's patented Alpha Keratin 60ku protein for repair
+
Promises to prevent frizz for up to 72 hours
+
Locks in moisture
+
Heat activated from blow drying
A spray that's designed to shield your hair from humidity while keeping the moisture it needs in? It almost sounds too good to be true, but thankfully Virtue's Frizz Block Spray delivers. Applied to damp hair and then activated with heat from blow drying, it's a great pre-straightening step to weatherproof your hair.
We tested this product in the bleak (and very damp) midwinter. This is a time when London sees some of its highest relative humidity levels, so this non-sticky spray had a very moist environment from which it had to shield our tester's hair. Lo and behold, rainy days did not result in frizz, so we feel very confident that it'd hold up in a muggy heatwave or vacation abroad, too.
All of Virtue's products contain the brand's trademarked Alpha Keratin 60ku, which is identical to the keratin proteins found in our hair and so binds directly to our strands to repair them. It's pretty impressive science and that is why these products are on the pricey side; the drawback of this product is that it costs 40 dollars/pounds for a 150ml spray bottle. But if you can invest, this is a humidity shield that you can rely on. We're already dreaming of our summer holidays, and taking this very spray with us.
3. L'Oréal Paris Elvive Hydra Hyaluronic Moisture Plump Serum
Best affordable hair straightening product
Specifications
RRP : $7.99/£12.99
Formula type: Spray serum
Key features : Hydrates, moisturizes, adds shine
Reasons to buy
+
Can be used on wet or dry hair
+
Promises to hydrate hair for up to 72 hours
+
Adds a nice amount of shine
+
Affordable
Reasons to avoid
-
Not the lightest of sprays
By now you're probably well-versed in the benefits of the best hyaluronic acid products for your skin, but what if we told you you could reap those same benefits in your hair? That's what L'Oréal's Elvive range has done with its affordable skincare-inspired Hydra Hyaluronic range. If one product is particularly great for styling hair straight, it's this shine-boosting, moisturizing leave-in, which is particularly ideal for very dry and/or dehydrated hair.
Handily housed in a spray bottle, it claims to hydrate hair for up to 72 hours and, although we didn't time it exactly, we can say that it still felt soft and smoothed-out by our next shampooing session. It can be used on both wet and dry hair, but if yours doesn't absorb product that easily when dry, you might find it's better suited to the former. It left our hair nice and sleek with added shine.
4. ARKIVE The Prologue Hair Primer
Best hair straightening product for longevity
Specifications
RRP : $20/£13
Formula type : Spray
Key features: Heat activated, improves longevity
Reasons to buy
+
'Memory maker' that prolongs style
+
Very lightweight, undetectable on hair
+
Heat activated from blow drying
+
Lovely fragrance
+
Heat protection
Reasons to avoid
-
Scent might not be to everyone's tastes
Created by one of the UK's top hairdressers, Adam Reed, the ARKIVE brand is barely a year old but has already made massive waves in the global haircare space. We've tried the entire range, but when it comes to creating a style that lasts The Prologue is easily one of the best products for keeping hair straight and smooth.
First of all, we love that the heat-activated formula is water-light and doesn't add any heaviness or stickiness to your strands. The fragrance (one of two signatures across the ARKIVE range) is also mouth-wateringly good, a mix of rhubarb, tomato leaf, and vetiver that Adam has named "No One Elsie" after his grandmother. This product's real superiority is in the longevity it adds to your strands, with a built-in 'memory maker' that works hard to keep your hair looking as you styled it – a must when you want to prolong the life of straight hair. We're hooked.
5. JVN Hair Complete Blowout Styling Milk
Best hair straightening product with silicone alternatives
Specifications
RRP : $29/£25
Formula type: Serum
Key features: Heat protects, smooths, shields against humidity, prolongs style
Reasons to buy
+
Doesn't weigh hair down
+
Contains hemisqualane, alternative to silicones
+
Heat protection up to 450°F/230°C
+
Shields against humidity
+
Vegan
Reasons to avoid
-
Scent might not be to everyone's taste
Everybody's favorite Queer Eye grooming expert Jonathan Van Ness, a hairdresser by trade, answered a lot of prayers the world over when he launched his own haircare range. The hero ingredient in all of the products (not just this one) is hemisqualane, an alternative to silicones that not only smooths hair but also improves its health over time.
Blowout Styling Milk is one of the more recent additions to the lineup and part of the Complete range, an all-in-one smoothing, humidity shielding and heat-protecting styling wonder. Despite its milky texture, you can barely feel this fluid in the hair, and after smoothing out our hair we were wowed by the shine it had clearly added. Basically, we really love this reasonably priced multitasker and think you will too.
6. ghd Straight On Straight & Smooth Spray
Best hair straightening spray for fine hair
Specifications
RRP : $25/£18.95
Formula type: Spray
Key features : Heat protects, smooths
Reasons to buy
+
Heat protection
+
Invisible spray that's undetectable on hair
+
Smooths and reduces frizz
+
Non-sticky
We're sure ghd is one of the first names that comes to mind when you think about straightening hair. But it's not only the best ghd straighteners this brand is responsible for; it also makes brilliant products and you'd rightly expect one of the best hair straightening products to feature in the line-up. Designed to smooth the surface of the hair and help your straightened hair to last until the following day, this also offers that all-important protection against the sky-high temperatures of your straightening irons.
As you'd hope for when your end goal is free-flowing straight hair, this spray is light and non-sticky, meaning you can't feel it on your hair once you're done styling. This also makes it good for use on already-dry hair that needs a little refresh – and it has a nice fragrance reminiscent of a luxe salon. Results-wise, our straightened hair stayed noticeably smooth and soft to the touch all day long.
7. Kérastase Discipline Keratin Thermique Creme
Best hair straightening product for thick hair
Specifications
RRP: $42/£27.50
Formula type : Cream
Key features: Heat protects, smooths, shields against humidity
Reasons to buy
+
Speeds up blow drying time
+
Reduces breakage
+
Heat protects up to 350°F/180°C
Reasons to avoid
-
Not the best for fine hair
You've probably seen Kérastase's iconic packaging in the front windows of many hair salons. If you're looking to try a product that's particularly great for styling thick hair straight, this is a particularly excellent smoothing potion. Designed with thicker and coarser hair types in mind, this pre-blow dry cream is another multi-purpose formula: it smooths, shields strands against heat and humidity, and boosts shine for luxurious-feeling end results.
When we put it to the test it did reduce frizzy hair well, and though there are other products in this round-up that we found outperformed it in this area, it does smooth thick hair very well without weighing it down. Not only that, but it feels super luxurious to use, with the scent immediately transporting you to a high-end salon – and the experiential side is half the fun, no?
8. Color Wow Dream Coat Supernatural Spray
Best hair straightening product for shielding heat and humidity
Specifications
RRP : $28/£27
Formula type : Spray
Key features: Heat protects, humidity shields, smooths, adds shine
Reasons to buy
+
Adds brilliant shine
+
Smooths and shields against humidity
+
Heat protection
+
Vegan
Reasons to avoid
-
On the expensive side for its size
Color Wow's excellent styling products are famous all around the world and a hit with celebrity hairdressers, so our expectations were high before we'd even picked up this shiny, shiny bottle. The mirror-like packaging is a very fitting tribute to the reflective shine it imparted on our strands, and it delivered in creating a smooth finish and keeping it there thanks to its humidity-blocking technology – making it another that's on our holiday packing list.
If we're being extremely picky, it does have a slightly unusual smell when you first spray it, but this isn't detectable on your hair afterward, so it's not really an issue – those who don't have a sensitive nose probably wouldn't pick up on it. Once applied, this feels barely detectable on your hair and is very lightweight, making it great for all hair types. It's one that JLo's hairdresser uses on her enviable mane, which should tell you it's up there with the very best, as well as the fact that it was a hit with our testers. Dream Coat by name...
9. Living Proof Triple Bond Complex
Best hair strengthening treatment pre straightening
Specifications
RRP : $45/£42
Formula type: Leave-in treatment
Key features: Repairs, strengthens, smooths, adds shine
Reasons to buy
+
Heat-activated
+
Lasts a long time
+
Works with any style, not just straightening
Ask any hairdresser and they'll tell you that the secret to great-looking hair is having healthy hair. Bond repair treatments are particularly useful for hair with any amount of damage resulting from coloring or heat styling, as they repair the broken bonds within your strands for healthier hair. While some bond repair products come in the form of the best hair masks, this leave-in gets to work in minutes to repair all three types of bonds found in your hair.
A whopping 10 years in the making, Living Proof's Triple Bond Complex has been found to leave hair eight times stronger; simply run it through freshly-washed, damp hair, leave it to work its magic (10 minutes gets the results) with no need to rinse out, then blow dry and style to activate the product with heat. While we don't have the resources to test if our hair was left eight times stronger, our hair certainly felt brand new after using it, with a nice added shine boost. What it won't do is make hair smooth or sleek from a styling perspective (for a long term solution in that department, read our botox hair treatment review)
---
How to style your hair straight, by a pro hair stylist
As well as giving you a list of the top-performing products, we also asked hairdresser Adam Reed (opens in new tab), global brand ambassador for ghd, to share his top tips for styling your hair straight.
Cold rinse: The first step toward smoothness happens while you're still in the shower. "Rinse hair with cold water after washing it, as cold water constricts the hair and helps shut down the cuticles," Reed explains.
Gently does it: It's tempting to roughly dry your hair if you're going to take to it with straighteners anyway, but this is actually a gateway to excess frizz. "Never rough dry your hair – rough drying opens up the cuticle, causing more frizz," Adam stresses.
Dry in the right direction: In terms of smoothness,"Always blow dry hair by following the dryer in the direction of the hair from root to end, facing down the hair, and use a good brush, like the ghd oval dressing brush. This will help to keep cuticles sealed."
Use quality straighteners: You've set a smooth foundation before you straighten, but using a quality tool will take your hair to the next level. "Run the ghd platinum + styler over the hair; the perfect safe-for-hair temperature will immediately seal the cuticle," Adam says. "This will give incredible shine and smoothness, and prevent water or humidity from affecting the hair."
Lucy is a UK-based beauty journalist who has written for the likes of Marie Claire, Cosmopolitan, OK!, Women's Health and more, as well as contributing to woman&home. Her work covers everything from expert skin and haircare tips to the latest product launches and the show-stopping beauty looks spotted backstage at London Fashion Week. During her career she's interviewed some seriously famous faces, from Little Mix to Drag Race royalty The Vivienne, as well as chatting to the industry's leading hairdressers, dermatologists and make-up artists.