Eyebrow shapes: the hottest brow looks of the season
We round up the most popular eyebrow shapes from this year to give your classic look a modern twist.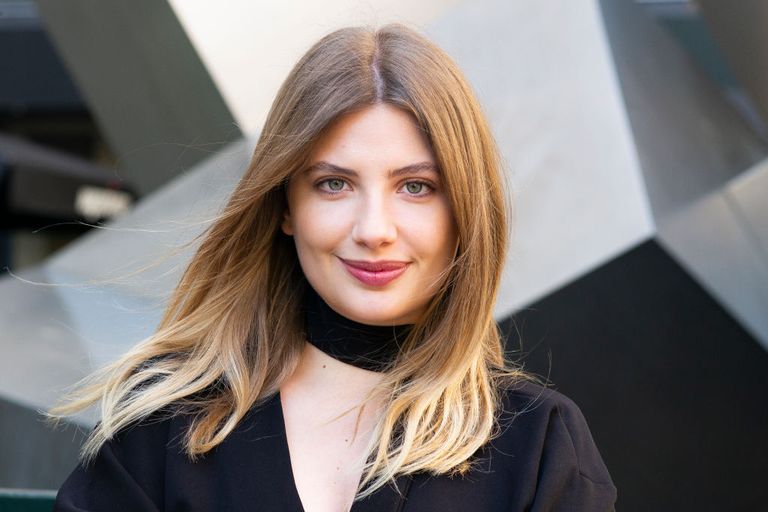 (Image credit: Getty Images)
Now more than ever, eyebrow shapes are on the forefront of most beauty looks. Gone are the days where we had no clue how to fix uneven eyebrows; these days, a lot of us are trying our hands at some major brow DIY: We're tinting at home and buying the best eyebrow makeup, and are super into the latest brow trends to make our masked looks pop even more. Whether you're embracing the full and bushy, laminated Brooke Shields look, are going for the Asian-inspired straight-across shape, or are going full-on '90s with a slimmer arch, one thing's for sure: Eyebrows are definitely the window (dressing) to the soul!
To gain more insight into the hottest eyebrow shapes of the year, we spoke to brow expert and founder of Nails & Brows Mayfair Sherrille Riley to ask what her clients were loving now. Read on for the most popular brow shapes this year:
The Audrey
Short, straight, and fluffy: This iconic brow shape became popular during Audrey Hepburn's portrayal of waifish socialite Holly Golightly in the classic Breakfast At Tiffany's, and more recently, has been adopted by reality TV star Kendall Jenner. "For us, The Audrey continues to be the most requested brow design at our boutique this year," says Sherrille.
These straighter brows, with a slight lift at the tail end, frame a heart-shaped face perfectly, bringing attention to the eyes and enhancing cheekbones.
Get the look:
This brow shape is easily mastered with just a soft brow powder like Benefit FoolProof Brow Powder Duo, £22.50, lookfantastic.com, and a precise angled brush such as MAC Cosmetics 208S Large Angled Brush, £16.50, maccosmetics.co.uk.
Press your angled brush into the powder and tap off any excess. Then, using small soft strokes in an up-and-outward direction, "feather" your brows until they reach your desired thickness. You don't need to be exceptionally neat with this technique, as Audrey's brows had a few charming stray strands as well, so build up slowly to create natural definition.
The Imperfectly Perfect
A modern take on the classic arched look of the 1950s, this brow is effortless glam; it looks groomed but not unnatural. As Sherrille suggests, "This undone brow style really captivated our clientele, especially because of the trend of the in-salon brow lamination treatment, which is all about straightening the brow hairs to make the arches look fluffy and natural."
Cindy Crawford is a brilliant example of the 'Imperfectly Perfect' brow, as the subtle arch brings structure to her face, and the soft but tidy edges don't look as though they've been 'carved out'.
Get the look:
The main goal of this brow trend is texture, with natural looking strands that create a fresh, youthful look. Use a brow pencil like Anastasia Beverly Hills Brow Wiz,£23, cultbeauty.co.uk and add small strokes in the direction of your natural hair growth. Add thickness at the arch so it doesn't go too thin, and then keep your brows in place with a clear brow gel. NYX Control Freak Eyebrow Gel,£6.50, Boots works brilliantly and is super affordable.
The Bold and the Beautiful
She's renowned for her full and bushy eyebrows, and brow icon Brooke Shields retains her status as the original brow queen well into 2021, inspiring the likes of model Cara Delevingne to grow out their darker arches and embrace their natural shape. The pandemic meant women were trying out this trend too. "Many clients used lockdown as an opportunity to regrow their brows into a thicker, fuller look. Upon reopening our doors, many clients wanted us to shape up their brows, while boasting a thicker brow look," Sherrille says. Full and bushy brows aren't for everyone, but it might be good to note that these eyebrow shapes can create the illusion of a slimmer, longer nose as well—so put down your tweezers and adopt this effortless style if that's what you're going for!
Get the look:
Step away from the mirror and leave your brows to their own devices for a while— two to four weeks should do it. However, if you're finding regrowth to be a bit challenging due to years of overtweezing, waxing, or threading, a brow serum, like RapidBrow Eyebrow Enhancing Serum, £37, lookfantastic.com, can help nourish the follicles, encouraging growth.
Next, take a brow pencil, like Revitalash Hi-Def Brow Pencil, £34, facethefuture.co.uk , and add in hair-like strokes where you need extra volume. Then, apply a tinted brow gel to keep your bushy brows in place. We love BeneFit Gimme Brow+ Volumizing Brow Gel, £22.50, feelunique.com, which contains tinted fibers to add color, volume, and texture in one. Score!
The Toned-Down
This age-defying brow trend is the 2021 equivalent of a surgical brow lift, with zero downtime. A lighter-colored brow can bring brightness to the face, enhancing your eyes and creating less contrast between features—while a darker brow can create a heavier, thicker feel. And contrary to popular belief, a lighter brow won't necessarily draw attention to your forehead, but instead gives subtle definition where needed. Still iffy about having lighter arches? A good rule of thumb is to just make sure your brows are at least two shades darker than your actual hair. A fantastically modern take on defining your brows, this look is often favored by Jennifer Lopez.
Get the look:
First, as mentioned, gauge the color of your hair and pick a shade that is one or two shades lighter. Then shop for a product that will match this tone. We love that you can choose between a range of shades with the Bobbi Brown Brow Kit, £34, bobbibrown.co.uk.
Using a small angled brush, apply the powder softly throughout the shape of your brows to fill them out until you see subtle definition. This look can be done with any hair color, and is great at creating a lifting effect for the forehead.
The Slender
Not to be confused with the ultra skinny brow that took off in the '90s, this style is far more modern and wearable. Slim, slender brows give off a delicate vibe, impart a sense of dainty symmetry, and lead the eye to fuller features like lips and eyes. Charlize Theron has been rocking this look for a long time and continues to keep her brows slim, dark and a little sharper. Be careful not to go too thin, though, or these brows can skew slightly harsh and a bit ageing.
Get the look:
To style your brows a little slimmer, invest in a quality pair of tweezers like Tweezerman Slant Tweezers, £21.95, Boots, and tweeze hairs in the same direction of growth, grasping the hair close to the root to minimize any tug pain. And as always, err on the side of caution: Don't over-pluck!
Next, use a brow pencil, like No7 Beautiful Eyebrow Sculpting Pencil, £8, Boots and add some depth of color to the middle portion of the brow. Use a lighter touch at the front and tail so you don't end up with the dreaded 'Sharpie' look.
Have fun finding your perfect brow look, and don't forget to tag us on Instagram @womanandhome sporting your best arches!