I thought epilation was hell on earth until I tried Braun Silk Epil 9 - and it's 57% off on Prime Day
Time to get on board with epilators? I think so!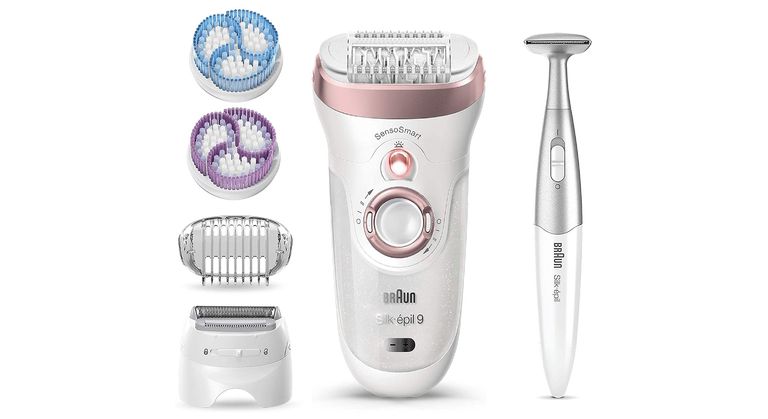 Until this year epilation was pretty far down my league table of preferred hair removal methods. If fact, it was was at the bottom with home waxing (sticky, torturous) and those weird little disks that basically sandpaper your legs - remember those?
But then a twist of fate led me to bring the Braun Silk Epil 9 home to test on what turned out to be the week before lockdown. Suddenly I had bags of time and the inclination to try every beauty gadget I'd ever stashed away in my house.
I had previously tried epilating and rejected it for obvious reasons - time-consuming, self inflicted pain. But there's nothing like having zero social life to steel the girders for long-game beauty gains. And guess what? I really fell for this device. Is it painful? Er, yes a bit. No device that yanks your hair out is 100% pain free, so don't believe any claims otherwise. But thanks to it's waterproof design I was able to use it in a hot bath, which along with inbuilt massage rollers makes the world of difference in sensation. It also has a wide head that grips the tiniest hairs and exfoliating brushes that smooth my skin. Even better, the Braun Silk Epil 9 comes with an electric shaver for days when I don't have time, or the pain threshold,for epilation.
Invariably, these days are around my time of the month.
This device has honestly converted me. if you fancy giving it a go you'll need an Amazon Prime membership to get this great deal - so sign up for a free, 30-day trail with Amazon below.
View the amazing deal below...
_________________________________________________________________________________
DEAL IN FULL
Braun Silk Epil 9 -Was £209, now £89.99 (save 57%), Amazon.co.uk
This multipurpose device aims to offer your fastest, gentlest and most versatile hair removal ever. As well as the extra wide head, which can grab hairs as small as 0.5mm, it comes with an exfoliator to smooth out skin on the face and body and prevent ingrown hairs. The bikini styler is neat and gentle for the area that needs gentleness the most. SensoSmart technology alerts you if you are pressing too hard, while the inbuilt massage rollers help keep everything comfortable. It can be used wet or dry, is fully washable and a two hour charge gives 50 minutes of use.
______________________________________________________________
Tempted to invest in an epilator with thisAmazon Prime Day 2020 deal?
Epilation offers the long term hair removal benefits of waxing, without pricy appointments or the risk of skin irritation. It's also a great option for anyone who finds shaving can cause ingrown hairs, or irritation on their skin.
Shop the Braun Silk-Epil 9-980 Deal here
Could epilation climb up your hair removal method list? There's only one way to find out!