Amazon Prime Day 2020: The best deals to shop right now
The sale has begun!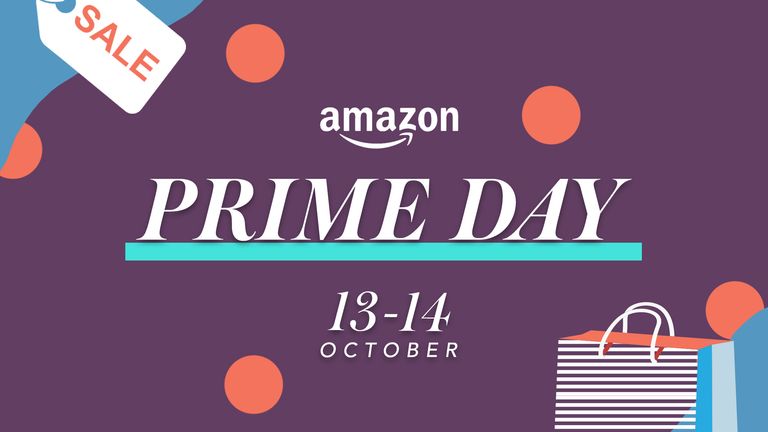 Amazon Prime Day 2020 is one of the internet's most eagerly awaited shopping events. This year, Prime Day is definitely not one to miss - withhuge discounts on everything from the best hair dryers to coffee machines and skincare, The sale begun yesterday (13th October), and willfinish at 23:59pm on 14th October. Yes, that's right, it's a huge, two-day event!
But, in order to take part in all the incredible deals on Amazon Prime Day, you'll need to have a Prime Membership, or sign up to a free, 30-day trial of Amazon Prime, which you can cancel before the 30 days is up with no strings attached.
Deals hit Amazon UK and US yesterday, but some of the best discounts are still available until midnight tonight. So be quick to snap up a fantastic offer while you still can - we've rounded up our pick of the best below.
Amazon Prime Day 2020 deals: quick links
UK deals
US deals
Which are the best Amazon Prime deals to shop now?
Below are some fantastic deals from Amazon that you can shop right now! Remember, you will need to be a Prime member to snap these up. They are:
Home device deals:
Amazon Echo Dot (3rd Gen) - was £49.99, now £18.99 (save £31) | Amazon.co.uk
The Echo Dot is a smart speaker that allows you to listen to music, control your smart home, and call your friends and family hands free - and during Amazon Prime Day, it's just £18.99 - saving you £31 on the original price! Get this deal before it goes. View now at Amazon.
Ring Video Doorbell 3 Plus - was £199, now £129 (save £70) | Amazon.co.uk
This lightening deal is over in just 17 hours, so if you want it, be quick! The Ring doorbell is a great way to secure your home, ensuring you can see who is knocking at your door from anywhere in the world - even if you aren't inside. Amazon Prime Day is a brilliant time to get discounts off this home essential - it's the cheapest it will ever be right now in this mega-sale. View now at Amazon.
eero Home WiFi system -was £249.40, now £149.40 (save £100) | Amazon.co.uk
This is a complete home WiFi system that will replace your router and making connecting to the internet anywhere in your house that much easier - and faster. View now at Amazon.
Echo Show 5 - was £79.99, now £39.99 (new lower price!) | Amazon.co.uk
One of the biggest pre-Prime Day discounts so far, the Echo Show is now over £30 off! On the show, you can complete all of your life admin - manage your calendar, voice or video call loved ones, or enjoy all your favourite TV shows, radio stations and audiobooks. View now at Amazon.
Ring Peephole Cam - was $129.99, now $69.99 (save $60) | Amazon.com
This Ring camera is perfect for keeping an eye on who is visiting your home, whether you are there or not. And now, it's a huge $60 off - so grab the deal while you still can. View now at Amazon.
Beauty deals:
Oral B Smart Electric Toothbrush - was £219.99, now £54.99 | Amazon.co.uk
This Oral B toothbrush is a whopping £165 for Amazon Prime Day, so there's never been a better time to treat your mouth to the clean it deserves. After all, many of us have been unable to get to the dentists for months - and electric toothbrushes are far superior to manual. View now at Amazon.
GHD hot brush - was £139, now £93.99 | Amazon.co.uk
One of our favourite GHD products, this hot brush is now a huge £45 off from Prime Day! A brilliant styler that eliminates frizz and guarantees smooth results, there's a reason this is flying off the shelves. View now at Amazon.
Orbrie Gold Lust Repair & Restore Shampoo - was $49, n0w $34 | Amazon.com
This shampoo is said to be Jennifer Lopez's favourite. And that's enough of a pull for us! This much-coveted shampoo doesn't come cheap, but if you stock up now, you'll save $15.
Fashion deals:
Pandora Bracelet heart lock - was £65.64, now £45 (save £20) | Amazon.co.uk
This gorgeous Pandora bracelet has an on-trend rose gold lock, which makes it something a little special if you're looking to add to your jewellery collection. It's now £20 off, reduced to £45! View now at Amazon.
Kindle deals:
Kindle Paperwhite - was £119, now £79.99 (save £40)
If you buy the Kindle Paperwhite now you'll save a huge 33% on the brilliant reading device, so don't hesitate! Reduced to just £79.99, the Paperwhite is one of the most popular Kindle's for a reason. View now at Amazon.
Kindle Paperwhite (US) - was $149.99, now $99.99 (save $50) | Amazon.com
Save $50 on the Paperwhite if you're in the US - a fantastic offer for bookworms! View now at Amazon.
Amazon Kindle unlimited free for three months | Amazon.co.uk
For all you book worms out there, this is a deal you don't want to miss! Right now, Prime members can get three months of Kindle Unlimited for free - a fabulous chance to cosy up with your favourite novel. View now at Amazon.
Homeware deals:
De'Longhi Eletta coffee machine - was £829.99, now £575.90 (£254.09 saving) | Amazon.co.uk
This chic coffee machine is a whopping £245 off now - perfect for making some espressos and cappuccinos to keep you warm throughout the winter mornings. View now at Amazon.
Shark Cordless Upright Vacuum Cleaner – was £479.99, now £229.99 (save £250) | Amazon.co.uk
Hoovers can be expensive, but with this Amazon Prime Day deal you'd be saving a huge £250 on this Shark cordless model, which is ideal for picking up rouge pet hairs and cleaning in tricky spots. Bag it now for just £229.99. View now at Amazon.
Shark Cordless Stick Vacuum Cleaner – was £379.99, now £199.99 (save £180) | Amazon.co.uk
There's a huge £180 off this highly-rated cordless vacuum cleaner from popular brand Shark right now, but only for the next 11 hours, so be quick if you want it! View now at Amazon.
Le Creuset Steel Traditional Kettle - was £95, now £82 | Amazon.co.uk
Le Creuset is a must-have brand for any home, and so we were thrilled when we saw there was £13 off this gorgeous steel kettle! This will make any home appear like a charming rustic cottage - and best of all, it whistles when it's finished boiling on the hob! View now at Amazon.
Le Creuset Casserole Dish - was £250, now £180 (save £70) | Amazon.co.uk
Everyone needs a Le Creuset casserole dish for cooking all of their favourite dishes, and this especially chic one is now a whopping £70 for Amazon Prime Day! Now available for just £180, it's a fraction of its original price, so be sure to snap it up ASAP, before it goes! View now at Amazon.
Magitech Cool Mist Humidifier - was $39.99, now $19.46 | Amazon.com
Save your skin with this Magitech humidifier, which will both cool the air down and create a comfortable, healthy environment for you to breathe in at home! View now at Amazon.
LUCID 3 Inch Lavender Infused Memory Foam Mattress Topper, $89.99, now $59.99 | Amazon.com
Is there a more dreamy sounding mattress topper than this one? For those who value a good night's sleep, this is one investment that will really pay off.
Fitness deals
Garmin Instinct Fitness Watch - was $299.99, now $149.99 | Amazon.com
This handy fitness watch is now $149.99, a 50% off steal for Prime Day! It's perfect for tracking your workouts, measuring your heart rate, and GPS tracking while working out. View now on Amazon.com.
Amazon Prime Day 2020 deals: which brands are there discounts on this year?
As with every year, lots of big-name brands will be offering deals, including Philips, Foreo, Under Armour, Toshiba, Kindle and Le Creuset, to name just a few.
In fact, over one million products are set to be included in the Prime Day 2020 deals. And with discounts on everything from gorgeous workout gear to the best eReaders up for grabs, you'll be sure to pick up some fantastic bargains.
Amazon are also turning their focus to independent brands this year, encouraging customers to shop small. Prime members who spend £10 with selected small businesses between now and 12th October will earn £10 to spend on Prime Day. View the offer here.Getting paid to support independent retailers? Count us in!
We will be updating this page with some of the best Amazon Prime Day deals as soon as they come in - be sure to check back ASAP.
Amazon Prime Day 2020 beauty deals: what products can I buy?
This year, there are savings on skincare and body care tools, such as Oral-B electric toothbrushes, Philips Hair Removal Devices, and Tweezerman tweezers, to name but a few!
In fact, you can find some of the biggest savings on high-ticket items such as the GHD hot brush - which is reduced today from £139 to £93.99 today for the next 15 hours only!
Some of our favourite make-up brands are also seeing discounts with deals from Maybelline, Eyelure, and L'Oreal. In fact, Maybelline's much-loved Lash Sensational Mascara is on sale for just £4, when it normally retails for £6. It's a great chance to stock up on all your beauty essentials.
On skincare, expect discounts from brands like Elemis (their Dynamic Resurfacing Pads were reduced from £32 to £26 last year), as well as Cetaphil and Elizabeth Arden.
Amazon Prime Day 2020 fashion deals:what products can I buy?
Just about every fashion item has some kind of discount on Prime Day - with everything from leggings to coats, to t-shirts reduced today and tomorrow
These Levi's shaping skinny jeans are reduced from £70 to £44.41 - a £26 saving on a hugely popular brand!
On Amazon, you might not see as many deals from the big, well-known brands, but there are some great discounts on Amazon brands such as Iris and Lilly, find., and MERAKI. In fact, as mentioned, Amazon are focusing on small businesses this year, so it's a great way to support smaller fashion brands you might not ordinarily shop!
We love these Ted Baker Tilly shoes too - a fabulous pair of wear-everywhere trainers that are reduced from £109 to £60.62 currently.
But, you may be lucky and see some great deals on established, high-street brands such as Hobbs and Levi's, which has an entire section on Amazon.
What are people shopping for on Amazon at the moment?
In the run up to Christmas, beauty advent calendars are a huge draw at the moment - we particularly love the White Company offering this year.
Some of the most popular Prime Day purchases that everyone is shopping right now are the Kindle devices, including the Echo Show, Echo Dot, Fire Tablet and Echo buds - you can shop all of them here while they are still on offer!
Away from Prime Day, With the imminent release of the new PS5, people are currently shopping for Playstation Store gift cards - a present likely to be much-appreciated by any grandsons, nephews or younger children you might have! And, following the the success of her Mrs Hinch Instagram account, Sophie Hinchcliffe has unveiled her very first memoir - you can buy it on pre-order here. It's already become a No.1 bestseller!
What type of deals are there on Prime Day?
This year there are a few different types of deals on offer, depending on what kind of products you're after and how keen you are to purchase. They include:
Spotlight deals- these are offers that last for just 24 or 48 hours, and are usually from well-known brands. These are the sort of deals to take advantage of as soon as you see them, as they're from brands you love, but might not see discounts from during other times of the year.
Featured flash deals -these are products that are very rarely on sale, so they offer some of the best discounts and savings in the whole Prime Day sale. There will be a limited number of these products available, so if you spot them, we'd advised snapping it up ASAP!
Lightening deals - these are on sale for a very short time (normally 12 hours). As with the flash deals, these will be deals that will expire after about a day, so you'll need to get them as soon as you see them to avoid missing out.
Coupon and voucher deals - this is a new format for Amazon Prime Day 2020. You will be given a voucher code, or a coupon, which you redeem at the till for money off.
In terms of which are the best deals, generally, the featured flash deals are where you'll find the most brilliant savings. However, each of these types of deals will offer you great bargains.
When is Amazon Prime Day 2020?
This year's Amazon Prime Day is running across13th and 14th October,with amazing deals across beauty, home, tech, fashion and more. Beginning on 00:01am on 13th October and finishing at 23:59pm on 14th, you'll want to get in early on to secure the best deals.
The sale usually takes place in July each year, but Amazon chose to postpone this year's Prime Day deals due to the coronavirus pandemic. But with amazing savings on more than a million products, this year's Amazon mega sale certainly won't disappoint.
What is Amazon Prime Day?
Prime Day - spread over two days this year - is a chance to save money on all of your favourite items and brands exclusively on Amazon. Over the two-day period, there will be some fantastic discounts on all sorts of products that aren't normally on sale or on offer. So it's a great chance to snap up some offers in homeware, beauty, fashion and fitness - plus so much more.
Do I need a Prime membership to buy on Prime Day?
Yes, historically, you will have needed to be a Prime member to be able to take advantage of the discounts on Amazon Prime Day. Membership costs £7.99 a month (or £79 for a year), and subscribers are eligible for advantages including same-day delivery, over 800,000 free e-books for your e-Reader, and access to Prime Video.
If you're already a Prime member, you will automatically get access to the deals, but if you're not yet a member and want to take advantage of the amazing discounts on offer, you can sign up for a 30-day trial here, anytime before the sale begins.
So whether you are starting your Christmas shopping ahead of the herd, or just treating yourself – I mean, with such amazing discounts, it'd be rude not to – we hope you pick up some amazing bargains!
Should I shop on Amazon Prime Day - or wait for Black Friday and Cyber Monday?
Two of the biggest shopping events of the year are coming up - so which should you shop, Amazon Prime Day, or Black Friday?
There is no right or wrong answer, but it's worth noting that this year Prime Day is a month earlier than Black Friday and Cyber Monday, so if you want to make sure that you get the discounts you want, it might be worth getting in there on Amazon Prime Day, to be sure. Plus, you'll have a whole extra month to enjoy your new purchases if you shop on Prime Day.
However, Prime Day is exclusively on Amazon, and your favourite brand/product might not necessarily be on Amazon - whereas they are very likely to run a Black Friday discount. In this case, Black Friday may be more helpful.
We reckon it's worth keeping an eye on Prime Day to see if you can snap up whatever products you want/need before it's too late, and a whole month earlier than Black Friday.