These 11 kitchen drawer organizer tools will help you create a streamlined, clutter-free space
These genius kitchen drawer organizers mean cutlery trays just got a whole lot more sophisticated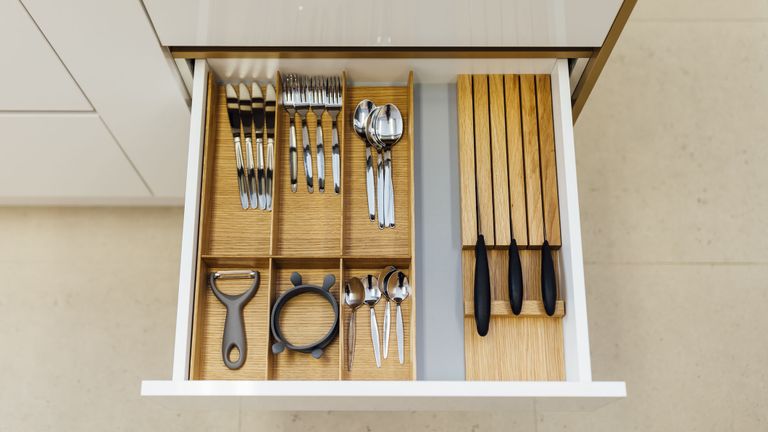 (Image credit: Getty Images)
A kitchen drawer organizer can turn a cluttered mess into a neat, streamlined, and easy-to-use space. It also makes it far less likely that you'll ever find yourself using one of these spaces as an anything-goes junk drawer.
Whether you have a tiny kitchen with one precious drawer reserved for cutlery, or a larger kitchen that includes multiple drawers of different sizes to store all sorts of things, one thing is true—it makes life so much easier when those drawers are organized. Thankfully, there are plenty of products on the market these days to help with the goal of having organized kitchen drawers. And, let us be the first to tell you, in case you didn't know—cutlery trays have become a whole lot more sophisticated in recent years. There are compact trays for smaller drawers and kitchens with limited space, and specialist products to store all your kitchen gadgets—from knives, to scissors, to pot lids and more. Whether you favor a traditional wooden look, clean white dividers, or Instagram-friendly clear trays, there's something to suit all tastes.
If you have a disorganized kitchen, there's no better time to go forth and declutter your home before you start trying to organize your kitchen drawers. Plus, having an organized kitchen makes cleaning your kitchen a whole lot easier, too. Once you've decluttered, then it's time to get your items in a neat, uniform, and organized order.
Where can I find the best kitchen drawer organizer tools?
Plenty of retailers and brands sell kitchen drawer organizer tools, but the following places are where you'll find the very best:
US:
UK:
Kitchen drawer organizers to buy for your home
1. Adjustable cutlery trays
Specifications
Compartments: 9
Dimensions: 13" - 20"
RRP: $22.97
Reasons to buy
+
Great for bespoke fit to drawers
+
Gives you flexibility to create compartment sizes you want
If you're on the hunt for a cutlery storage solution that closely fits the dimensions of a particular drawer, adjustable and expandable trays are a good bet. These trays typically have click or slide mechanisms so that you can adjust the tray to size, and usually give you the flexibility to create at least one larger area for utensils, as needed. These allow you to store larger items such as scissors or kitchen knives, as well as forks and spoons, so you have everything you need to hand. This adjustable cutlery drawer from Amazon (above) comes in a chic wooden design to keep your kitchen look stylish as well as functional and organized.
---
2. Individual cutlery trays
Specifications
Compartments: From 3 - 6
Dimensions: 9.6 x 16 x 2 inches
RRP: $15.99
Reasons to buy
+
Means no space is wasted
+
Good for more awkward items
Another option to ensure no space is wasted in a drawer is to use smaller, individual trays and arrange these in any way that best suits the drawer. There are multiple options, and they are best used for bigger or more awkward kitchen essentials, such as can openers, wooden spoons, and scissors. You can map out these containers using paper templates before you buy, to ensure that they will fit perfectly. This clear option from Amazon (above) is ideal for seeing what's in your drawer and keeping a clean, sanitized space.
---
3. In-drawer knife rack
Specifications
Compartments: Fits 12 - 16 knives
Dimensions: 17"L x 11.25"W x 2"H
RRP: $34.82
Reasons to buy
+
Good for safety
+
Reduces clutter on countertops
To keep your kitchen knives sharp and safe, they should never be stored loose—a quality knife block or magnetic rack is one of the best places to keep them. However, if you prefer to keep your knives in a drawer off of the countertop, invest in a knife drawer organizer designed exactly for this purpose. These kind of kitchen drawer organizers are brilliant at saving space, as they often allow knives to be safely stacked together, while protecting you from the blades. They are also a great way of allowing you to see which one you want/need easily.
---
4. Compact single cutlery tray
Specifications
Compartments: 5
Dimensions: 39.37 x 10.67 x 5.59 cm
RRP: $23.48
Reasons to buy
+
Ideal for tight kitchens
+
Really maximises storage space
A kitchen drawer organizer should make your life in the kitchen easier—and this single, slimline option really does that. For tiny kitchens and neat drawers, Joseph Joseph's range of compact cutlery organizers is truly hard to beat. They allow you to stack your cutlery on top of one another, to really maximise your space. These can be combined with other items in the range, or a larger tray for utensils too, if space allows. These smaller cutlery organizers are great for smaller drawers, or even for use on your kitchen countertops if you prefer.
---
5. Extendable dividers
Specifications
Compartments: Set of 4
Dimensions: Fits 17.5" - 21.9" inch drawer
RRP: $39.99
Reasons to buy
+
Can fit to your drawer size
+
Affordable
For larger, bulkier utensils like ladles, spatulas, and whisks, extendable dividers are a great kitchen drawer organizer option to prevent a drawer of kitchen items from becoming a tangled mess. These dividers usually come in sets, so simply buy what you need and adjust them to fit the drawer. They can be made smaller or bigger, so they will fit any drawer you have. These could well be ideal for renters, who might adjust to different drawer sizes every couple of years.
---
6. Textile dividers
Specifications
Compartments: Set of 12
Dimensions: 12.17 x 11.97 x 4.88 inches
RRP: $24.96
Reasons to buy
+
Multi-functional
+
Look good
Drawer dividers intended for clothes and underwear can be repurposed in the kitchen for cloths and tea towels. Many will slot easily into your kitchen drawers, but to maximize space, use one of these dividers along with a space-saving folding method. You can get drawer dividers in a range of colors and materials, but we love these neutral gray fabric options above. Plastic dividers like these are also great for keeping things clean in the kitchen, but this material provides a great, flexible kitchen drawer organizer too.
---
7. Tiered spice rack
Specifications
Compartments: Four tiers
Dimensions: 16.5L x 13.2W x 1.5H inches
RRP: $48.12
Reasons to buy
+
Allows you to see spices clearly
+
More efficient cooking
One of the most popular kitchen drawer organizers there is. Many of us have spice racks on our kitchen countertops, or keep our spices in the cupboards. So keeping spices in a drawer, where you easily see what you have without rooting around a cupboard, is a bit of a luxury—but a great option if you can do it! Keep yours in order with this clever storage solution—a tiered spice rack that allows you to see every spice tub clearly and easily. This kitchen drawer organizer also allows you to store spices without having them rolling around loose in your drawer.
---
8. Peggy drawer organizer
Specifications
Compartments: Two trays and 16 pegs to organize as you wish
Dimensions: Each base is 17 3/4 x 6 inches
RRP: $25.21
Reasons to buy
+
Helps to organize large pans
+
Can be adjusted for your needs
Larger drawers, often found under your oven, or to the sides of your oven are obviously, better for storage of larger items, such as your best induction pans, your food processor, or blender. But despite these more cumbersome items, there are still ways to keep these larger drawers neat and organized.
This clever drawer tool is exactly like a pegboard, but it goes on the bottom of your kitchen drawers instead of on your walls. Simply position the pegs anywhere on the base tray, and use the spaces you've created to store pans, pot lids, or pretty much anything else you fancy—this is the closest you'll get to a custom storage solution without the cost. It's also a great way of making your different pots and pans easier to see, as it guarantees they won't be left stacked on top of each other.
---
9. Pan rack
Specifications
Compartments: Five tiers
Dimensions: 9 x 8.75 x 12 inches
RRP: $17.87
Reasons to buy
+
Stops pans from being stacked on top of one another
+
Fits pans of all sizes
For bigger spaces, this kitchen drawer organizer tool is ideal. To store pots and pans without nesting and stacking, use a purpose-designed pan rack. This allows you to grab the pot you need without taking anything else out of the drawer in order to get to it. With most pan racks, you can store an array of different size pans—from thicker, deeper ones to wider, thinner options. Pan racks are great for deeper, taller drawers, but perhaps less useful for cupboards, which is something to bear in mind. If you have a lot of pans to store, our clever pan storage ideas offer even more creative solutions.
---
10. Pot lid rack
Specifications
Compartments: Four tiers
Dimensions: 10.1 x 7.75 x 7.5 inches
RRP: $10.87
Reasons to buy
+
Lets you select the right lid easily
+
Allows storage of multiple lids at once
Pot lids usually take up a lot of space in our larger drawers due to their slightly awkward size. So, finding the perfect solution for storing pot lids is a bit of a game-changer—and we reckon we've done it with a pot lid rack. Using a rack to store lids definitely reduces frustration when trying to find the exact lid you need, or put things away after washing up a recipe from one of your best cookbooks. We like this version from Amazon above, which has space for five lids at once. And if you need more pot lid storage, simply buy another.
---
11. Condiment caddy
Specifications
Compartments: 1 section
Dimensions: 8.88 x 7 x 9.38 inches
RRP: From $29.99
Reasons to buy
+
Easy to move from kitchen to dining table
This is a kitchen drawer organizer that will take you from cooking to dining. For condiments that don't need to be refrigerated, storing them in a tray/caddy with a handle in your deeper, wider drawers, means you can take them straight from drawer to table as needed. We'd suggest maybe keeping your caddy close to plates and/or serving trays so that you have easy access to items you will need simultaneously. We love this one from Amazon with a handle that makes transporting easy.
---
Helen Booth is a freelance writer and maker who loves interiors, crafts, and keeping tabs on homes trends. When she's not sourcing inspirational homes for magazine features, you'll find her curating irresistible interiors shopping edits, posting on Instagram—or selling her handmade homewares on Etsy. She also co-founded the popular weekly newsletter Lunch Hour Links, a curated selection of the best books, articles, podcasts and TV shows to browse while you eat your lunch.