The 1 Percent Principle: The Foolproof Way to Reach Your Goals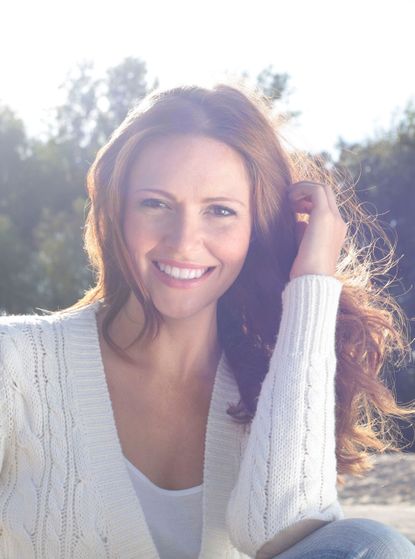 (Image credit: Rex Features (Shutterstock))
Tackle your goals and change your life step-by-step with the 1% Principle.
What's the biggest goal you want to reach in your life right now? Is it losing weight or starting a new career? Do you wonder how you'll ever reach such a lofty goal? You're not alone. Many of us struggle to motivate ourselves every day to make changes happen and reach our big goal. This is often because we're trying to do too much too quickly according to Tom O'Neil, author of 'The 1 % Principle (opens in new tab)' (£9.99; HarperCollins).
Instead, it's all about making small changes, says Tom. To reach a big goal, don't put too much pressure on yourself. Instead just find a way to work 1% toward your goal each day. Whether that goal is trying to lose weight or learn a new skill or progress at work, the 1 Percent Principle could be just the ticket.
Intrigued? Check out the eight key laws of The 1 Percent Principle.
Law one is 'The Law of the Small.' It basically boils down to this - don't neglect the small stuff, because that's what makes the big stuff happen!
'Small things tend to be neglected by society in general, but as many people know, 'if you take care of the little things, the big things will look after themselves',' explains Tom.
'Most of our decisions and actions are small and take place within a few seconds. However, one decision made in an instant can echo throughout eternity in a positive or negative way.
'Small is important. Small is king!' So if you're trying to lose weight, a small change would be to bring a healthy snack from home to work every day to keep you on the right track. Or just go for a 10-minute walk every day. Make a mini-goal that's easy to achieve every day.
Want to find out more? Click through to discover Tom O'Neil's eight key laws of the 1 Percent Principle...
Law Two - The Law of Cumulative Effect
Ever notice that if you start to feel positive in one area of your life, other areas seem to perk up too? This is Tom's second law. 'Each small and positive decision in a specific area allows the 'snowball' to quickly grow, resulting in this area of your life moving ahead quickly. 'I believe having a successful life is a very simple process. The more wise and positive choices you make, the more successful you will be.' Tom uses this theory as an example of diet choices. 'The decision to have French fries instead of an apple may not seem a big deal. However, multiply the calories of the French fries (360 calories in a 135 gram serving) every day over 10 years (1,314,871 calories) versus an apple (72 calories) every day for 10 years (262,974), and the difference is staggering! 'The cumulative effect of ongoing poor diet choices over your life will lead to diabetes, heart problems and general poor health,' Tom explains. 'Good daily choices, on the other hand, will most probably give you another 20 to 30 years of full health that you can share with your family.'
Law Three - The Law of Positive and Negative
'A decision is either good or bad, and will make your life better or worse, taking you closer to or further from your goals and who you want to be,' Tom says. 'Very small and positive tweaks and changes to your lifestyle will see you make great progress towards where you want to be. The fewer negative corrections you make, the less personal energy you will have to spend getting back on track. 'Once you are in the pilot's seat and take over the controls of your life, your goals will start to take on life of their own. What we start building up will start building us up.'
Law Four - The Law of Gradual Change
'The law of Gradual Change focuses on the fact that we have only a limited amount of time today to make a positive impact in both our own and other people's lives.' Tom says. 'The momentum and impact you make on yourself and those around you is linked directly to the daily small choices you make. Gradual change tends to set in and becomes a way of life, while instant change may only be fleeting and quickly melt away. 'The power of the 1% Principle is that you need to make only one genuine improvement today to have some success. The positive outcome here is that when you consistently make positive changes in your life, you will become more empowered and less tempted to procrastinate.' 'Losing weight is a good example of this law. While the initial result of rapid weight loss can be positive, as a rule it is not feasible to continue this as an ongoing lifestyle, and old habits and behaviours will take over once you have lots weight. However, a more measure, focused and long-term approach to weight loss will see you make small positive change, at a pace and in a lifestyle you can manage.'
Law Five - The Law of Constant Improvement
The Law of Constant Improvement in action refers to the small changes you make every day that will result in positive outcomes. Tom outlines the format you can apply to start making this happen: 1. Assess the key areas of your life. 2. Measure your performance in these areas. 3. Create an innovative way to slightly improve yor performance on a daily basis, in one of these areas. 4. Repeat by implementing the 1% Principle every day. 'Taking one of these steps every day reinforces your decision,' explains Tom. 'Leading to you becoming more competent in different areas of your life.'
Law Six - The Law of Sowing and Reaping
'As you invest yourself into a particular task or skill, your opportunity to develop this ability improves,' Tom explains. 'This leads to more opportunities you may not have been aware of, leading to greater personal growth. 'When you continually sow positive change in your life, the 1% Principle turbo-charges your performance, helping you to reap the rewards and reach the next level faster.' For example, Tom contacted the 'Harvard Business Review' to write an article on careers. After getting published in the 'Harvard Business Review', he showed his published piece to 'The Economist' and was able to write a weekly Q&A on their site. Then the 'Harvard Business Review' saw his work for 'The Economist'and asked him to write a section for the book they were writing. Each success you have brings more opportunities to you.
Law Seven - The Law of Decision and Action
'Nothing happens without a decision and a corresponding action,' says Tom. 'Most people fail in reaching their potential due to the fact that they just don't make a decision and follow it through. 'While a giant goal cannot easily be comprehended, small bites will ensure the goal firstly comes into focus, then reaches completion. 'No matter how big or small your goals are you can always see far ahead to take that next step.' Theodore Roosevelt says, 'In any moment of decision, the best thing you can do is the right thing, the next best thing you can do is the wrong thing, and the worst thing you can do is nothing.'
Law Eight - The Law of the Paradox
'To gain something tomorrow, you must give up something today,' Tom explains. ''We're faced with countless opportunities every day to choose between a short-term action to fulfil a craving or staying the course towards a long-term goal. 'Success in any aspect of life demands and requires a cost that must be paid first. To invest in your future and the future of others, you sometimes need to do some hard, unselfish and fearful things today, so you can reach your goals tomorrow.'
The 1% Principle
Tom O'Neil brings the 1% Principle to help people who feel stuck in a job they hate, or a relationship that's lost it magic or for those struggling with their weight. Check out the 'The 1% Principle' (£9.99; HarperCollins) today to conquer your life through his specifically tailored 30-day programme. Want more weight-loss inspiration?