The 10 best organization apps to help you feel more in control of your week
Struggling to stay on top of life admin? The best organization apps are here to help save you time...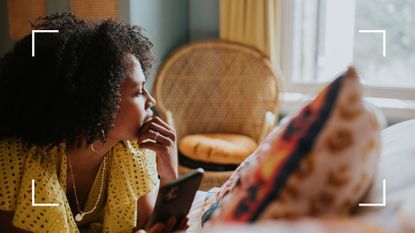 (Image credit: Getty Images)
Looking for the best organization apps? Chances are you've been struggling to stay on top of your week. Indeed, from ticking off everyday tasks and making plans with friends to claiming work expenses and remembering passwords, it can feel like there is an endless amount of life admin to do sometimes.
Fortunately, however, there are now a number of handy tools directly accessible at the tap of a screen that have been specifically designed to streamline your schedule and help you feel more in control of your to-do list. It's important to note that apps that enable you to organize your life differ slightly from those that help you manage your time, with the former focusing on freeing up your time so you can enjoy life more while the latter allows you to get more done in a specific timeframe.
With efficiency in mind, we've tried and tested the best organization apps - be that work, household chores or your downtime - so you won't waste headspace choosing between which options to download. Just like the best meditation apps, these will become a go-to on your phone.
How to choose the best organization apps for you
The best apps for understanding how to organize your life need to slot seamlessly into your routine and quickly benefit it, rather than feeling like yet another task that you need to squeeze into your day. When trying out the best options, one of the main things I considered was whether there was a straightforward set-up and continual ease of use, so you can maintain boundaries with your downtime. I also thought about whether there were particularly clever features to hone in on, like knowing when to send reminders at the most optimum moment and tools that curb the time spent on laborious jobs.
"Whether you need assistance getting organized at work or for general home daily tasks, there is an assortment of apps available to help you keep track of important tasks, events, and thoughts," says Galen Low (opens in new tab), general manager at The Digital Project Manager (opens in new tab). He notes that while team organization apps - like Monday.com, Toggl, and Trello - have long-dominated offices, there are similar alternatives that could benefit people in everyday life too.
The first step is to consider what you need the organization app for. "For example, if you're someone who just needs to ensure you don't forget an appointment or a social occasion, options like Google Calendar or Calendly are easy to use, integrate with most apps, and automatically add events from your Gmail account straight to it," notes Low. "Similarly, if you love making lists but can never seem to keep on top of them, apps like Evernote, Microsoft To Do, Todoist, and Anylist allow you to make and share notes, documents, and to-do lists with those close to you."
The best organization apps
1. Google Calendar
Best organization app for weekly planning
Specifications
Cost: Free
iOS or Android: Both
Reasons to buy
+
Incredibly simple to set-up and use
+
Compatible with Gmail accounts
+
Helpful advance reminder notifications
Reasons to avoid
-
Not suitable for those who don't use Gmail
If you only download one organization app, make it Google Calendar. It is by far one of the easiest interfaces to get to grips with and it's so simple that you can start using it straight away to schedule meetings, appointments, and events.
In fact, if you are sent an invite via your Gmail account then you'll have the option to automatically add it to your calendar at the click of a button. Be that booking a haircut, signing up to a spin class, buying Madonna concert tickets, or making a restaurant reservation. Those with other email providers might not feel the same seamless benefits, since they'll have to manually input more things.
For me personally, the best feature is being able to get reminder notifications about upcoming activities. So, as the app says, "you always know what's next". I also really rate the clear, color-coded interface which means it's easy to see your week at a glance, refresh your memory, and can plan accordingly.
2. Structured
Best organization app for daily planning
Specifications
Cost: Free (or $9.99 one-off for premium)
iOS or Android: iOS
Reasons to buy
+
Very easy to set-up and use
+
Stylish, colorful design
+
Enable you to see your day at a glance
Reasons to avoid
-
You need to upgrade for the 'reminder' feature
Structured is so handy, I don't know what I did before it. If you're choosing between the best productivity apps, then this could be a great one to consider too, mainly because it does what it says on the tin and you can "split your day into small tasks" to get a timeline of the next 24 hours.
My organization shot up, with the ability to see my to-do list mapped out across the next few hours at a glance. The ability to tick things off the nice pink interface also felt incredibly satisfying. However, one of the best features in my opinion is the 'Inbox' section which is a spot for general thoughts and ideas. While previously I might have dumped ideas or tasks into my 'Notes' app or on a random post-it note at my desk, this app allowed me to quickly type them out and then file them away or action at a later moment.
In fact, there were only a couple of downsides I found with Structured. The first is, to reap its benefits, you need to be on top of inputting absolutely everything - although this is made as simple as possible. The second is that you need to upgrade (albeit with a one-off payment) to access the invaluable 'reminder' tool, plan recurring tasks, and to import calendar events from Google.
3. Expensify
Best organization app for expenses
Specifications
Cost: Free
iOS or Android: Both
Reasons to buy
+
Streamlines the business expenses process
+
Avoids the 'lost receipts' stress
+
Entirely free to use
Do you have a job that involves claiming back lots of expenses? I remember wasting so much precious time during my work days in the past processing fiddly physical receipts and then chasing up about where my reimbursement had gotten to. Worse than that, there were times when I'd mislaid receipts entirely with no proof of payment.
This is where Expensify comes in and it's one of the best organization apps. It takes away all the stress and hassle in one fell swoop by allowing you to scan unlimited receipts using your phone, track claims, and be notified as to when exactly you'll get your money back. What's more, if you employ people, it's a fantastic tool for managing business outgoings. It also integrates with several accounting services - like QuickBooks - which will save you another headache at the end of the tax year.
However, this app really is only useful for those who claim work expenses on a regular basis. If you're looking for help with budgeting or personal spending then there are other apps that are more suitable.
4. LastPass
Best organization app for passwords
Specifications
Cost: Free (or $3.99 per month for premium)
iOS or Android: Both
Reasons to buy
+
Makes logging in to lesser-frequented sites a seamless process
+
Autofill for Safari users
+
Easily share logins with others
Reasons to avoid
-
Set-up can take a little time if you need to re-remember all your passwords
We've all been there, finding a quick online task take ten times as long because you can't remember your complicated, ultra-secure password, and find yourself going down the lengthy, irritating path of resetting it. However, this is the exact solution LastPass provides.
The app allows you to create strong passwords, keep a track of all your logins in one place, and share them with trusted people. While it took me a little while to set myself up (because I had to re-remember all my passwords), I soon had it linked to my accounts on the likes of Google, Twitter, and LinkedIn.
What I particularly rated was how easy it was to search for lesser-known sites - like Moonpig - that you might want it connected to and as an iPhone user, I was given the option to enable it to autofill in a Safari extension. While I think most people will get the best benefits from the free version, there is the option to upgrade to premium, which gives you extra perks like greater password sharing, dark web monitoring, and emergency access.
5. Howbout
Best organization app for socializing
Specifications
Cost: Free
iOS or Android: Both
Reasons to buy
+
Incredible easy to set-up and use
+
Can quickly determine availability within a group
+
Calendar sharing function to avoid double-booking
Reasons to avoid
-
May miss chat notifications
Finding a date and time for a group of friends or family to meet up can be another common organizational gripe. This is a problem that Howabout are intent on solving. Whether you are planning a holiday, hen-do, brunch or a quick drink, the app is focused on making the process a breeze.
It invites participants to input their availability so that you can easily find out when everyone is free. They then make it a fun experience fine-tuning plans, from the convenient location to the cuisine you'll be tucking into.
The feature on Howbout that stood out to me was the invites and that's what scored this app a place on our list of best organizational apps. They can be sent to people who aren't on the app, meaning that not everyone has to have it downloaded for it to work properly. There is also a built-in chat function, so conversations don't get lost on your other messaging apps, and it syncs with your own existing calendar, so there's a low risk of double-booking yourself. Honestly, why hasn't someone thought of this sooner?
6. Calendly
Best organization app for meetings
Specifications
Cost: Free (or $8 per month for premium)
iOS or Android: Both
Reasons to buy
+
Seamlessly syncs with Google Calendar
+
Saves wasting time going back and forth on availability
+
Booking link can be added to your website
Reasons to avoid
-
You'll need to use a different app if you're after a calendar specifically
Just like the best health apps, some of the best organization-boosting apps work in the background to make your life a whole lot easier. Calendly is such an example, allowing people to book in with you for meetings and appointments without you having to go back and forth about when you're both free.
Instead of frantically checking your diary multiple times a day, all you need to do is use the app to input into a schedule when you're available, creating specific time slots that people can follow a link to book into. Even better? If you sign up with Gmail it will automatically sync with your Google Calendar to lower the risk of any double-bookings.
While Calendly is also available on desktop, using the app version comes with a huge advantage in that you can access your schedule on the go and easily see when people have selected to have meetings or appointments with you. You'll need to upgrade to premium to connect two calendars, make group events, and send invitee email reminders as well as follow-ups.
7. Todoist
Best organization app for errands
Specifications
Cost: Free (or $3 / £3 per month for premium)
iOS or Android: Both
Reasons to buy
+
Easy to download and set up
+
Ability to re-prioritize items as plans change
+
Encourages you to break big tasks down
Reasons to avoid
-
You have to pay for the key task 'reminder' feature
There's really very little the Todoist app doesn't help you achieve. Making a to-do list is one of the best ways to kickstart organization, and this does it with aplomb. I was impressed by its easy download and set-up, and I was able to note down my tasks straight away.
The best bit is, as opposed to scribbling things down on paper, you can move them around as priorities change and feel the satisfaction as you tick them off with a tap of the screen and see them disappear from your 'inbox'. I also found it really motivating to be able to set myself mini-deadlines.
Sometimes getting organized can be sabotaged by a feeling of overwhelm, and this app works to reduce the risk of that happening by encouraging you to break down bigger jobs into smaller steps. You'll get the vast majority of the core benefits with the free version, but if you're after access to the handy 'reminder' feature then you'll need to upgrade. It's ideal if you're looking to learn how to reduce stress.
8. Memento
Best organization app for filing
Specifications
Cost: $3 per month (or $6 per month for premium)
iOS or Android: Both
Reasons to buy
+
Ideal for keeping important documents just a tap away
+
Wide-ranging interface, allowing you to personalize it to your needs
Reasons to avoid
-
A bit tricky to understand how to use at first
-
Charges a monthly fee to use
The main selling point of Memento is that it enables you to get rid of a selection of other apps and organize your life all in one place. Just like the best journaling apps, it's up to you what you want to make a note of, with the interface allowing you to keep on track of your personal finances, make a list of goals, store contacts, and keep your medical records close to hand.
It really is a case of making this app what you want. For example, there's the flexibility to view entries as a list, a set of cards, a table, on a map, or in a calendar. Because of the wide range of options - which in some ways, justifies the monthly fee - I did find it a little tricky to work my way around at first.
However, I started to find it incredibly helpful when applying it to certain aspects of my daily life that usually prove a bit scattered. For example, I used it to store a copy of my passport that I usually have a tough time tracking down in the folders on my laptop and I also enlisted it to create a packing list for an upcoming weekend away in Italy.
9. Stocard
Best organization app for loyalty cards
Specifications
Cost: Free
iOS or Android: Both
Reasons to buy
+
Keeps all your loyalty cards, digitally, in one place
+
Can be used with online shopping as well as in store
+
Easy to access the correct card thanks to clever tech
Reasons to avoid
-
Need to use loyalty cards regularly
If your purse is bulging with loyalty cards or you get to the checkout and realize you've left that particular store's one at home, then the Stocard app is invaluable. I've been using it for years to keep all of mine in one place and easily accessible when I'm in a shop.
Amid the cost of living crisis, it can be particularly financially savvy to make the most of accumulating 'points' for future spending and taking advantage of discounts. I truly believe that over the years I've saved a fortune remembering to use loyalty cards, and Stocard takes all the hassle out of remembering.
What's more, the easy-to-use, aesthetically pleasing interface allows you to swiftly add store cards using your phone's camera. You can then add particular ones to your Apple Wallet on the iPhone for even quicker access at the checkout, and even more clever is how the app can keep track of your location so the card for certain brands automatically pops up when you're near the store.
10. 24me
Best organization app for being on time
Specifications
Cost: Free (or $5.99 per month for premium)
iOS or Android: Both
Reasons to buy
+
Clever alerts help ensure you're on time to in-person meetings
+
Syncs with Outlook
+
Add tasks using your voice
Reasons to avoid
-
You have to upgrade for some of the best features
Always dreamed of a personal assistant? 24me is the digital, more affordable version you need in your life. The app allows you to put everything related to your schedule in one place - including your calendar, to-do list, notes, and personal accounts. You can also add tasks to the app using your voice via Amazon Alexa or Siri.
However, by far the most genius feature - as someone who has a terrible habit of being late to meet friends - is that appointments automatically come with a detailed navigation map so you know how to get there from your current location. On top of this, the 'smart alerts' will consider things like the traffic when notifying you about when to set off.
The premium version of the app provides the wonderfully named 'nag' alerts, whereby you are continuously reminded about specific tasks until you confirm that you are doing them. It also allows you to personalize the interface and save time by creating duplicate events.
How do you stay organized?
The key thing is to create a routine. "Automate tasks you need to get done by creating a plan for your day and sticking to it," suggests Low. 'For example, get up at the same time, eat breakfast and block out chunks of time to work and socialize. This will allow your brain to make good habits and leave you feeling super organized." Similarly, it can be helpful to set goals and deadlines. "Think about what it is you want to achieve and in what timeframe," he adds. "Whether this is daily, weekly or in life, taking note will help you to visualize and calculate the logistics."
Focus on your priorities with a to-do list. "Writing down what you need to get done on a daily or weekly basis will ensure you won't forget and allows you to tick things off when completed, which can be extremely satisfying," notes Low. It will also be easier to think more clearly after a de-clutter, which will also help the best sleep apps work better too. "To be organized, your environment needs to be decluttered, both physically and mentally. This means creating labels for things around your living space as well as arranging your phone and desktop, so everything has a home and is easy to locate."
But remember that you can only try your best to be organized. "You can create a routine that works around your commitments," says strategy and operations consultant Jane de Vos (opens in new tab). "I personally get up early to have time before the kids are up to write my to-do list, have a coffee, and check that everything is set up for the day, but of course, things happen and sometimes life gets in the way."
Tips for using organization apps
Limit yourself - "Rather than picking multiple different apps to help you organize your personal life, pick just one versatile tool or no more than three at one time," suggests Low. "Having too many will become confusing and will likely see you use them for a short period before dropping the habit after no time at all."
Plan ahead - "At the start of each week, set some time aside to add appointments, social events, to-do lists and block out any time for high-medium priority tasks," recommends Low. "This will ensure you can't forget anything, tasks will get done, and goals achieved, for a much more productive week."
Use notifications - This will help the app help you, by reminding you about upcoming events or appointments you've got scheduled," advises Low. "If you're busy, most apps allow you to tailor notifications to set times during the day, or a day, hour or few minutes before an event, so as not to be too distracting yet still efficient."
Invite friends and family - "To streamline your everyday life, chat to your friends to see which apps they are using," suggests Low. "Since a lot of apps have collaborative functions, this will make organizing your social or home life much easier."
Reward yourself - "Have a list of 'you' things on the app," recommends De Vos. "I have a reward wish list of things I would like to do if I complete other milestones."
Lauren is a freelance writer and editor with more than six years of digital and magazine experience. In addition to Womanandhome.com she has penned news and features for titles including Women's Health, The Telegraph, Stylist, Dazed, Grazia, The Sun's Fabulous, Yahoo Style UK and Get The Gloss.
While Lauren specializes in covering wellness topics—ranging from nutrition and fitness, to health conditions and mental wellbeing—she has written across a diverse range of lifestyle topics, including beauty and travel. Career highlights so far include: luxury spa-hopping in Spain, interviewing Heidi Klum and joining an £18k-a-year London gym.