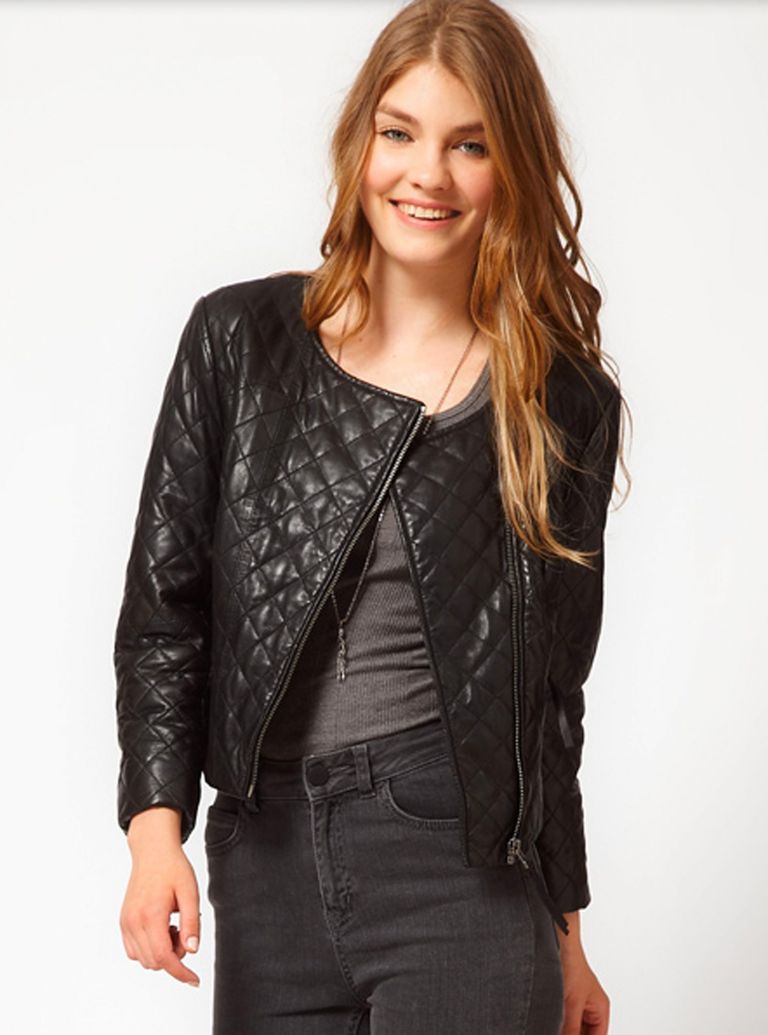 Looking for the wardrobe classic every woman wants? Our 10 biker jackets will instantly be a wardrobe hit!
There are a few fashion must-haves that will never date - classic court shoes, little black dresses and trench coats are just some of the items that should grace every woman's wardrobe. But recently, we've started to think that a new buy should make it on to the 'classics' list: the biker jacket.
Originally a favourite of James Dean and Marlon Brando, Jean Paul Gaultier introduced the biker jacket to womens fashion in the 1980s, and we haven't looked back since. The perfect between-season jacket to throw on over jeans and a T-shirt or, recently, a great way to add a grungy edge to a feminine dress, not a month goes by without our favourite celebrities stepping out in a lust-worthy style.
A new perennial, biker jackets are set to be big again for the upcoming season. If you haven't invested already, don't demur - bikers are utterly versatile, practical with jeans or toughening up any old favourite design.
So, how do you know which style to go for? A black leather design is the ultimate classic, and no matter how much you spend, you can guarantee that your cost-per-wear will work out so much better than most of your other high street buys. If you're one step ahead of us and already have the traditional style, why not mix it up with a new colour? Nude and pastels are becoming firm favourites, and they're perfect for spring/summer. Choose from fitted styles to show off your shape, or a classic bomber jacket for something that bit cooler.
We love this quilted leather number from Urbancode at Asos (opens in new tab).
Trying to find the perfect style for you? We've narrowed the high street designs to 9 more jackets. Click through to browse our pick, and find a style you're bound to fall in love with...
Biker jacket: Reiss 1971 Becky traditional biker, £350
The Becky biker jacket from Reiss (opens in new tab) is available in nude and blush, but we love it in classic black. It's the perfect modern biker, with feminine tweaks to the classic line and supple, soft leather. Find more fashion trends
Biker jacket: Mango pink boucle jacket, £69.99
Bring a pop of colour to workwear or simple weekend ensembles with this fluoro pink boucle knit jacket from Mango (opens in new tab)Find more fashion trends
Biker jacket: Toast black knit biker, £165
The textured knit of this black biker jacket from Toast (opens in new tab) softens it and sets it apart from traditional leather jackets. Find more fashion trends
Biker jacket: Reiss 1971 kimono sleeve oversized biker, £395
For a new take on the biker look, try this oversized black leather biker jacket from Reiss (opens in new tab), with kimono sleeves and a cropped body for a fresh shape. Find more fashion trends
Biker jacket: Mint Velvet grey biker jacket, £249
Quilted inside for winter warmth, this Mint Velvet biker jacket (opens in new tab) with asymmetric zip detail and sharp fit is fashion forward and feminine too. Find more fashion trends
Biker jacket: French Connection studded leather bomber, £350
A bomber shape rather than a traditional biker - but we love this wow-factor leather jacket from French Connection (opens in new tab) with classic black leather and glam studded sleeves. Find more fashion trends
Biker jacket: Zara white leather biker jacket, £239
This smart little number from Zara could just bring white leather back for good! Clean lines, zip details and butter soft leather make this a winner. Find more fashion trends
Biker jacket: Zara studded collar biker, £169
The studded collar gives this Zara black biker jacket an edge - perfect with tea dresses for an evening out. Find more fashion trends
Biker jacket: Warehouse nude biker jacket
The lighter fabric makes this Warehouse nude biker jacket (opens in new tab) wearable right now - and a wardrobe asset as we move into autumn. Easy to wear with neutrals or denim, you can't go wrong! Find more fashion trends