How to shop the Boxing Day sales according to a fashion editor
Want to maximize those bargains and learn how to shop the Boxing Day sales? w&h fashion editor, Rivkie Baum, shares her top tips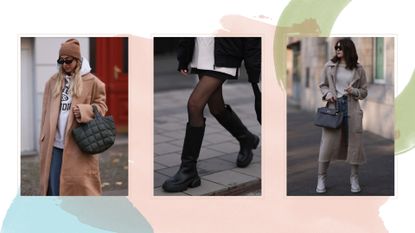 (Image credit: Getty Images)
woman&home newsletter
Sign up to our free daily email for the latest royal and entertainment news, interesting opinion, expert advice on styling and beauty trends, and no-nonsense guides to the health and wellness questions you want answered.
Thank you for signing up to . You will receive a verification email shortly.
There was a problem. Please refresh the page and try again.
One of the biggest shopping events of the year, learning how to shop the Boxing Day sales successfully is the difference between being a shopping hero and a stream of fashion faux pas. W&h fashion editor, Rivkie Baum, shares her seven top tips for Boxing Day sale shopping success.
Struggling with how to shop the Boxing Day sales? If you you're wardrobe still have items from last year's event with their tags on, I'm here to point you in the right direction. While some women love snapping up a bargain, for others, the mere thought of shopping can cause a sartorial meltdown, but with the Boxing Day sales one of the best times to grab an end-of-season bargain, it's a shopping event not to be missed.
Despite not being a fan of the cold, the Boxing Day sales is one of my favorites, as the discounts can be fantastic. As stores and retailers are looking to make room for spring stock, there is no better time to invest in wardrobe essentials at a cut-rate price. From bagging the best winter coat, to getting the best knee high boots, when it comes to how to shop the Boxing Day sales like a pro, you're looking for those items that will never go out of fashion. Remember, that while there is quite a bit of winter left to navigate, in terms of fashion trends, we're coming to the end of the season and a host of new looks will be coming in for spring, so avoid items that can't be worn next winter too. Neutrals, or block colors that you love in classic silhouettes are always a winner.
How to shop the Boxing Day sales: 7 top tips for a successful shop
This season I want all of you to discover how to shop the Boxing Day sales like shopping masters. It's time to banish the idea of having clothes in your closet with the tag still on, and have a sale season where any item purchased has an immediate place in your winter outfit rotation. Here are my top tips for shopping the sales like a pro and what I'll be looking out for.
1. Start early
Regardless of whether you're looking to learn how to shop the Boxing Day sales online or in person, starting early is key. Many people wait all year for the Boxing Day sales and the discounts can be fantastic, but that also means competition for key items, such as the best designer bags is pretty high, so starting your search early is essential.
If you're shopping online, many Boxing Day sales will start prior to Boxing Day, with some retailers setting discounts live on Christmas Day. In the run-up to the big day, it's worth signing up for the marketing emails from the stores you want to shop at, so that you can be first with the 'go live' dates. The sooner you start shopping, the more likely you are to find the designer tote bag of your dreams. And as you're shopping from the comfort of your own home, many sales will go live at around midnight of Boxing Day, so rather than waking up early, just have a little late night shopping party instead and then enjoy a lie in the next day.
Heading to bricks and mortar stores? Hitting the Boxing Day sales in the early hours of the morning is an annual tradition and it is very much a case of the 'early bird catches the worm' here. I have done it once, just out of sheer curiosity and it was a surprising amount of fun going shopping at the crack of dawn. What I will say is get there prior to opening, wear something warm and comfortable and be prepared to queue. Think logically about your first shop, putting priority items to the front and if you're heading to a department store, consider which entrance you want to enter via, as you'll want to get to the right section as speedily as possible.
2. Have a list
One of my top rules for how to shop the Boxing Day sales is to have a list. It is so easy to get carried away when the discounts are high, but just remember, if something is 40% off, it is still 60% on, so think about whether you really and truly want or need the item in question and making a list of must-haves is a great reminder at every turn.
The winter holidays are a great time to learn how to organize your closet and once you've done this, you'll be able to clearly see where the gaps in your capsule wardrobe are. It could be that you'll realize you actually have plenty of the best jeans but are really low on the best cashmere sweaters, and high-quality knits are ideal for snapping up in the Boxing Day sales as retailers are already thinking about how to make room for spring collections. Equally, if you've spotted the best designer bag for work earlier in the season, but couldn't pay full price, the Boxing Day sales are a great time to check back for a price drop, as the season edges to a close, many brands and retailers will need to get rid of old collections, so a discount should be on the cards.
Keep this list close to hand whether you're shopping online or in-store and reference back to it regularly before following through with a purchase. This will help to stop, or at least limit impulse purchases based on price rather than need. Because when it comes to how to shop the Boxing Day sales, the last thing you want is shopping regret.
3. Deal Comparison
This is another reason that having a Boxing Day sales list is useful. If you know what you're looking for, or which retailers you're most likely to shop with, prior to Boxing Day make your list of must-have items, listing the before price. If it is a brand or item sold by various outlets, use the period prior to the sales to keep a note of the stockists with the best price, so you can use this as a basis for a speedy deal comparison on the day itself. You also might want to use this as an opportunity to get an average price tally going, so you know where's selling the best cocktail dresses at a cut price across the board if you have a big occasion coming up.
4. Have a budget/limit
If you want to navigate how to shop the Boxing Day sales successfully, then setting a shopping budget is a must. It's so easy to overspend, so being strict about this point is essential. If you have a particular account or card you use for these types of expenses, transfer just enough money to create an immediate breakpoint. You can either allow one total amount to the Boxing Day sales and spend that on the day or throughout the week, or on your list, give a figure of how much you're willing to part with for each item or section. It might be you want to bag a pair of the best designer heels, as well as some separates, divvy up your budget accordingly, using prior price research to help with this task.
5. What will it go with?
The same rules apply regardless of whether you're looking to build a minimalist capsule wardrobe, or an over-50s capsule wardrobe, don't buy new items for your wardrobe without knowing three things that it can be styled with. While there is no limit to how many items can be in a capsule wardrobe, shopping the Boxing Day sales successfully is about understanding how to edit, rather than buying things because their cheap and figuring it out later.
If you've completed your list of must-haves, the task is easier as you should be able to identify the types of items you need. But once you've located that great sweater, or pair of leather pants, think about how they will be styled in your wardrobe and what existing pieces you currently own that will work with them. This means you'll be able to wear sale purchases right away and they won't end up hanging in your wardrobe.
6. What's the return policy?
Not all stores have the same returns policy on sales items as they have on 'in-season' product, so it is always best to re-check the policy before making any purchase. If you're shopping online make sure the policy you're reading covers sale items, while in-store there is often a sign at the checkout, or enquire with store staff.
If there is a zero returns policy on sale items, make sure you are 100% sure of this purchase before paying; if you're not, it just wasn't meant to be.
7. Be prepared to hold out (sometimes) or walk away
If the deal doesn't feel right, you're not happy about the returns policy or you're just not 100% sold on the item, be prepared to walk away. It's a hard thing to do in the moment, but I think we're all guilty of having items in our closets that we bought in haste and repented in leisure.
Yes, the Boxing Day sales offer great opportunities for discounts, but this equation only works if you love and use what you buy. And as with all sales, as the week continues there is the potential for further price drops, as well as the chance the item might be sold out. It's a gamble, and I've seen it go both ways. I've bagged one of my best trench coats ever at over 50% off by holding out and I've lost out on buying handbags, it's a risk, but you always have to be prepared to walk away if you aren't sure. Don't forget to price compare too for items that are sold at multiple retailers.
I'm a fashion editor and here's my Boxing Day shopping list:
I've asked you to compile yours, so I thought I'd share what I have my eye on in the Boxing Day sales. As point seven states, however, I am also fully prepared to walk away if I don't feel the discount is great, or it doesn't fit into the budget I've set myself.
I'll be avoiding items that feel too trend led, but embracing neutral colors that never go out of style, or simple silhouettes, such as classic knitwear or core separates that I know I can wear regardless of what the runway is saying.
Cashmere sweaters: I spend a lot of time talking about how much I love cashmere, but I truly do. It's quite an investment purchase, but it's worth every penny as I find it really helps to regulate body temperature and there is a lot of winter weather still to come. Just make sure to also get some moth balls or similar to protect any new buys.
White trainers: I'm in need of a pair of the best white trainers, a piece that will go with everything in my closet, and my current pair needs replacing.
Winter coat: I already own one of the best puffer jackets and one of the best wool coats, but I feel like I need one more piece of outerwear that works effortlessly with smart casual outfits, something waterproof but also super warm and as we head to spring, heavier jackets will disappear.
Cashmere socks: I have lived in cashmere socks at home this winter, thanks to those -6 temperatures. My top places for the best cashmere socks include The White Company (opens in new tab) and Brora (opens in new tab). As this is quite a basic item it might not go into sale, but it's always worth checking right?
Dresses: I often use the sales to top up my wardrobe with the best dresses I've spotted in season, but haven't quite been ready, willing, or able to part with the cash. I usually make a list of my favorite brands, such as Boden (opens in new tab), and will have wish list of my favorite pieces, ready to hit add to basket.
Rivkie is a fashion editor, writer and stylist with over fifteen years' experience in the industry. Having studied design and pattern cutting at the London College of Fashion, Rivkie fell in love with styling and journalism, covering fashion weeks in London, Paris and New York.
Specialising in plus size fashion, Rivkie has long championed that style is for everyBODY and has been a regular talking head on a host of radio stations and television shows, pushing for greater representation for plus size women and fashion throughout her career.