Best Barbour jackets to shop now and wear for a lifetime
Loved by the royals, these are the best Barbour jackets to invest in now and wear forever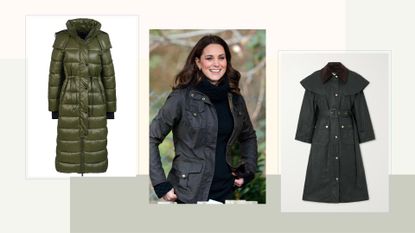 (Image credit: House of Fraser / Getty Images / Net A Porter)
The best Barbour jackets can play an active part in your wardrobe for a lifetime. With many iterations wearable from autumn through until the spring, this weatherproof purchase is an investment that you can certainly get a lot of cost per wear out of.
Loved by celebrities and the Royal family, the best Barbour jackets are something of an institution when it comes to the types of coats you should own. A wardrobe essential, Barbour makes some of the best waterproof jackets, making them wearable throughout the year, and as the heritage brand has progressed, its range of styles now straddle a multitude of coat categories - ensuring there is something for everyone.
"A Barbour jacket will never date and makes a great investment", says Charlie Bell, deputy fashion editor of woman&home.
The waxed styles are water-repellent making them intensely practical for wear in the city or the country, and ensures this is a versatile buy. Looked after properly - which includes re-waxing your coat, the best Barbour jackets can last for years and while they're available all year round, checking out some of the best Barbour Cyber Monday deals are worth having a look through too.
Best Cyber Monday Barbour deals
Cyber Monday is in full swing and we're still seeing these great deals on the seldom-discounted Barbour jackets. Be quick, though, because the deals won't last forever...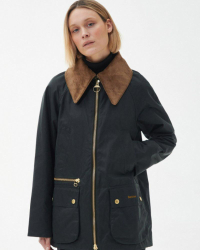 Barbour Gunnerside Wax Jacket: was £279 now £223 at Very (save 56)
This classic Barbour style is timeless and will always be chic. With a 20% discount, the jacket, which is usually almost £300, becomes much more affordable.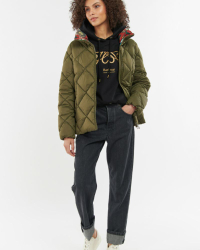 Barbour x House of Hackney Darnley Quilted Shell Jacket: was £199 now £100 at Coggles (save £99)
This is one of the best Cyber Monday deals we've seen. With almost half-price off, there's only a few sizes left of this special-edition quilted jacket, so act quick if you want to snap up this deal.
Best Barbour jackets 2023
For elevated style, whilst still battling the elements, there is no greater outerwear choice than a Barbour jacket. Although Barbour has a distinctly casual feel, there is something polished about the brand's jackets that makes them wearable for smarter occasions, as well as outdoor pursuits.
"Whilst the Royal Family might want their work to be the full focus at engagements," explains woman&home royal editor, Emma Shacklock, "their clothing inevitably gets paid close attention to as well and they're known for often championing British clothing brands - Barbour being one of the most iconic of them. Barbour jackets have a rich heritage and are the perfect combination of style and practicality which is always important to the royals. They also have a quintessential countryside aesthetic and given many royals either live or have other homes in the countryside, they might well feel especially comfortable wearing this style."
Barbour 40th Anniversary Beaufort Wax Jacket
RRP: £299.95 | This unisex jacket is largely regarded as the most popular Barbour coat. With a fairly boxy shape, the Beaufort is a Barbour jacket that has been spotted on the likes of the late Queen Elizabeth, as well as other members of the royal household.
Barbour Defence Waxed Jacket
RRP: £259.95 | Spotted on the Princess of Wales, this classic olive green, wax Barbour jacket is a staple in the brand's collection. The multiple pockets deliver a utility feel that makes this a practical coat for outdoor activity such as dog walking.
Barbour x House of Hackney Jacket
RRP: £259.95 | Barbour has collaborated with directional style brands in recent years to keep its fashion commodity high and this House of Hackney collab brings some femininity and softness to the brand. We love the reversible jacket with chic floral print.
Barbour Classic Beadnell Jacket
RRP: £219 | 100% cotton, this breathable jacket is coated in Barbour's traditional wax finish to keep the coat water repellent. With a classic, country chic check lining, for a pop of colour, teamed with a double front fastening this a capsule wardrobe hero.
Barbour Bonneville Padded Gilet
RRP: £209 | The best gilets have become a fixture in our autumn outfit ideas and this longline iteration is ideal for slipping over knitwear. The longer length ensures maximum coverage, while the two front patch pockets are super roomy.
Barbour Polar Quilt Cavalary Coat
RRP: £149 | A close fitting jacket, the Cavalary coat uses Barbour's Polarquilt construction for warmth and comfort, with a diamond quilted outer and fleece lining. A slim fitting design, this could be slipped under your best camel coat for extra heat.
Barbour Seoul Quilted Khaki Jacket
RRP: £439 | Puffer jackets make for some of the best winter coats and this khaki iteration feels directional for the heritage British brand. The pulley waist detail ensures you can still define your waist, while the ribbed cuffs help to trap warmth in.
Barbour Tomorrow's Archive Dalmeny Quilted Coat
RRP: £269 | Combining the best of both, the Tomorrow's Archive Dalmeny Quilted Coat has Barbour's iconic diamond quilt, matched with clever details such as a double collar, with a detachable faux fur layer, on top of the classic cord design, for an added luxe finish.
Barbour Mull Wax Jacket With Trimmed Hood
RRP: £299 | Moving on from the timeless Barbour wax jacket, the Mull wax jacket fuses together the iconic Barbour jacket and a winter coat. With a faux fur trim hood, the water repellent jacket features front pockets for on the go storage, as well as a draw cord at the waist for excellent fit.
Barbour Edit Premium Gunnerside Wax Jacket
RRP: £349 | A contemporary twist on Barbour's wax jacket, the Gunnerside is a fashion-forward take on the brand's aesthetic. An oversized leather collar, a double zip for an adjustable fit and curved front pockets complete with metal hardware makes this jacket a practical fashion win.
Barbour Fellbak Cape Effect Cotton Belted Coat
RRP: £379 | Giving a Burberry trench coat a run for its money, this elegant, cape effect belted coat is ideal from AM to PM. Slip into you work capsule wardrobe for tailored style, and pair with your best knee high boots for a sleek, grown up, utilitarian look.
Barbour Checked Waxed Cotton Jacket
RRP: £269 | Pulling on several iconic signatures, this longline khaki coat has an androgynous feel. With a corduroy collar - another key look for the brand, the button-fronted design delivers a vintage aesthetic that will work well in deep autumn capsule wardrobes.
Which Barbour wax jacket is most popular?
The classic Barbour Beaufort jacket is considered the most popular and timeless from the brand. A wax jacket, with a below hip hem length finish, this outdoorsy piece is an iconic part of the Barbour collection. Androgynous in style it is relatively loose through the body making it ideal for slipping over knitwear. The jacket features two front patch pockets with curved bottoms and a classic Barbour cord collar in a chocolate brown hue. With a distinctly borrowed from the boys feel, this popular silhouette is practical, stylish and will never go out of fashion.
Which Barbour jacket is best for winter?
A showerproof Barbour jacket, with extra padding and length is considered to be the best type of Barbour jacket for the winter. The Barbour International Reversible Montreal Coat is a great choice for winter as it's one of the best puffer jackets in the range and delivers the benefit of extra warmth through its longline silhouette. The parka coat style also delivers on a protective hood and showerproof coating. Reversible, it offers two coats in one. The padded style feels a little more casual and sporty, while the smoother side offers a slightly more grown-up feel.
Are Barbour jackets worth the money?
A Barbour jacket is worth the money due to both its style and functionality. It's weatherproof and warm and this stylish British brand has a huge wealth of heritage that ensures it is always on trend. The jackets, with a little bit of TLC and re-waxing when needed will also last a lifetime and can be passed on to other family members, such is their longevity.
Are Barbour jackets still in fashion in 2023?
Barbour jackets have never really gone out of fashion. While the classic silhouettes are ideal in a minimalist wardrobe and can guarantee to keep you dry and warm from one season to the next, the brand has really pushed forward with more directional collections, teaming up with style icons, fashion brands and external creatives to create limited edition collections to keep the Barbour name at the forefront of fashion. While of course the classic shapes remain supreme, if they feel a little too heritage for your style, you can buy into the brand's weatherproofing expertise through a collaboration collection.
Loved by celebrities and of course the Royals - with the Princess of Wales, Kate Middleton a big fan of the brand, it is unlikely that Barbour will fall out of fashion favour anytime soon.
Which Barbour jackets do the royal family wear?
Between them, the Royal family has quite the collection of Barbour jackets, with the brand having held three Royal warrants since its launch in 1894.
And woman&home's, royal editor, Emma Shacklock has been watching the family sport a range of Barbour jackets for years.
"The Princess of Wales is a particular fan of Barbour coats, but Prince Philip, Queen Elizabeth, Prince William and King Charles have all been seen sporting one at some point. The brand even received royal warrants from Prince Philip, Queen Elizabeth and King Charles when he was Prince of Wales. We're most likely to see Barbour coats or jackets worn by the royals for outdoor-based engagements in spring and autumn when the weather is wet and temperatures not freezing cold, allowing them to layer pieces underneath or over the top, as appropriate. As a practical piece, it's also possible they wear them a lot at home or in day-to-day life outside of royal duties or appearances during these times of year or for countryside pursuits."
While the late Queen Elizabeth was thought to be particularly loyal to her classic Barbour Beaufort jacket, Kate Middleton has been spotted in a number of different Barbour jackets over the years. Most recently, The Princess of Wales was spotted in the Edith jacket, from a collaborative collection with fashion icon Alexa Chung. Although this design is now sold out, it is largely based on the Beadnell wax jacket which is available. Kate has also been seen sporting the Barbour Longshore jacket in blue, the Defence Wax jacket in olive green (which she's had since at least 2012), and the Elfie jacket - another sold-out look from the Alexa Chung collaboration.
While Kate's collection of Barbour jackets have largely sold out, the brand's signature is often core throughout collections, with numerous, similar styles available, in terms of practical, wax outerwear.
How long should Barbour jackets last?
Barbour jackets, with the right aftercare, can literally last a lifetime - it's what makes them such a good investment. Having said this, it is important to adopt a proper maintenance cycle for your jacket if you want it to stay in tip-top, weatherproofed condition. As such, Barbour recommends re-waxing your wax jacket once a year and has a handy guide on how to re-wax your jacket. While this might seem like an arduous task, it is certainly cheaper than regularly replacing your Barbour jacket and can make a one-time purchase stay around for years to come.
Our panel of experts:
Emma is the Royals Editor at Woman&Home and specialises in everything from historic royal traditions to magnificent residences. She also covers the best outfits from the likes of the Princess of Wales and Queen Camilla and the Royal Family's work to support important causes close to their hearts.
As deputy fashion editor at Future plc, Charlie works across multiple women's magazines including Woman & Home, Woman and Woman's Own, ensuring she has her finger on the pulse. Beginning her career in the magazine industry in 2009, Charlie has written for titles including Stylist, Closer and Dare. With a weakness for a printed midi dress, Charlie is on a mission to shop more sustainably and loves finding new ethical brands and second-hand buys.
Sign up to our free daily email for the latest royal and entertainment news, interesting opinion, expert advice on styling and beauty trends, and no-nonsense guides to the health and wellness questions you want answered.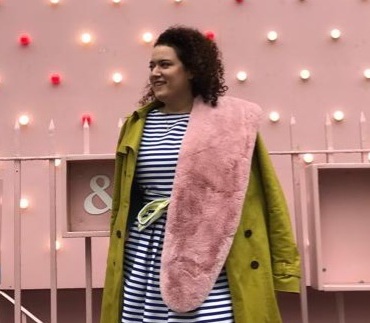 Rivkie is a fashion editor, writer and stylist with over fifteen years' experience in the industry. Having studied design and pattern cutting at the London College of Fashion, Rivkie fell in love with styling and journalism, covering fashion weeks in London, Paris and New York.
Specialising in plus size fashion, Rivkie has long championed that style is for everyBODY and has been a regular talking head on a host of radio stations and television shows, pushing for greater representation for plus size women and fashion throughout her career.