Holidays might be cancelled, but designer suitcases are more than 50% off on Amazon Prime Day so there's never been a better time to buy one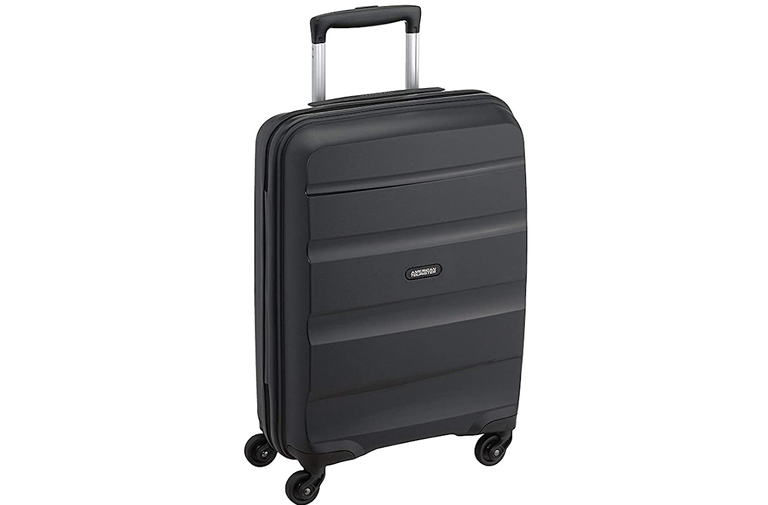 Be honest, how many of you spent your bleakest hours of lockdown wishing you were on a beach in the Bahamas? Skiing in the Alps? Guzzling vino on the Costa Del Sol? Am I getting close?
Whatever your holiday vision was, I'm willing to bet it stretched at least a little further than the four walls of your home.
For me, the suitcase perched on top of my wardrobe during lockdown might have felt like it was taunting me at times, but it also helped me picture better days. One's spent by basking in the sunshine, sipping cocktails and mainlining crisps, with friends and family far closer than 2 metres.
So, this Amazon Prime Day, I'm splashing out on a new one.
DEAL IN FULL:
American Tourister Bon Air Spinner Suitcase 91 Litre Black - RRP £135, was, £81, now, £56, Amazon
Making the most of their Prime Day promotions, Amazon have slashed the price of their designer suitcases - with savings of more than 50% on some items. This American Tourister Bon Air Spinner Suitcase is an absolute steal at less than half the RRP. Perfect for family holiday's or longer breaks, this large yet lightweight suitcase is roomy enough for all your essentials. 360° spinner wheels make for smooth rolling - especially when you're in a hurry. It looks great too, with a sleek black coating - and even comes with a 2 year warranty. Need something more compact? It's also available small and medium, with prices starting from just £39. I predict a sell-out of these impressive deals, so shop fast.
Why? Well, firstly and most importantly, with as much as 50% off the RRP, both Samsonite and American Tourister Luggage is an absolute steal.
I'd normally expect to pay around £100 for a hand-luggage friendly version of these premium cases and up to £200 for a full-size version - an expense that's hard to justify as I'm far from a frequent flyer.
But, with the American Tourister Bon Air Spinner 31 L Suitcase now just £39 at Amazon, my cost-per-use is starting to look far less frightening.
The prices do vary slightly depending on the colour you opt for (there are 11 rainbow shades to choose from) so I'll be paying an extra £6 to snap mine up in look-at-me yellow. Not only will it mean my case will be a doddle to spot next time it's spinning around a packed baggage carousel, but it'll help remind me of sunnier days in the meantime.
If I'm honest, it's the air hostess style, 360° spinner wheels that really sold it for me. I predict my Prime Day purchase will feel worth every single penny as I glide my way to the gate.
Suitcases for less than your monthly phone bill - what could be better? These deals are only available while stocks last, so get in quick to avoid disapointment. You can shop the whole range of Amazon luggage here.
See you at the airport!