15 best long-sleeve swimsuits to help protect your skin this summer
Whether you're serious about surfing or sun protection, the best long-sleeve swimsuits have you covered (literally)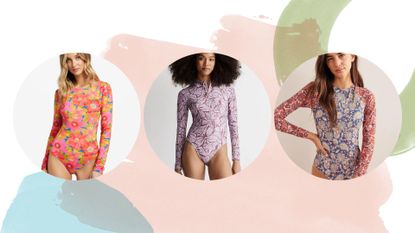 (Image credit: Billabong/Madewell/Boden)
woman&home newsletter
Sign up to our free daily email for the latest royal and entertainment news, interesting opinion, expert advice on styling and beauty trends, and no-nonsense guides to the health and wellness questions you want answered.
Thank you for signing up to Woman & Home. You will receive a verification email shortly.
There was a problem. Please refresh the page and try again.
Long-sleeve swimsuits are the smart (and stylish) way to shield your skin this summer. But while this cut of swimsuit offers more protection than most, wearing a long sleeve doesn't mean you have to compromise on style.
Having fun in the sun is what summers are made for, but being sensible and safe when out and about is extremely important. Long-sleeve swimsuits are the perfect choice for those who like water sports such as surfing or paddle boarding, as being out in the sun and in and out of the water for long periods of time puts you at greater risk of burning. The best long-sleeve swimsuits that will keep your arms, chest, back and stomach covered and protected and as our awareness around sun safety has increased, so has the availability of long-sleeve swimsuits or rashguards. Available in one or two pieces, a top and briefs set, is particularly useful if you are a different size on the top and bottom.
Long-sleeve swimsuits are a big swimwear trend for 2023. "Protecting yourself from the sun is always going to be on trend, so long sleeves will never go out of style," says personal stylist Robin Saperstein. This kind of swimwear can also be "worn as a bodysuit," explains Andréa Bernholtz, sustainable fashion expert and founder of Swiminista, helping you to get even more wear out of your purchase. Choose wisely, and your new long-sleeve swimsuit will look just as good with jeans as it will with your best beach cover-up.
15 best long-sleeve swimsuits
When it comes to the best long-sleeve swimsuits, look out for anything with sporty details that nod to the surf origins of the look. Plain colors are easy to mix and match with other swimwear items, but bright and bold prints will make the biggest impact.
1. Cover Swim Long-Sleeved Front Zip Swimsuit
Specifications
RRP: $245 / £192
Sizes: XS-XL
Cover Swim was born when investment banker turned swimwear entrepreneur Lisa Moore was looking for a chic solution to protect her skin when running around after her young children on holiday. There wasn't time for regularly reapplying sunscreen, and therefore Lisa needed something that would protect her skin. Cover Swim is one of the best swimsuit brands around, particularly for skin-covering styles, and uses its own swim jersey fabric to block nearly all UV rays, as well as help with temperature control. This vibrant floral design is proof that practical needn't mean boring. It's fully lined and made from a sturdy matte fabric that will stand the test of time.
---
2. Good American Compression Long Sleeve Swimsuit
Specifications
RRP: $129 / £140
Sizes: XS-5XL
What we really love about Good American is its commitment to inclusive sizing, making tit one of the best plus-size swimwear brands. This fiery coral suit is available in sizes XS to 5XL, making it truly available across the size spectrum. It's made from a soft compression fabric that molds to your body in order to hug and hone your figure, enhancing your shape, without restricting your movement or making you feel like you're clad in the best shapewear during your beach day. Thanks to the zipper at the front of the suit it's a doddle to get in and out of, which means no wrestling with your swimwear at the end of the day, and thanks to the sporty zip the front can be adjusted for extra cleavage, and paired easily with jean shorts for a bar-ready ensemble.
---
3. Free People Abysse Poppler Surf Rash Guard
Specifications
RRP: $150 / £140
Sizes: XS-XL
We absolutely love the graphic coral print on this rash guard, giving it a modern feel. The cropped shape makes it perfect for petites who may find that some swim shirts come up too long, or for anyone else who wants a long-sleeve swimsuit but with a nod to a bikini. Pair with the matching shorts for a coordinated look. Alternatively, you might want to team with your best high-waisted swimwear briefs in a neutral hue for added coverage. Separates are especially handy if you're a different size on the top to the bottom, allowing you to create a spot-on fit.
---
4. Ripcurl Women's Rincon Long Sleeve UPF Tee
Specifications
RRP: $39.95 / £30
Sizes: XS-3XL
Not sure how much use you'll get out of a long-sleeve swimsuit? This rash guard is the perfect way to give it a try without much commitment. A more affordable swimwear option, as it's a top means you can mix, and match with other swimwear briefs that you already own. As it's been crafted with watersports in mind, the fit is pretty snug with sizing spanning from XS to 3XL.
---
5. Billabong Sunny Coast Long Sleeve UPF50 One-Piece Swimsuit
Specifications
RRP: $99.95 / £80
Sizes: S-XL
A statement design, this long-sleeve swimsuit really pushes the design boundaries and is the versatile piece to pack for a beach vacation, as it will pair effortlessly with a maxi skirt for al fresco dining, as well as enhancing your poolside look.
At first glance, it's pretty prim and proper, but that's until you see the cut-out back. The bum coverage is pretty skimpy, so it's not one for the faint-hearted. The fabric provides UPF 50+ and has plenty of stretch to help you move to catch those waves.
---
6. Madewell Rash Guard One-Piece Swimsuit
Specifications
RRP: $98 / £93
Sizes: XXS-XXL
Madewell is definitely one of the more sustainable swimwear brands on the market as well as makers of stylish, yet affordable swim styles. It was the floral print that first drew us to this vibrant lilac swimsuit, but it delivers on substance too.
Made from recycled materials that would otherwise have ended up in landfill, you can feel good knowing your new purchase is doing a little bit for the planet. The material has also been treated with UPF50, ideal on hot holidays. The zip front can be taken all the way to the top for full protection or worn further down for a more relaxed feel.
---
7. Boden Printed Long Sleeve Swimsuit
Specifications
RRP: $120 / £80
Sizes: US: 2-16/18 / UK: 6-20
British clothing brand Boden knows how to nail a good print, and we're head-over-heels with this paisley beauty. The colors are more muted compared to many summer swimsuits, which makes it a chic choice for wild water swimming all year round. The shape is simple and sporty, with a high round neck and long sleeves, as well as high-cut legs to elongate your frame. Lightly padded cups provide the option of extra shaping and support, but can also be removed if you prefer.
---
8. Lululemon Waterside UV Protection Long-Sleeve Shirt
Specifications
RRP: $78 / £68
Sizes: XS-XXL
Rather be in the sea than lounging beside it? This long-sleeve swim shirt will allow you to truly enjoy the water. The fabric is super soft and extra lightweight, for a second-skin feel that won't irritate. It also provides UPF40+, for extra peace of mind when you're wearing it, just remember that this protection can be compromised when the shirt is wet or if it gets stretched, so you'll still need your best reef-safe sunscreen too. When you're back on land the quick-dry fabric will disperse water in a flash, so there's no need to sit uncomfortably in a wet suit.
---
9. Maaji Stone Blue Jacqueline Surf One Piece
Specifications
RRP: $163 / £127
Sizes : S-L
This Maaji swimsuit may be on the pricier side, but what's brilliant about is that it's fully reversible - giving you the choice of two looks in one. The first option is a color block design made up of black briefs, a mustard yellow torso, and sky blue sleeves, while the second is a vibrant geometric print with the same shades plus a splash of pale pink and terracotta. Both options have a sporty high neck, zip front fastening, and a cheeky cutout on the lower back.
---
10. Skims Swim Long Sleeve Shirt
Specifications
RRP: $58 / £58
Sizes: XXS-4X
This long-sleeved shirt is just as good for lounging as it is for swimming and offers an extra layer of protection over swimwear. It's very sheer though, so you'll almost definitely want to wear something, such as a bikini underneath. As it has been designed for layering, it comes up a little larger, so we recommend sizing down if you want to wear yours in the water. Otherwise, just keep it in your best beach bag and throw it on when you want a little more coverage or the sun starts to set. The fabric is mostly made up of recycled nylon but with a generous helping of spandex which allows it to stretch comfortably.
---
11. Sea Level Australia Martini Long Sleeved Multifit One Piece
Specifications
RRP: $149.95 / £117
Sizes: US: 4-14 / UK: 8-18
If anyone knows about beach chic, it's the Aussies and this Australian swimwear brand has managed to perfectly capture the relaxed ethos of the continent without compromising on sustainability, style, or fit. This particular design is best suited to cup sizes A through to DD, with an internal shelf bra that features removable padding. The shape is a classic, with a zip front and contoured paneling to hone and define your shape. We're big fans of the peony print too, bringing a bit of holiday romance to your summer capsule wardrobe.
---
12. Billabong A/Div Biarritz Long Sleeve Swimsuit
Specifications
RRP: $109.95 / £80
Sizes : S-XL
We're of the opinion that all bodies are beach bodies, but if you did want to create the illusion of a more hourglass body shape then clever color blocking is the way to go. By creating a contrast between the deeper khaki shade at the front and back and the cool coral hue on the sides, this swimsuit uses illusion paneling to narrow a waist line. The fabric has enhanced shape retention too, meaning it won't sag or bag after a few wears for a flattering finish that will last for many summers to come.
---
13. Free People Gigi C Sabrina Surf Suit
Specifications
RRP: $255 / £228
Sizes: XS-XL
It's not all floaty bohemian dresses at Free People you know, its swimwear line is well worth a browse. Take this sleek one-piece for example, made for surfing, it has a textured fabric that will hold tight to your frame and won't snag on your board. We love the tangerine shade too, making for a vibrant alternative to traditional black or navy surfwear. It is expensive though, so make sure you care for it by washing it on a cold cycle and leaving it to dry flat between wears.
---
14. Ripcurl Kindred Palms Long Sleeve UPF Surf Suit
Specifications
RRP: $109.95 / £86
Sizes: 2XS-XL
If you're not into bright colors, this surf suit allows you to enjoy all the joys of print in a more muted way. The golden palm trees on the black background mean it's perfect for hitting the waves any time of year. With a high neck and long sleeves it's a full-coverage suit, just with the exception of a cute keyhole cutout just below the bust. The cups are padded but removable, so you can pick and choose whether to keep them in or not.
---
15. Cover Swim Long-Sleeved Swimsuit
Specifications
RRP: $220 / £170
Sizes: XS-XL
Simple yet effective, this navy swimsuit is subtle on details, for a Quiet Luxury swimwear aesthetic. Featuring a high round neck, moderate-cut legs, and (of course) long sleeves, the main statement detail is the contrasting white exposed zip at the back.
For added versatility, this long-sleeve swimsuit can be worn either way around, with the zip at the front, giving you the option to have it slightly more undone. The fabric is fast-drying, sweat-wicking, and fully breathable, but you'll need to take proper care of it to keep it at its best. That means avoiding snagging on rocks, not covering it in chemical sunscreen, and only washing on a cool, gentle cycle.
What do you call long-sleeved swimwear?
Long-sleeved swimwear is most commonly called exactly that, but you may also hear it referred to as a rash guard or swim shirt. As far as names go, long-sleeved swimwear is pretty self-explanatory and refers to any swimwear with long sleeves - whether that's a two-piece or a one-piece. The name rash guard comes from surfing and describes a piece of clothing that covers your arms, chest, and stomach. This is to protect your skin from rashes, scrapes, or chafing when you're getting on and off your board. A swim shirt will have the same function as a rash guard but has been designed more to protect your skin from UV rays. You can swim in a swim shirt but often they do tend to be more oversized and less fitted than a long-sleeved swimsuit or rash guard.
Why do they make long-sleeved swimsuits?
Long-sleeved swimsuits are really popular with people who enjoy watersports like surfing, paddleboarding, and kayaking, or activities like snorkeling. All of these require you to spend long periods of time in the water, which increases your risk of burning. This is partly because water can wash off your sunscreen, and secondly, as water reflects the sunlight onto your skin. A long-sleeved swimsuit will shield your skin on dry land too. Some long-sleeve swimsuits even have a UPF rating, which stands for ultraviolet protection factor, and indicates how much protection your long-sleeved swimsuit is giving you.
Do you wear anything under a long-sleeve swimsuit?
You don't have to wear anything under a long-sleeve swimsuit, but you can if you want to. Whether or not you choose to layer yours over a bikini or separate swimming costume will mostly depend on the cut of your swimwear and your body type. For example, if you have a larger bust, and can't find a long-sleeve swimsuit with adequate bust support, you may need extra support like wiring from a bikini or bathing suit.
"Some long-sleeve swimsuits come with shelf bras or padding so you won't need to wear anything underneath," says Saperstein. "If you have a larger bust, layer it over a bikini top for extra support." It's down to personal preference too, and which option makes you feel most comfortable and confident.
Can you swim in a long-sleeve swimsuit?
You absolutely can swim in a long-sleeve swimsuit. A lot of the misconceptions that you can't come from confusing long-sleeve swimwear with wet suits. "Wet suits are made of entirely different fabric and for different uses," says Bernholtz. "A swimsuit is lighter and easier to swim in." Wet suits are designed for warmth and help you to retain body heat in cold water, and therefore need to be thicker and heavier to trap that warmth.
The only exception to swimming in a long-sleeve swimsuit is if you have chosen to size up. You need to make sure that "the suit fits right and you get your actual size," adds Bernholtz. If there's too much excess fabric, it will pull you back and can get caught on things like rocks, making it more difficult for you to move through the water. If your swim t-shirt is form-fitting and hugs your body closely there's no reason why you can't wear it when swimming.
Sign up to our free daily email for the latest royal and entertainment news, interesting opinion, expert advice on styling and beauty trends, and no-nonsense guides to the health and wellness questions you want answered.
Jess Beech is an experienced fashion and beauty editor, with more than eight years experience in the publishing industry. She has written for woman&home, GoodtoKnow, Now, Woman, Woman's Weekly, Woman's Own and Chat, and is a former Deputy Fashion & Beauty Editor at Future PLC. A beauty obsessive, Jess has tried everything from cryotherapy to chemical peels (minus the Samantha in Sex and The City-worthy redness) and interviewed experts including Jo Malone and Trinny Woodall.