10 Ways Your Hairdresser Might Be Lying To You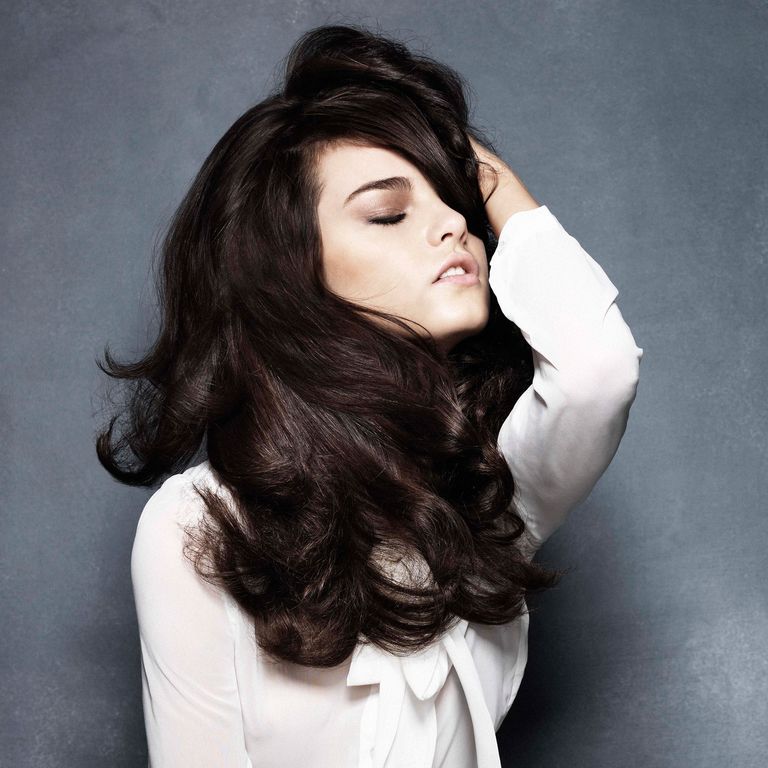 We set the record straight on some of the most common hair myths...
It's so easy to believe everything your hairdresser says, especially when they have your precious tresses and a pair of sharp scissors in their hands. But, even though they are the professionals, the fact is that no one knows your hair like you do.
That's why when it comes to hair care tips for your lustrous locks, it's all about listening to yourself - as well as your stylist. We've all sat in the chair and meekly admitted to using cheap hair products, or even no products at all, wincing as the stylist gasps and insists we leave the salon with a bag full of products we didn't think we wanted or needed. Or how many times have you been guilted into far more regular cuts than you think your locks are actually calling out for? Or ended up not washing your hair for a week on the recommendation of the salon, resulting in greasy, limp locks?
The list of mistakes we make because we are either not properly informed, or don't follow our own head, is endless. But when it comes to hair care tips, don't be fooled into believing everything your stylist tells you. Trust your instincts and get the facts before committing time – and money – to a new hair care routine. Because when it comes to your hair, only you have the experience to know what truly works.
We're here to dispel the myths and give you back the confidence to do what you know is right for your own hair. From how often you really need to trim your hair and shampoo to what products you do and don't need, find out the hair care tips and tricks that your stylist doesn't want you to know.
Discover more hair care tips and prepare to be amazed...
Dry Shampoo Will Solve All Dilemmas
While there's no doubt that a quick spritz of dry shampoo will give second-day hair a boost, using it to style your hair is not quite as simple as your hairdresser might tell you. A dry shampoo - even the expensive ones - won't give lasting volume and will take the shine away from your formerly glossy mane. Instead, try a good volumising spray, such as the John Frieda Luxurious Volume Blow Out Spray to style your hair with lasting results.
Cheap Shampoo Will Ruin Your Hair
Whatever expensive shampoo your hairdresser is trying to sell you - don't buy it! You only need to look at the first six ingredients in products - the rest is in such small quantities it's not important enough to worry about. So look for buzzwords, such as Argan Oil, and the cheap version will be just as good as the more expensive one.
Fine Hair Should Be Kept Short
It is commonly thought that baby-fine hair can't grow - or achieving great lengths shouldn't be attempted in any case. If your hair can grow longer, there's no reason not to keep it at the length you love. Just take good care of your fragile locks - lots of deep conditioner and regular trims, plus minimal heat styling will help to keep it looking great at any length.
Layers Will Make Your Hair Look Thicker
This entirely depends on your hair type. Layers can add texture and depth to a flat cut, giving movement and creating the look of thick, luscious locks. But it's not necessarily the only option. Trimming fine hair when dry will ensure the ends are even and blunt, resulting in the illusion of thicker hair - without cutting into your one-length locks.
Regular Trims Will Make Your Hair Grow Faster
This is a complete falsehood. Regular trims will keep the hair in great condition, but won't result in faster growth. If you are trying to grow your hair, the only benefit to frequent snips is that spilt ends won't have the chance to travel up your locks, meaning you won't need to cut very far into the hair to remove damage. So ultimately, a regular trim will always mean healthier hair, just not longer hair.
You Shouldn't Wash Your Hair Every Day
If you hairdresser tells you to go an extra day without washing, you don't necessarily need to listen and plump for dirty locks. Only hair that is regularly, and heavily heat-styled needs to be washed occasionally - and this is just to limit the amount of days per week you use extreme heat on your hair. If you air dry or rough dry your hair, it's perfectly fine to wash it every day.
Brushing Will Improve The Condition Of Your Hair
The general feeling is that brushing your hair regularly will distribute the oils from your scalp through your tresses, resulting in stronger strands. But there definitely isn't one rule for all. While keeping thick and strong hair free of tangles is a must, fine, curly or weak hair shouldn't be brushed too often. If you want to hydrate lengths and ends, invest in the Kérastase Nutritive Irisome Touche Perfection to smooth and add shine to dry hair.
You Must Trim Hair Every Six To Eight Weeks
This is the most common line a hairdresser will feed to a client. If your hair is healthy, there is no need to cut the ends off so frequently, unless you are maintaining a short style. Healthy, strong hair can actually go five to six months without a cut. So decide for yourself, depending on the condition of your hair, how often you need a trim.
You Must Buy Every Product In A Range To Maintain A Style
If your hair is cut properly, it should hold its shape without the need for multiple products. So don't be fooled into walking out of the salon with a bagful of products you didn't think you needed. Ask which one or two products are the most necessary for your cut and stick with those.
Never Cut Your Hair Yourself
It's perfectly understandable that your stylist won't want you hacking away at a complicated cut, but if you have one-length locks, or a fringe that needs almost weekly maintaining, snipping at the ends yourself won't hurt. Invest in a good pair of hair scissors and only trim the very end off - never attempt to cut your hair into a style by yourself, this is definitely best left to the pros.