Best cheap foundations: stay on budget with these great buys all under £10
The best cheap foundations for every skin type, as chosen by our beauty editor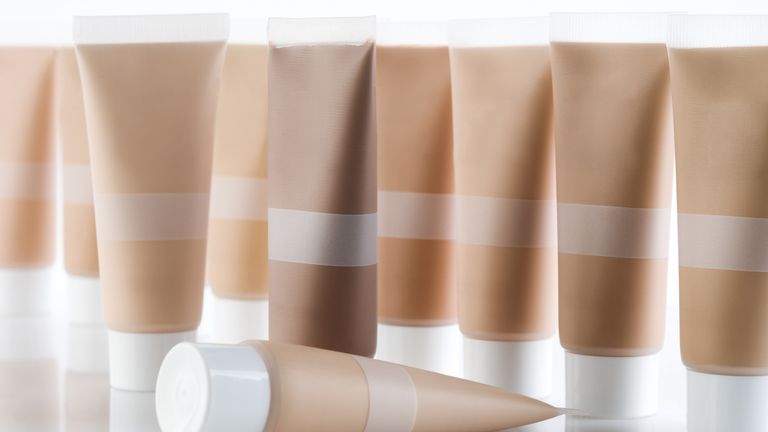 (Image credit: Getty images)
As make-up goes, it's a bit trickier to find the best cheap foundations (aka the best foundation under £10) than it is great mascaras or lipsticks at the same price. Most experts, myself included, will recommend that if you can afford to spend a bit more on just one make-up product, you should buy the best foundation you can afford. 
Why? Because a great foundation is the baseline of your whole beauty look – get it right and you're set. If you don't, well, we've all seen what happens when bad foundation happens to good people.   
Just because it's a bit harder to find a great budget foundation, that's not to say there aren't bargains to be had out there. Price isn't always a true indication of quality, and the truth is not everyone has £30+ to drop on one piece of make-up, so that's where the best cheaper foundations come in. 
Thanks to meaty research budgets and top-tier development teams, big brands such as Maybelline and Rimmel are able to deliver excellent formulas at very democratic prices. This investment in formula and an unusually flattering finish is why Maybelline Dream Radiant Liquid is my pick of the best cheap foundations overall. It's also worth keeping an eye on disruptive beauty brands for bargain sophisticated formulas, which is why The Ordinary Serum Foundation is my best budget foundation for oily skin. 
How to choose the best cheap foundation for you
There are some ways in which a £9.99 foundation will never match up to a high-end buy. When shopping for a more budget foundation it's best to develop a blind spot for fancy packaging. Slick, airless pumps and magnetic lids are very seductive, but once it's on your face it doesn't really matter if your base came out of a plastic tube or a beautiful bottle. In fact sometimes with cheaper foundations it's actually better to go for the tube, as those budget glass pumps can get a little bit messy. 
Formula is crucial, and there are plenty of cheap and readily available hydrating ingredients that brands can include to achieve a luxurious texture. Look out for hyaluronic acid, vitamin E and glycerin, as well as polymers, as these tend to give foundation a flexible feel and stop it sinking into lines. Using the best foundation brushes and tools and learning how to apply foundation for radiant skin texture will help with this too. 
Aiming for light, sheer and hydrating styles is a good rule of thumb in general with drugstore foundations. Yes, they might need topping up at lunch if you have oily skin, but they are definitely more forgiving than high coverage foundations at the same price, which can come off a bit mask-like. 
The final thing to bear in mind is skin prep. Less sophisticated foundation formulas can lack the skincare ingredients of their pricier counterparts. But if you ensure your skin is smooth, well-moisturised and you learn how to use face primer you can still achieve a great result with a cheap foundation. 
The best cheap foundations you can buy right now
The best all-round cheap foundation 
Maybelline Dream Radiant Liquid
Specifications
RRP: £8.99
Shades : 19
Coverage: Light-Medium
Reasons to buy
+Glowing finish +Flattering blur effect
Reasons to avoid
-Needs more shades
As a general rule, if you've got £10 to spend and head to a Maybelline counter you won't be disappointed. This combines medium, spreadable coverage with a juicy-looking finish thanks to light-reflecting particles. Don't worry, it isn't sparkly – more of a flattering soft-focus glow that blurs over lines and pores.  
When first pumped out onto the back of the hand or brush the texture does feel slightly rigid, but once you get it moving it blends nicely enough. It also doesn't settle into lines or drag over rough skin, making it a good choice for dry skin types. The 20-shade-strong range is commendable at this price although it would be better if we got a few more options at the very deepest end of the spectrum. 
The best cheap foundation for oily skin
The Ordinary Serum Foundation
Specifications
RRP: £5.70
Shades : 21
Coverage: medium
Reasons to buy
+Weightless feel+Extremely  blendable
Reasons to avoid
-Won't suit very dry skin
They rocked our world with their £5 skincare products, so it's no wonder The Ordinary's first colour cosmetic got everyone talking too. From the name, you might expect this to be very light and hydrating, and while it certainly contains some moisturising ingredients it's actually a far better fit for oily or combination skin. 
This is because it offers medium coverage with a soft matte finish. The silicone base, which gives it that unique 'serum' feel, is brilliant at smoothing over enlarged pores or texture irregularities, as well as helping the pigment grip onto skin. This will be very welcome if your natural oil tends to melt foundations. It also feels very light despite its matte finish, which is a gift for anyone whose skin already feels overloaded. 
The best cheap foundation for dry skin
L'Oréal Paris True Match Liquid Foundation with SPF and Hyaluronic Acid
Specifications
RRP: £9.99
Shades: 40
Coverage: Medium
Reasons to buy
+Excellent shade range+Very hydrating
If you have dry skin it can be tempting to stick to BB creams for their hydrating properties. The downside of that choice is that many of us need more coverage than a BB can offer, and certainly more lasting power. 
This foundation combines the skincare boost of BBs with slightly higher levels of pigment and better grip. The water-based formula includes hyaluronic acid,  glycerin and aloe vera, all of which deeply hydrate. It feels very comfortable,  not heavy or greasy, and the 40-shade range is truly inclusive, which is shockingly still rare at this price point.  
The best cheap foundation for quick coverage
Revolution Fast Base Foundation Stick
Specifications
RRP: £5
Shades: 14
Coverage : medium-full
Reasons to buy
+Very good value+Handy stick form
Reasons to avoid
-Higher coverage 
Stick foundations aren't for everyone (if you like a barely-there base, steer clear), but if you need muscular coverage and tend to reapply during the day you could do a lot worse than this bargain twist-up by Revolution. 
As the name suggests it's best used in specific areas to speedily cover redness, pigmentation or veins, and once it's on you'll get a good 8+ hours of coverage. The texture is nice and spreadable once you get blending, so it melts into skin nicely and won't leave tidemarks. There's a good shade range for light and dark skins, and the stick format makes it very handy to chuck in your bag with no fear of spillage.
The best cheap foundation for mature skin
Rimmel Lasting Radiance Foundation
Specifications
RRP: £8.99
Shades: 12
Coverage: medium
Reasons to buy
+Buildable coverage+Active skincare ingredients
Reasons to avoid
-More shades needed
Busy days = tired skin. Sometimes we know a full eight hours sleep just isn't going to happen, so we turn to the next best thing to wake up our complexion – make-up!
This loose and light-reflecting foundation offers sheer coverage with one pump but can be built up to something more opaque when needed. It has a lovely glow, thanks to the inclusion of illuminating particles and is very strong on the skincare side of things, with energising peptides, stable vitamin C, SPF25 and nourishing plant seed oils. 
What more could you want? Well, as ever with budget bases a few more shades would be nice. This has 12, with a decent offering for light and medium-deep tones but not much to offer for very dark skin tones. Let's hope that changes soon, as this really is an excellent foundation that should be available to everyone.
Best full-coverage cheap foundation 
Max Factor Lasting Performance Liquid Foundation
Specifications
RRP: £9.99
Shades: 13
Coverage : high
Reasons to buy
+Highly transfer-proof+Oil- and fragrance-free
Reasons to avoid
-High coverage 
If you have a lot of long days in your diary, white shirts in your wardrobe or unpleasant make-up smudges on your phone, this could be the drugstore foundation for you. 
Everything about this formulation is designed with all-day transfer-proof wear in mind. It's got a water and silicone base, with the pigment and H2O encapsulated within the silicones giving it a smooth grippy texture that stays where it's supposed to be. That aside, the formula is also oil- and fragrance-free, so would work very well on reactive, inflammation- or acne-prone skin, too. 
The coverage is on the fuller side, so might not suit if you don't like a 'made-up' look. If 'made-up' is exactly what you're going for, minus the usual shirt-collar paranoia, then this is a great option for the price.