7 best overnight masks to wake up looking younger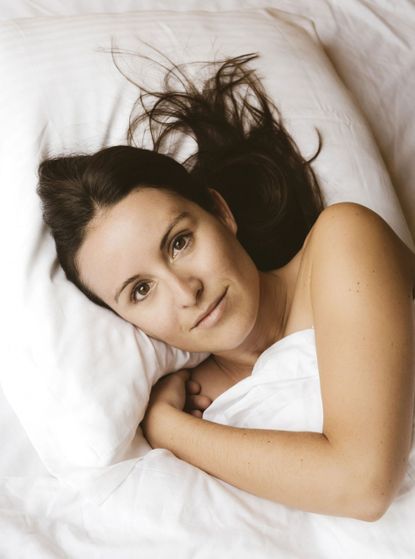 (Image credit: Rex Features (Shutterstock))
Overnight masks are having a bit of a moment in the skincare spotlight. Unlike your regular face mask which you remove after around ten minutes, the clue is in the title with these skincare saviours - they're left on overnight! Don't worry though, you won't be getting messy clay all over your fresh pillowcases: texture wise, they're like a thick night cream that will absorb gently over night. Keep scrolling to discover the best overnight masks to help you wake up looking younger, more radiant and all-round gorgeous.
The Body Shop Bouncy Sleep Mask, £24
Enriched with Edelweiss stem cells, expect to wake up to skin that's fresher, younger-looking and (you guessed it), bouncy! This product is a brilliant purse-friendly option that's fast becoming a cult beauty favourite.
BUY IT NOW (opens in new tab)
Lancome Hydra Zen Masque, £45
With a unique serum-in-mask formula, this wonder-product battles dehydration to combat the visible effects of stress and pollution. 87% of testers said their skin felt more nourished – we can't argue with that!
BUY IT HERE (opens in new tab)
Origins Drink Up Overnight Intensive Mask, £23
If you seem to eternally suffer from dry skin but can't find a long-term solution, this is the product you've been looking for. Containing Japanese seaweed to repair the skin's natural barrier to prevent dehydration, apply a generous layer before bed to quite literally put dry skin to bed.
BUY IT HERE (opens in new tab)
Kiehl's Ultra Facial Hydrating Overnight Masque, £28
Wake up to noticably younger looking skin with this fragrance and colour free mask. Perfect for sensitive skins, this mask can be applied traditionally as a thick layer and left for 10 minutes, or more thinly across the face and neck for a night-long injection of anti-ageing benefits.
BUY IT HERE (opens in new tab)
Charlotte Tilbury Multi Miracle Glow, £45
From the Queen of multi-tasking beauty products, Charlotte Tilbury's Multi Miracle Glow is another game changer. Part cleanser, part balm, part treatment mask, apply a generous layer to freshly cleansed skin. You can even apply it to chapped or dry skin anywhere on your body to, in Charlotte's words, "cheat the body of an angel". You'll wonder how you ever lived without it!
BUY IT HERE (opens in new tab)
Nude Skin Advanced Renewal Overnight Repair Mask, £42
Containing cupuacu butter (found inside the nuts of a species of rainforest tree), this mask injects moisture with big hits of omegas 6 and 9. Even better, its peptides create a moisture barrier to soften and smooth fine lines and wrinkles.
BUY IT HERE (opens in new tab)
James Read Sleep Mask Tan Face, £25
Offering the promise of younger looking skin overnight and a healthy tanned glow, it's not hard to see why this James Read Overnight Mask is a favourite amongst models. Tanning novice? Don't worry – the colourless gel formula won't stain your sheets. And, unlike applying regular self-tan to your complexion, it won't clog your pores or cause patchiness, too.
BUY IT HERE (opens in new tab)