Fitbits: A guide on how to set them up and how they work
Have you bought one in lockdown?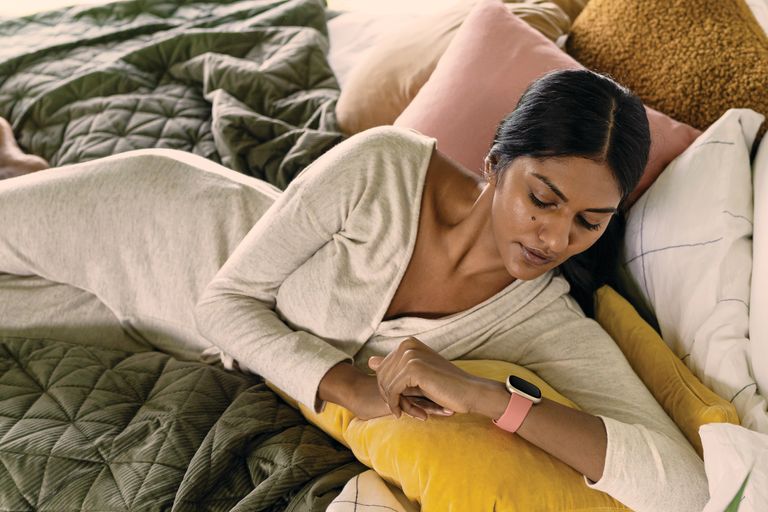 (Image credit: Fitbit)
By Amy Hunt
If all your friends are sporting Fitbits and waxing lyrical about step counts and sleep quality, you might be feeling a bit left out.
So, you may have decided that it's time to take the plunge and bought yourself one of the world's most popular fitness trackers (after browsing our list of best fitness trackers, of course). Not sure how to set up a Fitbit? Don't worry, you're not alone.
You've bought yourself a Fitbit in the hope of reaching your health and wellness goals, but now that it's arrived, confusion may well have set in about how exactly to use it to the best of its many exciting features.
What, exactly, does a Fitbit do? And how to set up a Fitbit? And, of course, how does it work? Once you've got one, you may be questioning how you charge it and set about winning those all-important step challenges.
We answer all your burning questions with our beginner's guide to setting up and using a Fitbit.
What is a Fitbit?
A Fitbit is an activity tracker, usually worn on the wrist, which can track the distance you walk, run, swim or cycle, as well as the number of calories you burn and take in. Some also monitor your heart rate and sleep quality.
MORE: Walking 10,000 steps daily is easy if you do these 3 simple things
MORE: Explore our guide to the best Fitbits
Many allow you to receive text, call and calendar alerts, connect to your phone's GPS system in order to map running routes and even control the soundtrack to your workout. You can also use your Fitbit to connect with friends and family, sharing messages and progress data, and competing in challenges.
How does a Fitbit work?
If you're wondering how does a Fitbit work, look no further! Fitbit's trackers use a "3-axis accelerometer" to track your motions, using algorithms designed to look for specific motion patterns eg those that indicate walking, swimming or cycling. Independent testers reckon the system is about 90% accurate.
How does a Fitbit track sleep?
Newer Fitbit trackers are set to track sleep automatically, logging sleep duration and quality. Fitbit's algorithms assume sleep has begun when you haven't moved in more than an hour. In "normal" mode, Fitbit will only track major movements, such as rolling over. In "sensitive" mode, Fitbit will log almost all movements as "restless" time.
Does a Fitbit track heart rate?
Some Fitbit trackers are equipped with a "PurePulse" sensor. This uses LED lights that reflect on to the skin to detect changes in blood volume. Its accuracy has been disputed, however, so readings should not be taken as gospel.
How to set up a Fitbit
OK, now you've got your device and know roughly how it works, what exactly do you do with it? Don't worry, we're here to talk you through the basics – here's how to set up a Fitbit.
You can set up your Fitbit tracker by connecting it to your Android, iOS or Windows mobile device, or to your Windows or Mac computer, using the Fitbit app. Once you have downloaded and installed the app to your chosen device, you should follow the in-app instructions to "Set Up A New Device".
You will need to create a Fitbit account and enter some basic personal details before you can start using your Fitbit. Your Fitbit can be paired with your device via Bluetooth or, if you are using a computer without Bluetooth, by using a wireless sync dongle (which should be supplied with your Fitbit).
Ensure your Fitbit is set up for the wrist you wish to wear it on. You can select your dominant or non-dominant hand in the "wrist" section of your account settings on the Fitbit app. For a more detailed assessment of your sleep quality, switch the "sleep sensitivity" setting in "advanced settings" from "normal" to "sensitive".
How to charge a Fitbit
Charge your Fitbit by plugging one end of its charging cable into the tracker and the other into a USB port on your computer. Alternatively, you can use a compatible wall charger.
How to charge a Fitbit Blaze: Plug charging cable into a USB port or compatible wall charger. Remove tracker from wristband and place inside charging cradle. Close cradle.
How to charge a Fitbit Flex or Flex 2: Plug charging cable into a USB port or compatible wall charger. Remove pebble and press into compartment on charging cable.
Fitbit won't charge?
Avoid using a USB hub. Try plugging the charging cable into a different USB port or wall charger.
Try restarting your tracker.
Clean the contacts on your tracker. Use a toothpick or toothbrush and rubbing alcohol, then dry with a cloth or tissue before charging.
Clean the pins on your charging cable by soaking a cotton swab with rubbing alcohol and pressing carefully to the pins. Dry with a cloth or paper towel before charging.
How to change the time on a Fitbit
The time displayed on your Fitbit should match the time on the mobile device or computer it has been paired with. If the wrong time is showing:
Try manually syncing your tracker with your device.
Ensure your tracker is running the most up-to-date firmware.
Select the correct time zone using the Fitbit app. Tap or click the account icon, select "time zone" under "advanced settings" and turn off the "automatic" option. Tap or click "time zone" and select the correct time zone. Sync your tracker.
Select the correct time zone on the Fitbit.com dashboard. Log in and click the gear icon in the top right-hand corner. In "settings", scroll to the bottom of the "personal info" page and modify the time zone. Force sync your tracker by clicking the Fitbit Connect icon near the date and time on your computer and selecting "sync now".
How to sync a Fitbit
If your Fitbit tracker is paired with the Fitbit app on a mobile device, it will sync every time you open the app. You can also set it to sync periodically throughout the day by turning on All-Day Sync.
If your tracker is synced with a computer and Fitbit Connect, it will automatically sync every 15-20 minutes, assuming the tracker and computer are in close proximity and the wireless sync dongle is plugged in, if applicable. You can manually initiate a sync by touching the tracker image at the top of the screen and pulling down.
Why won't my FitBit sync?
There are a few potential reasons why your Fitbit might not be syncing.
Try the following fixes:
Charge your tracker
Restart your tracker
Ensure Bluetooth and location services are turned on
Ensure the software on your mobile device is up to date
If you are using a Windows computer, uninstall any old Fitbit Connect software and install the Fitbit app for Windows 10
Disconnect any other devices using your Bluetooth connection
If you are using a computer without Bluetooth, plug in your wireless sync dongle
Turn "Always Connected" option on to enhance Bluetooth connectivity
Turn "All-Day Sync" on
Check for known issues with your device/software updates
How to reset a Fitbit
You should only reset your device if advised to do so by an official customer support agent, or if you are following a firmware update troubleshooting guide, since a factory reset will cause you to lose all the data stored on your Fitbit. Try restarting your Fitbit, instead.
How to restart Fitbit Flex: Plug charging cable into USB port or wall charger. Press pebble into charging cable compartment. Insert paperclip into pinhole on back of charger and press for three to four seconds. Remove pebble from charger and reinsert into wristband.
MORE:Benefits of exercises and best workouts for women for all ages
How to restart Fitbit Flex 2: Plug charging cable into USB port or wall charger. Press pebble into charging cable compartment. Press button on charging cable three times in five seconds. A few seconds after the third press, the lights on the tracker will flash. Remove pebble from charger and reinsert into wristband.
How to restart Fitbit Zip: Open battery door using battery door tool. Remove battery. Wait 10 seconds before replacing battery.
How to reset Fitbit Charge HR: You may be asked to reset a Fitbit Charge HR by a customer support agent, or when following a firmware update troubleshooting guide. Remember, a factory reset will wipe all data from your Fitbit.
Attach your charging cable to your tracker and plug into a USB port. Press and hold button for two seconds. Without releasing the button, remove the cable from the tracker and wait seven to nine seconds. Release the button, then hold it down again until "ALT" and a white screen flash. Let go and hold down until the tracker vibrates. Then let go and hold down until "Error" appears. Let go and hold down until "Erase" appears. Finally, let go. The tracker will turn off. Press the button or reattach the charging cable to turn your Fitbit tracker back on. Tap or click the "account" icon in your Fitbit app and follow the instructions to "Set Up A New Device".
What is Fitbit premium?
Essentially, Fitbit premium is a more enhanced version of the platform for users to experience.
It offers a new service that users will need to pay for, including workout programmes that aren't available on the standard settings.
How much does Fitbit premium cost? It's £7.99 a month and you can sign up to it on the Fitbit app. However, if you want to try before you commit, you can do so with an amazing 90-day free trail. Simply give it a go, and if you decide it's not for you, you can cancel your subscription.
When you log on, you'll be able to take part in workouts and challenges (including HIIT and yoga sessions) that a standard account doesn't have access to, more detailed health and wellness reports, extra sleep features and guided programmes to help you achieve specific wellness aims, such as sleeping better or cutting junk food out of your diet.
What are Fitbit friends and how do I add them?
You can message and track the progress of friends and family members using the Fitbit app. Add friends by tapping the "+" icon on the Fitbit app dashboard, then tapping or clicking "Add Friends". Follow the onscreen instructions to add stored contacts and Facebook friends, or send email invitations. You can choose which data to share with them by changing your privacy settings. Competitive? The app will "rank" you and your contacts based on the number of steps you have each taken in the past seven days.
What are Fitbit challenges and how can I set one up?
You can challenge your Fitbit friends to a Daily Showdown, Weekend Warrior or Workweek Hustle step challenge. The participant who clocks up the most steps within the given timeframe wins. Navigate to the "challenges" tab on the Fitbit app and select "add players". You can add up to ten participants. There's also the Goal Day challenge: How many participants can reach their daily step goal? And, yes, there are trophies up for grabs...