Why mom jeans are the best style for women aged 40+
When it comes to stylish denim, mom jeans have our vote.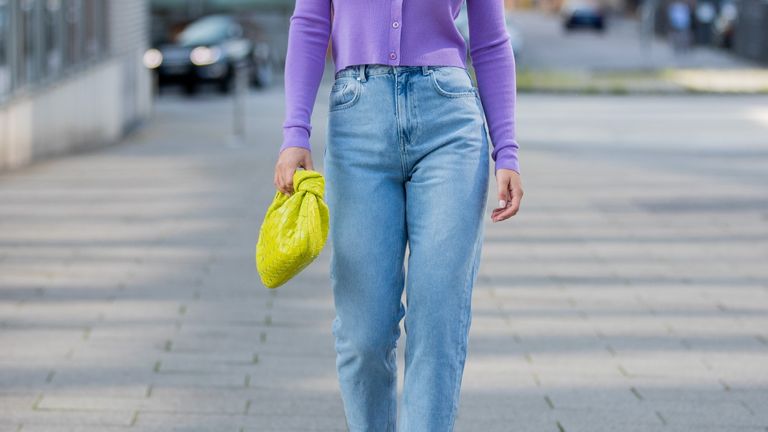 (Image credit: Getty)
Thinking about investing in a pair of mom jeans? Good choice - they're some of the best jeans you can buy.
Jeans have long been regarded as a wardrobe staple among the savviest of dressers, and with good reason. The denim classic is known for possessing ultimate levels of versatility, meaning jeans in the right style will work effortlessly with almost all of your wardrobe and make getting dressed in the morning infinitely easier. Add to this high comfort-factor (as long as they're not too small) and durability (denim overalls were first worn by miners and labourers, so can certainly withstand a weekend with the kids) and it's no small wonder the average woman purchases a whopping nine pairs every year.
But which styles should we be buying? This season sees the flared jean put forward as the silhouette to know about. However, unless you're 5'11 or have a panache for a sky-scraping heel à la Victoria Beckham, they can be tricky to wear. They're also a devil for soaking up puddles on rainy mornings, so if you do decide to give them a go, beware.
The catwalks have also championed the ultra wide-leg, the skater-style baggy, the super high waisted jeans and the return of the early-Noughties bootcut (just add a handkerchief top and trilby).
Of course there's also the ultimate slimming jeans, the skinny jean. A perennial failsafe, it has been a go-to for many since it shed its 1970s punk associations and re-entered the realms of fashion consciousness in the 2000s. The style's main appeal? It goes with every shoe under the sun.
However, this season, there's another style well worth contemplating – and in fact, for the season after that and the following one. Combining timeless aesthetic with a universally flattering silhouette and easy-to-wear appeal, it quite possibly trumps every other denim cut going. I'm talking about mom jeans.
What makes mom jeans so special?
Popular during the late 80s and early 90s, mom jeans fell out of fashion favour during the early Noughties, when they were usurped by the aforementioned bootleg which, at the time, was considered a younger, cooler style. However, their revival came a decade later, and the style has continued to be popular among the style set ever since. As such, it is now a bona fide modern classic.
Characterised by a relaxed fit, high waist band and tapered leg, the shape is both flattering and feminine, skimming the hips and thighs and accentuating the waist. The chic vintage aesthetic has a cool-yet-grown-up appeal, making them a smart choice for those who can remember them the first time around. In fact, if you still have your pair from the 90s now's the time to dust them off. Team with a silk shirt, blazer and loafers for occasions when polish is required, or try sleek white trainers and a cosy knit when off duty.
Things to consider before investing in a pair of mom jeans
If you're yet to bag a pair of mom jeans, there are a few things to consider before adding some to your basket. Look for styles with back pockets that sit high on the bottom and angle outwards. This will make your rear appear delightfully perky. It's also worth checking leg length; a pair that hit around your ankle bone will elongate and slim the leg. If styles come up a little long, roll, or even chop the hem until they sit just right.
Steer clear of excessive detailing such as patches, rips and distressing. These tend to look a little on the young side and will date much faster than a classic pair. Opting for a timeless, fuss-free style will ensure you'll be reaching for them in years to come.
When it comes to washes, again classic is your watchword. While acid- and stone-wash might have passed muster 30 years ago, it's best left to the under 35s. For smarter occasions, reach for a dark wash, such as indigo, charcoal or black, which can be worn with a classic white shirt, tailored jacket and leather flats for the 9-5. Switch the flats for heels and add statement earrings, and you've got an effortless dinner-ready look. Weekends call for a something more relaxed, so head towards mid-blue washes to team with a parka and plimsolls.
Though more commonly associated with the warm summer months, white denim makes for a crisp autumnal look when layered with knits in biscuit and caramel tones. Eschew bright white, which can be hard to pull off, opting for softer off-white shades. Make sure denim is on the thicker side so it doesn't show off your underwear.
Best mom jeans to shop now
Topshop High-Rise Mom-Fit Denim Jeans
A bleached jean will not only add interest to darker outfits, but adds to the retro feel of this classic shape.
These mid-rise jeans are not only super comfortable, but stop your jeans from overwhelming your frame. Great for petites, the cropped length means no need for alterations.
New Look Slouch Nia Balloon Jeans
If you're still not sold on the trend so want to give it a go without much investment, these budget jeans are a great place to start. Available in two colours.
Zara's denim offering just keeps getting better and better, and is now available in a more inclusive size range than ever before. We love the deep indigo shade of these 100% cotton jeans.
Great for anyone looking to make more eco-conscious fashion choices, Wrangler's Mom Jeans have been made from recycled fibres.