24 updos for short hair—chic, upstyled looks for short crops and long bobs
Be inspired by these updos for short hair, from elegant chignons to easy braids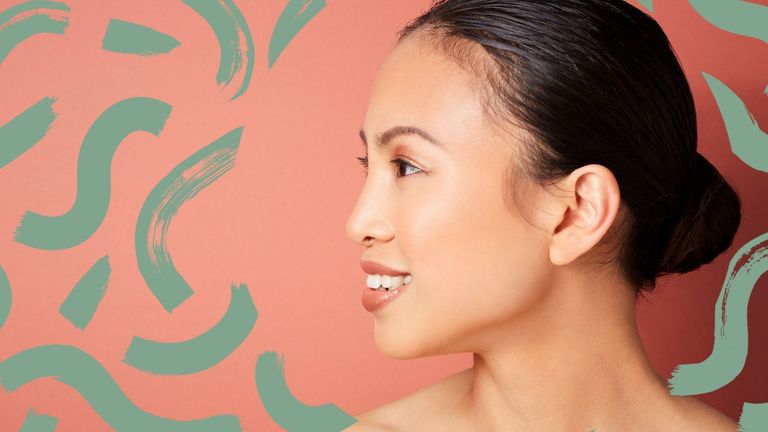 (Image credit: Woman with a bun one of the best updos for short hair)
By Keeks Reid published
There are updos for short hair to suit everyone, but it's fair to say styling a short haircut leaves less wiggle room for versatility. The shorter you go, the harder your hair becomes to style in an updo, much less one that stays secure for an extended period.
It's worth persevering though, as with a bit of styling know-how there is an easy hairstyle out there to suit every head of hair, including the shortest of short hairstyles, from pixie haircuts to shags and bob hairstyles. The trick with finding updo ideas for more closely cropped hair is embracing your shorter lengths and thinking outside of the traditional hair up styles box.
"Half-up, half-down hair is a perfect choice," says Andrew John, style director of Percy & Reed salon. "Create a half-up, half-down style by sectioning hair from the top of each ear and twist it into a loose bun, and pin." A-list stylist and Hershesons CEO Luke Hersheson is well-practiced in creating updos for short hair on celebs such as Sienna Miller, and advises "plaited braids on either side of a middle parting and tied or pinned into a low bun is an alternative updo that has an edge to it." Whatever you do, it's all about creating the illusion of an elaborate updo, with the minimum of fuss.

Whether you've opted for a short haircut recently, or are wondering how to switch up your signature look with new ideas, we've consulted the experts and scoured the most beautiful styles online to get you started. And luckily, we're not short on inspiration. From bantu knots to messy chignons and cheat's updos with sparkly hair accessories, these are the best updos for short hair that work for every occasion.
Updos for short hairstyles: our favorite looks
1. Messy updo for short hair
Face shape: round or oval | Hair type: fine to medium
The beauty of this style is it's messiness, so there is no 'wrong' way to create it. Begin by pulling back your hair with your hands, then simply pin in place and ease out strands here and there for a chill, undone vibe.
---
2. Pinned up short hair 'do
Face shape: square, heart or oval | Hair type: fine to medium
Bobby pins at the ready for this style, it's slightly more formal and structured than your typical messy updo. Curl hair into fairly tight ringlets then separate into top, middle and lower sections, folding them over and pinning in place.
---
3. Plaited bob
Face shape: round or oval | Hair type: medium
Plaits always look special, but with a contemporary edge. This loosely plaited braid in a halo style down to the nape will incorporate shorter layers easily. If you find shorter layers are escaping your plait, prep the hair with a grippy pomade or wax.
---
4.Teased updo
Face shape: square or oval | Hair type: fine to medium
Volume, volume, volume is the secret behind this elegant style. Create height at the crown of the head with texture spray and a little backcombing, then smooth over top layers and pin them back, pulling the front of the hair backward as you go.
---
5. Half-up half-down bob
Face shape: any, especially round | Hair type: medium to thick
Half up half down makes a great alternative to full hair-up, especially if you have a blunt bob or shorter layers that just won't stay. Pull two front sections backwards, secure with a clear band and flip back over itself to create this elegant shape.
---
6. Cornrow faux hawk
Face shape: round or oval | Hair type: curly, coily
You may need the help of a professional—or certainly a skilled friend—to create these tightly braided rows. But once combined with the backcombed section at the front, they add intricacy and visual interest to this style. Protect your carefully created braids with the best silk hair wraps.
---
7. Fold and roll short updo style
Face shape: square or oval | Hair type: fine to medium
This appears like a long head of hair pinned into a complicated style, but it is actually very simple to recreate. Take small to medium sections, pin into the scalp then fold and tuck over each other to hide the pins.
---
8. French plaits
Face shape: any, particularly round | Hair type: medium to thick
This is fun, cute and relatively easy to create. Simply center part your hair (using a tail comb will create this razor-sharp parting) Then French plait in two sections, secure with elastics, et voila!
---
9. Half-up braided bun
Face shape: any, particularly round | Hair type: any
Intricate, fine braids secured in a half-up high bun looks contemporary and glamorous on short hair. Using a fine tail comb and some hair styling cream will keep the look neat and sleek.
---
10. Bantu knots on bob
Face shape: round or oval | Hair type: curly, coily, fine to thick
Bantu knots can work on bob length hair too—the trick is to space out the knots, twist the hair while damp, and secure with pins if needed.
---
11. Halo braid
Face shape: square, heart, oval | Hair type: medium
A halo braid can work on both bobs and lobs. For longer bobs that might struggle to stay in place, prep the hair with a blow-dry primer then secure with pins as you work to stop hair falling out.
---
12. Clipped side parting
Face shape: heart or round | Hair type: fine to medium
Ok, so this is not technically an updo, but this easy clipped back style is so glam it could pass as one of the best updos for short hair. Create a strong center part and stack clips down one side of your parting to keep hair off your face and make a statement.
---
13. Wavy hair updo
Face shape: any, particularly square | Hair type: fine to medium
If you have wavy hairstyle, this idea is perfect for showing off the fullness of your texture. Begin by pulling top sections back into a french braid, then twist and roll lower sections to create a chignon effect. As ever, hairspray and pins are your friends.
---
14. Stacked buns on short hair
Face shape: oval or heart | Hair type: medium
This quirky yet elegant style will impress at your next party. Separate the hair into two sections, pull into clear bands then twist into buns. The double bun effect means shorter sections are less likely to fall out as the night goes on, while a chic gold hair slide tops off the look.
---
15. Twisted updo
Face shape: any, particularly oval | Hair type: medium to thick
This french braid into a messy bun style works best on a bob, rather than ultra-short hair. Begin your braid from one side, working down and across the back of the head, then twist into a glam chignon.
---
16. Mini buns
Face shape: round or heart | Hair type: fine to medium
Messy buns are a cool and modern style that make them one of the best updos for short hair if you can't get your locks into two ponytails. Instead, grab small sections at the nape of the neck and use bobby pins to secure your buns for this cute updo.
---
17. Twisted ponytail
Face shape: square or oval | Hair type: medium to thick
Amplify your casual ponytail hairstyle with some side twists. Use the best hair straighteners to create super sleek lengths, then simply twist and pull back two smaller sections around the ears, and secure.
---
18. Scarf bun
Face shape: square or heart | Hair type: fine to medium
Accessories are always a great idea to enhance short hair. Here, the addition of a colorful scarf not only looks special it also bulks out your updo for more volume.
---
19. Bob with half plait
Face shape: round, oval, or heart | Hair type: medium to thick
Another half up half down style that adds interest to a jaw-length bob. Pull one top section back into a French braid, tuck it behind your ear, and pin it in place, then use the best curling iron you can afford to create tousled waves through the lengths for a relaxed look.
---
20. Messy bun on lob
Face shape: any, particularly oval | Hair type: medium to thick
A lob is a perfect length for a messy updo with loose tendrils teased out. Begin with a bouncy blowout to achieve plenty of root lift, then pull your hair up onto the crown of your head, secure in a ponytail, backcomb and pin into a bun.
---
21. Claw clip bun
Face shape: any | Hair type: fine to medium to thick
Yes, claw clips are back. For an easy failsafe updo, try pulling your hair back into a ponytail and securing it with a claw clip. It works equally well on lobs as it does on long hair.
---
22. Short curly updo
Face shape: any, particularly round | Hair type: curly, coily
A high impact, low effort natural hairstyle—this curly updo with loose tendrils looks effortlessly cool. Pull your hair up at the crown, secure it into a ponytail and twist into a bun, pulling out loose strands at the front.
---
23. Sleek knotted updo
Face shape: round, oval or heart | Hair type: fine to medium
Sleek and sophisticated, secure your strands in a low-knotted bun to recreate this shiny hair 'do. Begin with smoothly blow-dried hair and mist a bristle brush with hairspray when brushing it back into the pony for a smooth, flyaway-free look.
---
24. Half top knot
Face shape: square or oval | Hair type: medium to thick
A messy bun gets things done, and this messy half top knot is as easy to achieve as it is impactful for a daytime event. Use a bit of texture spray for grip and pull a piece of hair around the base of your half-bun to cover any pins or bands.
---
How to prep updos for short hair
As with all hairstyles, creating updos for short hair begins at the prep stage. Unless you're simply throwing your hair back with an elastic headband for a lazy day (no shame in that) you'll need to add in a few steps before creating your updo to make sure it stays put all day.
To make your hair easier to work with, it needs texture and some grit, so it's better to create updos on hair that isn't freshly washed as clean hair tends to be softer and doesn't hold as well, making it harder to style.
If your hair is feeling slippery, reach for a texture spray to add some guts to your updo; salt sprays will also do the trick. We like the tousled, airy effect we get from IGK Beach Club Texture Spray, which does a great job of giving bobs interesting texture. A spritz from the best dry shampoo can also help give it some grip.
If you have a short curly hairstyle, then your hair naturally has a lot of texture to work with, so you won't need too much product, if any, to make your style work. A curl cream like Aveda Be Curly Curl Enhancer can spice up those ringlets, giving them definition and hold.
Our beauty editor recommends...
IGK Beach Club Volume Texture Spray | RRP: $31/£23
A quick spritz of this in the hair will help add volume, texture and stop your hair slipping out of your updo so easily. 
Aveda Be Curly Curl Enhancer | RRP: $28/£20
This curl-strengthening styling cream will help curls hold their form and lock in place wherever you're putting them in your updo.
---
woman&home thanks Dionne Smith, Luke Hersheson and Andrew John for their time and expertise.
Keeks is a London-based beauty writer and content creator. She has worked with titles including Cosmopolitan, VOGUE, Refinery29, Red, Elle, OK! and woman&home. While she has a well-rounded beauty obsession, her specialism is all things hair.
When she's not testing the latest hair tool on camera or waxing lyrical about styling tips, you'll find her re-watching old episodes of Real Housewives of Beverly Hills (or New York or Atlanta). She loves a social scroll as well as a romantic book, but nothing beats Sunday afternoon lunches with her friends and family. You can catch Keeks on all social platforms @keeksreid.