21 easy Christmas hairstyles—holiday hair ideas for 2021
Glamorous Christmas hairstyles that will take you from the festive dining table to dancing under a discoball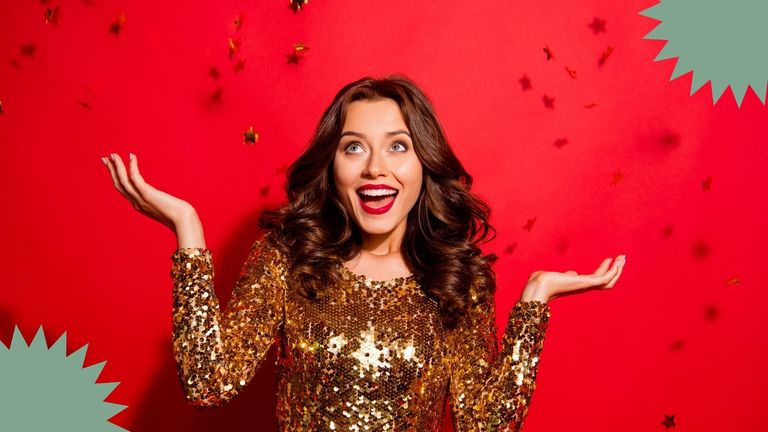 (Image credit: Getty images)
Christmas hairstyles mean different things to different people. You might need intricate updos for glamorous parties, a salon-style blow-dry to last a weekend away with friends, or simply to slap on a sparkly hair slide to distract from an unwashed 'do at the Boxing Day buffet.
Whatever your plans, this season is the prime time to bring out the big guns and try something special, and you don't have to visit a salon to nail a great Christmas hairstyle. Just as with Christmas makeup looks, some visual inspiration and home styling tips can go a long way— from using your best hair dryer to perfect how to blow-dry hair like a pro, to learning the art of the messy bun or complementing your Christmas nail designs with a headband in matching tones.
No matter what your hair type and what events are coming up in your social calendar, we have your Christmas hairstyle inspiration covered.
Easy Christmas hairstyles for every hair type
Straight hair
1. Glam shiny waves
Gorgeous, glamorous Hollywood waves always go down a treat for special occasions. Hot rollers are better than a tong for creating large, tumbling waves like this. A misting of shine spray will keep the look super luscious, then slip a pearl slide behind your ear for extra Christmas hair appeal.
2. Grown-up headband
This is the easiest Christmas hair trick in the book—chuck a big old accessory on it! Headbands are on-trend and make any hairstyle look instantly special, be it ponytail hairstyles, air-dried waves, or a messy bun. The trick to keeping this look grown-up and modern is pairing it with an unfussy hairstyle.
3. Modern top knot
Proving hair up needn't be complicated or fussy to look at, this is the perfect Christmas hairstyle for those 'twixmas' in-between days. Keep the style sleek and shiny by misting a dressing brush with hairspray and using it to pull your hair into the pony before pinning it in place. Make like Rachel McAdams and incorporate a skinny headband for extra party style points.
4. Bouncy blow-dry
A classic volumized blow dry with flicky ends is sophisticated, timeless, and works as well for lunch with the family as it does a big night out. Using one of the best hair dryer brushes is one of the easiest ways to achieve root lift and curved ends while you dry. Or, if you have the skills, use large vented round brushes and the skinniest nozzle on your dryer to create tension, root lift, and shape.
5. Relaxed waterfall braid
If you've got shoulder-length hair or longer, this braid is a pretty style for day two hair. Mist with the best dry shampoo you have on hand put those braiding skills from your school days back in action, to work in a French plait from one side of the crown down to the nape of the neck and secure with a clear elastic. The final bit's the most important—run your hands down the braid and pull the edges outwards to make the plait a little looser, while keeping the elastic in the bottom. This helps it look modern and relaxed. Finish with a ribbon for extra festive points.
6. Halo braid
Not only is a halo braid one of the sweetest Christmas hairstyles around, it's also impressive with (trust us) minimal effort. Type 'halo braid' onto YouTube and you'll be presented with several easy-to-follow tutorials that make this chic updo super simple to recreate.
Ed's tip: Got a Christmas theme party? You can even get more on-the-nose by fashioning your braid with holly to recreate an actual holiday wreath or plaiting with tinsel for extra sparkle.
7. Undone bun with accessory
This undone bun with a sweet little velvet bow is ideal for a relaxed dinner or drinks at home because it looks far more complicated to achieve than it really is. Simply lightly tong hair and shake out to loosen the curls, then pin back around the nape of your neck and pull out loose tendrils at the front.
Wavy hair
8. Half-up waves with a bow
Beautiful, holiday-appropriate, and best of all, easy—this Christmas hairstyle would suit anyone with a bob or longer. Simply tong in waves with a large-barrelled curling iron, section the hair from above the ears, pull back into a clear band then tie with a cute red ribbon. You don't need to splash out on pricy hair accessories, just grab a bow from a holiday gift!
9. Glam midi ponytail
Ponytails aren't just practical, they can be party-ready too. The trick here is ensuring the hair has plenty of shine and volume before sweeping it back and securing it right on the crown. Tease the front section with your fingers and accessorize with some beautiful earrings. Something sparkly will always complement glam Christmas hairstyles like this.
10. Embellished bob
Tousled waves on short hairstyles are always a great idea. The waves add volume and texture and it's also easy to elevate with a deep side parting and several sparkly hair clips placed along one side. Use a light smoothing creme to keep the side under the clip super sleek and frizz-free.
11. High ponytail
A sky-high ponytail is a great way to oomph up wavy hairstyles and is an ace choice for Christmas parties and going out on the town (just look to J.Lo for proof that this is one of the most fabulous Christmas hairstyles going). The trick here is tipping your head forward to gather your hair as high up as possible before securing it with a thin hair tie. Next, take an underneath section of the pony and wrap it around the band for full disco diva glam.
12. Bow bun hairstyle
Ok, you'll need a fairly long hairstyle plus some skill and patience to get this right, but the rewards will be so worth it—Christmas hair doesn't get much more festive than this! To create the bow, pull hair into a low pony and mist with texturizing spray. Split the pony in two to create two 'loops' of the bow on each side. Pin in place then pull the ends back together in the middle and tuck up and back over itself. Better still, get a hairdresser friend around and pay her in prosecco to do it.
13. Side-parted waves
Another take on Hollywood waves, with a holiday twist, thanks to the subtle pearly slide on one side. You don't need mermaid style length to pull this off, mid-length hair and longer can use a deep waving tool or large hot rollers to create these rolling waves, then gently tease out with a brush and mist with shine spray.
Curly and natural hair
14. Accessorized high pony
The best Christmas hairstyles are both chic and a cinch to create. Dry your hair with a diffuser attachment to create curl definition, then pile up into a high ponytail and secure with a strong snag-free band. Pop on a hair accessory of your choice (we love this sophisticated bow headband) then tease out tendrils near your face for a relaxed finish.
15. Short-haired glamor
It's not easy finding ideas to glam up short hair for the holidays, but this Christmas hairstyle shows how it's done with a volumized side parting and beautiful curls. If you're naturally curly, enhance what you've got with a leave-in conditioner, and dry gently with a diffuser (here's how to use a diffuser on curly hair in case you need a refresher). If you need to curl, use as small a curling iron as you dare to create those corkscrew curls.
16. High puff with pearls
Another simple yet effective Christmas hairstyle this high puffed and accessorized 'do is perfect to let natural texture and curls do the talking. After pulling hair up into a high ponytail, wrap lengths around and pin in place, smoothing over any flyaways with wax or curl cream. Then add some frosting with beautiful pearl accessories.
17. Pinned-in faux-hawk
If you have a short natural hairstyle, this would be the perfect way to embrace that texture to create a beautiful but achievable updo. With damp hair, create a super deep side part in line with the arch of your eyebrow, then dry in place with your diffuser attachment, Next smooth down the side with less hair using pomade and a dressing brush, pinning in place with matching slides in as artistic a fashion as you can.
18. Half-up half-down braids
You don't have to choose between an up and a down 'do. Take your cue from Zoe Kravitz's half up half down braided hairstyle that's not only easy to execute but also looks so beautiful. Leave the ends loose for some added textural interest and don't forget to finish the look with a sultry smoky eye.
19. Braided updo
Guaranteed to turn heads, this braided updo adorned with pearls is as festive as they come. If you have the skills to recreate Christmas hairstyles like this at home, kudos, for the majority of us we'd recommend screenshotting this image and taking it with you to the salon ahead of your Christmas party.
20. Curly bangs
Calling all curly girls! Testament to the all-year appeal of a great wash-and-go hairstyle, it's also a winner during the busy holiday party season. Follow the Curly Girl Method to ensure your curls are in tip-top condition, then simply enhance natural volume with a scrunch of your preferred curl definer.
21. Box braided high ponytail
Elegant and sophisticated, this is a great all-year-round hairstyle for anyone with/or in the process of getting braids. Instead of securing your ponytail with a scrunchie, hold it in place with a hair ribbon to finish off the look.
As woman&home's Beauty Channel Editor, Fiona Mckim has tried more beauty products than she's had hot dinners and nothing makes her happier than raving about a brilliant find on womanandhome.com or her instagram grid (@fionamckim if you like hair experiments and cute shih-tzus)

Fiona joined woman&home as Assistant Beauty Editor in 2013, working under industry legend Jo GB, who taught her everything she needed to know (clue: learn about ingredients and employ extreme cynicism).
In a previous life, Fiona studied journalism back home in bonnie Scotland and honed her skills as a features writer at publications including Junior and Prima Baby, with a brief and terrifying stint on the showbiz pages of a tabloid newspaper in between. She's a skincare fanatic who can't resist adding an extra step to her routine, adores fragrance, has fun with makeup and never turns down the chance to test a new hair tool. Basically, she loves it all.

When not slathering herself in self tan or peering at a tiny ingredients list on a moisturiser, you'll probably find Fiona enjoying something to do with food - cooking it, eating it, cajoling her friends into trekking across London to try a hyped pop-up in a dirty car park.
Come to think of it, the hot dinners and beauty products are probably about even.