Makeup trends 2022—wearable on-trend looks to refresh your routine
From hot pink lips to 'cocktailing' glow, master the best makeup trends 2022 has to offer with this expert guide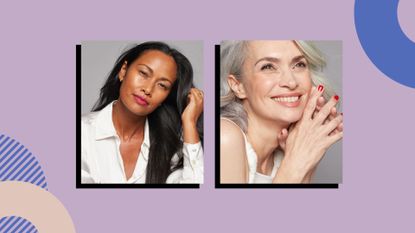 (Image credit: Future/ Iulia David photography)
The biggest makeup trends 2022 has given rise are all about enhancing your best bits. It's really easy to get stuck in a rut when it comes to your cosmetics—we all have a go-to signature look. Sometimes switching things up is a great way to refresh your entire look and even lift your spirits!
You don't have to go all-out for a wild transformation. Sometimes, less is more. Easy makeup looks can still be on-trend. Whether you want to stick to natural makeup looks or striking soft glam makeup, a simple change can make a huge difference.
There's another reason to embrace all the colorful makeup trends 2022 has to offer, according to Caroline Barnes, Max Factor's Makeup Artist Ambassador. "Bold, bright makeup can even make you look younger! You're styling out a striking look that's on-trend." That's us convinced. These are the best and most wearable makeup trends to try now.
Makeup trends 2022: six looks to try now
1.Skin prep as makeup
Picking the best foundation for you can be a bit of a journey, to say the least. But these days more and more experts agree that skincare for makeup prep should be incorporated into your base application process. "Perfect foundation application is all about prepping the skin," says Barnes. "It's important to really feel your face, assessing its needs. On some days it may need different things—one day it might be dehydrated, one day it might be oily. So, understand and treat your skin before thinking about make-up."
The best primer for dry skin will also help create the perfect canvas, allowing the foundation to go on smoothly and last as long as possible. "I always apply my foundation with my fingers" reveals Barnes, "The warmth helps it sink into the skin, and I find that it blends in much better for a natural finish. I normally find that using brushes means you just waste more product! But you can always use a brush or a sponge as a final step to complete the look, sweeping over with a light layer at the end." As a finishing touch, get tactical with concealer. Apply it to dark circles and any blemishes and imperfections. Dab into skin and blend.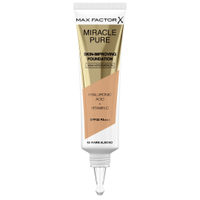 (opens in new tab)
Max Factor Miracle Pure Skin Improving Foundation | RRP: $15.59/£13.99
If you're on the hunt for a new foundation, try this clever launch. It's a base with benefits. It's formulated with super-hydrating hyaluronic acid as well as Vitamin C to brighten skin—meaning that skin's being treated while adding buildable coverage.
2. A perfect red manicure
Nothing adds polish (pun intended) to your look better than a fresh manicure. And while red nails never go out of style, the makeup trends 2022 has to offer are moving away from jazzy nail art towards quiet, glamorous perfection. Translation: wear a timeless red shade but with absolutely flawless application. Iram Shelton, Max Factor UK Nail Expert shares how to paint your nails for a modern, luxurious look. "Always prep your nails before applying polish because this is your canvas. If you don't have a great canvas to start off with you can't expect your finish to be perfect! Gently push back your cuticles and shape your nails with a file."
She continues, "If you're using regular polish always apply thin coats. Don't use too much polish as it will take forever to dry. Always cap your free edge (the tip of your nail) this will help to prevent chipping and give a long-lasting result. A top coat will help seal your color and boost shine."
3. Using blush to contour
Contouring and bronzer have taken over in recent years, but now's the time for blusher to come back with a bang. It's fun, flattering, and also helps cheat that youthful flush. There aren't many trends that are as forgiving as blush, so we're pleased it's one of 2022's main makeup trends.
Blush has the ability to transform the dimensions of your face, helping you look younger, and can chisel out cheekbones without the muddiness of contour, so feels fresh for right now. But how do you apply blush in order to contour? Barnes explains. "If you want to add fullness, apply to the apples of your cheeks, blending with a big fluffy brush." She continues, "To add definition to a round face, take it underneath, emphasizing bone structure, drawing attention to your cheekbones."
The best blusher shade for you depends on your coloring. Pinks are a great all-rounder—go brighter if you're warm-toned. Peach tones are perfect to flatter pale skins. It will look beautiful against the beginnings of a tan—try a cream blush for a more flattering finish.
4. Cocktailing your glow
You couldn't claim a desire for radiance is exclusive to the makeup trends 2022 has brought to the fore, it's been all about that golden glow for years now. However, the way we are creating that healthy gleam has evolved to a more sophisticated process known as 'cocktailing' which essentially means mixing and matching light layers of various glow-boosting textures and products, for a lit-from-within gleam.
"I love mixing in a highlighter with blush, it creates a multi-tonal glow that gives you that elevated professional finish." What a genius trick. Barnes continues, "It also stops it looking stripy against the blush and or bronzes. Mix a liquid formula with a powder or cream blush on the back of your hand before applying with your fingers."
The best highlighter for you will cheat that fresh-back-from-vacation radiance in an instant. It's easy to over-do highlighter, ending up looking like the Tin Man—not the look we're after. Applying with your fingers will help work the product into the skin more evenly, and give a more natural finish.
5. Hot pink lipstick
Not as obvious as red, not as boring as nude lipstick, hot pink is the most joy-sparking of all the makeup trends 2022 has given us. It'll add a fancy feel to everyday looks, and there's a shade to suit everyone, it's all about being brave.
"When it comes to color, go bold," urges Barnes. "Don't be shy! If you go for a paler or sheer formula, it'll look conservative and that's not what this look is about. You can wear bright lipstick at any age, and a blue-toned fuchsia will make your teeth look whiter, and even help brighten the whites of your eyes. This will help you look younger."
Barnes also has a top tip to stop the color bleeding or smudging. "Apply from the inside of your lips, working your way out. I'll give a diffused finish, with a concentration of pigment in the middle. Liquid formulas will last longer, and won't dry out your pout."
6. Skinny liquid liner
If you only dip your toe into one of these 2022 makeup trends, make it this. The arty, squiggly liner and outsized flicks we've seen trending for a few years have been pared right back into a subtle flash of liner that really enhances the eyes, rather than distracts.
The great news is you don't have to do a big, complicated routine. Stick to one shade for simplicity, and add some depth. Not sure how to apply eyeliner? You're not alone—it can be a bit tricky at first. Barnes says, "If liquid eyeliner and flicks seem intimidating, just start by lining the root of your eyelashes, going as close in as possible. This will help your lashes look fuller, and you won't have to stress about trying to attempt the perfect cat eye."
Finish off with lashings of mascara. You don't have to spend a lot of money on the best mascara—most of our favorites are from the high street! Apply to the bottom lashes for extra definition, and to help your eyes look bigger.
Watch our exclusive foundation tutorial video with Caroline Barnes
---
woman&home thanks Caroline Barnes for her time and expertise
Rhiannon Derbyshire is the Senior Beauty Editor for Woman & Home and other publications.
She started interning for magazines while working alongside her Fashion Journalism degree. There, she was lured to the beauty desk, seduced by matte lipsticks, posh shampoos and every skincare product imaginable. A first-language Welsh speaker, she can tell you why the best mascaras are always high street, why SPF is a non-negotiable all year round and how to find the exact right red lipstick in two languages.