Practical Father's Day gift ideas that he'll actually get some use of during lockdown
It's coming up pretty soon...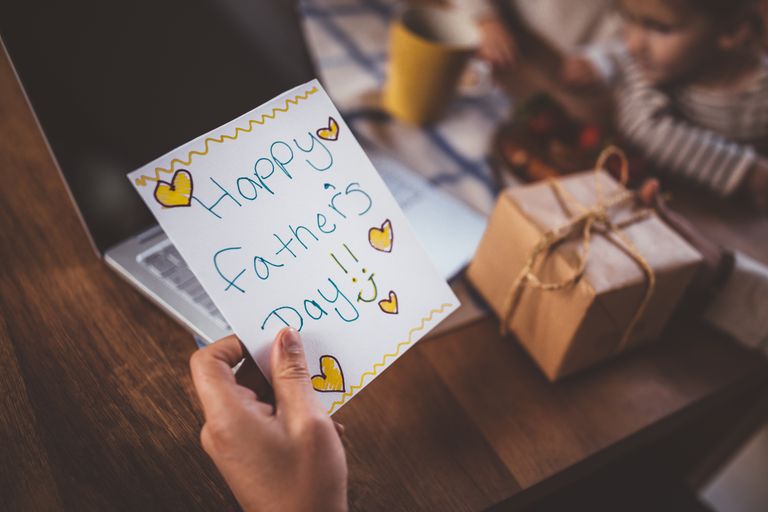 (Image credit: Getty Images)
By Amy Hunt
These Father's Day gift ideas from daughters can be purchased online so you can make sure your dad feels special, even if you can't visit him in person on the big day.
UK Father's Day is on 21st June this year, which is on a Sunday. It's an ideal time to treat your dad, your children's dad, a grandfather, or anyone who's been like a father to you, to something special. We might still be under partial lockdown in the UK, but that doesn't mean we can't gift our father's or father-like figures with something special this year.
And right now, with the UK still operating under many coronavirus restrictions, it could also be the time to gift your father something practical and useful that he can actually make use of during this time at home!
Although the shops may still be closed (for now), there are plenty of brilliant presents you can purchase online. If your dad is green-fingered, you could check out our favourite places to buy plants online, or perhaps treat him to a quirky letterbox gift (they do everything in letterbox gift format now - from cheese to socks!)
MORE:The best independent online stores to shop thoughtful gifts for friends and family
Many of us have never had more time on our hands than we do now, with working from home having become the norm, and pubs, restaurants, shops and attractions still closed. So if your dad is after a way to while away the hours, a practical gift could be very welcome and keep him busy in the weeks to come, while lockdown is still very much part of our lives.
Your dad, or father figure, may be keen to use this time to pick up an extra skill - with which some of the below gifts could be very helpful. Or, he may be keen to work on his fitness during lockdown - whichever your father is, there's a gift perfectly suited to him.
So what can you pick up for this UK Father's Day? We've compiled an easy list of Father's Day gifts from daughters, so take your pick of the below...
UK Father's Day gifts from daughters that he'll love (and get plenty of use out of!)
Hot Dot Laser Personalised fork and trowel set
£28, NOTHS For dads who are already keen gardeners, or who are looking to get their outside space in tip-top shape during lockdown, these personalised gardening tools are perfect! The fork and trowel can be engraved for you into the wooden handles, meaning no one else will touch them...!
Targus convertible backpack for laptops
£54.99, John Lewis & Partners As the country slowly begins to return to work, this backpack with a section for a laptop could come in very handy for dads who need a computer for work. Plus, the backpack switches to a briefcase style bag too, with a retractable handle and detachable shoulder straps.
£20, B&Q For the days looking to tick some DIY jobs off their list during lockdown now that they finally have the time, these 41-piece tool set will come in super handy. With pliers, a screwdriver, and a hammer to name but a few, there'll be few household tasks they won't be able to finish!
Mijmoj Design Solid Oak Personalised Glasses Stand
£29.95, NOTHS Is your father forever losing his specs? Then this could be ideal. This beautifully crafted wooden glasses stand is perfect for keeping their glasses safe if they'e always misplacing them - and even better, it looks lovely and rustic on any desk or side table. The item can be personalised to include a funny message or your loved ones name, and can also be gift wrapped.
£119, John Lewis & Partners If your loved one is using lockdown to work on their fitness, a Fitbit is a great way to track progress and improve motivation. The Fitbit Charge 4 is water resistant and has a 7-day battery charge. Like other Fitbits, it can help your father figure to monitor their physical activity, to optimise sleep, and track the quality of the sleep they're getting.
Facebook video calling portal
£169, John Lewis & Partners Whilst the UK lockdown is slowly easing, there are still some restrictions on seeing our loved ones - so these Facebook video calling portal could be invaluable to send to any father not able to see their kids or grandkids on the 21st. It's a little pricey, but the larger screen and automatically panning camera will make for even better video conversations, and when not in use, your dad can use the Alexa function for any questions he might have as he goes about his day.
Craft Beer Brewing Starter Kit
£65, NOTHS It may be a generalisation, but we don't know one dad who doesn't love a pint at the end of a long week. And with some extra time on your hands, wouldn't it be great for your father to make his own? This craft beer making kit is a brilliant creative outlet, and the sense of satisfaction that they'll get from making something from scratch is a brilliant feeling.
Stackers Cable Tidy Travel Bag
£30, John Lewis & Partners Although we might not be travelling now, these super-handy travel bag is brilliant when trips start back up again. Your dad will be able to organise any cables he needs without hassle, and simply pop the bag itself in his suitcase with ease - sorted!
£12.99, Prezzybox For a fun and creative way to spend lockdown, gift your father this Grow-your-own Bonsai tree. Everything they'll need to get started is included in the kit, including a booklet for growing tips. A great, different gift for a really affordable price.
Nike Air Vapormax Flyknit 3 Trainers
£170, Office There's never been a better time to get into running - and it feels like everyone is doing it, right? So why not treat your dad to the Nike running trainers. They're a bit more expensive, but running shoes are really worth investing in, as a good pair will help prevent injury and help you run better.
Belkin Wireless Charging Pad
£24.99, John Lewis & Partners Okay, it may not be the most flashy and lavish gift in the world, but it's certainly one of the most useful! Simply connect the charger to a power source and pop your phone on top, with no need for fiddly wires.