The ultimate guide to outdoor entertaining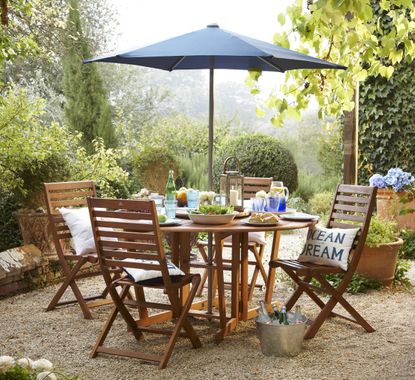 Style the perfect space for entertaining alfresco this summer. Invite a few of your favourite people round for a barbecue and let the memory-making begin.
From personal touches to the right lighting, here are our top tips for how to transform your garden into a summer wonderland.
Rethink space
A large dining table, informally laid, should be the hero of your outside dining room, looking inviting yet stylish too. Start with a big dining table, and add a mix of chairs, borrowing some from inside if needed.
Try to provide some overhead cover – a pergola, sun sail, umbrella or length of cloth draped above all work well. A console table borrowed from inside will make a handy drinks station for guests to help themselves to a glass of wine, while you finish off the dinner prep.
Monaco 6-seater table (opens in new tab), £765; Provence dining chairs (opens in new tab), £120 each; cushions (opens in new tab) in Natural, £23; Wardley painted dining chairs (opens in new tab), £270 each, all neptune.com (opens in new tab)
Add a personal touch with styling
Layer up place settings, using white crockery and crisp linen (opens in new tab), for an elegant feel (try to avoid bright colours and anything plastic/picnic-ware in style), adding an individual tea light for each guest. If your garden table is a little on the rustic/well-used side, then lay with a linen runner or opt for place mats (opens in new tab).
Dress your dinner table just as you would inside, making use of pot plants and fresh herbs to evoke the senses. Move planters from elsewhere in your garden into your outdoor dining space, using them to help create "walls", adding to that sense of a room, while a shelving unit that's suitable for outdoor use, can show off more plants, flowers and treasured gardenalia bits.
Aldsworth narrow indoor/outdoor wooden ladder shelf (opens in new tab), £135,cuckooland.com (opens in new tab).
Serve shared dishes
Choose a menu that can be shared by guests rather than "served up", making for a casual affair. Sharing plates (opens in new tab) are gaining more and more popularity, with some Michelin-star restaurants now focusing their menus on this very idea of diners helping themselves.
Just kit your table out with a selection of serveware (opens in new tab) that's easy to pass around, adding to the informal vibe.
Ceramic tribal platter (opens in new tab), £22,dunelm.com (opens in new tab)
Get the lighting right
Outdoor lighting creates mood as the sun fades, but it also needs an element of practicality too. Festoon lights are a great way of conjuring up a magical feel, especially if you've a few trees you can weave them through.
Designed to plug into an outside socket, you just need a few cable ties to secure to fences, etc. If you haven't any power in your seating area, then solar lights have really developed in recent years, with pretty jam jar-style ones suspended from branches giving a similar effect.
Make sure any route back inside is illuminated, such as lanterns (opens in new tab) with tea lights in to line the path. Hurricane lamps on the table will enhance the magic.
20-bulb festoon lights (opens in new tab), £70,gardentrading.co.uk (opens in new tab).
Add practical finishing touches
Background music, a few cosy blankets and plenty of candles will all help your alfresco dinner party go off well. Choose a portable speaker complete with lantern, such as the aGlow Bluetooth speaker (opens in new tab), £109, amara.com (opens in new tab), while a firepit will encourage guests to linger – take a look at primrose.co.uk (opens in new tab) for a great selection.
If you're worried about using best glassware outside, why not pop a pack of inexpensive glasses in your trolley when you do your food shop?
Footedfire pit and barbecue (opens in new tab), £79, marksandspencer.com (opens in new tab)