Christmas starter ideas to get your meal off to a flying start
Christmas starter ideas for an extra-special festive menu ready to rival the main event.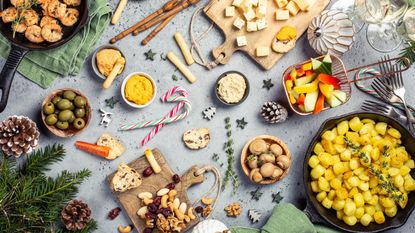 (Image credit: Getty)
woman&home newsletter
Sign up to our free daily email for the latest royal and entertainment news, interesting opinion, expert advice on styling and beauty trends, and no-nonsense guides to the health and wellness questions you want answered.
Thank you for signing up to . You will receive a verification email shortly.
There was a problem. Please refresh the page and try again.
Why shouldn't your starter be just as special as the main event? To help you dream up a show-stopping menu before the big day itself, we've rounded up the very best Christmas starter ideas.
Pull out all the stops with a smart fennel and lobster salad dotted with pomegranate or roast squash filled with oozing goats' cheese, with rustic bread for dipping. Or you may want to start as you mean to go on, with filling Vietnamese pork balls. For something lighter, look to smoked salmon, crab or lobster.
Whatever your guests dietary requirements we've got something to suit all palettes and tastes, from vegetarian Christmas (opens in new tab) parcels through to seafood options.
Even better, some of these can be made ahead of the big day, to save you precious time that could be spent basting the turkey.
Want more festive food inspiration? Bookend the turkey with two fabulous courses and take a look at our Christmas dessert ideas (opens in new tab) and Christmas cake decorating ideas (opens in new tab).
Forks at the ready…
Tear and Share Pesto Bread with Melted Brie
This tear and share pesto bread with melted Brie (opens in new tab) is perfect for when you have guests round - it's oozing melted cheese and it's so moreish. Your friends and family will love it. It's ideal for Christmas to kick things off with.
Crayfish Rolls
Crayfish rolls (opens in new tab) are a light and fresh way to start your Christmas dinner. The dipping sauce goes so well with them and adds a little bit of edge, cutting through the sweet mango. It's a lovely, fun and new starter that your friends and family might not have tried before.
Salmon Carpaccio with Herbs and Lime
Like the look of this one? It's our salmon carpaccio with herbs and lime - it makes a quick and simple recipe that's ready in just 20 minutes, which makes a fuss-free starter that's impressive nonetheless. Perfect for if you are expecting a big crowd during the festive period.
Celeriac, Camembert and Truffle Soup
This luxurious winter soup recipe is rich and creamy, flavoured with gorgeous truffle and thyme for a decadent start to your meal. You can make this up to two days ahead, so you only have to reheat it on Christmas Day, ideal if you have lots of people to cater for (or just want to take it ever so slightly easier this year!). See the celeriac, Camembert and truffle soup recipe Find more starter recipes (opens in new tab)
Baked Camembert
This baked camembert recipe is seriously easy, made with just a few ingredients creating an impressive starter to share and is a real crowd pleaser - because who doesn't like melted cheese we ask you? Flavours from the herbs take the camembert to the next level, making it taste far more complex than it was to put together. Serve it up with crusty bread for no-fuss Christmas day starter. Find more starter recipes (opens in new tab)
Smoked Haddock, Pancetta And Gruyere Tart
This smart smoked haddock tart works well as a Christmas Day starter as you can make it ahead and serve a slice with a little rocket salad. Aside from eating it on the main day itself, this also works beautifully as a Boxing Day treat - for something a little lighter than leftover turkey and potatoes. See the smoked haddock, pancetta and gruyere tart recipe.
Sushi To Share
Sushi can be fiddly and time consuming to make, but this sushi 'terrine' is so easy while keeping all the classic flavours, and it looks the part too. Guests will love this twist on the classic Japanese dish and think you're ever so clever for coming up with it (you don't even have to spill the beans that it's one of our recipes!). See the sushi terrine recipe.
Crayfish Cocktail
This crayfish cocktail is a new take on prawn cocktail, sprinkled with sumac or cayenne pepper to make a smart Christmas starter and a twist on an old favourite. Using crayfish in your starter is also a real treat as it's not something you choose for an everyday meal and adds that special touch.
Savoury Cheesecake
We LOVE this savoury cheesecake in place of a cheeseboard, but you could also try it as part of help-yourself starter to share come Christmas day. It gives a while new meaning to a 'cheese course' and guests will love that it's something just a little bit different to what theyre were expecting. See the savoury cheesecake recipe.
Beetroot and Gin Cured Salmon
Make your own beetroot and gin cured salmon for an impressive Christmas starter that is actually very simple to make ahead. Watch our video to see how to cut cured salmon to get the best slices, which work well on spelt soda bread or rye bread because of the salty-sweet finish.
Potted Shrimp
Potted shrimp is a British classic and works well as a Christmas starter in individual ramekins, or you could make one large sharing dish if you prefer. Plus, they only take 10 minutes to prepare and can be made ahead and just served at room temperature when you're ready to eat. We love ours with an extra squeeze of lemon and a good grind of black peppercorns. See the potted shrimp recipe.
Kirsch Cheese Fondue
Make a cheese fondue for everyone to share at the Christmas table, as a quirky starter. Our new recipe is easy to make with gruyere and emmental, with a boozy kick so that there'll be no doubt that the festivities have begun! You can use whatever you fancy to dunk into the cheese but we particularly like small new potatoes and toasted sourdough bread - delish!
Vietnamese Pork Balls
Make a pick and mix Christmas day starter with delicately spiced Vietnamese-style meatballs on skewers that everyone will love. They offer a more informal alternative to the usual sit down started and could be severed alongside drinks, like canapes, while you get on with finishing off the main course. See the Vietnamese pork ball recipes here.
Smoked Salmon Pancakes with Sour Cream and "Caviar"
A starter with real wow-factor, your guests will love our smoked salmon pancakes with sour cream and "caviar" recipe. This, we think, is a classic for a reason. Fresh flavours and delicate textures combine to make heavenly little mouthfuls. To speed things up on Christmas Day, you could buy blinis ready-made (nobody has to know!).
Fennel and Lobster Salad with Pomegranate
The clean flavours of fennel and pomegranate contrast beautifully with luxurious lobster in this easy but undeniably impressive fennel and lobster salad with pomegranate recipe. Because Christmas dinner is traditionally quite a rich meal this makes the perfect light and refreshing starter, before you tuck into your turkey.
Lobster and Ruby Grapefruit with Watercress
Christmas is the time for a bit of indulgence, so treat your guests with this decadent lobster and ruby grapefruit with watercress salad recipe (opens in new tab). The citrusy salad works well with other shellfish too - if you're not keen on lobster, why not give crab a go for a change or even king prawns if you prefer.
Beetroot, Butternut and Goats' Cheese Tartlets
This simple starter is a vegetarian option that everyone will love! Tempt the tastebuds with this beetroot, butternut and goat's cheese tartlets and you're sure to be very popular come Christmas day. We think these are delicious as they are but you could always serve them up with a small green salad if you'd like a bright and colourful garnish.
Hot Smoked Salmon Pate
This simple and sophisticated hot smoked salmon pate recipe is the perfect way to start Christmas dinner. It might sound slightly odd but the delicate fish melts into the toast for a luxuriously velvet-like finish with just a hint of that classically rich smokey flavour. This high end finish makes it an ideal starter for the big day, giving your loved ones a real treat before they tuck into their roast dinner.
Giant Blinis with Smoked Salmon and Caviar
We've gone for sustainable 'faux caviar' in this recipe for giant blinis with smoked salmon and caviar recipe (opens in new tab). It's a fraction of the price of the real stuff, but tastes just as good and we bet very few of your friends and family could tell the difference if you didn't tell them beforehand. The giant blinis are a fun twist on the classic finger-food and make an impressive looking starter over the festive period.
Avocado and Crab Lettuce Cups
Whether you serve this avocado and crab lettuce cups recipe as a pre-dinner nibble or a light starter, your guests will love the fresh flavours! Avocado is so popular now that you'd be hard pressed to find someone who didn't love this simple and quick Christmas recipe and it's the ideal beginning to a big meal, as it won't fill anyone up too much before the main event.
Crostini of Roasted Red Peppers with Goats' Cheese
Almost an assembly job, this crostini of roasted red peppers with goats' cheese recipe makes a delicious pre-Christmas lunch canapé, which meat-eaters and veggies alike will love. If you wanted to serve these up as your Christmas Day starter you could assemble a few on a big sharing board and put together a lovely fresh green salad to go with them.
Crayfish and Prawn Cocktail with Bitter Leaves
This Christmas starter recipe is a classic updated. With tender crayfish and crimson chicory, treat your guests to our crayfish and prawn cocktail with bitter leaves recipe. They'll love spooning out the meaty chunks of seafood in amongst crunchy lettuce and the sweet and spicy sauce. Just make sure to have some bread on hand so everyone can mop up all the delicious juices.
Scallops on Pea Puree with Parmesan Crumbs
This posh Christmas starter is so easy to prepare, and everything can be done at the last minute - saving you previous prep time. Simply pan fry your scallops and serve up alongside the delicious pea puree when you're ready to go. Our scallops on pea puree with Parmesan crumbs recipe is a timeless recipe that everyone will love.
Roast Squash with Goats' Cheese
This quick and easy roast squash with goats' cheese recipe is a great vegetarian dish and perfect as a starter to your Christmas lunch. You can pre-prep these, too, so that you just pop them into the oven at the last minute to cook through and then you're ready to serve. We like ours with a French-dressed salad to cut through the rich cheese.
Chicken Liver and Brandy Pate
Our rich chicken liver and brandy pate recipe is the height of luxury - but won't be expensive to make as it uses the bits people don't often want to buy! The trick for smooth pate is not overcooking the livers, you still want them a little pink, to keep a beautifully silky texture. This Christmas day starter tastes delicious with caramelised onion chutney and toasted sourdough bread.
Beetroot Tart With Goats' Cheese
This glossy beetroot tart with goats' cheese is so easy to make with readymade pastry, but the results are delicious. Nobody even has to know about your cheat! The sweetness of the beetroot is a classic pairing with sharp and salty goat's cheese. This Christmas Day Starter Recipe is perfect if you are expecting vegetarian guests, or just fancy going a little lighter on the meat this year. See the beetroot tart recipe here.
Hot Smoked Salmon with Cucumber Salad
A simple twist on salmon, flake half a salmon fillet for each guest for a lighter take on this hot smoked salmon with cucumber salad recipe. For us this recipe makes the perfect Christmas starter because it's not too heavy, but still packs a delicious punch of flavour from the sweet, refreshing cucumber and the silk soft salmon.
Filo Tarts with Caramelised Onions and Goats' Cheese
This delicious recipe for filo tarts with caramelized onions and goats' cheese recipe (opens in new tab) is a great starter for a seasonal party. Make it the day before, putting the filo cases into an airtight tin and storing the onion in the fridge. Assemble 20 minutes before serving, and enjoy!
Prawn and Fennel Salad with Pomegranate
This prawn and fennel salad with pomegranate recipe (opens in new tab) is refreshing, full of flavour and requires just a simple assembly job so you can concentrate on entertaining your guests once they arrive rather than slaving over a hot stove. If only the rest of Christmas cooking could be this easy!
King Prawns with Thai Dipping Sauce
Light and spicy, this king prawns with Thai dipping sauce recipe is the perfect way to kick off Christmas lunch and guests will love that you've moved away from traditional Christmas flavours to give them something a bit new. In classic Thai fashion this gorgeous recipe balances sweet, sour and spicy in perfect harmony.
Pork, Pistachio and Prune Terrine
All you need to complement our pork, pistachio and prune terrine recipe is some warm crusty bread and a few ripe figs. Perfect for dinner parties, you can prepare it a day or two ahead. Just wrap tightly in cling film and chill in the fridge until you're ready to serve and then slice at the table for a show-stopping centrepiece on Christmas day.
Fresh Crab Tartlets with Lemon Mayonnaise
This recipe makes gorgeous mini tartlets that are delicious with a tangy mayonnaise, allowing you to keep the starter light. These crab tartlets with lemon mayonnaise can be made ahead of time, too, and simply brought to room temperature before you're ready to serve them up. If you prefer you could make larger tarts and serve them as individual starter portions.
Red Chicory, Walnut and Goats' Cheese Salad
With such a special main course to come, you don't need a heavy starter on Christmas day (although, if you fancy the foie gras don't let us stop you!). If you're still keen on light then choose fresh and effortlessly chic, like this red chicory, walnut and goats' cheese salad recipe (opens in new tab) to wow guests and to leave you with plenty of time to enjoy your day.
Asian Sticky Salmon
This zesty Asian sticky salmon recipe (opens in new tab) is packed with fantastically punchy flavour. Ask your fishmonger to fillet a whole fish, freeze one side and cook the other. We predict this moreish way with fish will become a family favourite for all Christmases to come! Serve it up with julienne strips of vegetables like peppers, carrots and courgettes.
Rich and Cheesy Posh Fish Pie
This rich and cheesy posh fish pie recipe puts a spin on the classic supper dish and makes an elegant starter for Christmas day that's comforting and filling with every bite. If you know you're going to be short on time come the big day then you can easily pre-prep these and pop them in the freezer until they're needed.
Smoked Trout on Crunchy Potato Cakes with Chive and Horseradish Creme Fraiche
A fabulous, sophisticated dinner party starter, that can be made ahead - you'll love our smoked trout on crunchy potato cakes recipe. A kick of horseradish cuts through the richness of the smoked trout. Smoked salmon works just as well if it's easier to find or you prefer the taste.
Roasted Sweet Potato and Almond Salad
This easy recipe makes a delicious roasted sweet potato and almond salad - perfect for vegetarians and carnivores alike and packed with vibrant flavours for a light start to your celebrations. Happily this gorgeous healthy recipe also makes a tasty side come Boxing Day, when you've had your fill of meat and potatoes!
Smoked Trout Pate on Melba Toast
This smoked trout pate on Melba toast recipe makes a relaxed, help-yourself starter and is so easy to do. Simply whizz everything up in your blender, season and serve with slivers of crunchy melba toast. Guests will love the combination of the deep smokiness of the fish and the softness from the cream cheese. Add as little or as much lemon and pepper as you fancy for a zingy finish.
Seared Salmon on Horseradish with Wasabi
Japanese horseradish is the perfect ingredient to cut through the richness of salmon in this seared salmon on horseradish with wasabi recipe. If you have some guests who can't take a lot of spice then alter the quantities of wasabi slightly to suit preferences. We love the hot kick it gives, but just be mindful that it might be too strong for some!
Smoked Haddock, Gruyere and Saffron Tart
Possibly one of the best savoury tart recipes of all time, you'll find yourself going back for another piece of this tasty smoked haddock, Gruyere and saffron tart once you've finished your first helping. If you can resist double servings then this gorgeous tart can serve up to eight people and can be prepped ahead - perfect for the busy Christmas period.
Stilton and Celery Soup
This Stilton and celery soup recipe works brilliantly with any blue cheese or even a mixture and it tastes perfect with some good, crusty bread. You can make a batch of this before Christmas Day and freeze it in portioned boxes so you know all your starter work is done before you even get to the 25th of December! Simply reheat and serve when it's needed and it will taste just as good as the day it was made.
Spinach and Goats' Cheese Ravioli
The sage butter in this spinach and goats cheese ravioli recipe gives a delicious depth of flavour to an elegant starter. Once assembled the pasta can be chilled in the fridge overnight and boiled just before serving.
Jess Beech is an experienced fashion and beauty editor, with more than eight years experience in the publishing industry. She has written for woman&home, GoodtoKnow, Now, Woman, Woman's Weekly, Woman's Own and Chat, and is a former Deputy Fashion & Beauty Editor at Future PLC. A beauty obsessive, Jess has tried everything from cryotherapy to chemical peels (minus the Samantha in Sex and The City-worthy redness) and interviewed experts including Jo Malone and Trinny Woodall.