Best Christmas food 2022: The woman&home Festive Food Award winners
Our panel of experts have tried, tested and tasted hundreds of festive food products to bring you their definitive list of the best Christmas food worth buying in 2022...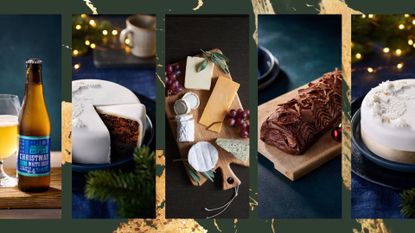 (Image credit: Future)
woman&home newsletter
Sign up to our free daily email for the latest royal and entertainment news, interesting opinion, expert advice on styling and beauty trends, and no-nonsense guides to the health and wellness questions you want answered.
Thank you for signing up to Woman & Home. You will receive a verification email shortly.
There was a problem. Please refresh the page and try again.
To whittle down our list of the best Christmas food 2022, the woman&home food team and panel of experts tried hundreds of mouthfuls of festive fare in a blind taste test under strict testing conditions to bring you an un-biased, expert-led, and definitive guide to the products really worth your cash this year.
It may be a cliche, but we firmly believe Christmas is the most wonderful time of year, especially when it comes to the festive fare available. If you're often overwhelmed by the offering and want to ensure you only buy the best, The Woman&home Festive Food awards are designed to help you.
Hosted every year by a team of experts, hundreds of products are entered before being narrowed down to the very best food and drink products to buy. The judging takes place at Future's Test Kitchen which is based in the Testing Centre of Excellence in Winnersh, Reading.
This shortlist of the 30 best Christmas food and drink products represents months of testing and judging to bring you the products that we truly believe will guarantee you your tastiest Christmas ever.
How we tested the best Christmas food and drink for 2022
Why you can trust Woman & Home Our expert reviewers spend hours testing and comparing products and services so you can choose the best for you. Find out more about how we test.
The woman&home Festive Food awards are judged by our experts from Future's food team. This consists of Group Food Director Jen Bedloe, Food Editor Jess Meyer, Deputy Food Editor Rose Fooks, Senior Food Writer Jessica Ransom and junior food writer Georgia Sparks.
Future's food team has years of experience cooking and tasting the best in food and drink and they review thousands of new and existing products every year. This year, as part of the process to find the best Christmas food and drink for 2022, they have tried over 300 products.
Submissions for the woman&home Food Awards were tested blind, meaning there was no brand favouritism, the judges had no idea of the price of the product and the food was judged on its own merits.
The judges scored each product on flavour, appearance, innovation and ease when it came to cooking or preparation. Each product was given a score from one to five and then an average was calculated to help shortlist the top performing Christmas food products.
The best Christmas food 2022, as chosen by woman&home Food Editors
Winning mince pies
Handmade Biscuiteers Mince Pies Frangipane Flavour
The best artisanal mince pies 2022
Specifications
Pack size: 6-pack
Price: £15
Stockist: Biscuiteers
These generously filled mince pies had a charming homemade feel which instantly won judges over. Inside the beautifully crisp and buttery pastry is a classic mincemeat containing all the usual suspects - plump vine fruits, a delicate balance of spices and subtle warmth from brandy and rum. On top, there is a thick blanket of delicious almond frangipane which helps makes these the best mince pies this year.
Food editor Jess said, "These mince pies had a well-balanced sweetness and a satisfying texture." These were considerably bigger in size compared to other mince pies we tasted and would be fantastic served warm with double cream for an easy festive dessert.
Heston Pear & Fig Mince Pies in Triple Cheese Pastry
The best alternative mince pie 2022
Specifications
Pack size: 6-pack
Price: £3.50
Stockist: Waitrose & Partners
Perfect for those with a savoury tooth, this twist on the classic mince pie is inspired by one of Heston's personal favourites - Eccles cakes with potted Stilton. Think of it as a cheese straw meets mince pie - the combo you never knew you needed! The puff pastry is crisp and rich thanks to the addition of three kinds of cheese and the plump mincemeat is rich with vine fruits, Bramley apple, port and warm winter spices.
You can serve these at room temp but Jessica recommends warming them for the most satisfying eating experience. Serve with a dollop of creme fraiche or alternatively, as part of your cheeseboard. They pair particularly well with a crumbly blue such as Stilton but would also be great with a mature cheddar.
Taste the Difference Mince Pies
The best supermarket mince pies 2022
Specifications
Pack size: 6-pack
Price: £2.25
Stockist : Sainsbury's
Available in boxes of six, these are the most affordable of the mince pie winners and make a good versatile option for over the festive season. Stock up and if you have leftovers, you could always transform them into an Eton Mess-style dessert. Simply crumble into glasses and top with softly whipped cream and broken meringue. Add a splash of brandy or Baileys if liked.
Jess praised the flavour and appearance of these traditional mince pies. She says: 'These are well filled with a balanced flavour and perfect pastry thickness. I love the traditional look and simple snowflake design.' Other judges commented on the intensely flavoured filling and enjoyed the texture of the mincemeat, particularly the large chunks of fruit.
Best Christmas pudding
Sherry & Cognac Infused Christmas Pudding
The best Christmas pudding 2022
Specifications
Weight: 800g
Price: 12.95 Stockist
Stockist: Booths
When it comes to choosing the best Christmas pudding, you want something that's going to look special as you bring it to the table. Judges commended the shape and glossy exterior of this one from Booths and said it would look magnificent lit or with a sparkler in it for some theatre.
The flavours are traditional with large pieces of vine fruits, glace cherries, almonds and pecans. Rose says, "This has a good boozy kick and zingy orange flavour. The texture was nice with a satisfying balance of fruit to sponge."
Plus, if you happen to have leftovers, it would be perfect in our Christmas pudding cheesecake - one of our favourite Christmas cheesecake recipes. Serve on Boxing Day to continue the festive indulgence!
Best Christmas cake
No. 1 Rich Fruit Cake
The best Christmas cake 2022
Specifications
Weight: 1.5kg
Price : £18.50
Stockist : Waitrose & Partners
"It's everything you want from a Christmas cake" says Rose. This cake has an understated design and Christmas cake decorating ideas, with a subtle shimmer, dainty iced holly leaves and a chic pine cone motif. The flavours are comforting and festive with notes of zesty orange, rich treacle and warm ginger. Judges were impressed with the moist texture and generous quantity of fruit mixed into the sponge, helping this Waitrose version win the award for best Christmas cake for 2022.
Jessica adds, "There's a nice, even ratio of icing to marzipan. The fruit is plentiful and well distributed which helps give the cake a crumb good structure and a satisfying mouthfeel."
Best Yule log
Taste the Difference Belgian Chocolate & Clementine Yule Log
The best yule log 2022
Specifications
Weight : 700g
Price : £10
Stockist : Sainsbury's
Judges couldn't stop talking about this yule log, so it's no wonder Jen describes it as 'a real crowd pleaser'. She says: "This yule log has a tasty orange filling. It looks impressive and is generously portioned too."
The design is classic and elegant, with good even layers of sponge to buttercream. The outer chocolate layer is thin enough to make for easy cutting and the shards on top are attractive. There are also pieces of candied orange which are delicious and chewy with a nice natural citrus flavour.
There is a very subtle gold shimmer scattered over but if you want to make this look even more special, we suggest putting some sparklers in it for the ultimate, festive, Christmas dessert idea!
Best Panettone
Classic Milanese Sal de Riso Panettone
The best Panettone 2022
Specifications
Weight : 1kg
Price : £45
Stockist: Sacla.co.uk
This gorgeous Italian classic would make a beautiful Christmas food gift, as it looks as good as it tastes. Made to a traditional recipe, this panettone is full of flavour and bursting with little pieces of candied orange and plump raisins.
Jen says, "This comes in a beautiful box that's perfect for gifting. The fluffy and oh-so-buttery texture is incredibly addictive." Enjoy this as part of an indulgent breakfast, afternoon coffee break or post-feast nibble to accompany your port or sweet wine. If you have leftovers, turn it into French toast or even better, a luxurious twist on the humble bread and butter pudding.
Best Christmas dessert
Irresistible Nuts about Chocolate Star
The best Christmas dessert 2022
Specifications
Weight : 571g
Price : £6
Stockist : Co-op
Rich and indulgent, this festive pud is one for Snickers lovers. Judges said the combination of decadent chocolate and peanut mousse with crunchy nuts and a silky smooth caramel sauce reminded them of the popular chocolate bar.
It's accompanied by a melting dark chocolate sauce which you pour over at the table for a little entertainment that's sure to impress all your guests. The variety of textures makes the eating experience exciting and keeps you wanting to take another mouthful.
For another dessert inspired by a chocolate bar, try our double-decker tart recipe.
Best smoked salmon
The Best Cold Smoked Salmon
The best smoked salmon for Christmas 2022
Specifications
Weight : 300g
Price : £7
Stockist : Morrisons
A great staple to stash in your fridge over the festive season. This Scottish salmon is cured with sea salt and demerara sugar and then smoked three times imparting a deep rich flavour.
Judges liked the smokiness and thought the seasoning was well-balanced. They commented on the glossy, vibrant colour and described the texture as juicy but firm. Pair with blinis and a scattering of snipped chives or dill for an easy nibble that works very well with a glass of Champagne.
For more inspiration read our round-up of smoked salmon starter recipes.
Best cold seafood starter
Taste the Difference King Prawn Mocktails
The best prawn Christmas starter 2022
Specifications
Pack size/weight : 2 x 75g
Price : £5
Stockist : Sainsbury's
These little pots are an excellent twist on the timeless classic thanks to the layer of spiced tomato jelly at the base. Judges said the layering was pleasing to the eye and the seasoning was well-balanced. They loved the convenience of the serving pots, which were simple and elegant. To give them a special finish Jess recommends garnishing them with a sprinkle of cayenne pepper before taking them to the table. The dash of colour will elevate the appearance and give them a homemade feel.
Available from the 14th of December, judges said the portion sizing was generous so make sure you leave some time before serving the main Christmas feast.
If you like this flavour combination you should try our Bloody Mary prawn cocktail dippers recipe.You could serve this as an easy starter but it's also perfect for parties and buffet spreads.
Best hot seafood starter
Scallops with Mushrooms & Spinach
The best scallop Christmas starter 2022
Specifications
Weight : 175g
Price : £10
Stockist : M&S
For those who prefer a warm starter, these scallops are an easy, convenient yet impressive option.
Judges loved the deliciously herby topping with lovely flavours of wine present too. Jen said, "The mushroom compliments the scallops which are well cooked. The textures are balanced thanks to the addition of a crispy breadcrumb topping. Easy to cook and serve, these are a fantastic stress-free choice."
If you feel inspired by this product and want more recipes like it, our scallop starter gratin is rich, comforting and easy to cook. It combines scallops and lobster meat and is a lovely decadent option for over the festive period.
Best whole turkey
Piper's Whole turkey
The best whole turkey for Christmas 2022
Specifications
Weight : 4.3-4.8kg
Price: £92
Stockist : Piper's Farm
In the battle of the birds for best Christmas turkey 2022, this was a spectacular first. Jess said, "It has a lovely plump shape and rich colour. The meat is tender and juicy with a rich flavour that's distinctively turkey.' Junior food writer Georgia Sparks adds: 'This golden bird was delicious, succulent and would look impressive as the centrepiece of any Christmas feast."
The bird was a great turkey size and had a good, even, plump shape with lovely crispy skin. The legs look a little longer to cook but our team recommends using a digital thermometer for the most accurate cooking. The probe should read 70C. To give your turkey the entrance it deserves prepare some ingredients to dress the serving plate.
Herbs like rosemary, sage and thyme are classic options but you could try some sprigs of fresh oregano, lightly fried in butter until golden too. Save space on the table and put your stuffing balls or pigs and blankets around the edge of your turkey too.
BEST TURKEY CROWN
Collections British Oakham Slow Cooked Turkey Crown with Bacon & Stuffing
The best turkey crown for Christmas 2022
Specifications
Weight : 2.3kg-2.99kg
Price : £57.50-£74.95
Stockist : M&S
An innovative take on the classic Christmas main, this crown was easy to cook as it comes with its own tray, ready for the oven. The 2.3kg-2.99kg bird will feed 6-8 but there's a bigger option available if you're cooking for more or want to ensure you've got leftovers to make pies and sandwiches after the big day. Jessica recommends our turkey and butternut squash curry as a hearty and popular choice for Boxing Day.
For a flavour boost, this turkey crown is slow-cooked and comes on the bone but it is still easy to carve. Judges recommend cooking with foil to prevent the bacon from becoming too crisp and once again you could check the cooking with a digital probe. The instructions suggest 20mins per 500g so be sure to weigh your joint and calculate the timings before you start.
The pork and cranberry stuffing is on the sweeter side of the seasoning scale so consider scattering a little flaky sea salt to balance it before serving. In stores from 1 Dec, M&S Oakham turkeys are always British and are reared on farms with more space to roam. The birds also have access to straw bales and places to perch.
BEST ALTERNATIVE MAINS
Vegan Butternut Squash & Spinach Layered Filo Tart
The best vegan main 2022
Specifications
Weight : 430g
Price : £7
Stockist : M&S
Judges were impressed with the flavour and appearance of the tart and think it would serve 2-3 people depending on appetite and the accompanying sides.
The use of a shortcrust pastry as a base and filo for the topping means this pie delivers all the desired textures. The filling of squash, spinach and carrot is tender, well-seasoned and generously packed in. Our resident veggie Georgia says, "The squash is nicely seasoned and complimented by the creamy spinach and crunchy pastry, I would buy."
Jessica adds, "When serving this pie I'd want a rich gravy to drizzle on top and soak into the pastry but that's a personal preference. A dollop of tart cranberry sauce on the side would also work well to compliment the sweeter notes of the squash and carrots."
If you don't have a vegan gravy recipe, check out the one included in this healthy roast dinner from BOSH.
Slow Cooked Ultimate Crackling Pork Belly Feast
The best pork Christmas main
Specifications
Weight : 1.77kg
Price : £30
Stockist : Waitrose & Partners
The flavour of this slow-cooked pork was outstanding, with perfectly crunchy crackling and deliciously succulent meat beneath. The spiced apple and cider sauce is equally tasty and was a particular standout for Jess with Jen adding, "This is a fantastic easy-carve option with a generous portion of sweet juicy meat and fabulous crackling."
If you have leftovers, we'd highly recommend making an epic sandwich but we doubt it will make it that far. Jen thinks it would serve 4-6 people depending on appetite and if you're not serving it for your main Christmas feast, she reckons it would be good with buttery jacket potatoes in the days before New Year.
Finest 30-day matured Tomahawk Steak With Wild Garlic & Sea Salt Butter
The best beef Christmas main 2022
Specifications
Weight : 1.15kg
Price : £20/kg
Stockist : Tesco
A really impressive centerpiece that epitomises the celebratory and indulgent nature of the festive season. The steak is matured for 30 days on the bone to maximise the flavour and the star-shaped wild garlic and sea salt butter melts over the steak for a truly special feast that doesn't require additional condiments.
Serve with roast potatoes and traditional sides or go for something indulgent like dauphinoise or a cheesy leek gratin.
Judges were impressed with the soft texture and flavour of the meat and thanks to the garlic butter there is no need for additional sauces or gravy.
BEST CHRISTMAS CONDIMENT
Tracklements Christmas spice chutney
The best Christmas chutney 2022
Specifications
Weight : 300g
Price : £6.30
Stockist : Tracklements.co.uk or fine food delis and farm shops nationwide
Bursting with cranberries, Bramley apples and lots of festive spice and cheer, this chutney is a great condiment for your Christmas dinner. It is well-seasoned with a good balance of tart fruit and sweetness. Easy to spread and dollop, it has a satisfying texture with a good ratio of chutney to chunky fruits.
Leftovers would make a brilliant addition to your cheese board and Boxing Day spreads. Jessica thinks it would be especially good in sandwiches with leftover ham and thick slices of mature cheddar.
Once the chutney is finished the jar can be re-used to store homemade flavoured nuts, jams or granola. This is a great way to package up edible gifts - tie some ribbon around the top for a professional and festive finish.
BEST PIGS IN BLANKETS
Jolly Hog Posh Pigs in Blankets
The best pigs in blankets 2022
Specifications
Pack size/weight : 6-pack
Cost: £4.50
Stockist : Ocado
Is your plate complete without a sausage wrapped in bacon? If you don't have the time or energy to make your own, we'd recommend picking up a few packs of these. The British pork chipolatas are wrapped in a generous blanket of black treacle streaky bacon, providing the perfect balance of sweet and savoury.
Judges said the seasoning was balanced and the bacon cooked evenly with a lovely rich, glossy colour. The meat was juicy with an intense bacon flavour and underlying smokiness.
They are full-size chipolatas but if you prefer a cocktail sausage size, simply cut them in half or thirds once cooked. You could drizzle with a little maple syrup and wholegrain mustard and serve as party food with cocktail sticks poked in for easy eating.
BEST CHRISTMAS STUFFING
Organic apple and leek sausage meat
The best sausage meat 2022
Specifications
Weight : 400g
Price : £7.99
Stockist : Ocado and helenbrowningsorganic.co.uk
Whether you like your stuffing rolled into balls, baked in a dish or stuffed under the skin of your turkey, this is a tasty and comforting option.
The meat was juicy and the large pieces of leek and apple, gave it a delicious homemade feel. Judges said it was intensely peppery with notes of onion too. Add a little grating of fresh nutmeg if you have it for an additional hit of festive spice.
And if you don't use this for your Christmas dinner, we highly recommend using it for homemade sausage rolls instead. Jessica says: "I like to add a generous teaspoon of wholegrain mustard to my sausagemeat and I think that would compliment the flavours of apple and leek here. Always glaze the sausage rolls with a beaten egg yolk before baking, Clarence Court will deliver a splendid golden finish, and sprinkle with a few sesame seeds for an attractive finish. Bake until the pastry to crisp and golden and the seeds are lightly toasted."
BEST PARTY FOOD
10 Mini Steak Sandwiches
The best meaty party food 2022
Specifications
Pack size/weight: 10-pack 230g
Price: £7
Stockist : M&S
These little bites look and taste best when served as soon as possible once out of the oven. Rose said, "The beef is tender and the sourdough crostini and onions offer a satisfying crunch. These are easy to eat and cook and the seasoning is well-balanced."
We like these served with a dollop of English mustard or a scattering of snipped chives for a splash of colour. In-store from 19th Oct these deliver a hearty punch of flavour in a little bite and are sure to be a crowd-pleaser if hosting a Christmas party this festive season.
Dickinson & Morris x Calum Franklin Christmas Pie
The best Christmas pie 2022
Specifications
Weight: 1.39kg
Price: £35
Stockist: Dickinson&Morris (price in Waitrose & Partners and Selfridges may vary)
A whopping savoury showstopper, this pie is truly phenomenal. Designed to feed a crowd, it will keep a large family satisfied over the festive period. Before slicing you can admire the decorative pastry design and then once you cut into it you'll be amazed by the generous filling with thick chunks of meat mixed in.
Jen says: "When it looks this good why bother with the stress of making your own? This pie is beautiful with truly exceptional pastry." The pastry is golden and crisp and the filling is succulent and well-seasoned. Jen's only criticism was that the pie didn't have more jelly between the pastry and meat, however, for some of the other judges, this was preferable.
Bang Bang Cauliflower with Tamarind Dip
The best vegetarian party food 2022
Specifications
Pack size/weight: 7-pack (minimum)
Price: £7
Stockist: Booths
The batter is crisp and delicately spiced and the addictive sauce is sweet and sticky. These are a great meat-free option and a good alternative to buffet classics like onion bhajis and vegetable pakoras.
Judges were pleased that the texture was as crisp as it looked and enjoyed the subtle smoky flavour in the batter. They have a rustic charm with visible spices and a nice spice level. If you're especially sensitive to spice, try serving with a minty yoghurt or raita on the side too.
by Amazon Tempura prawns
The best prawn party food 2022
Specifications
Weight/pack size: 175g
Price: £4
Stockist: amazon.co.uk/freshstore
Keeping the tails on makes these perfect, easy-to-eat party food staples. They look elegant when arranged on a platter but make sure you have wedges of lemon on the board or plate too. Not only will it bring a pop of colour, but a squeeze of lemon juice is the perfect accompaniment to the fried batter and will elevate the flavour of the prawns too.
Unfortunately, they don't come with a condiment but this gives you the freedom to choose your favourite. Popular suggestions from our judges include sweet chilli sauce, garlic mayonnaise or a spicy tomato salsa.
Lodge farm kitchen organic sausage rolls
The best sausage rolls for Christmas 2022
Specifications
Pack size/ weight: 450g
Price: £8.95
Stockist: Abel & Cole
If you don't have the time or patience to bake your own sausage rolls these are the next best thing.
The pack includes 12 cocktail sausage rolls which have a rich, handmade all-butter puff pasty. Judges said the meat is well-seasoned with notes of clove. They said the pastry is light, crisp and indulgent with a rustic homemade charm. Most enjoyable when served warm, these could also sit out on your buffet table for a fuss-free set-up. Try pairing with the Tracklement chutney from above or with your cheeseboard.
BEST CHEESE SELECTION
French Cheese Collection
The best artisanal cheese selection
Specifications
Weight : various weights (940g total)
Price: £45
Stockist: Paxton & Whitfield
A delightful quartet of French classics that come accompanied by a sweet fig and walnut conserve. This is handmade in the French Pyrenees by an artisan producer and has a lovely sticky texture which clings onto crackers and cheese.
Jess says, "This set includes a nice variety in shapes and textures and the quality is very high." The selection means making your cheeseboard look impressive is lightwork. Crackers are an obvious accompaniment but you can also garnish the board with sticks of celery and carrot and thin slices of apple and pear.
The cheeses, which include Comté Androuet PDO, Selles Sur Cher PDO, Brillat Savarin and Fourme d'Ambert, vary in weight but form the basis for a generous board.
Jessica's favourite is Brillat Savarin, a triple cream cheese. It has a soft, almost fluffy, clotted cream-like texture and the flavour is delicate but rich thanks to all the cream in the recipe. It's made in a region famous for winemaking and a glass of fizz is the perfect choice to cut through some of the richness of the cheese. It provides a satisfying contrast and makes an excellent pairing. With this in mind it would also be delicious with a side of salty cured meats.
Paxton & Whitfield also produce one of the best cheese advent calendars every year and also feature in our pick of the best Christmas hampers for 2022, too.
Tesco Finest British Cheese Selection
The best supermarket cheese board
Specifications
Weight: 800g
Price: £18
Stockist: Tesco
If you're on a budget or perhaps isn't that popular in your household this British selection is excellent value and offers good variety.
Handmade from British family-run dairies there is a range of milk types included goat's and cow. Judges were impressed with the range of textures and shapes and said it would make an excellent base for your cheeseboard.
Georgia says: 'This was an attractive selection with a balanced mix of hard and soft cheeses. The brie wasn't quite ripe but with time this would be lovely on crackers with leftover cranberry sauce if you've got it.'
Jess particularly liked the mature cheddar and blue cheese which had satisfying textures and a long-lasting flavour.
BEST CHRISTMAS DRINKS
White Christmas Beer
The best Christmas beer 2022
Specifications
Size: 330ml
Price: £2.50
Stockist: M&S
Brewed in the independent, family-run Haacht brewery in Flemish Brabant, Belgium, this wheat beer is a perfect match with Christmas seafood.
It has a light colour but boasts a surprisingly complex and rich flavour with a pleasant sour edge. Jess says, "This would make a great table beer for the non-wine drinkers and those looking for something a little different."
Other judges said it had a pleasing hoppy smell and was light and refreshing. It would be nice served with cheese but could also be wrapped up as part of a foodie bundle for the person in your life who loves beer.
Original Bellini by Cipriani
The best ready to drink cocktail
Specifications
Size: 750ml
Price: £25
Stockist: sacla.co.uk
A sweet delicate blend of white peach puree and Prosecco. This timeless cocktail, from the owners of Venice's legendary Harry's Bar, where the Bellini was invented, is the perfect aperitivo or alternative to Buck's Fizz.
Jen says: 'This is classy and well above the quality of many bottled cocktails. It has a lovely peachy colour and a refreshing finish.' Judges said the balance of flavours was exceptional with many pleasantly surprised by the balance of sweetness.
E.H. Booth & Co Late Bottled Vintage Port
The best Christmas port
Specifications
Size: 50cl
Price: £14.50
Stockist: Booths
This vintage port is laced with sweet spices and delivers a rich, concentrated flavour with a very enjoyable mouthfeel. Expect aromas of black cherry and blackcurrant and an alluring deep ruby red colour.
Judges said it had a silky smooth mouthfeel with a satisfying, long-lasting finish. It's an obvious partner for your cheeseboard but would also be lovely for sipping while sitting next to a crackling wood fire.
Best non-alcoholic Christmas drink
Highball Alcohol-Free Cocktails
The best non-alcoholic cocktail
Specifications
Size: 250ml
Price: £1.99
Stockist: amazon.co.uk/freshstore
These ready-to-drink bottles of no-alcohol cocktails make entertaining and catering for all needs over the Christmas period a breeze.
The 12-bottle variety pack includes a wonderful selection of flavours such as Italian Spritz, Mojito and even a twist on the popular pink G&T.
Serve cold with plenty of ice and don't forget a pretty garnish. Sliced fruit, a sprig of lavender or rosemary and a peel of cucumber are all elegant ideas. Judges commended the ease of these drinks and were impressed with the flavours which can often be too acidic or too sweet. These bottles had the perfect balance and would make a welcome addition to any celebration.
Sign up to our free daily email for the latest royal and entertainment news, interesting opinion, expert advice on styling and beauty trends, and no-nonsense guides to the health and wellness questions you want answered.
Jessica is a Senior Food Writer at Future and is an enthusiastic, self-taught cook who adores eating out and sharing great food and drink with friends and family. She has completed the Level 1 Associate course at the Academy of Cheese and is continually building on her knowledge of beers, wines and spirits. Jessica writes food and drink related news stories and features, curates product pages, tests and reviews equipment and also develops recipes which she styles on food shoots.