These are the best cheese advent calendars for 2022
Countdown to Christmas Day with these delectable cheese advent calendars...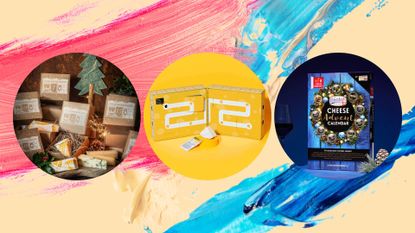 (Image credit: Future)
Cheese advent calendars have grown hugely popular over the last four years and what started out as a nice Christmas product from one brand has become a competitive market, with some of the best cheese suppliers in the UK creating luxury calendars filled with cheese.
Our pick of the best cheese advent calendars this year include mainstream options you can buy in the shops and online from retailers like Amazon, alongside more unique and premium offerings that make for a really special treat for the turophile in your life.
So if you're looking to move away from chocolate and alcohol advent calendars for 2022, try one of these delicious cheese advent calendars, now on sale for the upcoming season. There are so many to choose from and to make sure you've got everything you need for the best Christmas, we've consulted with an expert to recommend the best pairing and serving options for your calendar.
Best cheese advent calendars 2022
1. Paxton & Whitfield's Artisan Cheese Advent Calendar 2022
Specifications
RRP: £150
Region: UK
Delivery: Free delivery from November 30
Refundable: Contact retailer for returns
Paxton and Whitfield's cheese advent calendar is set to be one of the most popular for 2022 after selling out last year. There are 24 individual 75g packages of cheeses for you to enjoy - from Christmas staples like Stilton to more unique British and European cheeses like Village Maid, Mrs Kirkhams Lancashire Cheese, and Montgomery's Cheddar.
You won't have to worry about over-filling the fridge with your cheese advent calendar in the lead up to the festive season either, as this calendar arrives in three deliveries. Buy this month and you'll receive your first package on November 30, your second on December 7, and the final advent parcel on December 15.
While it sits at a higher price point than many of the other calendars on our list, the Paxton and Whitfield cheese advent calendar comes with an impressive range of unique, premium cheeses and accompanying pairing suggestions, all beautifully wrapped in wax paper and cushioned with shredded paper.
2. So Wrong It's Nom Ilchester Cheese Advent Calendar
Specifications
RRP: £21
Region: UK
Delivery: Free within seven working days
Refundable: Contact retailer for returns
The Ilchester Cheese Advent Calendar was one of the top picks for last year and it's now back on sale for 2022, for just £21 from Amazon. Ideal for lovers of British cheeses, this calendar includes 24 mini rounds of classic cheeses like Ilchester Cheddar Cheese, Ilchester Red Leicester Cheese, and Ilchester Double Gloucester Cheese, alongside more unusual festive flavors like Ilchester Cheddar Cheese and Apple, Onion and Sage, and Mexicana Cheddar Cheese with Mixed Peppers.
As cheese advent calendars go, this one would make a relatively cheap Christmas gift, and the clever book-style design also means that after the first 12 days of the month, you can tear off the first half to store uneaten cheese better or throw it away to maximize storage space in your fridge.
3. The Chuckling Cheese Company Advent Calendar 2022
Specifications
RRP: £29.99
Region: UK
Delivery: Free over £50
Refundable: Contact retailer for returns
Nothing beats a full cheese plate with chutney, crackers, and pairing wines when it comes to the best Christmas food. And while this calendar won't provide the wine, it's pretty much got all other bases covered so you can create two full cheeseboards every week in the lead up to Christmas Day.
Available to pre-order now, there are 12 mini truckles of cheddar cheese in this advent calendar, with eight different flavors to enjoy, including: apple smoked, caramelized onion, Mexican sweet chilli, orange and whiskey, Sunday roast, and a limited edition, Christmas pudding flavor coated truckle. There are six individual jars of caramelized onion and potting shed chutney and crackers to enjoy alongside this, so all you need to do is pair the spread with your favorite Christmas tipple.
4. Cheesegeek Cheese Advent Calendar
Specifications
RRP: £150
Region: UK
Delivery: Free delivery in three instalments
Refundable: Contact retailer for returns
Cheesegeek's Cheese Advent Calendar is another top pick for 2022, coming in at £150 and available to buy direct from the site now, before launching in wider stores and on Amazon next month. There are 24 unique artisan cheeses to enjoy in this great seasonal selection, alongside two packets of crackers and two lots of exciting condiments.
This calendar also arrives in three separate deliveries so you can be sure that your cheeses are fresh when you open them and the box fits perfectly in a fridge door, making easy cheese snacking better than ever this Christmas.
5. DIY wooden drawer Advent Calendar
Specifications
RRP: £29.99
Region: UK
Delivery: Next day available
Refundable: 30-day return policy
If none of the cheese advent calendars out there quite float your boat, then why not make your own and fill it with all your favorites? A personalised way to count down to Christmas is the best way and it's super easy and relatively inexpensive too.
Simply buy a range of different cheese miniatures and pop them in here at random so you're left with a little surprise each day. You can get hold of cheese miniatures from your local supermarket - Cathedral City and M&S do lovely selections of mini cheeses or if you're a Babybel fan they could work too.
This advent calendar would also make for a lovely sustainable Christmas gift that could save you money in the long run, as you can reuse it every year and fill it with whatever treats you have in the house! This year's cheese advent calendar can become next year's candle advent calendar (just make sure to clean it out properly first!)
6. DIY mini cardboard box Advent Calendar
Specifications
RRP: £21.99
Region: UK
Delivery: Next day available
Refundable: 30-day return policy
Another option for those who are worried about fridge space, this alternative DIY advent calendar comes with little cardboard boxes that can fit easily into any spare space you have in the fridge.
It comes in a range of different color options, including gold, silver, black and white, so you could even get one for each member of the family and fill each with everyone's favorite treats - whether that's mini cheeses, chocolate, sweets, or even special trinkets to make a thoughtful jewelry advent calendar.
And if you're super low on fridge space, you could even fill these with the cheese miniatures day by day. Although, this would probably best if the cheese advent calendar is a gift someone in your household rather than one for yourself.
Who sells cheese advent calendars?
We may be in the era of increasingly niche advent calendars, but cheese advent calendars are still not as common as some other foodie Christmas countdowns, like chocolate, wine or gin advent calendars.
There will be some cheese advent calendars in the supermarkets, but if you want a really high-quality cheese advent calendar, your best bet would be to buy yours from food specialist websites, local delis, artisan cheese brands and small cheese businesses.
If you're desperate to make sure you nab a cheese advent calendar this year, these are some of the places we've seen them on offer so far this festive season:
What to consider when buying a cheese advent calendar
It's important to think about the practicalities of buying a cheese advent calendar, as often, the products inside may need to be refrigerated. If you're gifting this advent calendar, much like sending someone one of the best Christmas hampers, you'll want to ensure someone is at home to receive your gift.
How to best store and serve cheese from advent calendars
"Store your cheese in the fridge, using the salad drawer or a slightly open Tupperware will provide the best humidity levels," says Hero Hirsh (opens in new tab), head of retail at Paxton & Whitfield (opens in new tab), the UK's oldest cheesemonger. "Avoid clingfilm though. Waxed paper is best but if you lose the original wrapping for the cheese, a piece of baking parchment or a reusable beeswax wrap will be a good replacement."
When it comes to serving the cheese, it's also important to ensure that you're using the right kind of knife. "Soft cheese knives are usually designed with holes in the blade to stop the cheese sticking to the blade," Hirsh says. "A small hatchet knife is great for cutting hard cheese such as Gouda or mature Cheddar and a hard cheese knife will make light work of cutting a Double Gloucester or Red Leicester."
If you're looking to go more specialist, a Stilton Scoop is perfect for scooping your Stilton out of a Stilton jar or a whole Stilton.
However, she explains, "If you don't have a set of cheese knives, providing a separate sharp kitchen knife for blue and non-blue cheeses will keep your leftovers from picking up blue mold when you store them afterward."
What pairs well with cheese?
"We hear a lot of people insist that you should only serve red wine with cheese, but I find whites actually work much better," says Hirsh. "The most versatile varieties for a selection of cheese would be medium-full bodied whites such as Albarino or Chardonnay."
A port also pairs well with many types of cheese. "A tawny style will work best. I have matched 10 or 20-year-old tawny ports with alpines, cheddars, mature chevre, triple cream, traditional British territorial styles, and of course, blue cheeses."
Hirsh also explains that there's a growing trend for more unique pairing options - like beer. "Plenty of great beer shops are cropping up on every high street with some incredible selections, including non-alcoholic options," she says. There are also plenty of brilliant low-alcohol wines to choose from if you want the taste of the grape, without the boozy feel afterward.
"While beer may not seem like a traditional choice for a Christmas board, anyone who tries the combination of Stilton with a black treacle stout won't be able to resist the festive spirit."
A digital health journalist with over five years experience writing and editing for UK publications, Grace has covered the world of health and wellbeing extensively for Cosmopolitan, The i Paper and more.
She started her career writing about the complexities of sex and relationships, before combining personal hobbies with professional and writing about fitness. Everything from the best protein powder to sleep technology, the latest health trend to nutrition essentials, Grace has a huge spectrum of interests in the wellness sphere. Having reported on the coronavirus pandemic since the very first swab, she now also counts public health among them.