The best candle advent calendars for the 2022 festive countdown
From the famous Diptyque calendar to the sell-out Yankee Candle designs discover 16 of the best candle advent calendars for 2022 that are still in stock and ready to shop now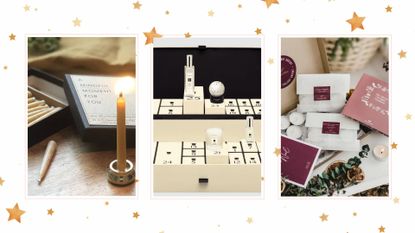 (Image credit: Future)
woman&home newsletter
Sign up to our free daily email for the latest royal and entertainment news, interesting opinion, expert advice on styling and beauty trends, and no-nonsense guides to the health and wellness questions you want answered.
Thank you for signing up to Woman & Home. You will receive a verification email shortly.
There was a problem. Please refresh the page and try again.
The best candle advent calendars for 2022 are filled with fan-favorite scents of much-loved candle brands to ensure a fragrant and joyful countdown.
We've picked out this year's heavenly-scented candle advent calendars that are worth the investment. Like the most popular beauty advent calendars and jewelry advent calendars, these beauties won't be around for much longer, so shop now to avoid disappointment.
Our round-up includes the latest calendars by Yankee Candle and also hails luxury labels, like Diptyque, Jo Malone, and, Rituals as well as lesser-known brands if you're looking to support small businesses. Whichever you choose, just know that a cozy Christmas awaits with a best-selling candlelit advent!
Best candle advent calendars 2022
These are the best candle advent calendars that are still in stock. But be quick - many of them will sell out before we reach December.
1. Diptyque Paris Advent Calendar 2022
Specifications
RRP: £370
Delivery: 3-5 day shipping
Region: UK only
Any candle lover will be thrilled with a Diptyque candle or two for Christmas, as the cult French brand offers some of the best-scented candles around, so this advent calendar is one to go.
This year's design is set in a mysterious black gift box decorated with celestial illustrations to welcome a magical touch. Each of the 25 days corresponds with a different constellation, revealing a discovery-size Diptyque treasure behind each door – including 13 scented candles.
Diptyque's extraordinary advent calendar is bursting with three limited-edition candles with festive scents, including a small Sapin (Pine Tree) candle, mini Neige (Snow), and Étincelles (Spark) candles. You'll also find a bevy of fragrances, body products, and more. The beautiful box is also not just for Christmas as it can be reused to hold treasures and keepsakes in style.
2. Rituals The Ritual Of Advent 3D Advent Calendar
Specifications
RRP: $125 | £105
Delivery: Dependant on region
Region: US and UK
Rituals is a go-to for lovely bath, body, and home scents so their 2022 advent calendar is a well-worthy treat to indulge in for the countdown.
It comes with four candles inside, in the Imperial Rose, Jade Vine, Orris Mimosa, and Sweet Jasmine scents, and is also brimming with calming body lotions, gels, oils, and perfumes. The luxurious beauty products inside are collectively worth $213|£140 so it feels like you're getting good value for money.
And if you want to help create the perfect relaxing moment for your loved one and feel like splashing out on a real treat, maybe pair this one of 2022's gin advent calendars, alcohol advent calendars, or even one of the best Christmas food gifts.
3. Etsy's 2022 Candle Advent Calendar Luxury Edition
Specifications
RRP: $180 | £171.23
Delivery: 1-3 business days
Region: US and UK
'Tis the season for candle tumblers with rich winter scents, an olfactory experience that'll transport you to scenic Christmas villages and dinner parties. From Apple Crostata to Cinnamon Eggnog fragrances, these candles are individually boxed and labeled with a corresponding number – 12 unique Christmas gifts to help you count down to Christmas day.
Plus, these delightful candles by Design Undone are hand-poured in the heart of Texas and delivered right to your doorstep.
4. Jo Malone Advent Calendar 2022
Specifications
RRP: $485 | £350
Delivery: Next day UK only
Region: US and UK
The Jo Malone Advent Calendar for 2022 takes the helm every year as one the best candle advent calendars around – and for good reason. Inside this year's version is 24 treats in reusable packaging (making this a great pick for those looking for sustainable Christmas gifts too), including some of the most popular Jo Malone London candles.
Along with mini candles, this year's edition includes all-new scents, like Fig & Lotus Flower. All you need to snag is the Jo Malone London fragrances, and you'll be golden.
Our w&h expert beauty editor, Fiona McKim explains, "There's a reason people get so excited about the Jo Malone advent calendar, aside from the sheer decadence of owning over £300 of fragrant treats - and that's because this is one of the few truly timeless brands. These guys ignore silly trends because they really know who they are - purveyors of crisp, unisex scents in that iconic minimal branding."
"The calendar is the perfect example, stuffed with classics like English Pear & Freesia Cologne (Princess Catherine's favorite perfume) and seasonal faves that only return at this time of year (hello again Pine & Eucalyptus candle) The gorgeous, reusable trunk-style packaging is back for another year too - why mess with perfection?"
This is always one that gets snapped up quickly, so it's no surprise that it has already sold out at Jo Malone – but the good news, is it's still available online at Selfridges for Christmas 2022.
5. Voluspa Japonica 12 Day Advent Calendar
Specifications
RRP: $158
Delivery: 2-5 day shipping
Region: US
This year, Voluspa's Advent Calendar presents 12 bestselling fragrances, including Santal Vanilla, Spiced Pumpkin Latte, and more. You can snag the Voluspa Japonica Advent Calendar for $150, which features 12 petite candles from the brand's signature Japonica Collection.
Each candle boasts a delectable coconut wax blend, along with natural wicks and 25 hours of burn time. All Voluspa products are cruelty-free and free of phthalates, pesticides, parabens, and sulfates.
6. Babytot Scented Advent Candles
Specifications
RRP: $49 | £44.31
Delivery: 5-8 day shipping
Region: US
Indulge in much-needed TLC with Babytot's cozy candle set, featuring four candles that emanate a subtle cinnamon scent. Infused with a blend of palm oil and soy wax, each candle burns up to nine hours.
If you want to countdown to Christmas, simply light one candle every Sunday leading up to the holiday. The delicate glasses double as chic accessory holders, too.
7. The Original Mindful Advent Candle Set
Specifications
RRP: $34.73 | £24.50
Delivery: 5-10 days from dispatch
Region: US and UK
Create mindful moments this advent with the help of this adorable advent candle set. Handmade from natural beeswax, each mini candle has a burn time of 20 minutes –helping you carve out a brief bit of R and R every day. Subtly honey-scented, we reckon these are one of the sweetest ways to count down to Christmas (aside from hot chocolate, of course).
8. Penhaligon's Doors of Wonder Advent Calendar
Specifications
RRP: £375
Delivery: Standard delivery within 2-5 days
Region: UK
This magnificent advent calendar shaped like a Penhaligon's perfume bottle is a real festive treat, with 24 doors of wonder filled with treasures from the luxury beauty brand.
Among the decadent fragrance oils and beauty products are three 35g festive Candles – which include Comoros Pearl, Maduro Leaf, and Roanoke Ivy and a 65g Maduro Leaf candle.
The decorative box arrives in a traditional red present sack adorned with the words, "The Greatest Show in the North Pole" to add to the touch of festive magic.
9. Sandwick Bay Candles Advent Calendar
Specifications
RRP: $25.42 | £22.95
Delivery: Allow 7 business days
Region: UK
Who said candle advent calendars had to be elaborate boxes filled with individual candles? There's beauty in the simplicity of this Sandwick Bay Candle Advent Candle design, with a single large festive glass votive filled with a festive scent to see you through advent in tranquility. The red glass is etched with a gold advent calendar.
Festive fans can choose from two Christmas Fragrances to enjoy the countdown to Christmas. 'By the Fire' features top notes of smoked woods, crystalized sugar, and orange peel, and a smoky base of pine needle, vanilla bean, warm amber, and burnt embers. While 'Festive Cranberry' is a heady fusion of cranberries with top notes of juniper berries and elderberries.
The 100% soy wax candles are hand-poured in small batches in an island workshop in the Outer Hebrides. With the added option to refill your candles next year, this candle advent is a timeless addition to be enjoyed each and every year.
10. Acqua Di Parma
Specifications
RRP: $450 | £450
Delivery: Next day (UK only)
Region: Both
Following the huge success of last year's advent calendar, Acqua di Parma has launched another lavish design for 2022 with twenty-five 'windows of wonder' containing a mix of luxurious candles and beauty gifts to discover day by day as you countdown to Christmas. From the Colonie to Blu Mediterraneo and the precious signature scents of the Sun fragrances to the new Magia del Camino and scented candles this advent is bursting with luxury products.
"I only had to look at the Acqua di Parma advent calendar to fall in love, " says Fiona, "that chic design in one of the brand's signature hat boxes, the promise of 25 scented treats inside – Bellissima!"
"It'll be no great surprise to those familiar with ADP that what's inside stands up to scrutiny. This heritage fragrance house pours so much love into everything they do, from creating every single product on Italian soil to working with craftsmen to create seasonal designs, including the one adorning this calendar (made with the traditional Florentine marbled paper technique, natch) If your budget allows for this kind of expenditure, I can't think of a more fabulous way to do it."
11. Airwick Advent Calendar Scented Candles Set
Specifications
RRP: £11
Delivery: 2 business days
Region: UK only
This scented candle box set is ideal for those who want a fragrant advent calendar filled with candles but don't want to spend over their budget. As 'Amazon's choice' of best candle advents it's clear to see that budget doesn't compromise on quality, as the same popular advent for last year gained 4.4/5 stars reviews from Amazon shoppers.
With 24 individual scented tealights and a single clear glass tealight holder, you are all set to light a wonderous winter fragrance each day as you countdown to Christmas.
The selection of candles varies from a selection of recognizable Airwick 'winter' themed infusions, which if you are not already familiar with this advent is a great way to discover a new favorite scent.
12. Hazel & Blue Christmas Tea Light Advent Calendar
Specifications
RRP: £22
Delivery: 5 business days
Region: UK only
Don't be put off by the delivery time for this best candle advent because it's only 12 days of advent, rather than the full 24. The Christmas-scented tea light advent calendar features 12 festive-scented soy tea lights, to light and enjoy in votives and lanterns as you wish.
The deliciously festive scents include Orange, Cinnamon, and Clove, Winter Fireside (a beautiful blend of bergamot, geranium, lemon leaf, and amber) and Frankincense & Myrrh (a heady, spicy blend of festive herbs and spices.)
The festive scents are all hand-poured using natural soy wax, an all-important factor for those who wish to make more eco-friendly shopping choices. Each tea light burns for approximately three hours, which is ideal for to be enjoyed each evening.
Does Yankee Candle have an advent calendar this year and what comes in it?
Recently, Yankee Candle released its 2022 Advent Calendar in three unique varieties: the Advent Wreath, the Advent Book and the Advent Tree.
Like last year, each edition sticks to Christmas aesthetics and features charming winter fragrances behind 24 doors. Better yet, the leading candlemaker claims that each bite-sized candle will burn for 25 to 40 hours.
And if you want to save some money on the popular candle brand, it's worth looking out for some of the best Yankee Candle deals too.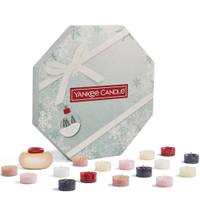 RRP: £24.99 | Delivery: 5-8 day shipping | Refundable?: 30-day return policy | 2021 calendar available?: Yes | Region: UK – currently unavailable in the US
This octagon-shaped calendar overflows with 24 scented tea lights in eight intoxicating scents. Beyond smell, these delicacies have fun and festive names, from "Snow Globe Wonderland" to "Christmas Cookie." Also includes a clear glass tea light holder.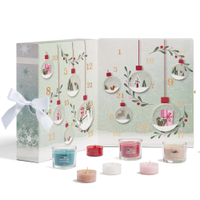 RRP: £39.99 | Delivery: 5-8 day shipping | Refundable?: 30-day return policy | 2021 calendar available?: Yes | Region: UK – currently unavailable in the US
The Advent Book features the same contents as the Wreath edition – just in a different design. We'd say this design pays homage to the best Christmas books of childhood, which, much like this calendar, unveil magic we never knew existed.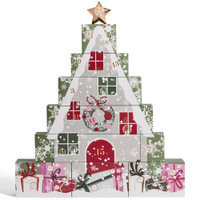 RRP: £89.99 | Delivery: 5-8 day shipping | Refundable?: 30-day return policy | 2021 calendar available?: Yes | Region: UK – currently unavailable in the US
Rockin' around the Christmas tree is now luxe, thanks to Yankee Candle. Naturally, inside you'll find the same festive treats as the Book and Wreath calendars but with the addition of a signature small tumbler candle, original small jar candle, 12 votive candles, 8 scented tea lights, a wick trimmer, candle snuffer, and a tea light holder.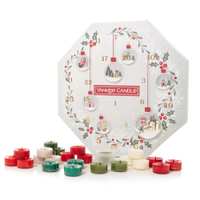 RRP: $25 | Delivery: 5-8 day shipping | Refundable?: 30-day return policy | 2022 calendar available?: Yes | Region: US – currently unavailable in the UK
This wreath-shaped design is filled with festive fragrances, with three scented tea light candles in eight different holiday fragrances – including 'Red Apple Wreath' and 'Christmas Cookie'.
Sign up to our free daily email for the latest royal and entertainment news, interesting opinion, expert advice on styling and beauty trends, and no-nonsense guides to the health and wellness questions you want answered.
Dominique worked as a shopping writer at Woman & Home and while with the brand she covered products, sales and deals, and market news across categories. Before joining the team, she penned stories as an editorial fellow at Insider Reviews, the affiliate commerce team at Insider Inc./Business Insider. The bespectacled NJ transplant specializes in commerce journalism, women's lifestyle content, and hoarding makeup—much to her mother's dismay.