The dreamy Jo Malone Advent Calendar is finally on sale—full review, contents, and value for money
The Jo Malone Advent Calendar was a sell-out success last year, and with exclusive can't buy products and scents, you won't want to miss out on this year either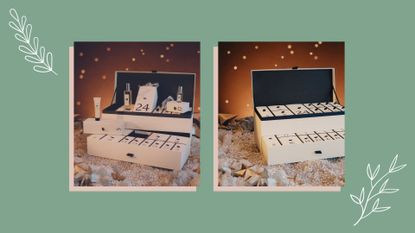 (Image credit: Future | Jo Malone)
It's hard not to fall in love with this. Trust Jo Malone to create beautiful, luxurious gifts that make one feel truly special, and this advent calendar epitomizes that lavish feeling.
Reasons to buy
+

Reusable trunk case

+

First full-size 30ml cologne

+

Includes exclusive, can't buy scents
The Jo Malone Advent Calendar is finally here! There are few holiday hallmarks we look forward to, but besides gorging on Ferrero Rocher and champagne, The Jo Malone Advent Calendar is the main event—and we couldn't be more excited about this year's offering.
Key Specs
Sale date: Available to buy online and in stores now.
RRP: £325
Products: 24
Full-size products: 1
Best for: Fragrance aficionados
Gone are the days when 24 doors of off-brand chocolate would suffice in stirring up the Christmas spirit. These days beauty advent calendars brimming with miniature delights have become the ultimate holiday hero, and for good reason.
Whether you're looking for a fresh contender for the best foundation or trying to find a new signature scent, beauty calendars offer the recipient a chance to try out the hero products a brand has to offer before committing to a full-size, repeat purchase. What started out as somewhat niche has become mainstream, with a myriad of beauty brands bringing their own 24-day countdown to the Christmas table. But if we had to play favorites, the Jo Malone London Advent Calendar would be top of our list for Father Christmas.
Allow us to give you a guided tour behind each of the 24 doors and answer the most common questions about this very desirable product...
Jo Malone Advent Calendar 2021 review
What's inside the Jo Malone Advent Calendar?
For the first time ever the Jo Malone advent calendar contents includes a full-size cologne, as well as 13 mini colognes, 4 small candles, 2 soaps, 2 hand and body washes, 1 hand cream, and 1 body cream. The products are as follows:
Honeysuckle & Davana Cologne 9ml
Pine & Eucalyptus Mini Candle 35g
Vetiver & Golden Vanilla Cologne Intense 9ml
English Pear & Freesia Shaped Soap
Peony & Blush Suede Hand Cream 15ml
Orange Bitters Cologne 9ml
Myrrh & Tonka Cologne Intense 9ml
Wood Sage & Sea Salt Body & Hand Wash 30ml
Poppy & Barley Cologne 9ml
Oud & Bergamot Cologne Intense 9ml
Grapefruit Mini Candle 35g
Wild Bluebell Cologne 9ml
Blackberry & Bay Body Crème 50ml
Lime Basil & Mandarin Cologne 9ml
Dark Amber & Ginger Lily Cologne Intense 9ml
Lime Basil & Mandarin Shaped Soap
Fig & Lotus Flower Cologne 9ml
English Pear & Freesia Mini Candle 35g
Jasmine Sambac & Marigold Cologne Intense 9ml
Cypress & Grapevine Cologne 9ml
Pomegranate Noir Mini Candle 35g
Wood Sage & Sea Salt Cologne 9ml
Peony & Blush Suede Body & Hand Wash 30ml
English Pear & Freesia Cologne 30ml
The new full-size 30ml cologne just so happens to be the new season English Pear & Freesia scent. It's crisp, fresh and elegant—the sort of fragrance that transcends seasonality (and a contender for becoming one of the most popular Jo Malone fragrances).
There are four mini candles in the collection, including one of the brand's best-selling scents Pomegranate Noir, each with a 9 hour burn time, so you can enjoy their cocooning ambience over the festive period and beyond. It's also worth noting that many of the fragrances within the calendar are unisex so your partner can enjoy washing with the Wood Sage & Sea Salt Body & Hand Wash or Lime Basil & Mandarin Soap.
What's the design like?
This is a new style for the brand this year and appears more mindful of the need to minimise waste. The lift-up, pull-out style trunk is designed to be reused, refilled, and repurposed. We think it would make a rather handy jewellery box, make-up vanity or stylish way to store your favourite fragrances—practical, too, given that perfumes wear better in dark, cool environments.
Aesthetically speaking it is classic Jo Malone, with 24 crisp, cream boxes adorned with striking black numbers and ribbon pull handles to reveal the little luxuries that lie within. Advent calendars don't get much more elegant than this.
How much does it cost?
The Jo Malone Advent calendar price is not cheap. At £325 you'll definitely need to make sure you're on the 'nice' list for this early Christmas gift.
That figure buys you a lot of products that are entirely unique to the calendar, such as the shaped miniature soaps or the new Fig & Lotus Flower scent. So if you indulge you can enjoy the exclusivity of smelling like nobody else (bar those lucky few who also bagged the advent calendar!).
Is the Jo Malone calendar good value?
If you are planning on treating yourself (or spoiling someone very special to you), this is fair value for Jo Malone fans. For example, a 30ml fragrance retails for £52 on its own. However, it's worth noting that because all but one of the products have been made especially for the calendar, there's not a discernible saving.
The w&h verdict
If you're a die-hard Jo Malone fan you should invest. You're going to love the combination of cult favorites (Pomegranate Noir and Lime Basil & Mandarin, we're looking at you!) and new, intriguing aromas, such as Fig & Lotus Flower.
We also recommend splurging on this if you're looking to incentivize your own (or a loved one's) self-care routine. The decadent treats behind the 24 doors aren't just something to open gleefully each morning on the run-up to the Big Day, but a nudge to make space for essential 'me time'. Most of us find ourselves a little short on time and with a little too much stress on the run-up to Christmas but the bath and body gifts in the Jo Malone London advent calendar provide the perfect excuse to spend a few well-earned minutes hibernating in the bathroom.
---
How quickly does the Jo Malone Advent calendar sell out?
You'll need to be quick off the mark, as we're predicting this will fly off the virtual shelves. Last year the calendar sold out within a month so if you want to get your hands on this year's version you'll need to be quick off the mark.
The Jo Malone advent calendar is available to buy online and in stores now.
---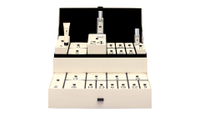 (opens in new tab)
Stephanie Maylor is a Beauty Editor working across five national magazine titles, with almost 15 years' experience in the industry. She has written for many brands, including woman&home, Grazia, Now, More!, Fabulous, NW, Woman, Woman's Own, Woman's Weekly, Essentials, Best, Chat, and OK! online.
In 2010 she launched her own beauty blog, which was shortlisted for Best Beauty Blog in the 2011 and 2012 Johnson & Johnson Beauty Journalism Awards. She has interviewed many high profile industry experts and celebrities including Alesha Dixon, Twiggy and Christina Hendricks.