The best gin advent calendars to buy now ready for Christmas 2022
These are the best gin advent calendars for 2022, ready to buy ahead of the Christmas season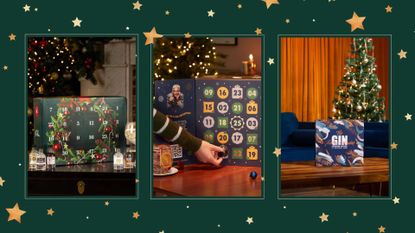 (Image credit: Drinks by the Dram/Virgin Wines/Craft Gin Club)
woman&home newsletter
Sign up to our free daily email for the latest royal and entertainment news, interesting opinion, expert advice on styling and beauty trends, and no-nonsense guides to the health and wellness questions you want answered.
Thank you for signing up to . You will receive a verification email shortly.
There was a problem. Please refresh the page and try again.
A gin advent calendar has become a staple in millions of households leading up to Christmas in recent years, thanks to the general boom in alternative advent calendars. Now, instead of having a chocolate treat every day in December, you can discover new and exciting distilleries, types, and flavors of gin from your own home - without having to invest in a full bottle.
To help you find the best one, we're tried and tested a whole range of calendars on sale right now. From huge brands like Virgin Wines offering a great selection of Dry Gins and flavored spirits in their calendar to more independent distilleries forming their own calendar to help make Christmas a little merrier for fans of the classic gin and tonic combo.
These gin advent calendars make up some of the best alcohol advent calendars this year thanks to the wide selection of distilleries, flavors, and types of gin available. So, if you're looking for a great alternative to classic chocolate advent calendars, you've come to the right place, these are the top gin advent calendars for 2022 on sale now.
How we tested the best gin advent calendars
Price: When it comes to gin advent calendars, they really range across the spectrum of price - from around £40 to over £100. So we tested each calendar for quality and quantity in relation to its price. The more you get for your money, whether that's in the variety of gins, quality, or just the amount you get, the better the calendar in our books.
Days included: Just like any other advent calendar, gin advent calendars tend to have 24 days worth of doors. However, some have a little more and some have half that, only counting down the final 12 days to Christmas. If a calendar only has 12 days, was it significantly cheaper than the others? And was it still worth the money?
Delivery: Many of the calendars aren't available yet as we're still a few months away from Christmas, so we were sure to note when each of the calendars would be available for delivery, the chosen delivery method, and whether there was any additional cost involved in securing the calendar.
Gin variety: The best thing about a gin advent calendar is getting to try new brands and flavors, like new varieties of Dry Gins from across the UK to specially-formulated fruity gins, so we rated every calendar based on the variety of gins they offered.
The best gin advent calendars for Christmas 2022
1. Virgin Wines Gin Advent Calendar
Best overall gin advent calendar
Specifications
RRP: £99.99 (including £10 reservation fee)
Days included: 24
Delivery: £7.99 per calendar
Region : UK only
Reasons to buy
+
Huge variety of gins available
+
5cl bottles
+
Fully recyclable packaging
If you're ordering from the UK and looking for the perfect all-rounder, the Virgin Wines Gin Advent Calendar wins by miles and is one of the best gin presents you can buy for the festive season. When testing the best gin advent calendars on sale this year, we found this one to be the same price as many of the others but with more gin per bottle, more widely recognizable brands, and more variety of flavors. The bottles are all uniquely branded in premium packaging by each distillery, leaving you with a colorful collection of miniatures by the end of the month.
Each of these gins sits behind one of 24 cardboard doors in its own unique 5cl glass bottle from a whole range of brands, ranging from famous sellers like Edinburgh Gin Distillery, Sipsmith, and Whitley Neill to gins specially formulated for the calendar by Henley Distillery. Alongside traditional London Dry and navy strength gins, you'll find flavored gins like raspberry pink gin as well as those orientated towards Christmas, such as Warner's seasonal Christmas Cake gin. Each one comes ready to crack open and enjoy with a splash of tonic.
One difference between this advent calendar and some of the others on our list is the upfront fee involved. There is a £10 reservation fee thanks to the popularity of the calendar coming up to Christmas, however, this is deductible from the complete £99.95 price of the calendar. While we don't think this should put you off Virgin Wines' offering at all, it's worth noting as you'll have a separate charge to your debit or credit card. Delivery is also additional at £7.99 per calendar, regardless of how many you order.
2. The Very Merry Gin Advent Calendar by Craft Gin Club and Phillip Schofield
Best gin advent calendar for trying new brands
Specifications
RRP: £99.95
Days included: 25
Delivery: Next-day delivery with Amazon Prime
Region: UK only
Reasons to buy
+
25 days-worth of gin
+
Lesser-known gin brands
Reasons to avoid
-
Difficult to open cardboard doors
The Very Merry Gin Advent Calendar by Craft Gin Club and Phillip Schofield is available on Amazon with next-day delivery from Amazon Prime. In this calendar, you'll find one more gin than in the Virgin Wines pick with a final exciting bottle on Christmas Day itself.
This advent calendar focuses on the smaller distilleries rather than bigger name brands but if you're a big gin fan, you'll recognize some picks from the likes of Manchester Gin and Tarquin's. However, we found that the favorites came from even smaller distilleries, such as Pennington's Lakeland Moon Gin and cuckoo supernova gin. It's a great opportunity to try new distilleries and new flavors from across the UK.
If you're more into traditional tastes than Christmas-inspired, citrus, or other flavored gins, then this is also the one for you. Throughout the box, there are more classic London, American, Cambridge, Leicester, and Alpine dry gin than flavored spirits. Although these do appear through the month and we loved Wardington's Original Ludlow Spiced Gin in particular.
Rather than a simple box, this calendar opens out like a book with two folding doors. However, as well as less premium and unique bottling aesthetics than the Virgin Wines calendar, the doors on this calendar are relatively tough to open. Great for keeping your gins secure, but more of a struggle when it comes to getting to them.
3. The Premium Gin Advent Calendar from Drinks by the Dram
Best premium gin advent calendar
Specifications
RRP: £99.95
Days included: 24
Delivery: Available to pre-order with delivery from October 17
Region: UK and US
Reasons to buy
+
Premium gins
+
Some unique flavors
Reasons to avoid
-
Only 3cl of gin per bottle
Drinks By The Dram's gin advent calendar is the one to go for in 2022 if you're more concerned with trying new gins and enjoying top-shelf premium gins than how much gin you're enjoying per bottle. Coming in at £99.95, it's almost the same price as the Virgin Wines and Very Merry Gin Advent Calendar but each glass bottle contains 3cl of gin rather than 5cl, all of them finished with the same black wax seal.
Thanks to the smaller bottle sizes, this calendar is smaller overall than many of the other picks on our list, so it may be the best one to go for if you don't have a lot of space to store your gin advent calendar in the lead-up to Christmas.
While you'll find big-name brands in this selection, some premium gins caught our eye as these aren't available in any other advent calendar we've seen. Particular highlights of Drinks By The Dram include Hendrick's traditional and Neptunia gin, a sample of Roku Gin, and two different flavors of rye gin from Kyrö Distillery Company, a multi-award-winning Finnish distillery. Many of these make for unlikely pairings for the best cheese advent calendars so if you've got space for more than one on your shelf this year, complement your gins with a slice of cheese.
All bottles inside this advent calendar look the same with the logo of the distillery stamped on the front label, but you can choose the exterior appearance of your calendar with four different designs available at check out: Original, Art Deco, White Christmas, and Craft.
4. Quintessential Brands Gin Advent Calendar
Best flavored gin advent calendar
Specifications
RRP: £89.90
Days included: 25
Delivery: Free delivery from October 3
Region: UK only
Reasons to buy
+
Range of floral, fruity and spiced gins
+
Larger bottle on Christmas Day
If you're a fan of fruity, spiced, and floral flavors then the Quintessential Brands Gin Advent Calendar is the perfect pick. Along with 25 different gins to taste and explore, we loved that this calendar also comes with accessories to make the perfect gin and tonic with the BLOOM branded ice rose mould and Greenall's jigger and lime squeezer.
Compared to others on our list, the Quintessential Brands calendar is slightly cheaper at just over £89 and you certainly get a lot for your money. Gin highlights include the four different flavors of Ophir, a gin inspired by the Ancient Spice Route stretching from the West coast of Japan through to the Islands of Indonesia, through India and the Middle East; offerings from BLOOM, a floral gin in passionfruit and vanilla, and jasmine and rose flavors, and Greenall's London Dry and two different fruity gins.
However, there are only a couple of standard London Dry gins in the box so if you're more interested in classical botanical gins then this may not be the calendar for you and The Very Merry Gin Advent Calendar could be a better choice. Most of the gins here are uniquely flavored, focusing on spices, florals, and fruits.
5. Halewood Wine & Spirits 12 Gins of Christmas Advent Calendar
Best 12-day gin advent calendar
Specifications
RRP: £38.95
Days included: 12
Delivery: Next day delivery with Amazon Prime
Region: UK only
Reasons to buy
+
Includes flavored and dry gins
+
Cheaper than others
Reasons to avoid
-
No numbers on the drawers
The Halewood Wine & Spirits advent calendar was another top pick from woman&home with high-quality gins included in every drawer and a price point of under £40. You'll only be counting down the final 12 days of Christmas with this calendar so if you're looking for more, perhaps try the Virgin Wines pick as brands like Whitley Neill also feature in this one, however, there are still 12 excellent 5cl bottles of gin to enjoy.
There's a good range of flavors in the calendar too, from traditional Dry Gins to Elderflower, Rhubarb and Ginger, and Raspberry flavor gins - all from the Whitley Neill distillery.
Presentation-wise, you'll have to decide where the calendar begins. Despite being sold as a Christmas advent calendar, there are no specific days noted on the front of the drawers but the simple process of one drawer a day is easy enough. You could also stick your own countdown to the drawer if you prefer.
How to make a gin advent calendar
You can also make your own gin advent calendar by collecting various miniatures from your favorite distilleries, either directly or via Amazon, and putting them together in your own calendar or a countdown clock. For a 12-day calendar, you'll need three sets from our list below and for a full 24-day calendar, you'll need six sets.
Choose your calendar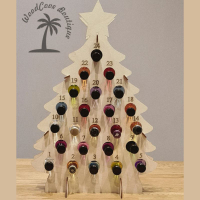 (opens in new tab)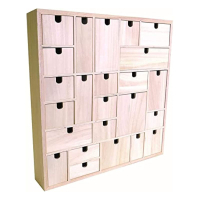 (opens in new tab)
Artemio Wooden Advent Calendar - £33 (opens in new tab)
To design your gin advent calendar from scratch, this wooden calendar from Amazon is a great pick. Design the exterior and write the days of advent on yourself, whether you want to go for 12 or 24 days, and fill it with your favorite gins.
Buy your gin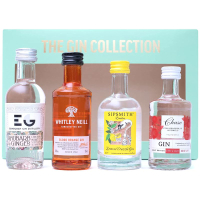 (opens in new tab)
The Gin Collection - £14.99 (opens in new tab)
The Gin Collection includes four 5cl miniatures from four of the UK's best distilleries: Edinburgh Gin Distillery, Whitley Neill, Sipsmith, and Chase, in various flavors. We think the Sipsmith Lemon Drizzle gin is the perfect Christmas accompaniment for the early days of advent.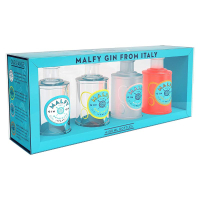 (opens in new tab)
Malfy Italian Gin Miniatures Gift Box Selection - £15 (opens in new tab)
Bring the Mediterranean to your Christmas season with this exciting 5cl selection from Malfy. Highlights for us include the Malfy Con Arancia, a taste of Seville in your homemade advent calendar, along with the original flavor for a botantical classic.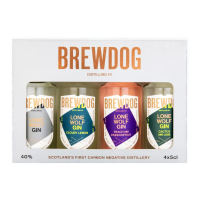 (opens in new tab)
BrewDog Gin Miniatures Gift Set - £17.95 (opens in new tab)
Try something new this winter with an exciting range gins from Brewdog, the famous craft brewery. There are four 5cl bottles in the set: Original Gin, Passionfruit and Peach Gin, Cloudy Lemon Gin, Cactus and Lime Gin.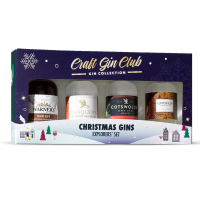 (opens in new tab)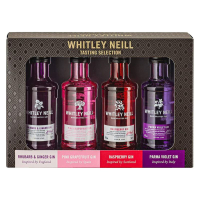 (opens in new tab)
Whitley Neill Gin Taster Gift Pack - £13.95 (opens in new tab)
For those who love flavored gin, the Whitley Neill gift set is an excellent choice with four different 5cl sweet gins to choose from. While the Rhubarb and Ginger is our favorite, there's also Pink Grapefruit, Raspberry, and the super-sweet Parma Violet Gin.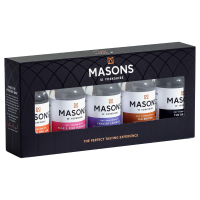 (opens in new tab)
Masons of Yorkshire Gin Gift Set - £20 (opens in new tab)
While this set is a little pricier than the others at £20, it includes five different gins from the Yorkshire distillery, rather than four: The Original Gin, Tea Edition, English Lavender, Pear and Pink Peppercorn, and Orange and Lime Leaf.
A digital health journalist with over five years experience writing and editing for UK publications, Grace has covered the world of health and wellbeing extensively for Cosmopolitan, The i Paper and more.
She started her career writing about the complexities of sex and relationships, before combining personal hobbies with professional and writing about fitness. Everything from the best protein powder to sleep technology, the latest health trend to nutrition essentials, Grace has a huge spectrum of interests in the wellness sphere. Having reported on the coronavirus pandemic since the very first swab, she now also counts public health among them.