Christmas song quiz: 50 questions on facts, figures and badly translated lyrics
From badly translated lyrics to trivia about the best-selling Christmas songs, will you hit all the right notes in our Christmas music quiz?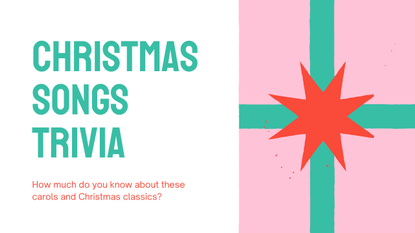 (Image credit: Future/Canva)
woman&home newsletter
Sign up to our free daily email for the latest royal and entertainment news, interesting opinion, expert advice on styling and beauty trends, and no-nonsense guides to the health and wellness questions you want answered.
Thank you for signing up to . You will receive a verification email shortly.
There was a problem. Please refresh the page and try again.
Need a break from the more exerting Christmas party games?
We've got just the thing. So, settle down, get comfy with your favorite Christmas cocktail or snacks from your Christmas hampers, and take part in this quiz.
If you've already completed our emoji quiz, this one is for you!
All the questions are about Christmas songs, from the usual suspects like Queen of Christmas Mariah Carey, to trivia behind some old classic carols and more.
Round one - easy to medium questions about your favorite Christmas songs
1. What's officially the best-selling Christmas song of all time (correct as of 2022)
2. One More Sleep is a Christmas song by which former X Factor UK winner and global pop star?
3. In which musical did Judy Garland introduce Have Yourself a Merry Little Christmas?
4. In Santa Baby, what color convertible does Eartha Kitt ask for?
5. Which legend - who was the focus of a Hollywood biopic this year - had a 1964 hit with Blue Christmas?
6. Everyone knows Mariah Carey's timeless Christmas hit, All I Want for Christmas is You. But what's the name of the album on which it was first released?
7. How many Las are sung in Deck the Halls?
8. How many versions of Band Aid/Do They Know It's Christmas have been released?
9. What does the singer tell the audience to have a cup of in A Holly Jolly Christmas?10. Jingle Bell Rock famously plays in the opening scene of this movie, contributing to its unlikely inclusion as a Christmas movie?
11. Eartha Kitt immortalized Santa Baby in the 1950s, but which pop star re-recorded it in 2003?
12. Who sings the opening line of the original Band Aid single in 1984?
13. In the 12 Days of Christmas, how many swans were "a swimming"?
14. What song includes the lyrics "I take a look at the driver next to me, He's just the same"?
15. British singer Robbie Williams landed a Christmas Number One with Somethin' Stupid, a duet with which iconic A-list actress?
16. What was the name of Dolly Parton's 2020 Christmas album?
17. "Feliz Navidad, Prospero Año y Felicidad --" Finish the lyrics
18. Thurl Ravenscroft, the original singing voice of the Grinch, also lent his voice to which iconic cereal mascot?
19. Which writer and composer, notable for his contributions to the Great American Songbook, created White Christmas?
20. Roughly how much money has Mariah Carey made off of All I Want for Christmas? (give a point to whoever scores closest)
Round two – hard Christmas song quiz questions
1. The song Do You Hear What I Hear? was inspired by which unlikely real-life event?

2. Despite being a classic, Dean Martin's cover of which song took 50 years to first appear on the Billboard charts?

3. Featured in Home Alone 2, what was the name of Darlene Love's Christmas track?

4. The song White Christmas first appeared in which musical movie?

5. In total, how many presents does the singer receive in the 12 Days of Christmas?
6. Which Christmas song was the first song ever broadcast on the radio in 1906?
7. In the song, You're a Mean One, Mr Grinch, what pungent food does the Grinch have in his soul?
8. How old was singer Brenda Lee when she recorded the classic Christmas hit Rockin Around the Christmas Tree?
9. Faith Hill recorded Where Are You Christmas? for the 2001 Jim Carrey movie, How the Grinch Stole Christmas. But who was originally meant to record it?
10. What other name is given to the carol O Tannenbaum?
11. One of the more recent pop stars to record original Christmas songs, Sia released a holiday album in 2017. What was it called?
12. Which country music legend wrote the festive classic, Pretty Paper?
13. Joy to the World is based on which book of the Bible?
14. What song includes the lyrics "So he said, 'Let's run, And we'll have some fun'"?
15. Christmas songs were originally centered around Jesus. Which was the first to mention Santa?
Round three - badly translated Christmas lyrics
For this round, woman&home have taken a bunch of lyrics from a song and run them through Google Translate across different languages, before translating the end product back to English.
We chose easily identifiable lyrics and parts of songs nearly everyone will know, but that doesn't mean some of these are going to be easy. For each one, just name the original song (you don't have to translate the lyrics back!)
1. Because I just want to be here tonight, He kept fast, What else can I do? Oh little one, all I want for festive is you
2. White Christmas dream, the only thing I know, where the mountains shine, children listen
3. So blessed is Christ, I love you my dear, I can't see anymore in time, all our dreams
4. Show me baby, do you know me? It's been a year, but I'm not too surprised. Merry Christmas packing and shipping, when the note says 'I love you', I say
5. They kneeled, Hearing the voice of an angel!
6. Roast chestnuts on the campfire, Jack Frost, look at your nose, The choir sings a Christmas song, And the people clothes in Eskimos
7. Whiskey and wine, Children singing Christian verse, Logs for fire, presents for the trees, When you rejoice in visible goods
8. Rejoice, people, the Lord has here, let the earth rule the king
9. Make them Christmas, I hope to work with you this year, That's why I deliver you this Christmas card
10. At the party, it is in five senses, it's just, this time
Round Four – higher or lower
Correct at the time this article was written, simply decide which of the songs you think have the highest play count on Spotify (and don't worry, there's such a huge gap between the songs picked, we doubt the answers will change any time soon!)
1. Brenda Lee, Rockin' Around the Christmas Tree vs Wham, Last Christmas
2. Bing Crosby, White Christmas vs Mariah Carey, All I Want for Christmas is You
3. The Pogues, Fairytale of New York vs Kelly Clarkson, Underneath the Tree
4. Jose Feliciano, Feliz Navidad vs Slade, Merry Xmas Everybody
5. Leona Lewis, One More Sleep vs Paul McCartney, Wonderful Christmastime
Answers
Round one
1. White Christmas
2. Leona Lewis
3. Meet Me in St Louis
4. Light blue
5. Elvis Presley
6. Merry Christmas
7. 96
8. Four – 1984, 1989, 2004 and 2014
9. A cup of cheer
10. Die Hard
11. Kylie Minogue
12. Paul Young
13. Seven
14. Chris Rea, Driving Home for Christmas
15. Nicole Kidman
16. A Holly Dolly Christmas
17. I wanna wish you a Merry Christmas, From the bottom of my heart
18. Tony the Tiger
19. Irving Berlin
20. $60 million
Round two
1. Cuban Missile Crisis
2. Let it Snow
3. All Alone on Christmas
4. Holiday Inn
5. 364
6. O Holy Night
7. Garlic
8. 13
9. Mariah Carey
10. O Christmas Tree
11. Everyday is Christmas
12. Willie Nelson
13. Psalms
14. Frosty the Snowman
15. Up on the Housetop, written by Benjamin Hanby and inspired by the poem A Visit from St Nicholas
Round three
1. All I Want for Christmas is You – original lyrics, "I just want you here tonight, holding on to me so tight, what more can I do, Baby all I want for Christmas is you"
2. White Christmas – original lyrics, "I'm dreaming of a white Christmas, just like the ones I used to know, Where the tree tops glisten, And children listen"
3. Fairytale of New York – original lyrics, "So happy Christmas, I love you baby, I can see a better time, when all our dreams come true"
4. Last Christmas – original lyrics, "Tell me baby, do you recognize me? Well, it's been a year, it doesn't surprise me. Happy Christmas, I wrapped it up and sent it, with a note saying "I love you", I meant it
5. O Holy Night – original lyrics, "Fall on your knees, oh hear the angel voices"
6. The Christmas Song – original lyrics, "Chestnuts roasting on an open fire, Jack Frost nipping at your nose, Yuletide carols being sung by a choir, And folks dressed up like Eskimos"
7. Mistletoe and Wine – original lyrics, "mistletoe and wine, children singing Christian rhyme, with logs on the fire and gifts on the tree, a time to rejoice in the good that we see"
8. Joy to the World – original lyrics, "Joy to the world, the Lord is come, Let Earth receive her King"
9. Step Into Christmas – original lyrics, "Welcome to my Christmas song, I'd like to thank you for the year, So I'm sending you this Christmas card"
10. Wonderful Christmastime – original lyrics, "The party's on, The feeling's here, That only comes, This time of year
Round four
1. Wham, Last Christmas (over one billion streams vs 660 million for Brenda Lee)
2. Mariah Carey – 1.3 billion streams vs 360 million
3. Kelly Clarkson, Underneath the Tree – 429 million vs 302 million for The Pogues
4. Jose Feliciano – 450 million vs 110 million for Slade
5. Paul McCartney – 363 million vs Leona's 157 million
Jack Slater is not the Last Action Hero, but that's what comes up first when you Google him. Preferring a much more sedentary life, Jack gets his thrills by covering news, entertainment, celebrity, film and culture for woman&home, and other digital publications.
Having written for various print and online publications—ranging from national syndicates to niche magazines—Jack has written about nearly everything there is to write about, covering LGBTQ+ news, celebrity features, TV and film scoops, reviewing the latest theatre shows lighting up London's West End and the most pressing of SEO based stories.