Met Gala 2023 best dressed: The red carpet moments we can't stop thinking about
These are the Met Gala 2023 best dressed stars of the night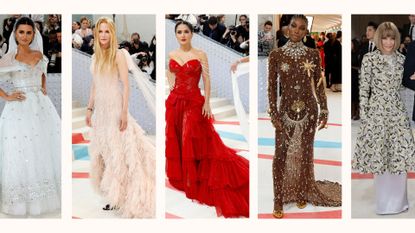 (Image credit: Getty Images)
The Met Gala 2023 best dressed list is not easy to make it on to, and this year the competition was particularly tight as stars were given a brief loaded with fashion history. For 2023, the Met Gala theme was billed as 'Karl Lagerfeld: A Line in Beauty', with the exhibition and the evening a tribute to one of fashion's greatest designers and his immense body of work.
The fanciest fashion party of the year, the Met Gala 2023 best dressed stars had the task of paying homage to Karl Lagerfeld through their chosen outfits. One of the industry's greatest designers, Karl Lagerfeld passed away in 2019, and during his career masterfully steered the likes of Chanel and Fendi, creating some of the most creative fashion shows and iconic collections. The best dressed of the night brought that magic back through their ensembles, channeling some of the best Met Gala looks of all time.
Joining the ranks of some of the most memorable Met Gala themes, designers and their muses had a rich body of work to draw inspiration from, and stars really delivered when it came to red carpet glory. While many wore vintage Chanel pieces, others used Lagerfeld's style as a springboard for their outfits, with a number of stars even reflecting the designer's own iconic look for the evening. Although they didn't make our Met Gala 2023 best dressed list, honorable mentions do go to Jared Leto and Doja Cat, both of whom chose to pay homage to Lagerfeld's beloved cat Choupette.
Met Gala 2023 best dressed: The red carpet looks you need to see
One of the biggest nights of the year for fashion, the Met Gala 2023 red carpet was unsurprisingly heaving with VIPs across fashion, media, and culture, all interpreting the Met Gala 2023 theme, 'Karl Lagerfeld: A Line in Beauty', in their own way. Common themes included black and white ensembles, a staple both for Chanel and Lagerfeld himself, alongside heavily embellished designs, tactile feathery frocks and plenty of archive pieces out for a spin to pay their respects to their creator.
1. Glenn Close
One of the most exquisite looks of the night, Glenn Close paid tribute to Karl Lagerfeld as the brief dictated, but managed to do so without it feeling over the top - yes even in that cape.
Shying away from black and white - the most common palette of the night and one that has always been associated both with Lagerfeld and Chanel, Close instead opted for an icy blue ensemble, by designer Erdem. The sequin gown gave a cheeky nod to Lagerfeld thanks to the oversized white collar complete with brooch at the neck, mimicking the designer's iconic style. Layered with silver necklaces, the look received its healthy dose of drama from a huge silk cape, with peplum finish that took this look to the next level and straight onto our Met Gala 2023 best dressed list.
2. Jessica Chastain
Wearing Italian clothing brand Gucci, Jessica Chastain took her homage to Lagerfeld to heady heights, turning her locks platinum blonde for the occasion. Reflecting Lagerfeld's instantly recognizable style, the star slipped on a pair of darkened glasses and accessorized with black gloves - another reflection of Lagerfeld's style. And although Chastain gave her overall look a feminine finish, thanks to the sweetheart neckline and corseted dress that was covered in layers of black tulle, there was no mistaking who this look was for. A clever twist on classic, identifiable style.
3. Michaela Coel
Screen-writer and actress Michaela Coel literally shone on the red carpet in part thanks to the 130,000 crystals that helped create her look for the evening. The body-conscious dress by Schiaparelli couture, was heavily encrusted with jewels, starting at the neckline, creating a neckpiece that then flowed into the rest of the dress, giving a second-skin like finish. Taking over 3,800 hours to make, Coel looked sensational and the nods to Karl Lagerfeld were there through the chain detail and embellishment work. With jewels cascading down the dress, teamed with heavier concentrated embellishments where necessary, this was quite the showstopper.
4. Anna Wintour
We can't talk about the Met Gala 2023 best dressed without mentioning the queen of the evening, and thankfully Anna Wintour did not disappoint. Wearing Chanel, the ensemble was subtly covered in cats, honoring both Lagerfeld and Choupette. And although the outfit paid homage to the designer, it was also utterly directional, channeling one of the biggest fashion color trends of the season and WGSN's Color of the Year 2023, via a lilac silk skirt, that formed the lower part of the embellished dress. Pairing the gown with a beautifully tailored evening coat (covered in cats), the design followed an A-line fit, nipping in at the waist, before fluting into a much wider hem, expertly balancing the proportions of the outfit. Decorated in sequins, there was no way you were going to miss this sparkling look.
5. Penélope Cruz
Looking resplendent in a white gown, Penélope Cruz dazzled on the red carpet in vintage Chanel, and easily made her way onto our Met Gala 2023 best dressed list. Tapping into this season's wedding dress trends, the full-skirted dress featured a fitted bodice that delicately fell off the shoulder and was juxtaposed with a waist-cinching, jewel-encrusted belt. The entire dress was covered in delicate embellishment work that was reflected in the halo hairband worn by the star, and topped off by a veil. Wedding dresses remain a staple piece to many designer's couture collections and Karl Lagerfeld was no exception, regularly delivering standout, dramatic wedding gowns on the runway, with many of them being seen on the red carpet for the Met Gala 2023 too.
6. Gisele Bündchen
With a theme of Karl Lagerfeld: A Line in Beauty, outfits were to be a tribute to the design legend and Gisele Bündchen did this with grace and beauty. Wearing vintage Chanel (spring 2007 couture to be precise), Bündchen looked truly magical as she floated down the red carpet in a feathered white cape, slung over a white paneled dress with godet detailing, that mixed sheer and opaque fabric that lengthened the star's frame. Easily one of our Met Gala 2023 best dressed, the outfit further hit the brief of honoring Karl as it was revealed that this was a dress Bündchen once wore for an editorial with Lagerfeld, making it a truly befitting tribute.
7. Anok Yai
Model Anok Yai was easily one of the Met Gala 2023 best dressed celebrities on the red carpet, in a molded mini dress by Prabal Gurung that cut away at the bust and cinched tightly in at the waist, before belling out over Yai's hips and thighs. Entirely covered in metallic gold sequins, the dress mixed metals, as layered silver pallet sequins trimmed the hem and delicately sprinkled themselves onto the black tulle underskirt that fell into a full train. As if this beadwork wasn't enough, the dress also featured tassels all the way around the edge for one of the most dramatically futuristic looks of the night.
8. Naomi Campbell
Looking red carpet-ready in an asymmetric gown, Naomi Campbell opted for a classic Lagerfeld color palette, pairing metallic with soft blushy pink, the Grecian-like drapery was balanced by the structured silver panelling at the chest, that was echoed through to the hemline of the gown. Falling elegantly across the model's frame, the column shape of the skirt complemented Campbell's tall silhouette. Heading to the archives for this dress, Campbell chose to wear Chanel spring 2010 couture,honoring Lagerfeld perfectly.
9. Nicole Kidman
Breathtakingly frothy, Nicole Kidman beamed on the red carpet at the Met Gala and looked utterly romantic in Chanel couture, in the softest of pinks. The dress began in a column shape top before cascading into a full train. And fashion fans with a good memory will recognize this dress as the same outfit worn by Kidman for her 2004 Chanel No.5 advert. Could there be a better way to hit the brief?
The feathery tulle dress was embellished throughout, and had a chiffon neck tie that echoed the train as it billowed behind the star. With a high-low hem that helped to balance out the back of the dress, Kidman accented the look with a pair of simple black strappy shoes, ensuring all eyes were on the dress.
10. Salma Hayek
A regular on the Oscars best dressed lists, Salma Hayek knows how to dress for the red carpet and the Met Gala 2023 was no exception. Wearing Gucci, as the star often does, Hayek opted for a silhouette that she knows she wears well, wearing similarly shaped gowns on previous occasions. The corset-style bodice, in patent red, was paired with a nipped in waist and full skirt highlighting Hayek's curves. The tiered, ruffled skirt with red carpet-ready train delivered on Met Gala drama, although it was the subtle finishes that gave a nod to Lagerfeld and Chanel. Trimming the gown in pearls, across the arm, this decorative finish was enough of a subtle nod to get a big tick from us.
11. Baz Luhrmann and Catherine Martin
A true homage to Karl, film maker Baz Lurhmann walked the red carpet with Australian costume designer Catherine Martin and both delivered on the Met Gala theme of the night, Karl Lagerfeld: A Line in Beauty. Baz paid tribute to Lagerfeld's distinctive aesthetic, in a black suit edged in white, completing the look with an embellished pin on his tie. While the look reflected that of Lagerfeld's it wasn't copy-cat, giving it a unique and modern spin. Catherine meanwhile looked utterly dazzling in an embellished boucle blazer, complete with lush black satin waist tie and romantic ruffled cuffs. Pairing the jacket with a long, pallet sequin-decorated skirt that came to the ground to deliver on the eveningwear finish.
Rivkie is a fashion editor, writer and stylist with over fifteen years' experience in the industry. Having studied design and pattern cutting at the London College of Fashion, Rivkie fell in love with styling and journalism, covering fashion weeks in London, Paris and New York.
Specialising in plus size fashion, Rivkie has long championed that style is for everyBODY and has been a regular talking head on a host of radio stations and television shows, pushing for greater representation for plus size women and fashion throughout her career.