The most unforgettable Met Gala themes, ever from 1995 to present day
The most standout Met Gala themes of all time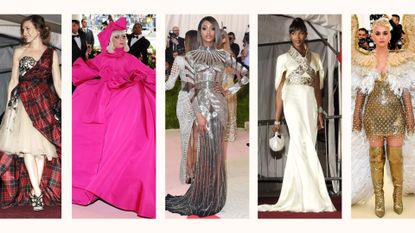 (Image credit: Getty Images)
The best Met Gala themes have been cemented into fashion history for producing some of the most poignant and memorable red carpet moments of all time. An event held annually on the first Monday in May, the Met Gala celebrates fashion and design, and is considered to be the fashion industry's equivalent to the Oscars.
Launched as a fundraising evening for New York's Metropolitan Museum of Art's Costume Institute in 1948, the event has grown from a glamorous charity dinner to become the hottest ticket for every celebrity and fashion brand. With seats thought to cost around $50,000, when that invite lands - you'll know you've made it.
Each year the Met Gala has a different theme echoing that of the exhibitions whose opening it celebrates. Themes vary each year and have ranged from individual designers, including a retrospective of 25 years of Yves Saint Laurent's career that covered standout pieces such as Le Smoking, which made tuxedos for women the height of style, to stylistic eras as well as individual countries unique cultural fashion. While guests had always dressed in resplendent finery, it wasn't until 1995 when famed editor Anna Wintour took over the chairperson role that the idea of attendees embracing the theme with their own outfits began to emerge. While once attendees simply selected the best dresses from their favorite designers, the explosion of social media since the early Noughties has seen the idea of the themed event mushroom, with ever more extravagant outfits gracing the red carpet.
Best Met Gala Themes Ever
With the Met Gala 2023 just days away, celebrities and their stylists are no doubt planning the finishing touches to outfits, with the aim of reaching those all important 'best dressed' lists. And while the event may be themed, it will be no easier to get on the Met Gala 2023 best dressed list as it was the Oscars 2023 best dressed list, with every stitch and accessory being judged on what will certainly be the most fashionable of red carpets.
Every attendee is approved by fashion powerhouse Anna Wintour, who, as the editor in chief of American Vogue and host of the Met Gala is certainly hoping that this year's stars will outdo the Met Gala 2022 best dressed.
Fashion editor and stylist Antonia Kraskowski selects her 10 best Met Gala themes ever, ranked based on originality, creativity and the impact the event itself had on the fashion landscape.
1. 2019: Camp: Notes on Fashion
In at our top spot, comes 2019's Camp: Notes on Fashion. In contrast to the previous year's highly controversial religious theme, 2019's Met Gala was inspired by Susan Sontag's1964 essay 'Notes on Camp', with a theme focused on extravagance. A natural home of performance and posing, the red carpet was the ideal backdrop for the outlandish, tongue-in-cheek outfits worn by guests. 2019's outfits were a far cry from the sleek eveningwear of the 1990s, and attendees channeled their inner peacocks, with feathers, glitter and hot pink the order of the evening. Even Anna Wintour stepped up her game from her usual classic style, teaming her floral embellished Chanel dress with a playful pink feathered cape for her entrance.
Naturally, Lady Gaga chose a suitably theatrical to the evening's ensemble, resulting in four changes, live on the red carpet, creating quite the spectacle. Arriving in a flowing Barbie pink gown by Brandon Maxwell, five dancing footmen brandishing black umbrellas carried the billowing train behind her. Removing the pink outer layer, the singer revealed a form fitting column with a blousey bustle and of course, her own umbrella. The chic black dress gave way to yet another hot pink dress, this time a fitted column accessorized with a Judith Lieber clutch shaped like a '90s cell phone and oversized diamante studded designer sunglasses. Finally, the star stripped down to glittering underwear, fishnet tights and towering designer heels before pulling a hot pink wagon of pink cowboy hats and rosé wine behind her. Of course.
While Gaga may have stolen the red carpet with her multi-outfit performance, several other celebrities vied for top billing with their ensembles. Kendall Jenner's orange feather and gem encrusted look was part Las Vegas showgirl, part comic villain and complemented her sister Kylie's own lilac look which featured two balloon-like feather sleeves, with the entrepreneur also choosing a similarly hued wig to complete her look for the night.
Cara Delevingne was another out-there dresser for an evening of camp. The British supermodel chose a rainbow striped jumpsuit by French clothing brand Dior, topped with an outrageous Machine Dazzle headpiece covered in assorted fruit, teeth and eyeballs to name but a few of the objects that made the look.
And of course it wouldn't be an evening of camp without at least one fairytale-inspired look, actress Zendaya chose a Cinderella-inspired look by Tommy Hilfiger. Escorted by mega stylist Law Roach, the pair staged an elaborate moment on the red carpet with Roach waving a magic smoking wand to bring Zendaya's dress to life, which expanded to a full skirt and lit up, a real spectacle.
With the sheer level of pageantry, we're naming 2019's theme of Camp: Notes on Fashion, as our favorite ever - where else would you see such displays from household names?
2. 2018: Heavenly Bodies: Fashion and the Catholic Imagination
Met Gala themes are often plagued in controversy and 2018's Heavenly Bodies: Fashion and the Catholic Imagination stirred up suitable outrage - many labelled the event blasphemous and those attending iconoclasts but it didn't stop celebrities opting for religious iconography-based outfits including Papel robes, cherubic angel wings and depictions of the cross.
As guests' efforts have ramped up over the years, each vying for valuable column inches and Instagram shares, outfits have notably become more outlandish with every passing year and 2018's proved to be perhaps some of the most outrageous in the Met Gala's history. Co-chair for the event Rihanna divided opinion down the middle with her Papal-inspired outfit by Maison Margiella's John Galliano. She was accused of sexualizing and mocking Catholicism with the gem-encrusted look. Fellow pop star Katy Perry showed her dedication to dressing up by complementing her custom gold Versace mini dress and thigh-high boots with towering feathered angel wings that meant the singer had to sit on a stool to eat dinner.
While fellow guests draped themselves in crosses and other symbols of Catholicism, actress, and singer Zendaya took an alternative approach to the theme, choosing a stunning metallic Joan of Arc-inspired gown by Italian clothing brand Versace. Featuring chain mail and armor-like panels, she completed the look with a cropped red-headed wig.
For those looking to play it safe and avoid upsetting fans and sponsors, flowing gowns with impressive trains and veils that wouldn't look out of place in the latest wedding dress trends were the choice of the night. Actress Kate Bosworth's flowing champagne-hued frock by Oscar de la Renta was finished with a traditional pearl-encrusted veil and was likely an inspiration for many a fashion-forward bride.
Blake Lively's ornate gold and claret gown was fit for the Madonna - the Versace gown featured intricate beading and a gem-studded bodice, taking 600 hours to create. The actress finished her look with a Virgin Mary-like halo headpiece, echoing themes seen in traditional depictions of Mother & Child, making it a natural contender for best Met Gala looks of all time.
3. 2011: Alexander McQueen: Savage Beauty
Shown a little over a year after the designer's death, Savage Beauty became one of the most popular exhibitions staged at the Costume Institute with record attendance of over 650,000 visitors. Celebrating McQueen's works from his 1992 MA graduate collection to the unfinished AW10 season, the exhibition saw works from Alexander McQueen's eponymous label as well as pieces from his time at Givenchy and those held in private collections presented in dramatic fashion that echoed his designs.
Naturally, those in attendance at the Met Gala to support the exhibition gravitated towards McQueen's pieces for the event, leading to a spectacular red carpet full of feathers, dramatic silhouettes and beautiful gowns. And, of course, an egg hat.
4. 2013: Punk: Chaos to Couture
The Met Gala and Exhibition theme for 2013 examined Punk's impact on high fashion from its inception the early Seventies through to modern day. Focusing on punk's DIY nature vs couture's made-to-measure, celebrities' outfits were adorned with finishes and fabrics associated with the movement such as fishnet, studs and safety pins as well as leather and tartan.
It's also the year that a heavily pregnant Kim Kardashian finally made the vaunted Met Gala guestlist, appearing with then-husband Kanye West. The pop culture phenomenon famously donned a skin-tight full floral look - complete with gloves - by Riccardo Tisci for Givenchy which split global fashion opinions.
It was the guests who embraced the theme that got our attention though. Miley Cyrus matched her punkish pixie crop with a fishnet column, while Anne Hathaway swapped her usual preppy style for a bleached crop and shredded dress by Valentino. Extra fashion points also go to Cara Delevigne and Sienna Miller's twin studded Burberry outfits – the latter's combination of slinky silk gown topped with a punky cropped spiked leather jacket by Burberry had the perfect balance of chic and edgy. Lessons learned from this Met Gala? Subversive style is a hit!
5. 2008: Superheroes: Fashion and Fantasy
In the introductory notes to 2008's exhibition book, Giorgio Armani said 'The power of fashion, like the power of the superhero, lies in its ability to transcend the humdrum and commonplace'. With social media increasing the attention on guests' outfits, many of the celebrity guests and designers decided to embrace the theme wholeheartedly.
Victoria Beckham looked every inch the glamorous supervillain in a high-collared lace Giorgio Armani gown with a shaven-headed David on her arm as the ultimate henchman accessory. Christina Ricci's outfit by Riccardo Tisci for Givenchy reimagined Wonder Woman's iconic red bodice, layered with soft pink sheer chiffon for an evening-appropriate take while Amber Valleta's gold lamé Versace gown took inspiration from many a superhero's outfit with a stunning structural cape detail. Kate Bosworth's take on the theme was a clever tribute to the colorful comic books that derived superheroes with a bold and bright sequin midi dress from Chanel for the event.
6. 2006: Anglomania: Tradition and Transgression in Fashion
Through the lens of fashion, 2006's Met Gala theme examined aspects of English culture - sport, class, royalty and, of course, eccentricity being key facets. The exhibition itself featured fashion from throughout Europe from the 18th century onwards that had been influenced by British culture as well as creations from contemporary British designer brands including Christopher Bailey (then at Burberry), Stella McCartney and Vivienne Westwood.
This was one of the first years where the exhibition theme was notably interpreted by attendees when it came to their outfits for the evening. Sarah Jessica Parker arriving on the arm of Alexander McQueen in a tartan look while Sienna Miller channeled 1960s style in a glittering gold shift by Burberry, complete with beatnik eyeliner. However, it was Emmy Rossum's custom Ralph Lauren gown and 18th century Duke of Wellington inspired military jacket that was perhaps the most iconic combination on the night. Designer Diane Von Furstenberg chose a quirky Union Jack column dress, while Naomi Campbell wore a stunning cream dress with caped shoulders and intricate floral detailing by British clothing brand Alexander McQueen.
7. 2016: Manus x Machina: Fashion in an Age of Technology
With a focus on the reconciliation of handmade vs machine-made garments in the creation of haute couture and Avant Garde, 2016's Met Gala theme was one that allowed for serious creativity when it came to outfits with outlandish ensembles the order of the day. From light up gowns to latex frocks and Robocop-inspired, armor-like outfits, this was a red carpet to remember.
Olivier Rousteig's Balmain babes including Jourdan Dunn, Joan Smalls, Alessandra Ambrosio and the Kardashian-Jenner clan, who all swapped silky gowns for structured, architectural numbers in sequins and metallic hues as a nod to the machine element of the evening's theme.
Co-chair Taylor Swift opted for an edgy new look, substituting typical full length frocks for a metallic tiered mini dress by Louis Vuitton, while Beyonce opted for a stunning crystal studded latex dress with puffed sleeve detail. However, it was Homeland star Claire Danes who stole the show with her custom Zac Posen gown. The full skirted princess gown became the most talked about look of the night when the lights were dimmed and fibre optics woven into the dress came to life, creating a magical-yet-futuristic red carpet look. Model Karolina Kurkova also wore a light-up gown - her Marchesa custom dress featured a collaboration with IBM Watson, with the floral design lighting up in response to tweets about the Met Gala. This really was fashion that was all about the future.
8. 2021: In America: A Lexicon of Fashion
The first Met Gala post-Covid pandemic cancellation was always going to be a dramatic one. With Black Lives Matter protestors outside, a controversial vaccine mandate and after a year of lockdown, the perfect storm of events created a politically charged atmosphere for what is often regarded by many as a fluffy event.
2021's Met Gala theme of In America: A Lexicon of Fashion focussed on American independence, curator of the institute, Andrew Bolton told Vogue that "The emphasis on conscious creativity was really consolidated during the pandemic and the social justice movements… And I've been really impressed by American designers' responses to the social and political climate, particularly around issues of body inclusivity and gender fluidity, and I'm just finding their work very, very self-reflective."
Co-chair Billie Eilish ditched her usual oversized somewhat androgynous silhouette for a look that paid tribute to an American icon, Marylin Monroe. The singer chose an off-the-shoulder nude tulle gown by Oscar de la Renta, styling her bleached hair in set curls and a bright red lip reminiscent of Monroe's signature style.
While Lady Gaga might've wowed with her four costume changes at the 2018 Met Gala, 2021 saw rapper Lil Nas X use the famed steps of the institute to stage an outfit transformation or two with the help of Italian fashion house Versace. The singer arrived in a beaded high-collar golden velvet cape with dramatic shoulders before casting it off to reveal a futuristic gold armor-like suit underneath. Removing the gold armor look, that spawned commentary comparing the outfit to C3PO, Lil Nas X revealed his final look, a glittering fitted jumpsuit with elaborate patterned detail snaking down the sides and arms.
It wouldn't be an American theme without at least one nod to denim brands and actress Lupita Nyong'o made sure to tick that true blue box in a ballgown made of the hard-wearing fabric. Designed by Versace, the fitted strapless bodice gave way to a ruffled train and the star completed her look with a twinkling diamond jewelry from De Beers.
Speaking of twinkling diamonds, Kendall Jenner's sparkling dress by Matthew Williams for Givenchy was one of her finest Met Gala outfits yet - the model and reality star wore a sheer crystal-embellished gown with jeweled neckpiece and epaulettes as a homage to the fashion house's most famous muse, Audrey Hepburn and a dress she wore in the 1964 film, My Fair Lady.
With both global and national politics a firm talking point, it was Congresswomen Alexandria Ocasio-Cortez wearing a custom gown designed by Aurora James of Brother Vellies that made a red carpet statement - but not for the reasons you might necessarily associate with the Met Gala. From the front, the politician's crisp white gown looked like a timeless style worthy of the event but when AOC ascended the steps of the Costume Institute, the message 'tax the rich' was splashed across the back of her dress, adding her to the list of Met Gala outfits that made a bold political statement.
9. 1995: Haute Couture
As the inaugural year of Anna Wintour's takeover, 1995 was naturally a landmark year for the Met Gala. With a somewhat vague theme of Haute Couture, the event was co-chaired by Karl Lagerfeld and Gianni Versace, meaning that the red carpet was naturally a sea of stylish eveningwear. Attended by every major supermodel, 1995 was key in the history of the Met Gala, marking a turning point for what would become the most sought-after invite in the fashion world.
Each supermodel chose a frock by the designer who they were currently the face of - Brit Kate Moss appeared in a sorbet yellow Calvin Klein spaghetti strap dress while German supermodel Claudia Schiffer opted for a classic black column dress decorated with a single signature camellia flower from Karl Lagerfeld for Chanel. Elle Macpherson's fishtail couture gown by Valentino was naturally in the designer's signature shade of red but it was Naomi Campbell's glittering Versace dress that was a standout style of the evening.
10. 1997: Gianni Versace
Originally planned as a retrospective of the designer's work, Gianni Versace was tragically murdered on the steps of his Miami mansion five months before the exhibition took place - turning the evening into a memorial for the Italian-born designer.
Mourning gave way to a party atmosphere with attendees including Madonna, Naomi Campbell and Cher as well as the designer's sister Donatella Versace choosing to celebrate the designer's life, with many of the guests naturally wearing outfits from his eponymous fashion house, Versace. The occasion became a landmark Met Gala year as it was officially named Party of the Year by gossip columnists, cementing its status as the must-attend event for future fashion calendars.
WHAT IS THE MET GALA 2023 THEME?
This year's Met Gala theme honours famed designer Karl Lagerfeld who passed away in 2019. A somewhat controversial figure for his views on subjects including women's sizing, fake fur and track pants, his musings have led to some of the most memorable fashion quotes. As the former head of several fashion houses including Fendi, Chanel and of course his own eponymous label, there are a variety of ways that Met Gala guests will be able to pay tribute to the designer with their chosen outfit.
Is the Met Gala an annual event?
The Met Gala is an annual event, although the event has been cancelled three time since 2000. Sadly, the Met Gala was hit with two years of cancellations in 2000 and 2002. These were due to the death of Richard Martin, the chief curator of the Costume Institute and the 9/11 terrorist attacks, respectively. Returning in 2003 with the theme of Goddess: The Classical Mode, many of the stylish attendees swapped their best cocktail dresses for chic cream and white columns to echo the exhibitions themes of classical dress and timeless style.
In 2020, like many events that year, the Met Gala was cancelled due to the Covid-19. However the Met Gala returned in 2021 and has run since then.
Antonia Kraskowski is a freelance fashion editor with over 15 years of experience in the industry.
Having started her career at Conde Nast working for titles including Easy Living, Glamour and Vogue New Markets, Antonia went on to work in the fast-paced world of newspapers and weekly magazines, becoming Fashion Editor at Express Newspapers and Magazines in 2014, a role she held for five years before going freelance.
Her career has seen Antonia travel the world, shooting in 18 countries and styling campaigns for brands ranging from Ben Sherman and DKNY to Wallis.