International Women's Day: shop with a cause with these brands' charitable initiatives
To honor this global holiday, we've created a curation that reframes shopping as an effective vehicle for systemic change.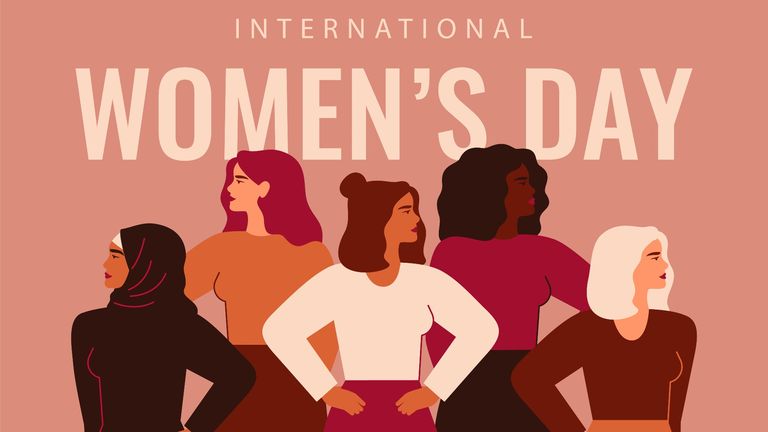 (Image credit: Getty Images)
Celebrated annually on March 8th, International Women's Day aims to advance a mission of equality and lionize the social, economic, political, and cultural advancements made by women, for women. In an ever-evolving market, the global celebration has emboldened shoppers to support brands, retailers, and companies that give back.
A major focal point of the women's rights movement, International Women's Day (IWD) marks the occasion to honor women and their contributions in the name of gender equality. Among the many ways to support the cause, you can shop brands that use their platforms for advocacy, amplifying marginalized voices, and promoting philanthropic initiatives.
From charitable collaborations to female-led companies, we've rounded up the best places to back with your hard-earned cash. Be it second-skin leggings, emblazoned totes, or best jeans, we underscore on-trend garbs that'll rectify any stale closet.
Note: Not all of the brands mentioned below are women-owned, such as Ugg. Nonetheless, they've implemented ethics-driven initiatives and partnerships that support this important mission of equality.
Where to shop this International Women's Day
1. Kate Spade
Kate Spade empowers women through the Kate Spade & Company foundation. This initiative aims to help women in New York find a trade that will enable them to support themselves, their families, and their communities at large. Through a network of grantees, the playful-chic brand achieves this mission by providing business support, legal and financial assistance, employment in the STEM field, and opportunities for aspiring creatives. Grants have helped a slew of organizations, including Girls Who Code, among others.
Kate Spade also spearheads an offshoot label named On Purpose, which employs women worldwide through their own supply chain. The brand's employees work out of Abahizi Rwanda, a local handbag manufacturer that offers competitive wages, health benefits, and socioeconomic mobility and security.
2. Sweaty Betty
The women's activewear retailer just launched the Sweaty Betty Foundation, which aims to empower women and democratize fitness. To further this charitable initiative, the foundation plans to partner with like-minded organizations with the hopes of making a community-wide impact. The first partners are Women in Sport and Youth Sport Trust, both of which inspire women, girls, and teens to embrace physical activity as a catalyst for greater societal change.
In honor of the foundation launch, Sweaty Betty has developed a limited-edition collection that features many best-sellers, like the Power High Waist Leggings, adorned in the words 'empower' and 'women.' The company is donating 100% of profits for each purchase to the foundation.

• Shop Sweaty Betty's Limited Edition Collection: Power High Waisted Leggings
3. Ugg
Since 2016, UGG has partnered with HERproject to educate women in the workplace, from the boardroom to the factory floor. At their core, HERproject connects brands with global suppliers and local NGOs to "unlock the full potential of women" and drive company-based interventions on "health, financial inclusion, and gender equality." Over the course of five years, the collaborative duo has trained over 33,000 women, with the goal of 100,000 by 2027.
In honor of International Women's Day, the brand will continue its #POWEREDBYHER campaign that chronicles the narratives of women who inspire. This year, UGG has featured leaders, including award-winning journalist Liz Plank among others.
• Shop UGG's Fluff Yeah Slide, a style made through the HERproject partnership
4. Universal Standard
In an elitist industry that promotes the thin ideal and male gaze, Universal Standard is a purveyor of accessible fashion. The brand touts a body-inclusive product roster, with an exhaustive 00-40 size range. More notably, Universal Standard offers an unprecedented shopping policy called Universal Fit Liberty. In an effort to reduce shopping anxiety, this program enables customers to exchange pieces from the brand's core collection — if their size fluctuates within a year of purchase.
From the program, the brand donates all gently-worn, returned clothing to charities, including Dress for Success: a non-profit organization that helps women achieve financial independence and agency.
• Shop Universal Standard's Seine Mid Rise Skinny Jeans
5. The Tote Project
Founded in 2013, The Tote Project offers fair trade, organic tote bags and pouches sewn by human trafficking survivors. This company empowers survivors and those at risk to pursue their dream jobs, serving as a viable and supportive launchpad. Since its inception, The Tote Project has provided aid by way of monetary donations, education, and even free art classes to promote healing and hope. All products are ethically manufactured, with no slavery or exploitation involved in the supply chain.
For context, the term "fair trade" simply describes when employees in developing countries are paid fair and equitable prices for their work by companies in developed countries.
• Shop The Tote Project's Free To Inspire Tote
6. Mejuri
From the brand that introduced us to everyday luxe jewelry, the Mejuri Empowerment Fund supports higher education for women and non-binary people, with an extraordinary goal of empowering the next generation of leaders. Since the fund was announced in June 2020, Mejuri has partnered with the UNCF (United Negro College Fund and BPPA (Black Business Professional Association) in Canada, awarding scholarships to 20 Black women and Black non-binary recipients among hundreds of applicants.
For International Women's Day, CEO and co-founder Noura Sakkijha recently unveiled the Golden Together Campaign, an initiative that celebrates female entrepreneurship, tenacity, and drive. As part of the campaign, the brand rolled out "Golden Moments," a seven-part interview series highlighting women who are notably regarded as barrier-breakers and industry-disruptors.
• Shop Mejuri's Golden Crew Sweatshirt
7. The Little Market
Co-founded by Lauren Conrad, The Little Market is a nonprofit fair trade shop that works with artisan groups and social enterprises in underserved communities to source ethical gifts, accessories, and home décor. The sustainable hub not only brings a unique shopping experience with one-of-a-kind pieces, but also instills socioeconomic agency, security, and opportunity.
• Shop The Little Market Changemaker Mask
8. Wild Fang
As a cool destination for "badass women everywhere," the gender-neutral brand curates high-quality apparel, from casual basics to feminist accessories. Wild Fang has donated over $500K USD to select charities and organizations that advocate for reproductive, immigrant and queer rights (over 40 different non-profits to be exact). These non-profits include Girls Inc., She Should Run, and Black Girls Code, and many, many more.
• Shop Wild Fang's The Essential Coverall
9. Thinx Underwear
A pioneer in period panties, Thinx underwear absorbs blood through four layers of protection to trap odor, prevent leakage, and keep you dry. Beyond product innovation, the brand spearheads the Give Rise program, designed to end period poverty in favor of menstrual equity and open dialogue on reproductive health.
The company has launched numerous initiatives, one being The EveryBody education program: a curriculum designed by certified teachers and health experts. The EveryBody education program arms young students with accurate knowledge about their changing bodies in a safe, inclusive space that fosters conversation.
• Shop The Thinx Hiphugger Period Underwear
10. Harper Wilde
Harper Wilde is a refreshing character foil in the world of intimates, one that is chiefly known for over-sexualized marketing and messaging. In contrast, the brand aims to empower, educate, and inspire women, starting with an accessible price and size range.
A leader in curating best bras, Harper Wilde extends this mission through its "Lift The Ladies" program, aiming to dismantle social, economic, and education barriers through monetary support. The brand donates 1% of proceeds from sales to Girls Inc. and has developed limited-edition bras in collaboration with cause-driven, philanthropic organizations.
• Shop Harper Wilde's Limited-Edition The Bliss: Marianna Bra
Dominique (Dom) is a very online shopping writer at Woman & Home, where she covers products, sales/deals, and market news across categories. Before joining the team, she penned stories as an editorial fellow at Insider Reviews, the affiliate commerce team at Insider Inc./Business Insider. The bespectacled NJ transplant specializes in commerce journalism, women's lifestyle content, and hoarding makeup—much to her mother's dismay.
Her foray into storytelling began in the early aughts, the era in which she developed a passion for fiction writing and an aversion to math. This passion, along with many failed math exams, led her to Marist College, where she studied public relations, creative advertising, and English.
Aside from writing, she doodles in notebooks, crafts memes, and sleuths for homes out of her tax bracket on Zillow. Follow her adventures via the web:
Instagram: @dominiquemcintee / @drugstoredomi
LinkedIn: https://www.linkedin.com/in/dominique-mcintee-3a32ab9a/
To connect: dominique.mcintee@futurenet.com