International Women's Day: Shop with a cause with these brands that give back to women
Our International Women's Day shopping edit features female-centric brands that deserve your hard-earned cash.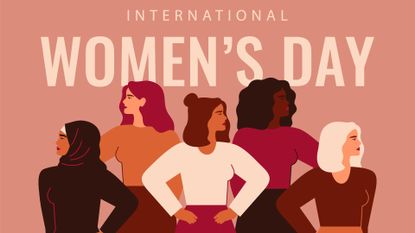 (Image credit: Getty Images)
Celebrated annually on March 8th, International Women's Day aims to advance a mission of equality and lionize the social, economic, political, and cultural advancements made by women, for women. In an ever-evolving market, the global celebration has emboldened shoppers to support brands, retailers, and companies that give back.
A major focal point of the women's rights movement, International Women's Day (IWD) honors women and their contributions. Among the many ways to support the cause, you can shop brands that use their platforms for advocacy, amplifying marginalized voices, and promoting philanthropic initiatives.
From charitable collaborations to female-led companies, we've rounded up the best places to back with your hard-earned cash. Be it the best bras, emblazoned totes, or best jeans, we identify the best on-trend garbs that'll refresh any stale closet.
Note: Not all of the brands mentioned below are women-owned, such as Ugg. Nonetheless, they've implemented ethics-driven initiatives and partnerships that support this important mission of equality.
Where to shop this International Women's Day
1. The White Company
The White Company is our pitstop for the best pajamas and some of the warmest leggings, but we're also huge fans of the brand's affordable and luxurious home pieces. Their candles are some of the best out there, excellent for gifting and self-gifting for when you really want to unwind.
For International Women's Day, The White Company is supporting the #ChangeAGirlsLife campaign in aid of Women Supporting Women at The Prince's Trust. Between 2nd–8th March, they'll donate £5 from every candle sold to the campaign. The funds raised will go towards helping disadvantaged and vulnerable young women in the UK who have faced a complex set of barriers—issues such as domestic violence, long-term unemployment, bullying, the challenges of single parenthood, homelessness, or simply a lack of emotional support at home.
But it isn't just a once-a-year initiative. The brand's 'Tiny Kiss Necklace' is retailed all year and £20 from each sale is also donated to the cause.
2. Kate Spade
Kate Spade empowers women through the Kate Spade Social Impact Initiatives. Their goal is simple, they're "committing to provide 100,000 women and girls with empowerment and mental health support by 2025." As part of this mission, they have created a social impact council that includes actors, charity leads, and empowered women that stretch from the UK to the USA, Rwanda, and New Zealand.
The brand has a range of social impact initiatives that they support, including Crisis Text Line, Born This Way Foundation, Find Your Anchor and Black Girls Smile to name just a few.
Kate Spade products have always made us smile with their quirky prints but knowing the impact the brand has on others gives us even more reasons to invest.

• Shop Kate Spade, from $37 / £25
3. Sweaty Betty
The Sweaty Betty Foundation aims to empower women and democratize fitness through a range of projects. A relatively new initiative (it launched in 2021), their aim is to engage young women in sports and get them moving. Recognizing that globally only 15% of teenage girls are doing enough physical activity, largely due to confidence and hormonal changes in teenage years, the foundation will work with girls online, in school and in their communities.
For International Women's Day, if you buy a sports bra from the brand by March 9th, Sweaty Betty will donate one to their foundation. By treating yourself to some new kit, you can also help help empower a teenage girl to get active.

• Shop Sweaty Betty's Ultra Running Bra, $68 / £55
4. Ugg
Since 2016, UGG has partnered with HERproject to educate women in the workplace, from the boardroom to the factory floor. At its core, HERproject connects brands with global suppliers and local NGOs to "unlock the full potential of women" and drive company-based interventions on "health, financial inclusion, and gender equality." Over the course of five years, the collaboration has trained over 33,000 women, with the goal of 100,000 by 2027.
In honor of International Women's Day, the brand will continue its #POWEREDBYHER campaign that chronicles the narratives of women who inspire. This year, UGG has featured leaders, including actress, activist, model, speaker and writer, Corey Rae and activist and writer Raquel Willis.
The brand has chosen its iconic purple fluffy slide as the shoe for the campaign—one of the best slippers in our opinion—and $25 from every pair sold until March (up to a final donation of $25,000) will be donated to Planned Parenthood SE Advocates.
• Shop UGG's Fluff Yeah Slide, $100 / £100
5. Universal Standard
One of the best plus size clothing brands, Universal Standard touts a body-inclusive product roster, with an exhaustive 00-40 size range. More notably, Universal Standard offers a trailblazing shopping policy called Universal Fit Liberty. In an effort to reduce shopping anxiety, this program enables customers to exchange pieces from the brand's core collection if their size fluctuates within a year of purchase.
From the program, the brand donates all gently-worn, returned clothing to charities, including Dress for Success: a non-profit organization that helps women achieve financial independence and agency.
• Shop Universal Standard's Seine Mid Rise Skinny Jeans, $98 (international shipping available)
6. The Tote Project
Founded in 2013, The Tote Project sells fair trade, organic tote bags and pouches sewn by human trafficking survivors. The company empowers survivors and those at risk to pursue their dream jobs, serving as a viable and supportive launchpad. Since its inception, the project has provided aid by way of monetary donations, education, and even free art classes to promote healing and hope. All products are ethically manufactured, with no slavery or exploitation involved in the supply chain. So you can shop for the best tote bags and give something back at the same time.
For context, the term "fair trade" simply describes when employees in developing countries are paid fair and equitable prices for their work by companies in developed countries.
• Shop The Tote Project's Free To Inspire Tote, $32.50
7. Mejuri
From the brand that introduced us to everyday luxe jewelry, the Mejuri Empowerment Fund supports higher education for women and non-binary people, with an extraordinary goal of empowering the next generation of leaders. Since the fund was announced in June 2020, Mejuri has partnered with the UNCF (United Negro College Fund and BPPA (Black Business Professional Association) in Canada, awarding scholarships to 20 Black women and Black non-binary recipients among hundreds of applicants.
For International Women's Day, the brand has launched a special collaboration collection with style icon Jenna Lyons. Comprising of three new pieces that 'symbolize autonomy, strength and individuality', Jenna's collection is showcased alongside the stories of four boundary-breaking women—Jenna Lyons, Noor Tagouri (award-winning journalist), Allyson Felix (most decorated U.S. Track & Field Olympic athlete) and Tommy Dorfman (storyteller).
The three-piece collection is on sale now, comprising of two rings and a chain. $5 from every sale will be donated to the Mejuri Empowerment Fund.
• Shop Jenna Lyons x Mejuri collection, from $163 / £125
8. The Little Market
Co-founded by Lauren Conrad, The Little Market is a nonprofit fair trade shop that works with artisan groups and social enterprises in underserved communities to source ethical gifts, accessories, and home décor. The sustainable hub not only brings a unique shopping experience with one-of-a-kind pieces, but also aims to instill socioeconomic agency, security, and opportunity.
• Shop The Little Market Empower Women Tote, $26 (international shipping available)
9. Wild Fang
As a cool destination for "badass women everywhere," this gender-neutral brand curates high-quality apparel, from casual basics to feminist accessories. Since launching, Wild Fang has donated over $650K USD to select charities and organizations that advocate for reproductive, immigrant and queer rights (over 40 different non-profits to be exact). These non-profits include Girls Inc., She Should Run, Black Girls Code, and many, many more.
• Shop Wild Fang's The Essential Coverall, $188 (international shipping available)
10. Thinx Underwear
A pioneer in period panties, Thinx underwear absorbs blood through four layers of protection to trap odor, prevent leakage, and keep you dry. Beyond product innovation, the brand spearheads the Give Rise program, designed to end period poverty in favor of menstrual equity and open dialogue on reproductive health.
The company has launched numerous initiatives, one being The EveryBody education program: a curriculum designed by certified teachers and health experts. The EveryBody education program arms young students with accurate knowledge about their changing bodies in a safe, inclusive space that fosters conversation.
• Shop The Thinx Hiphugger Period Underwear from $34 / £14.99
11. Harper Wilde
In contrast to much of the industry's over-sexualised marketing and messaging, this intimates brand aims to empower, educate, and inspire women, starting with an accessible price and size range.
A leader in curating the best bras, Harper Wilde extends this mission through its "Lift The Ladies" program, aiming to dismantle social, economic, and education barriers through monetary support. The brand donates 1% of proceeds from sales to Girls Inc. making this truly a brand that lifts the ladies up.
Dominique worked as a shopping writer at Woman & Home and while with the brand she covered products, sales and deals, and market news across categories. Before joining the team, she penned stories as an editorial fellow at Insider Reviews, the affiliate commerce team at Insider Inc./Business Insider. The bespectacled NJ transplant specializes in commerce journalism, women's lifestyle content, and hoarding makeup—much to her mother's dismay.