Cyber Monday Barbour deals: The Crown's real stars this season are the Barbour jackets – and they're on sale right now
Don't miss these Cyber Monday Barbour deals...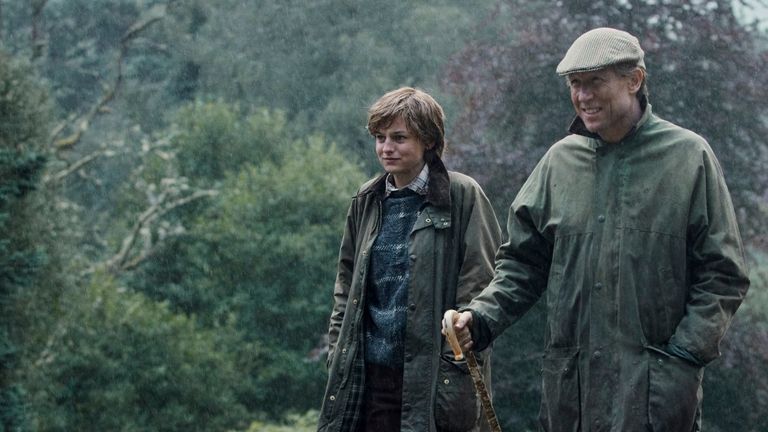 (Image credit: Netflix)
Two of our favourite things have arrived in the past two weeks: The Crown and Black Friday and Cyber Monday deals. And you can now get the royal look for less thanks to the Cyber Monday Barbour sale...
With the hit Netflix series back for its fourth season, we've enjoyed all the royal action and, as always, have particularly loved the outfits - especially the outerwear during the scenes at Balmoral.
UK Black Friday and Cyber Monday Barbour deals - quick links:
US Barbour Black Friday and Cyber Monday deals - quick links:
The best part is that you can find very similar looks in the Black Friday sales, with discounts on Barbour jackets similar to those worn by Emma Corrin as Princess Diana, Josh O'Connor as Prince Charles, Olivia Colman as Queen Elizabeth and Erin Doherty as Princess Anne.
There's never been a better time to invest in outerwear either, as with coronavirus restrictions in place we are getting out and about more to socialise with others. So a warm winter coat is a wardrobe essential this winter.
Barbour's iconic wax cotton jacket has long been a favourite with outdoor dwellers, due to its versatile and stylish qualities. Not only does it help protect against the elements but it looks great on the body and comes in a number of different styles - depending on personal taste.
So whether you prefer a relaxed fit or a quilted variety, there's something for everyone. And with the Black Friday sales in full swing, you can now snap up these brilliant pieces at significant discounts.
Who has the best Cyber Monday Barbour deals?
Barbour itself are offering up to 30% off selected styles so heading to their official website is a good place to start.
House of Fraser also have up to 30% off coats and jackets, with a few Barbour numbers thrown in there.
And John Lewis have up to 20% off, including the traditional wax jackets and a quilted jacket that's a dead ringer for the one Olivia Colman wears in Netflix's The Crown.
To give you a head start, we've picked out our favourite Barbour deals below. Happy shopping!
The best UK Black Friday and Cyber Monday Barbour deals to shop now
The best US Black Friday and Cyber Monday Barbour deals to shop now
The history of royals and Barbour jackets...
The Crown doesn't lie - Barbour is a brand that's been loved by the royal family for many years. In fact, Queen Elizabeth II is thought to have owned her beloved Barbour jacket for more than 25 years.
During an appearance on BBC's Woman's Hour in 2017, Dame Margaret Barbour revealed that The Queen had asked for her jacket's coating to be 're-waxed' in 2012 - around the time of her Diamond Jubilee. Who knew Her Majesty was so thrifty with her wardrobe?!
But the waxed jackets are a popular choice amongst other royals, too, with Princess Anne and the Duchess of Cambridge owning several different varieties.
If The Crown has inspired you to invest in a Barbour jacket, we don't blame you!
Just make sure you're quick - there's no knowing how long these fantastic deals will be around for.