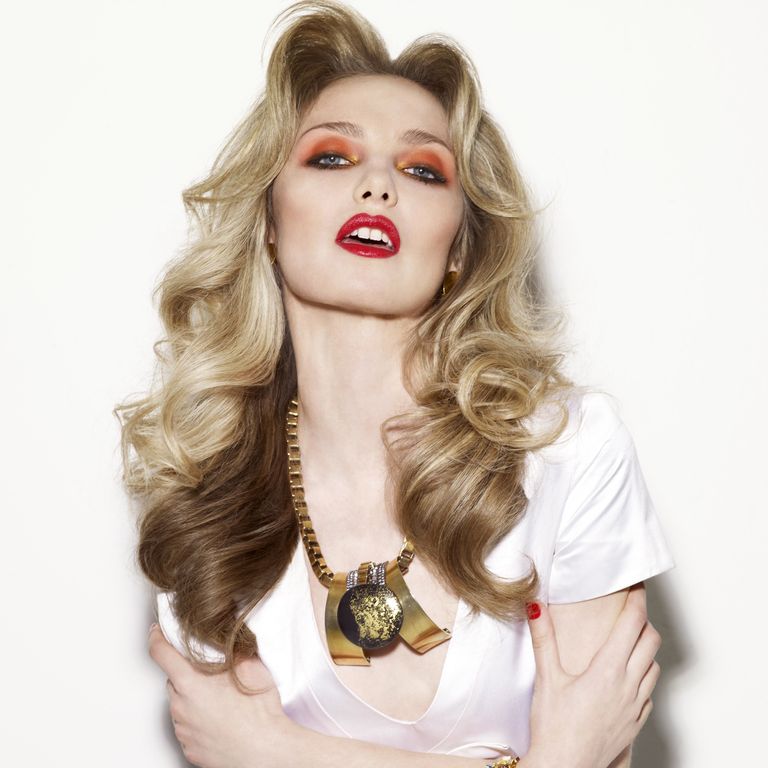 Vamp up your hairstyle with our favourite party looks
From office events and festive celebrations to cocktail parties and fancy dinners, it can be hard to keep up with the many special occasions happening throughout the year. And while we're busy worrying about what to wear and planning the perfect menu, it's easy to forget that parties are supposed to be fun! But the one thing you can do to take the stress out of getting ready for another party is to ensure that your hair looks perfectly flawless. It can be tempting to rely on your favourite updo, or a simple blow-dry, but why not make your event extra special with one of these party hairstyles?
Our hairstyle experts are here to help you achieve whatever party hairstyle you choose, whether it's an elaborate updo hairstyle or an old Hollywood-inspired curly hairstyle. With these gorgeous dos, you can steal the show wherever you are.
But a party hairstyle doesn't have to be a complicated affair. From loose waves to a side parting, the right look for a special occasion can be achieved in just minutes with a little know-how.
Of course, if you are looking for a real showstopper then we?ve got the perfect hairstyles to look exceptionally chic and glamorous. While the more elaborate hairstyles take a little bit longer - and a lot more product - to achieve, they're worth it for the ultimate wow factor. And there?s no need to labour over complicated looks yourself, simply bring a photo of your chosen style to your favourite salon and they can create your party look for you. Whatever the occasion and whatever your hair length and texture, get inspired with these hairstyles for your next event.
So follow our expert hairstyle tips and browse our favourite party hairstyles to see you through every festive occasion this year...
Discover more beautiful hairstyles here
Add secret volume
?To create natural volume, tip your head to one side and spray from the inside in an upwards motion to create added height,? says red carpet ambassador for Charles Worthington Ken O?Rourke. Time Bomb High Profile Thicken + Lift Spray acts like a filler for your hair and is your new blow-dry bestie. Buy Time Bomb High Profile Thicken + Lift Spray for £16.50 at Victoriahealth.com
Flip it up
?Changing your parting makes a big difference,? says Ken O?Rourke, ?Simply move hair into a diagonal- shaped parting to create instant volume for a special occasion?
Do a DIY blow dry
?Use a professional hairdryer, which gets hair dry in no time without burning it, and style with a natural bristle brush,? says hairstylist Peter Lux, adding, ?Don?t rinse hair with hot water. Go for lukewarm to cool ? it?s better for the hair and scalp.? Ican?t blow-dry without BaByliss Diamond Big Hair Dual Air Styler? says w&h?s Jo GB. ?It gives me a pro blow-dry every single time without fail.? Buy BaByliss Diamond Big Hair Dual Air Styler for £49.99 at Amazon.co.uk
Modern chignon hairstyle
There's a reason this updo is a classic - it's flattering, adaptable to any hair type and no trouble at all to create at home. Kerastase ambassador James Galvin shows you how.
1."Prep hair with Kerastase Spray A Porter,£21, this will give it texture and manageability, making it easier to style and more secure when you have pinned it into place.
2. As you are brushing it back into a ponytail, gently twist until the hair wants to turn back on itself and starts to create a chignon shape.
3.Hold the two sides of hair together, fasten with bobby pins then wrap the pieces around each other and pin into place at the bottom of your neck. Finish with strong hairspray."
Grown up braids hairstyle
Braids are here to stay, and everyone should try them once! Here's a fun but sophisticated style for parties.
"Part hair in the centre, then start on one side by braiding hair from the front, right around to the back." says celeb hairdresser Neil Moodie. "Using a few small pins, secure the braid as you work around the head to the nape of the neck. It's a good idea to get the two braids to meet in the middle at the nape and join them together with more pins and grips."
The fifty-fifty hairstyle
"Half-up, half-down with body at the crown is a simple and elegant way to style an updo on shorter hair," suggests James Galvin.
1. Start with dry hair, shake a volumising powder onto roots and tease with your fingers. "this will create texture, lift and fullness," says James.
2. "Leave inch-wide sections by the side of your ears, take the remaining part of the top part of the hair and secure with some grips in the middle of the crown, allowing for some height at the top.
3. "Take each section by the side of the ear and twist so they meet at the middle of the back of the head. Secure with clips or a cute metal barette."
Red Wavy Long Hairstyle
For relaxed glamour that looks effortless, create soft waves using a wide barrel curling wand. Hold sections of the hair around the wand for five seconds, releasing and spritzing with hairspray once cool.
Beehive hairstyle
An easy way to dress your hair up for an evening out is to try this half-up hairstyle. So simple to create, just pull the top sections around to the crown, securing with bobby pins or a small bulldog clip around the back of the head. Tease the top up and out, leaving some of the front section of the hiar loose, to soften your face. Hair by Headmasters
Modern French twist hairstyle
Style up a French twist with this fresh take on the classic hairstyle. Divide the hair into two sections, keeping the top section brushed back towards the crown. Twist the two sides up and bring together into a bun at the top of the head. Secure with bobby pins and a good dose of hairspray. Hair by Karine Jackson using Organic Colour Systems
Sleek side-swept hairstyle
Ultra glam and feminine, this sleek side-swept hair will suit everyone. Make sure you blow dry your locks on a low setting and finish with a blast of cold air to add shine. Hair by Karine Jackson using Organic Colour Systems
Big curls hairstyle
Vamp up your hair for an evening event with this luxe-looking hairstyle. Use heated rollers to help set the curls, then use a volumising spray to lift the hair at the roots. Finish with a firm hold hairspray to keep your style in place. Hair by Christopher Appleton
Beehive hairstyle
Look back to the 60s for this fun beehive hairstyle. Simply brush the front top section of the hair back and push forward to create a lift - going as high as you dare. Curling the loose ends will add a soft, feminine touch to the style. Hair by Neil Atkinson at Mahogany Hairdressing
Demure updo hairstyle
Are you looking for a new take on elegant buns for evening? This new updo is just as chic, but totally fresh. Sweep the hair over to one side and, leaving the front section loose, pull the back into a neat side bun. Finish by combing the front section across the forehead and secure loosely to the bun with kirby grips. Hair by Katie Mulcahy
Short bobbed hairstyle
Draw attention to your best features with a clean cut bob. An icy blonde hue will also help to add radiance to brown eyes and an English Rose complexion. Hair by Mark Leeson Click here to see other bob hairstyles.
Bun updo hairstyle
Keep your evening look youthful with a messy up-do. This is so easy to create - it can be done in minutes - but looks fabulous for any occasion. Run a little Paul Mitchell Sculpting Foam through wet hair and leave to dry naturally. Then, create soft curls with tongs, loosening them as you go to avoid ringlets and simply gather your hair to one side and pin roughly.
Up Do Hairstyle
If you struggle to create a high-drama updo on evenings out, opt for something simple and unstructured. This look is easy to do at home: Part the hair on the side and sweep up to the crown of the head in sections, pinning each one as you go. Leave the ends loose and natural on the top of the head in an un-done bun. Hair by Michael Barnes
Mid length hairstyle with side parting
Softer than a regular pony, sweeping your hair to the side and tying at the base of your neck will flatter any face shape. Add some loose curls to the ends to dress up your locks for evening. Hair by Rae Palmer
Short Hairstyle with fringe
Looking for a party hairstyle with a difference? Look back to the 70s for some seriously sexy short styles. We love this bobbed 'do - with its soft side-swept fringe and flattering flicks, this is one blow-dry that will see you through all of your special occasions this year. Hair by Rush Hair
Mid length curly Hairstyle
Go glam this Christmas with this modern take on old Hollywood curls. So simple to achieve, just use heated rollers or a curling iron to create big, bouncy curls. Tease out with your fingers once cooled and hold in place with a good dose of hairspray. Hair by Hooker & Young
Long curly hairstyle with side parting
Forget stiff finger curls and ringlets: The new way to wear your hair curly is in loose, touchable waves. The hair is still curled with a heated tong, but rather than leaving to cool before gently teasing, brush out your locks before fixing with a spritz of hairspray for definition.
Long curly hairstyle
Create soft, romantic waves for your next event. The ultimate glamorous hairstyle, 40s finger waves are easier to create than you may think. These curls are set with a one inch curling barrel, and teased out lightly to give a softer, more natural look. Set with hairspray to finish. Hair by Ken Picton
Short bobbed hairstyle with fringe
Create high drama and high volume with a retro - but on trend - 70s 'do. To get the look, simply blow dry the hair under using a round barrel brush. Leave to cool and finish with a good dose of hairspray. Hair by Rainbow Room International
Up do Hairstyle
An updo is the easiest way to make a dramatic change to your look for an evening event - and it doesn't have to be complicated. Secure the hair in a low pony at the nape of the neck and plait the lengths, securing at the bottom with a non-rip band. Wind the plait around the ponytail and secure with bobby pins. Don't worry if it doesn't look perfect - it's all part of the charm.
Up do Hairstyle
For an updo with a difference, move the classic French twist to the side. If this feels to extreme for you, simply create the look near the nape fo the neck, behind the ear for a more grown-up, chic effort. Hair by Rainbow Room International Discover more updo hairstyles