Hair trends 2019: the latest trending hairstyles for stylish women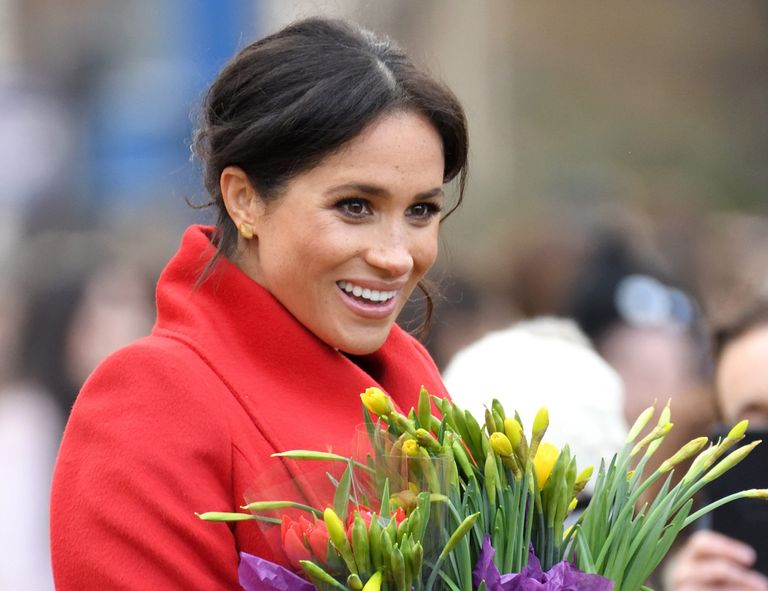 It's easy to get stuck in a rut with your hair cut and colour, so we all need advice from time to time on how to style it up for 2019. And the good news is, the recurring theme is natural, attainable looks that transcend the seasons...
So we've spoken to the best of the best hair experts out there, from natural colour pioneers like Gennaro Dellaquila to top stylist from Lorraine,Jamie Stevens, to work out which cuts and colour will be huge hair trends 2019 - and help you stay looking on trend for the next 12 months with these trending hairstyles.
2018 was a big year for trending hairstyles, with boyish cuts and natural curls taking front and centre. Meghan Markle exemplified the perfectly messy yet put together up 'do, while influencers and bloggers all over the internet were trying out the chic, 'school-girl' ponytail. But this year, it looks like it's all about the natural, effortless looks, with some predictions from the experts. So how will we be styling our locks over the coming months? And what colours should be be experimenting with? Read on to find out the top hair trends 2019 and latest hairstyles.
Top hair trends 2019
-Low maintenance, effortless
The Duchess of Sussex did it first, with her effortless waves and signature messy buns, and it looks like we'll all be following suit with the low maintenance chop this year.
Top hairstylists including Mark Woolley, founder of Electric Hairdressing London, have predicted that "effortless" cuts will be big in 2019. But although they're relaxed, cuts will still need to have that polished, sleek finish, so our locks it doesn't just look plain messy.
He said, "2019 hair will be low maintenance. Smooched-down, wearable wet looks will be a must next season. We have seen this a lot backstage at fashion shows."
Jamie Stevens, resident hairdresser on Lorraine and owner ofJamie Stevens Hair salons in Kensington, Clapham, Ripley and Somerset,agrees that low maintenance hair trends are going to be key this year. But for him, if you really want to drop a decade while updating your hairstyle for 2019, it's all about a natural, grown-out fringe to flatter the face.
Jamie prides himself on being able to tell what will suit each face shape on first glance. "It can be a mistake to go too much with the hair trends, as women look much better when they go for what really suits them individually," he told us.
"I tell my clients that they should embrace the ageing process, rather than opting for an 'older' hairstyle. There are plenty of easy ways to update your hair throughout the decades."
Jamie's number one rule is that hair shouldn't look too 'styled'. "It's much more about creating texture with a natural wave and steering away from over-styled, over-done looks. Cuts should be sustainable and wearable."
To nail this low maintenance look, hair health is very important, says w&h beauty editor, Fiona McKim. So if you haven't already, invest in one of the best hair dryers on the market to keep your hair glossy and smooth.
-Blunt bobs and pixie cuts
Carole Middleton and the Duchess of Cambridge's hairstylist, Richard Ward, revealed that hair trends 2019 will be all about the bob - but you need to be careful how short you have it, depending on your face shape.
The director and co-founder of Richard Ward Salon said, "We're expecting shorter hair with long layers - also known as the Lob - to be one of the new year's biggest hair trends.
"If you're looking to rock this latest hairstyle, consider your face shape when deciding how short to go - it can be totally customised to suit you. And don't rule it out if you've got naturally curly or wavy hair - this style suits almost anyone."
Mark Wooley also explained that a blunt version of the bob will be a hot hair trend too - or, if you're brave enough, a pixie cut. The ultra-short style was big in 2018, and that'll continue into the new year.
He said, "Pixie cuts dominated 2018 and we will see them again in 2019, restoring dull and damaged hair and with a little bit of pomade you can boost volume, so it is ideal for thin hair."
Hair colour trends 2019
-Mushroom blonde
According to Pinterest, there's been a 308% rise in searches for mushroom blonde hair on the site, suggesting that it's going to be one of the most popular colours of the year. So what actually does it look like?
The slightly grey (we now understand the mushroom name), browny blonde colour is certainly chic, giving your hair a sophisticated look that we love. It's a great option if you're feeling a bit nervous about going completely grey with your hair, and could be a good in-between colour to help you adjust.
-Keeping it natural (and minimal) when it comes to colour
Gone are the days when we would sit at the salon, flicking through a magazine with the highlighter cap on, with a heavy-duty bleaching formula lifting our delicate tresses. To maintain healthy hair, it's essential we're gentle with it; from sulphate-free shampoos to natural colouring systems.
GA Salons, led by hairdresser Gennaro Dell'Aquila, are taking the natural colouring game to new heights with their one-ingredient natural colouring system, where organic herbs and flowers such as henna, rhubarb and indigo are blended to make 100% natural pigments that gives the same (if not better!) results.
"Everyone knows about henna," Gennaro told us. "But there are so many other herbs that it can be blended with, to create anything from pale blonde to deep red."
Find out more about natural colouring at GA salons here.
Don't believe herbs and spices can offer the same beautiful, vivid shades as traditional dyes? You can check out how the colours look yourself on the salon's Instagram page.And here's one of our favourite trending hairstyles of 2019...
Natural hair colouring is also obviously much less harsh on the hair, meaning its health and shine will vastly improve after making the switch. We're converts!
Another pioneer for natural colour is celebrity stylist Karine Jackson, who owns a chic salon in West London. Which brings us on to our next point...
-Vegan hair colour and vegan hair products
More than3.5millionof British people now identifyas vegan - and that number is continually rising. Karine started using Organic Colour Systems in 2007 when a client, suffering with a sever illness at the time, told her that she was switching to all-natural hair and beauty products. Karine herself revealed that she's experienced better health since making the switch.
"When I started looking into natural alternatives, the multiple benefits soon became apparent," she told us.Organic Colour Systems is a vegan, UK-based brand with a small carbon footprint that sponsors Greenpeace and bears the PETA logo. And not only are these products better for the environment, they're also kind to your hair, which will do wonders for keeping those shiny soft locks we've mentioned are so on trend this year. Find out more about the Organic Colour Systems treatments available at Karine's salon here.
Vegan everyday haircare is also taking centre stage this year, alongside vegan beauty products. Devoid of foaming agents and sulfates, the gel-like formulas of vegan shampoo create less of a lather, but will still leave hair squeaky clean without stripping locks of their natural oils.
Karine Jackson's salon have devised a brilliantly diverse range of 100% natural vegan haircare products, from cleansing shampoo to heat protecting spray. We particularly love the handy pocket-sized volumising dust, which will help create that super cool and slightly dishevelled tousled look in an instant.
-Copper balayage
As seen below on Jessica Biel, the copper balayage look is the ultimate in laid-back chic. Tracy Hayes, Head of Colour at Fudge Professional explained that although balayage has been popular for some years now, 2019 will see a move into warmer, copper tones, which look more expensive.
She explained, "Balayage is as popular as ever, though we'll see a shift to warmer tones for the remaining winter months as people move away from beachy blonde tones and towards softer, more expensive looking caramel shades.
"This is the joy of having lighter ends, as it's so easy to change the tone to suit the mood and season. Coppers are always fabulous for the winter season, especially as the colour palette of your wardrobe tends to become more dramatic and jewel toned."
Head of GA salons in Notting Hill,Gennaro Dell'Aquila, agrees. His natural hair dyes lend towards warmer, shades and he's citing copper and caramel tones as the hottest shades for brunettes in 2019. Team the look with loose, natural and beach waves for an understated, yet glamorous look.
-Cream soda blondes
And while there will be a nod towards natural brown hair, nature, soft blonde will also be a big deal over the next year.
UK independent hair colour brand Knight & Wilson said that there will be a lean towards more "vanilla, creamy tones", for this hair colour.
They explained, Cream Soda Blondes will play a large role in 2019 blonde bases. Rather than the traditional icy blonde tones, blondes will become more vanilla, creamy and with a dusky touch.
"Cream Soda blondes still retain that cool edge, but unlike silver, soda blondes are not greyed in tone, meaning they give a universal signature blonde finish. "
-Negative space
It might not be a term you've ever heard of before, but prepare to hear lots more about it in the next six months, according to Jack Howard, Schwarzkopf Professional Global BLONDME Ambassador.
Negative space is a new hair colour trend for 2019, and is "either your natural hair colour against pre-lightened pieces, or we create negative space with hair colour - you need contrast to stop colour looking solid, which can look like an ombre or a single process.
"The negative space is as important as the lightness, it's what creates the pop and helps keep the natural softness.
"Visually, it's about making sure that the darker hair or natural hair flows with the lighter pieces. It's lighter around the face and the look has a balance that's pleasing to the eye."
But, you might ask, what is the difference between negative space and balayage? Jack explains, "It should be part of your balayage application - when it's done well your colourist will use the negative space in the hair itself or if you're going from a heavier one-process or old ombre you'll want to recreate that negative space back into your hair to give it that pop, regardless of whether you're blonde, brunette or redhead."
It's apparently perfect for all hair colours, whether you're blonde, brown, or red, the process should give your name a modern, fresh feel.
Jack explained, "It fits perfectly with the push back to a more natural sophisticated feel, the opposite of the heavy colour incarnations and bright blondes."
And things are looking exciting for male hair care, too...
Male grooming looks set to continue developing as an industry in 2019. In the past few decades, the men's grooming industry gone from virtually none existent to a multi-billion-pound business.
And it's not just products that men are investing in. In a study carried out by Clinque For Men in 2018, they found that20% of British men have treated themselves to a grooming treatment in the past year.
If you're looking for gift ideas for the man in your life, Jamie Steven's range, MR. tackles issues like thinning hair, as well as everyday grooming staples. And it's super affordable, too. With prices starting at just £10.