It's been a while (decades!) but brooches have finally shaken off their stuffy connotations and are making a comeback. The reason behind the resurgance? Hot, young London Fashion Week designers, like Christopher Kane, sending them down the catwalks earlier this year, mainly. Since then celebrities have been pinning them to their shirt collars, off-duty models have been nestling them in their messy up-dos, and bloggers are adorning their bags and belts with them.
Of course The Royals never stopped wearing brooches. But it was The Duchess of Cambridge's pin of choice during her recent royal tour of Canada that really made us this stop and think about this trend again.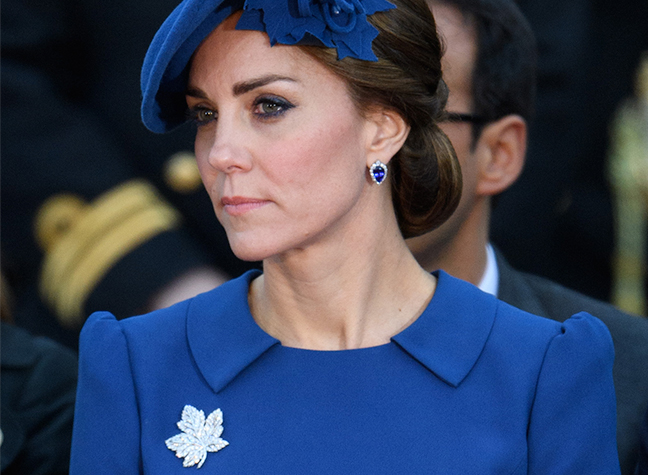 This Maple leaf brooch, was a not-so-subtle nod to Canada's patriotic symbol. Its obvious message didn't diminish its ability to dazzle though. It was the finishing flourish that made the rest of her ensemble
pop. Without it the earrings don't sing, the sharp shoulder shape
goes unnoticed, the neat neckline doesn't draw the eye...
Besides its ability to complete a look, we also love that a brooch is a truly ageless piece. It doesn't matter whether you're 21 or 75, whether you like vintage or contemporary styles, or you have £35 or £350 to spend - there's a pin for everyone.
On board? Here's our edit of the best brooches you can buy: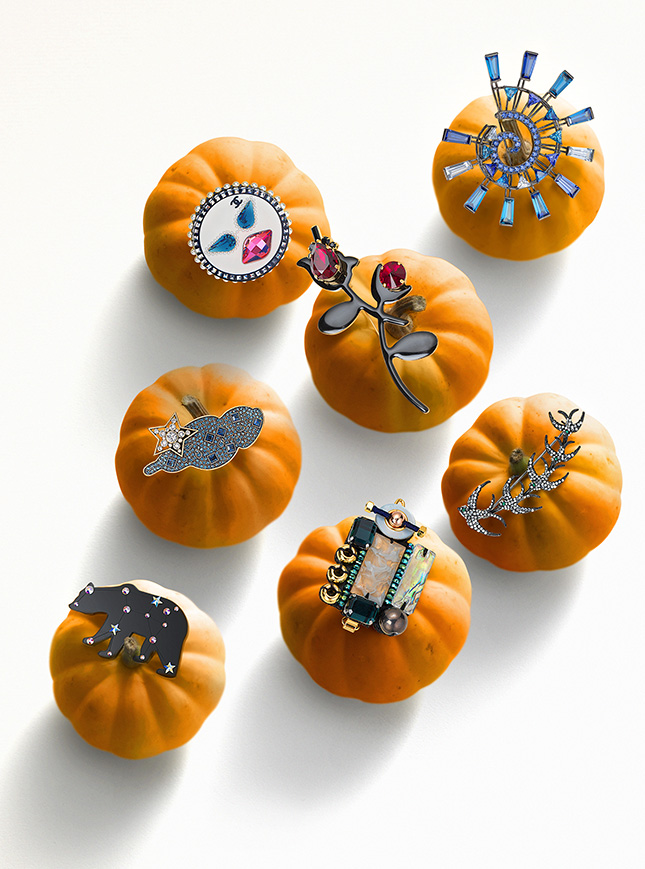 From left to right, top to bottom:
BUY IT NOW Emoji Resin And Glass Pearl, £475, Chanel
BUY IT NOW Blue Swirl Crystal, £259, Eddie Borgo
Flower Enamel And Glass, £205, Marni (temporarily out of stock)
Cloud Crystal, £110, Marc Jacobs at Fenwick of Bond Street
BUY IT NOW Five Crystal Swallow Brooch, £34.00, Butler & Wilson
BUY IT NOW Fer Brooch, £98, Nocturne
BUY IT NOW Great Bear Brooch, £40.00, Tatty Divine
3 WAYS TO WEAR BROOCHES AND PINS

1. Position Them To Emphasise A Detail
As The Duchess knows, brooches are a great way of drawing attention to an interesting design detail. But they're also a great way to create the illusion of an interesting design detail. Pin a brooch to the collar or cuff of a plain shirt and suddenly your outfit feels more high-end than high street.
Look for styles that are asymmetric because they'll be more versatile. This firefly design by fashion editors fave Mawi, will look just a divine placed horizontally along a pocket opening as it would vertically on a collar.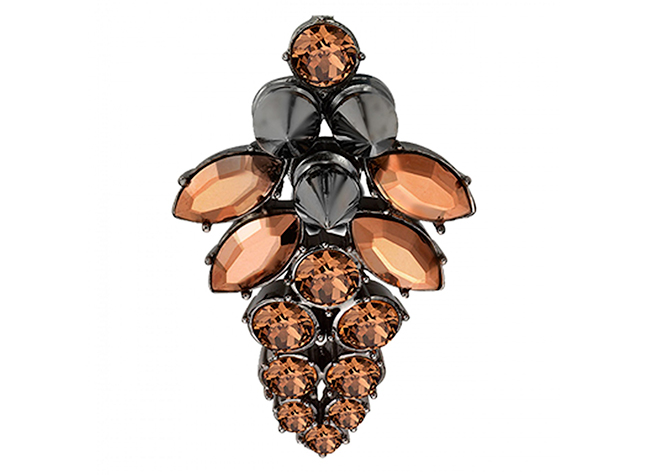 Hematite Crystal Firefly Brooch with Spikes, Mawi
2. Place Them In Clusters

Wearing a cluster of brooches or pins is probably the most fashionable way to wear the accessory at the moment. Placing 3-7 brooches together (odd numbers look best) is a simple yet effective way of glitzing up an eveyday winter outfit.
Astley Clark is your go-to brand here. They recently added a range of affordable (prices start from £35) yet beautiful, dainty pins to their collection that look wonderful mixed and matched. Lined up they look sharp and chic, placed haphazardly they look eclectic and cool. Try them along a pocket edge or pepper the brim of your hat. We particularly like the Intrepid Explorer set of 3, each pin is studded with white sapphires!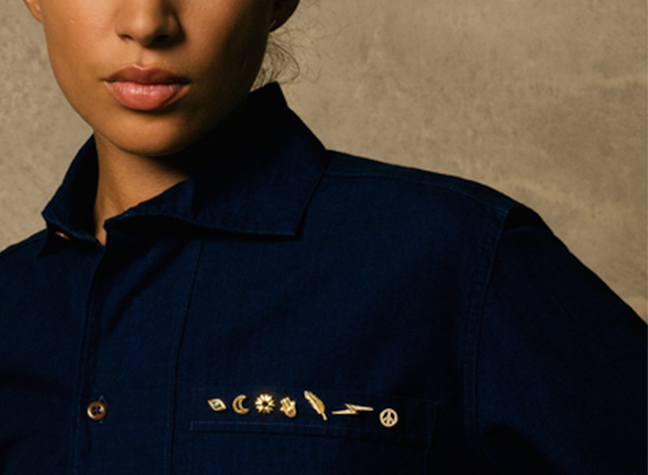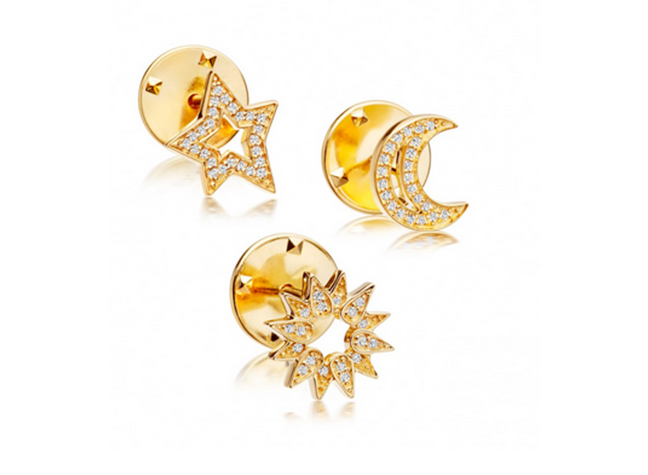 Intrepid Explorer Biography Pin Set, Astley Clarke
BUY THEM NOW at Astley Clarke for £125.00
3. Put Them In Unexpected Places
Whoever said wearing a brooch has to be limited to your chest? 2016 is the year that the brooch reinvented itself. Wearing one as a hairpiece (by pinning it onto a ponytail or into an updo) makes for an elegant and unique look. Or think outside the box and pin them to your shoes and bags.
Tempted to roadtest this trend? Try a bold, shape like this beetle brooch. It will look just as lovely peeking from a chignon as it would winking from the front of a pair of black pumps. Just make sure you secure them tightly!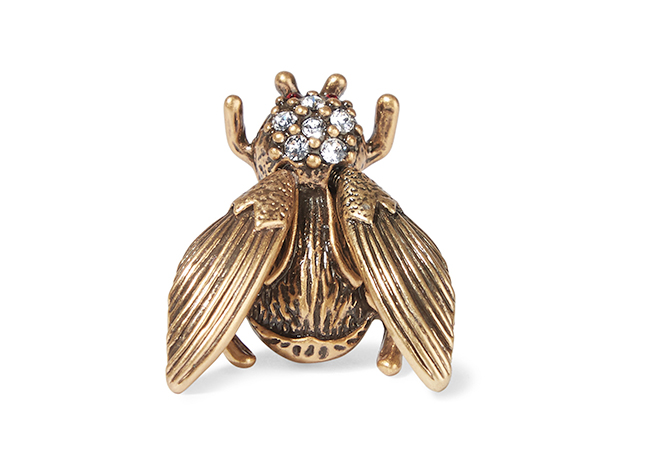 Continued below...
Beetle Gold-Tone Swarovski Crystal Brooch, Marc Jacobs
BUY IT NOW at Net-a-Porter for £110.00