19 of England's best dog friendly hotels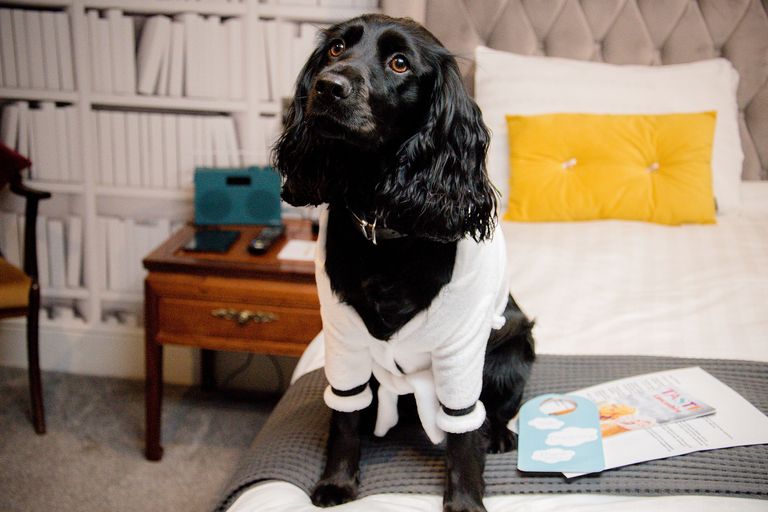 (Image credit: Stuart Reeve)
Pamper your pooch at these gorgeous dog friendly hotels - with doggy treats, pup-friendly dinner menus, and top-notch walkies...
It's no secret: us Brits love our dogs. So much so, data now reveals, that we don't want to holiday without them.
Away Resorts, who have a number of dog-friendly holiday parks, found that 85% of dog owners would rather staycation than go abroad without their mutt. Pinterest also recently revealed that searches for dog-friendly holidays are up 146% on the social media platform - proof that we just don't want to be without our pups.
Fortunately, for those of us with four-legged friends, there are some brilliant places in England where pets are welcome, if not preferred! Here are some of our favourite dog-friendly hotels in the country, from coastal escapes to country retreats.
Taking dog-friendly to the next level, The Lawrence Hotel in Padiham, Lancashire, is one of the UK's best for a retreat with your pet. There'spup-icures and pawsecco, the hotel claims to take 'even the most dog-eared pets from ruff to ravishing in just one night!' Owners are also pampered, but let's be honest, it's the dogs that need it...
For pawrents, there's fantastic restaurant serving delightfully fresh dishes and sensational desserts (sitcky toffee pudding, anyone?), and nearby you can walk the pooch in the grounds of the National Trust's Gawthorpe Hall.
Perfectly placed by one of Falmouth's prettiest beaches (which is, of course, dog-friendly), St Michaels is perfect for pet owners who need a little TLC. The spa is spectacular, with treatment rooms, bubble spas and a heated pool, and the on-site restaurants serve up exceptionally tempting dishes like stonebaked pizza or Falmouth Bay scallops.
Dogs aren't allowed in the restaurants or spa, but they can stay in the rooms while you're being pampered, and they're welcome in all outdoor areas.
In the pretty, incredibly underrated Cotswolds town of Witney, The Blue Boar is a wonderful country escape for you and your pet. The boutique-style rooms are all individually styled, and the restaurant downstairs serves excellent pizzas from a proper Italian oven, and mighty breakfasts with local sausages.
There's a bar at out the front where your pup is welcome for an aperitif, and the hotel will provide a bowl and bed in the room.
One of London's newest hotels, Vintry & Mercer opened in February 2019 and has set a new standard for accommodation in the City. All about style, with nods to the guilds that were prevalent in the area through its name and decor (wine barrels in the lobby restaurant and rich fabrics throughout the rooms).
Dogs are welcome in the suites here, as well as both restaurants, so you'll never have to leave the pup alone. Nearby, the grounds of St Dunstan in the East - a former Wren church, now a public garden - make for a lovely pooch picnic, and the Thames Path is just a few minutes stroll away, perfect for a walk with the dog. The best part about staying here is that it's actually cheaper at weekends - mid-week business travellers make up the majority of their customers, so come Friday night, prices drop for leisure guests.
This luxurious hotel with its golden beach is nestled into a Devon hillside - and so many of the rooms have stunning ocean views. It's the perfect place for a British seaside escape and dogs are made to feel as welcome too, with a gift of dog treats on arrival.
There are plenty of local coastal walking trails to explore too, as well as a glorious spa to relax in. Bliss.
This wonderful boutique bolthole in the Cotswolds has just 22 en-suite rooms and is a great base for exploring Blenhim Palace, Cheltenham and Sudeley Castle.
There are a number of dog-friendly rooms, and pooches are provided with a large dog bed, welcome biscuits and a water bowl.
This beautiful manor in 12 acres of grounds dates back almost 1,000 years. Guests can stay in either the main house or the more modern coach house where dogs are welcome - with dog beds and food provided.
The hotel is a 15-minute drive from Oxford and five minutes from shopper's paradise Bicester Village, and even has its own pub - The Black Sheep - just a three-minute stroll from the front door.
One of London's best dog-friendly hotels. This swish Art Deco bolthole is located on Piccadilly, opposite Green Park, where 101 Dalmatians was filmed. To celebrate this, the hotel adopted two of its own Dalmatians as the modern-day Pongo and Perdy, to be its official mascots.
Dogs are welcome all over the hotel except for food outlets, and can stay in guest rooms at no extra cost. There's even a complimentary dog walking service available on request.
This gorgeous property sets the bar for dog-friendly hotels. Oliver Beckington, the Four Season's black labrador, is a celebrity round these parts - you might find him playing fetch in the grounds, or greeting guests as they check in for the night. Visiting dogs are welcome too, for a £35 one-off fee which includes a dog bed, food, dish, and personalised spring water.
Dog-sitting can be booked via the concierge, and staff will happily give you information about their favourite nearby countryside walks.
For beach-loving pups, The Nare is an excellent choice - it's a stone's throw from the sand, where dogs are welcome all year round, and the coastal footpath is a picturesque place to let off steam.
Pampered pooches will love the à la carte doggy dinner menu and the hotel's sumptuous bedrooms (they'll have their own bed). For working dogs, outdoor kennels are provided, free of charge on a self-catering basis.
It's free of charge for dogs to stay at the Gurnard's Head, and they can sleep in your bedroom (though preferably not on the bed). This gorgeous country property is great for coastal walkies and dips in the sea - and the cosy bar makes for a welcome retreat at the end of an energetic day.
The atmosphere here is relaxed and convivial, and dogs are welcome all over the property - including the dining room, where they can sit with you at selected tables while you eat. Book early, because these tables are very popular with locals and visitors alike.
For just £10 per night, doggy guests at the Devonshire Arms get the full five-star treatment - think welcome treats, feeding bowls, cosy bed and blankets, plus their very own 'dog lounge' with a bar and open fire (where human guests can enjoy a tipple too).
With the woods and riverside on your doorstep, there's plenty to keep four-legged adventurers occupied - plus a dog wash area in the hotel itself, to scrub up after a muddy day outdoors.
A selection of rooms in this National Trust-managed manor are designed to accommodate dogs as well as humans - and for a £35 supplement, four-legged guests can live in the lap of luxury. They'll have their own feeding mat, bed and bowl, plus a menu of treats and dinners available for an extra charge.
Pooches are free to explore Cliveden's 250 acres of woodland paths - the ultimate walkies wonderland. Dog sitting and walking services are also available via the concierge, who can also recommend dog-friendly days out in wider Berkshire.
One of the UK's most luxurious dog-friendly hotels, this beautiful Berkshire manor house has a special collection of pooch-perfect rooms, complete with snuggly blanket, bed and bowl for furry guests. Your dog can accompany you all over the hotel (except the dining room), and the 33-acre estate is their playground.
For £30, the 'Woof's Welcome Package' includes a doggy toy and treat on arrival, information on nearby walks and attractions, and a donation to Battersea Dogs Home.
Molly the cockapoo - Broadoaks' resident pooch - has taste-tested a full menu for visiting dogs, featuring the likes of organic venison and wild boar and chicken and turkey casserole. Dogs are welcomed with open arms here, and the £25 per night DDBB (Dinner, Doggie, Bed & Breakfast) package covers everything they'll need throughout your stay.
There are spare leads for loan, treats on arrival, and poop bags available on request. The hotel is run by dog owners, who pride themselves on offering a pet-friendly place to stay.
This five-star Kensington hotel extends its top-notch hospitality to pets, welcoming both cats and dogs into its animal-friendly suites. On arrival, your furry friend will receive a welcome hamper of toys, a treat, a Milestone tag and clean-up bags.
Head Concierge Jose Pauco is on-hand to recommend great walks and dog-friendly days out, and at the end of the day they can snuggle down on a Milestone pet bed, with cushions and a duvet.
With eight acres of Cotswolds countryside to run around in and handmade biscuits on tap, this rural retreat is a real doggy heaven - the kind of place where pooches are welcomed with open arms.
It's also home to the only Michelin-starred hotel restaurant in Gloucestershire, a handful of fabulous cosy rooms, and in summer guests can take afternoon tea on the lawn - with dogs invited too, of course.
The Lake District is the ultimate dog-friendly holiday destination, with walking trails and wild swimming galore (if you can bear the bracing waters). Spend a weekend in Another Place, where you'll enjoy lake-view rooms, a swimming pool and a fitness centre.
Dogs are given special treatment, being allowed in most areas of the hotel including the Living Space, where you'll dine with pup by your side. There are family cottages if you've got kids in tow, and lovely suites for something a little more luxurious. The best part about this place? PetsPyjamas do doggy packages, including two nights bed, breakfast and dinner from £480.
Set inside the New Forest, New Park Manor is a gorgeous rural retreat. It's a property that's just made for dogs - you can dine in the restaurant with your pup, or reception staff will look after any nervous hounds while you enjoy a quiet meal.
With the forest right on your doorsteps, walkies have never been so good. And things get even better when booking with PetsPyjamas - they offer a personalised travel kit for your pet and some fantastic deals, such as two nights bed, breakfast and dinner from £409.