18 books everyone should read at least once—from enduring love stories to terrifying dystopian fiction
See our list of the books everyone should read before they die—from the long-enduring greats to the modern canon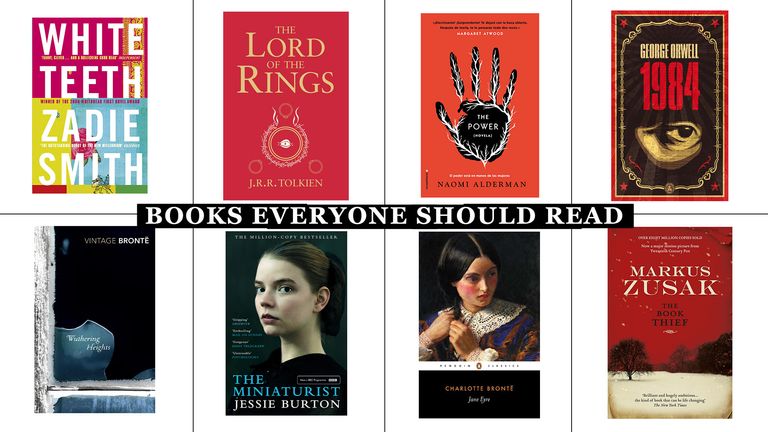 (Image credit: Future)
It's no mean feat to select a series of books everyone should read at some point in their lives. Where do you begin? How do you choose? While no list can ever really be exhaustive—or agreed upon universally, as our tastes are so personal—it helps consider a collection that explores universal themes and a host of emotions across a range of genres. These also happen to be written by some of the best authors in the world (and in history).
Do we choose our books or do they choose us? Frankly, there are a number of ways that books find their rightful home in the hands of readers—some may be read to us as children, others set texts that we study in school. There are those we choose for ourselves purely because we love the cover and those book club books that are pressed into our hands by an enthusiastic friend. Others we read simply because we think we should. Or so we are led to believe…
The truth is, there are many of us—including the most ardent and avid readers—who are yet to get lost in the pages of the all-time literary classics, instead preferring the latest releases, such as those deemed the best books of 2021. Perhaps what we're thinking is—'Why bother reading Pride And Prejudice when I've seen the BBC adaptation? Isn't Harry Potter just for kids?' and 'I don't think those literary prize winners are my cup of tea.' What we have to remember, however, is that novels become classics and books everyone should read for a reason—usually a very good one. The book in question has something special, a magic that draws readers in and absorbs them in its narrative.
Whether you read the books on this list in print or on a good eReader, you won't be able to put them down—regardless of whether they were written in 1813 or 2020. Penned by great authors, each offers some kind of insight into something bigger than ourselves. At times the books everyone should read stir a deep recognition of ourselves in certain characters or emotional responses to events. These are books that move us, through a rich and fulfilling reading experience.
From the long-enduring greats to the modern canon, here are 18 books everyone should read—with good reasons as to why…
18 (of the many) books everyone should read
Whether you prefer the best historical fiction books, the best romance books, the best science fiction books, or the best thriller books, there is something on this list of books everyone should read for all preferences. And not all of them are older classics—there are also some fantastic modern bestsellers on there that have already become iconic reads.
So whatever genre is your preference, you'll find something that will capture your imagination in this round-up.
Classic romance books
By their very nature, stories bring us together. And—much as we might not want to openly admit to being a bit of a soppy romantic—love stories speak to us all on some level, because relationships, in all their beauty, complexities, messiness and joy are part of all of our lives. Each of these romantic novels is a classic, and they make it onto the list of books everyone should read because they look at love with a piercing, unflinching and—in some cases—humorous gaze.
1. Pride And Prejudice by Jane Austen (Wordsworth Editions)
Love stories do not come more brilliantly observed, more entertaining or more joyful than that of the wry and prejudiced Elizabeth Bennet and the stern and proud Mr Darcy. As with all of Austen's great works, it is the author's wit, charm and intelligence that reels the reader in and sweeps them up into the lives of her flawed-yet-lovable characters, and it is this that has ensured the 1813 novel's enduring popularity and its position as the archetype for many other stories based upon matters of the heart. To read it is to love it, which is why it's one our of books everyone should read.
---
2. Wuthering Heights by Emily Bronte
Oozing with atmosphere, this dark and intense gothic romance follows the fate of Cathy and Heathcliff, who meet as children when the former's father takes in the young boy and spend their youth in blissful union as they traverse the wild moors, exploring, growing up, and eventually falling in love. When life conspires to tear the couple apart, however, it is not simply their own lives that will end up devastated. As a love story, it's undoubtedly brutal, but there is a majesty to its unashamed wildness, to Brontë's poetic storytelling, and to the idea of a shared emotion being so potent that it has the power to destroy everything else in its path.
---
3. I Capture The Castle by Dodie Smith
Long before Pongo the Dalmatian pressed his wet nose into the palm of author Dodie Smith, she wrote this witty and warm-hearted debut about a young girl growing up and falling in love for the first time. Quite rightly, it became a classic, one that deserves to be read and enjoyed multiple times. Set in the 1930s, the journal-style story chronicles the daily capers, emotions and observations of Cassandra Mortmain, who lives in a crumbling, isolated castle in the middle of the English countryside with her father, stepmother, sister, brother and Stephen, who is hopelessly in love with her. Pure unadulterated joy, and certainly one of those books everyone should read.
---
4. Jane Eyre by Charlotte Bronte
Orphaned in childhood and raised by a cruel aunt, it is little wonder that the eponymous heroine of this classic Victorian gothic romance novel grows up tougher than most. Having accepted the position of governess for the young ward of the brooding and sour-tempered Mr Rochester, Jane Eyre moves to the remote Thornfield Hall determined to stay the course. When her feelings for her master begin to change and the house begins to reveal its secrets, however, Jane must decide whether to stand by the man she's grown to love or abandon him to stay true to her own convictions. A quietly intense and powerful read, and one of those books everyone should read.
---
Fantasy and futuristic books
Dystopian fiction has been a stalwart of the best books out there for years, offering a way to consider society from a step (or two) removed. These days some dystopian novels can seem a little closer to life than we'd like to admit, and there's something disturbingly fascinating about that. But, for times when dark cycnical contemplations at the future of humanity don't quite cut it, there's always room to slink away to the other end of this genre spectrum—by diving headfirst into an entirely different world. Specifically, one cooked up as the backdrop for a great fantasy novel.
1. 1984 by George Orwell
Chilling from the opening line, Orwell's ninth and final novel is set in the dystopian future country of Oceania, where totalitarian reigns and free will, free thought and even love is forbidden. Like many, Ministry Of Truth employee Winston Smith is opposed to the regime but has so far managed to avoid detection by the Thought Police and the all-seeing eye of Big Brother. That is, until he embarks on an affair with his colleague Julia… First published in 1949, this novel feels perhaps more relevant now than it ever has and is still just as provocative, which is why it's on our list of books everyone should read.
---
2. The Power by Naomi Alderman
When the reigning queen of dystopian fiction, Magaret Atwood herself, describes a new novel as "electrifying", you're surely going to sit up and take notice. Published in 2017, this award-winning piece of feminist science fiction considers what would happen if girls and women woke up one day with an innate power that makes them stronger than their male counterparts. Struggles between the genders and traditional hierarchies are pulled apart and rebuilt, but whether it's for the better...well, see how you feel when you close out the final page. A no-brainer for our books everyone should read list.
---
3. The Lion, The Witch And The Wardrobe by CS Lewis
Forty-seven years before a boy wizard arrived to dominate the children's fantasy book market, author CS Lewis introduced readers to a magical world every bit as exciting as the one featuring muggles, hippogriffs and Hogwarts. The Chronicles Of Narnia is a collection of seven books, but it is this, the first one published, which remains the best known and most popular. It tells the tale of four children—Peter, Susan, Edmund and Lucy—who are evacuated during wartime to a rambling mansion, where they find a hidden door to another world in the back of a wardrobe. One of the best stories ever told, it's one of our books everyone should read, and more than warrants a re-read in adulthood.
---
4. Harry Potter And The Philosopher's Stone by JK Rowling
No list of books everyone should read would be complete without Harry Potter. There is barely a corner of the world that remains untouched by the magical world of Harry Potter—a series of seven novels about an orphaned wizard destined to do battle with the evil Lord Voldemort. Now a cultural phenomenon that has spawned Hollywood movies, a Wizarding World, the Pottermore website and acres of merchandise, it is almost hard to fathom that it all began with the publication—and subsequent word-of-mouth success—of this book back in 1997. That is, until you read it, and are instantly reminded of just how enchanting, inventive, wise and wonderfully escapist it genuinely is.
---
5. The Lord Of The Rings by JRR Tolkien
Wizards, hobbits, dragons, talking trees, orcs, elves, trolls, dwarves and all manner of other mythical beasts and beings inhabit the colorful world of Middle Earth, where this first in a trilogy of three Lord Of The Rings novels is set. Betrothed The One Ring of power by his uncle Bilbo—who discovered it during his own quest in Tolkien's earlier work, The Hobbit—Frodo and his band of supporters must journey from The Shire to the dark lands of Mordor in order to destroy it once and for all. A fantastical adventure created by a genius mind—plus, it makes for one of the best audiobooks too.
---
Contemporary fiction
Books that delve into the world around us, reflecting the times and society that we live in can have a truly powerful impact. Whether depicting lives lived round the corner from our own homes, or on the other side of the world, the seemingly mundane or the fantastical, they are books everyone needs to read because they offer us food for thought. In pausing and sitting with these stories, we can gain new perspectives and possibly even approach contemporary life from a fresh angle. These are the contemporary fiction books everyone should read.
1. White Teeth by Zadie Smith
Centering around the relationship of two wartime friends—one English and one Bangladeshi—and their families, Smith's debut novel is filled with themes of friendship, love, war and the relationships not only between generations but between cultures. While it takes a close and thought-provoking look at Britain's relationships with people from its former colonies, it does so with humour. The multi-award winning book became an instant bestseller, cementing its place in must-read book lists for the past 20 years.
---
2 The Kite Runner by Khaled Hosseini
Released in 2003, two years after the original invasion of Afghanistan, this book was a timely reminder of the complex history and culture of a land that, frankly, most of us know little about. The action in this novel begins in Kabul in 1975, just before the Russian military invasion of Afghanistan. Twelve-year-old Amir has dreams of winning the local kite-fighting tournament with the help of his friend Hassan. But neither boy knows how the events of that afternoon will alter the courses of their lives. A gripping and much-loved read, the world over—if you haven't already spent time with it, you should.
---
Crime and thriller books
The demand for a gripping page turner—one that will have you right on the edge of your seat—never recedes. Luckily, the crime and thriller genre offers up near endless options for books everyone should read, so when it comes to the biggest must-reads, you can't speed past these options. Although you may speed through reading them...
1. Fingersmith by Sarah Waters
Expertly plotted and beautifully written, Fingersmith is the story of Sue Trinder, an orphan raised in a 'baby farm' in Victorian London—a place that also plays host to all manner of folk living in the underbelly of the East End. One such crook is petty thief—or 'Fingersmith'—the Gentleman, who convinces Sue to pose as a maid for a rich heiress and help him seduce and later rob her. Part love story, part riveting mystery, the novel also boasts one of, if not the, best twists in historical crime fiction, which is why it's one of our books everyone should read.
---
2. The Goldfinch by Donna Tartt
A coming-of-age tale, with many (so many) more layers than your average teen drama, this psychological thriller was awarded the Pulitzer Prize for Fiction in 2014, which is why it has made our list of the books everyone should read. When 13-year-old Theodore Decker survives a deadly bombing that kills his mother at an art museum, he stumbles away in shock, taking with him a valuable Dutch painting called The Goldfinch (hence the title). This theft, and the subsequent inability to report it or return the work, starts a descent into a long-running web of lies. This is a hefty novel that examines the complexities of life, society and relationships in modern-day America.
---
3. We Begin At The End by Chris Whitaker
Thirteen-year-old Duchess hasn't had much chance of a normal childhood. With a drug-addicted mother and no father to speak of, she's become sole carer to her six-year-old brother, Robin, and has learnt the hard way to do whatever she must to survive. When the man convicted of murdering her mother's sister is released from a 30-year jail term and arrives back in their small Californian town, Duchess makes a decision that sets off a chain of devastating events. Brutal yet beautiful, this painfully human tale cements New York Times bestseller Chris Whitaker's status as one of the most talented authors writing today.
Historical fiction books
Global history is a rich source of inspiration for writers—and one that offers a specific form of escapism for avid bookworms everywhere. Whether reaching deep into the annals of history, or taking their starting points in more 'recent' periods or events, these picks are truly books everyone should read at some point in their own histories.
1. The Book Thief by Markus Zusak
Set in Germany at the start of the Second World War, this deeply affecting novel follows Liesel, who is rescuing books from the Nazis, and her family, who are hiding a Jewish fighter in the basement of their home. What makes it so remarkable is not simply the story and its impact, but the fact that the piece is narrated by Death, who is looking down on the characters and observing their actions. Haunting, extraordinary and beautifully human.
---
2. Hamnet by Maggie O'Farrell
Winner of the 2020 Women's Prize For Fiction and a Waterstones Book of the Year, Hamnet reimagines the life of Shakespeare's only son, who died in 1596 aged just 11 and gave his name to one of the most celebrated plays ever written, which is why it's one of our books everyone should read. As with all O'Farrell novels, it is bewitching, immersive and lyrical, beckoning the reader into a world that feels both vital and authentic. Make time to read it now, before the BBC adaptation arrives.
---
3. The Miniaturist by Jessie Burton
Inspired by the display of a dolls' house at the Rijksmuseum, Jessie Burton crafted a tale about a young woman, Petronella Oortman, who in 1686 enters into an arranged marriage with an older man named Johannes Brandt and goes to live with him, his sister and their household staff in Amsterdam. While her husband does not seek affection from her, he does give Nella a gift—a model replica of the house in which they live—plus the funds to fill it with tiny furniture, which Nella orders from a local miniaturist. Before long, however, items begin to arrive that she has not requested, items that appear to hint at events that have yet to happen. This international bestseller is an intoxicating historical mystery that enthralls and delights in equal measure.
---
4. Small Island by Andrea Levy
This beautiful and moving novel was recently adapted for the stage, at the National Theatre in London, extending its reach far beyond the page—and the post-war period it depicts. Considered by many to be the definitive account (in fiction) of the Empire Windrush Generation, this story follows the fortunes of Gilbert and Hortense Joseph, newly arrived to London from Jamaica, and their landlady Queenie Bligh. Simultaneously heartbreaking and heartwarming, horrifying and humorous, this is 100 percent one of the books everyone should read in their lifetime.
---