Best thank you gifts: Thoughtful gift ideas to say thanks in 2021, because it's already been quite a year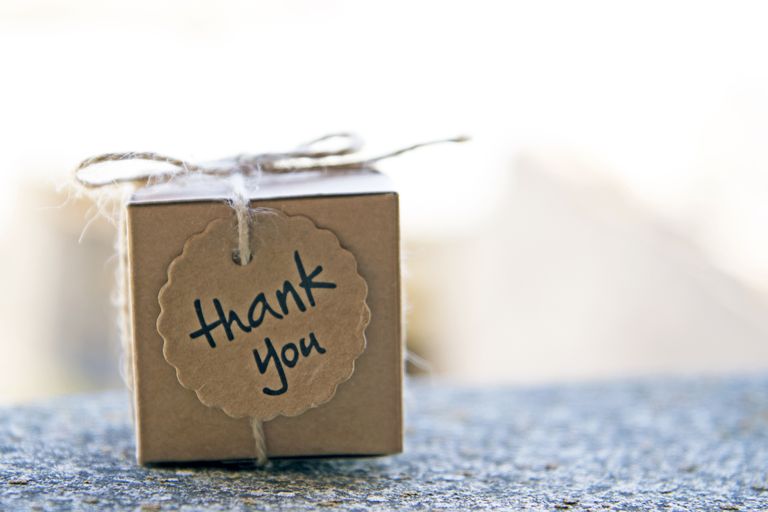 (Image credit: Getty Images)
Whether you are buying thank you gifts for colleagues, men, women, friends, family, an amazing teacher or anyone in between, we've got a range of thank you gift ideas for you to pick how best to show your appreciation.
From thoughtful thank you gift ideas to unusual thank you gifts that will stand out, we've selected presents both big and small. No matter what your budget you will find an idea below that fits the bill.
With the on-going pandemic meaning that acts of extraordinary courage or kindness can not always by thanked in person, you can send all of the thank you gifts by post featured in the gallery below.
So no matter where you are, or how far you are from the special people in your life, you have a way of showing your appreciation when it matters most.
What makes a good thank you gift?
Francesca Pittaway, a curator of gifts for Not on the High Street, knows a thing or two about finding the perfect gift. She suggests:
"I think the gifts that are most loved aren't the biggest or the most expensive but are the ones that show you have given it some thought.
"Whether that's something that supports a hobby or recognises what is going on in their lives currently, taking a bit of time to think about that means you can't go wrong, regardless of what you spend. Knowing you are understood, listened to and loved is part of getting a great gift."
What makes a good, inexpensive thank you gift to show appreciation?
Julie Deane, founder of The Cambridge Satchel Company, has been making beautiful bags that are often bought as gifts since 2008.
Julie believes that the act of giving itself, no matter what it is, is good enough in itself. So whether that's giving a gift, giving your time and lending a hand:
"A well thought out gift really does show you care. What is more touching than knowing someone you care about has spent time thinking about what would make you happy.
"The best gifts are not the most expensive ones, they are genuine gestures – often not for birthday or Christmas but maybe a hot chocolate and marshmallow package in the winter, something that says you wish you could be there or you just want to make someone laugh."
Best thank you gifts to say thanks in 2020
Dried flower bouquet, £53
Send a bunch of flowers as a thank you gift that will last and last with this bright and cheerful bouquet of dried flowers. Featuring dried flowers including ruscus, dried palms, craspedia, flax, bunny tails and broom bloom, this eye catching arrangement will look striking in any home and bring pleasure for months instead of days.
Handmade in Portugal, these simple yet chic Nordic style Hoa vases come as a set of three. Presented in a rich cream colour with a matte finish, they're an easy gift to give to show gratitude as they'll suit a variety of space and are an easy additional to add shelf, desk or window sill needing a style up.
Hunkemoller Sweat French Long-Sleeved Top, £24
Sponsored
What better way to say thank you to one of your loved ones than to give them a comfortable sweatshirt to lounge in. And if you really want to treat them, there is even a pair of matching lounge pants that go with this for the ultimate sofa day. This is also a great color for those who like to keep up with trends, as sage green is everywhere right now!
Aesop hand wash and cream set, £87
Aesop, the ultimate luxury skin care brand, comes into its own when giving thank you gifts as you just can't go wrong with one of their iconic hand care creams or washes.
Thank you chocolate bar, £4
Don't know how to say thanks? Let this honeycomb milk chocolate bar do it for you. Created by James Cadbury, the great-great-great grandson of Mr Cadbury himself, you can have this handmade chocolate delivered through the post with a gift message to send your gratitude wherever you need.
Diptyque Baies Scented Candle, £47
Diptyque Baies is one of the most famous Diptyque fragrances in the world and this luxurious scented candle makes an ideal thank you gift for someone who has gone above and beyond for you. With notes of rose and blackcurrent leaves, this candle has up to 60 hours of burn time and when the wax is gone the classic glass jar with Diptyque can be kept as a handy storage pot for make up brushes, stationary and so on.
Portrait Labelled Wine, £40
Choose from Chilean Sauvignon Blanc, Chilean Merlot or an American Rose wine, then submit a photo and illustrator Adam Regester will draw a special, bespoke label for the bottle. A truly unique and special personalised thank you gift.
The Evergreen Strawberry Tree, £35
Don't be fooled by the name, this attractive plant makes a beautiful addition to any home or garden but the bright red fruits it bears are not strawberries as we know them. The fruits are edible but not particularly delicious, and are grown primarily for their exceptional beauty. Add a gift message to the wooden delivery crate for an extra thoughtful thank you.
Acne Studios produces gorgeous wool scarves that make luxurious, timeless and high-quality presents that will last for generations. Finished with fringed ends, pick from five different colours for a sumptuous and stylish way to say thank you to someone special.
Rose Plant with Red Wine and Chocolates, £30
The ultimate trifecta of thank you gifts all rolled into one wonderful delivery, you can't go wrong with this classic combination of flowers, chocolate and wine from M&S. This thank you gift is also available with a white wine option too – or tea and shortbread instead wine and chocolates if you're looking for a non-alcoholic thank you gift.
Erborian Red Pepper Kit, from £17.10
Sponsored
Give the gift of radiant skin, courtesy of Erborian's Red Pepper Skincare Kit—fueled rich ingredients and consumer fanfare among beauty experts and neophytes. The robust bundle includes the Red Pepper Paste Mask, Red Pepper Pulp, and the top-rated CC Cream Clair.
Whereas the Red Pepper Paste Mask softens the complexion with a dense, velvety texture, the Red Pepper Pulp is a gel-cream hydrator that quickly absorbs into the skin for around-the-clock relief. The CC Clair complements these efforts, serving as the ultimate hybrid of skincare and makeup. With a lightweight formula and subtle pigment, it smooths out existing texture and conceals pesky blemishes.
This cheery, stoneware mug from Anthropolgie quite literally does what it says on the tin when it comes to showing your gratitude to someone. A lovely, vibrant way to say thank you.
The Fortnum & Mason Thank You Hamper, £85
What better way to say thank you than with a wicker Fortnums hamper filled with delicious goodies? From biscuit tins to chocolate bars, loose leaf tea and preserves, no one does a hamper like F&M.
Say thanks with a set of award-winning craft beers from Clan Brewing Company in Scotland. This gift set contains four craft beers – three ales and a stout - 1 x Spruce Ale, 1 x Golden Ale, 1 x Red Rye Ale, 1 x Imperial Stout.
Thank you biscuit tin, £35
This edible gift from famous London bakery Biscuiteers does what it says on the tin – quite literally – when it comes to sending your gratitude to someone. You can ship these delicious, sweet, vanilla flavoured biscuits with their gorgeous hand decorated designs to anywhere in the world when you order online.
A small tin full of lots of potential, say thanks with flowers in a slightly more unusual way! This wildflower selection includes a mix of Common Poppy, Oxeye Daisy, Musk Mallow, Corn Marigold, Purple Field Scabious, Red Campion and White Cow Parsley.
Personalised photo sweet tin, £20
You can choose every aspect of this thoughtful thank you gift, from the photo and text on the front of the tin, to which sweets you would like included inside.
Bad Brownie made a name for themselves sending unbelievably moreish baked goods through the post and now their gooey, fudgy chocolate brownies come in a 12 bite best seller box.
An internationally published digital journalist and editor who specialises in SEO strategy and content production, Rachael has worked as a writer and editor for both news and lifestyle websites in the UK and abroad.
Rachael's published work covers a broad spectrum of topics and she has written about everything from the future of sustainable travel, to the impact of the coronavirus pandemic on the world we live in, to the psychology of colour.
She prides herself on being an excellent giver-of-gifts and is equally respected and loathed amongst her friends and family for starting her Christmas shopping every year in August.
When she's not writing or editing, Rachael can be found hiking, running, surfing or enjoying other outdoor pursuits, such as standing in line for a table at the latest Big Mamma restaurant.