The Best Jumper Dresses To Keep You Warm This Season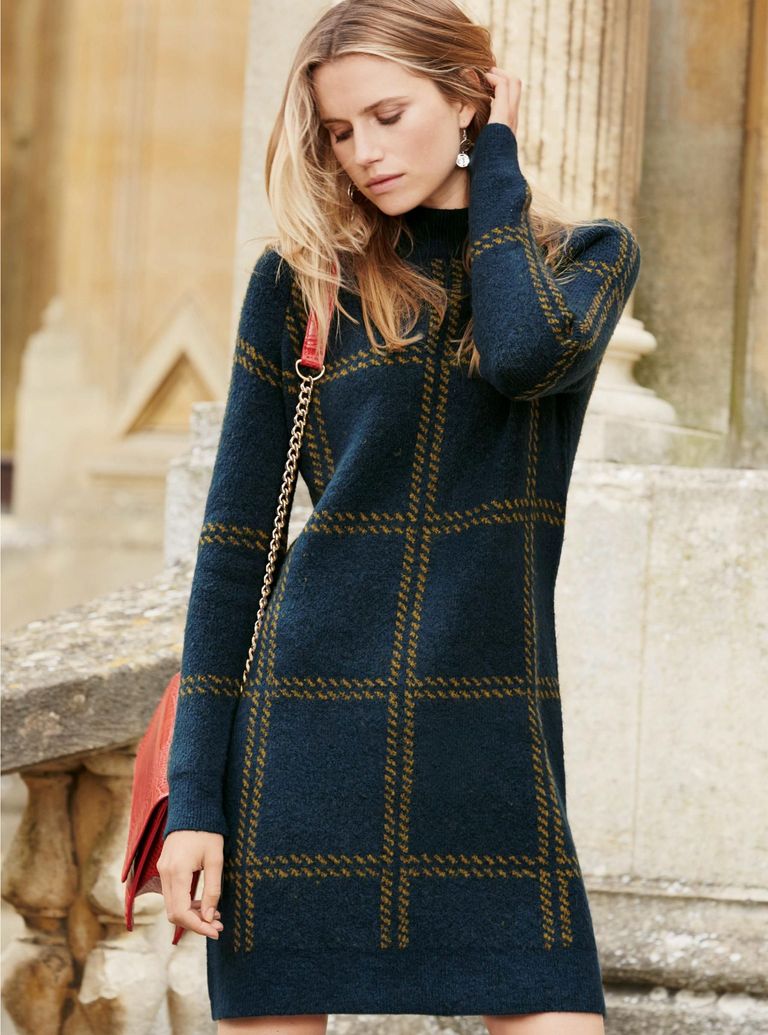 Embrace the gorgeous knitwear trend with our gallery of jumper dresses...
Want to look chic but keep warm? Look no further than the winter essential - the jumper dress - providing practicality and style.
Perfect for throwing on over a pair of leggings or tights, the jumper dress is a feminine alternative to a jumper and will keep you warmer than a dress during the harsh British winter.
Nothing beats a go-to chunky knit and the jumper dress proves an excellent and versatile investment this A/W. Pair it with chunky tights and use it to layer - a top trend this season.
There's something to suit every taste and style and we've selected the best buys in the shops right now, ones that play into key A/W trends as well as timeless pieces you'll dig out your wardrobe year after year. From roll neck to sleeveless pieces there's a style to suit everyone, or whether you prefer bold and vibrant colours or a more neutral toned, jumper dresses are adaptable and can be styled accordingly.
We love this Navy Check Jumper dress from Next, scroll through our gallery to find your favourite?
Ribbed Dress, £24.99, H&M
This midi length, colour block contrast jumper is great for adding some character to your wardrobe this season. It's also incredibly versatile to style, why not try pairing it with ankle boots, trainers or brogues? Ribbed Dress, £24.99, H&M
Eden Embroidered Shoulder Dress, £69.00, Monsoon
Embroidery is dominating the catwalks this year, from jeans to shirts, and this embroidered knitted dress from Monsoon is a great way of making embroidery work in the winter season as it instantly adds interest to a plain piece of knitwear. Eden Embroidered Shoulder Dress, £69.00, Monsoon
Burgundy Ribbed Turtle Neck Dress, £24.99, New Look
This burgundy colour is a great alternative to black this season as it's easy to style. The ribbed texture and roll neck features give is a super wintry feel. Pair with black tights and ankle boots to complete the look. Burgundy Ribbed Turtle Neck Dress, £24.99, New Look
Grey Patchwork Jumper Dress, £89.00, Sosandar
The patchwork effect on this dress is great for this A/W as details and prints are big this season. Dress is down with a pair of comfy trainers or style it with thick tights and ankle boots for a cosy autumnal look. Grey Patchwork Jumper Dress, £89.00, Sosandar
Oscar Cashmere Turtle Neck Mini Dress, £390.00, Net-A-Porter
This beautiful shade of khaki is ideal for A/W and subtly plays into the military trend this season. The cashmere will make the jumper dress feel light and soft against your skin and keep you warm during colder winter days. This cosy number is a great addition to your winter wardrobe this year. Oscar Cashmere Turtle Neck Mini Dress, £390.00, Net-A-Porter
Mozart Mix High Neck Jumper Dress, £80.00, French Connection,
This jumper dress captures the layering trend this season effortlessly, with the rib knit jumper overlaying the white shirt underneath. Pair it with leggings or tights for a chic effortless look. Mozart Mix High Neck Jumper Dress, £80.00, French Connection,
Navy Check High Neck Dress, £30, Next
This navy check dress is a brilliant addition to your winter wardrobe. The rich navy colour with the olive coloured check contrast makes the knit appear more expensive. Try styling it with clashing colours or metallics for a bold but on trend autumn look. Navy Check High Neck Dress, £30, Next
Sleeveless Cowl Neck Knitted Tunic Dress, £14.00, George
Perfect for layering this season, this cosy sleeveless tunic dress is ideal on top of a long sleeved grey knit underneath. The cowl neck feature will also keep you warm during the cold winter months. Sleeveless Cowl Neck Knitted Tunic Dress, £14.00, George
Cable Knit Dress, £32.00, Next
Nothing beats a chunky neutral knit, and this jumper dress is a wardrobe staple you'll be reaching for over and over this season. Perfect styled with burgundy or navy coloured coat and a chunky grey hat or scarf to complete the wintry look. Cable Knit Dress, £32.00, Next