The best coat trends for 2022—9 winter coat trends to wear now
These are the 2022 winter coat trends that will make you love the cold weather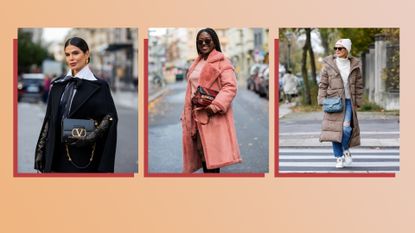 (Image credit: Getty Images / Future)
Knowing the key coat trends for 2022 will help you invest in outerwear that is chic, practical, and will go the style distance.
Shopping for the key winter coat trends early in the season means you'll have the pick of all the top styles, but if you've waited until now to wrap up, don't worry. There are still plenty of affordable, warm, and fashionable coats available. And because fashion notoriously works months in advance, procrastinating might work in your favor, as brands start reducing prices to clear space for new season arrivals.
The A/W catwalks presented a plethora of covetable silhouettes, cuts, and textures. From smart checks and sleek leather to cozy shearling and eye-catching color pops, there were a lot of coat trends options. Fast fashion followed suit and this season there's a coat to flatter and fit every style, shape, and budget.
But which type of coat to buy? What options take the title of the best winter coats? To help you navigate this bumper offering, here are the nine hero winter coat trends to know about.
Winter coat trends for 2022
The cape has become one of those trends that reemerge every few years, so if you're looking at how to build a capsule wardrobe, a cape is a great choice as its reentry to the spotlight is inevitable. This trend is great for those who love to layer but can be a tricky one to execute. For easy (and warm!) daytime style, wear your cape over a leather jacket, or try a pair of long leather gloves for instant evening glamour.
Fashion Editor Picks
---
---
---
One of the biggest style hits of last year, "Dopamine Dressing", continues to be one of the biggest fashion trends for 2022. This trend is all about using mood-boosting brights to elevate your outlook and it's pretty much guaranteed to make those around you smile too. This coat trend is available in a range of fabrications, from super soft teddy to tailored silhouettes. To avoid picking a coat that will date, learn what color suits you and buy one in your signature shade. If you're still not sure, we recommend looking for budget-friendly buys that give you the trend injection without the hefty price tag.
Fashion Editor Picks
---
---
---
If you're looking for a real investment piece, then you can't go wrong with monochromatic herringbone. While this trend is seeing a particular resurgence right now, it is a style that is ever-present across the high street and beyond. Usually tailored, a herringbone coat will instantly smarten up your look, and largely made in wool fabrications, they often guarantee a good level of warmth.
Fashion Editor Picks
---
---
---
Marrying fashion and practicality, this silhouette has really been embraced by street-stylers and editors alike. The quilted layers ensure you have extra insulation for those colder days, but unlike a puffer coat, a quilted coat is lighter, adding little in terms of bulk and is reminiscent of some of the best parkas around. This quilted style is a great warm winter coat that won't weigh you down too much.
Fashion Stylist, Antonia Kraskowski agrees, 'My favorite coat trend this season has to the be oversized quilted Parka, particularly those with wavy ripstop stitching. Not only does this trend look effortlessly cool in a sports-luxe way but it's actually warm, which means you don't have to sacrifice style to stay toasty on chilly days. From its origins at The Frankie Shop to Mango and M&S, this style has filtered down to the high street surprisingly quickly, meaning that it's accessible to every budget too.'
Fashion Editor Picks
---
---
---
A shearling coat or jacket is a standout favorite amongst the fashion pack. Drawing inspiration from vintage flight jackets and later from seventies fashion, this is a really cozy and stylish look to see you through the winter months. While actual shearling is from sheep, most brands use synthetic shearling style alternatives that expertly mimic the fabrication and feel. This fabric development has also made this trend more accessible and budget-friendly.
Fashion Editor Picks
---
---
---
The teddy or teddy bear coat is the coziest of coat trends. Warm, fuzzy, and immediately comforting, wearing one of these textured pieces of outerwear will make you feel safe and protected against the elements. In a range of hues and sizes, there is something for everyone in this huggable style. As this look can be quite dramatic, you can easily wear this look for smarter or more casual occasions.
Award-winning fashion influencer and model, Louise O'Reilly of Style Me Curvy (opens in new tab) agrees (pictured, above right). 'Teddy coats are one of my winter go-to's. I tend to lean towards bright colorful styles for an instant wardrobe lift. They work with pretty much everything while keeping you warm and cozy too. My favorite places to shop teddy coats for curves include Next (opens in new tab), Dorothy Perkins Curve (opens in new tab), V by Very (opens in new tab)'.
Fashion Editor Picks
---
---
---
A wardrobe staple, the best camel coats never date. Made iconic by Max Mara, the camel coat is one of a few styles of coat that every woman needs in her wardrobe. Often tailored and usually knee-length or longer, this style is particularly popular in wool or wool-mix fabrications. Look for double-breasted button detailing or wrap fronts with fabric belts for added detail. Find that self-tie fabric belts easily come undone? Swap out fabric belts for buckled leather belts to instantly customize your look and ensure the wrap of your coat stays firmly in place.
Fashion Editor Picks
---
---
---
Leather items do carry a high price tag, but the best leather jackets and coats really improve with age and are true investment purchases. A brand new pristine, buttery soft leather coat or jacket is a thing of absolute luxury, but with a little time, the leather starts to gain its own story and charm. With a growing eco-conscious and vegan market though, faux leather, PU, and vegan leather options have greatly improved, making this coat trend more accessible to all, without compromising on style.
Fashion Editor Picks
---
---
---
A personal favorite, the puffer coat trend is one of the coziest and warmest out there right now. This style has been around for a few seasons and differs from the quilted coat trend which is much lighter. Puffer coats are all about ultimate warmth and protection and as this trend has hit the spotlight some of the most popular puffer coats have come from outdoor clothing brands, including the best North Face jackets that have been a big hit, even gaining a cult following as they deliver this practical winter coat trend with ease.
From feathered down styles to eco-conscious synthetic-filled styles, this is the look that will make you feel like you're still wrapped in your duvet when you're actually halfway to the train station.
Puffer coats can be daunting for some as the added bulk is believed to be unflattering. But have no fear, you can learn how to pick a flattering winter coat and make this trend work for you. Add shape back to your silhouette by opting for longer line coats that either come with a belt, or add your own belt to help define your shape.
Fashion Editor Picks
---
---
How to store your winter coats
Investing in a good winter coat is a must, particularly in climates that can really see temperatures plummet. A well-made piece of outerwear should last you for several years, but it's important to take care of your coat too. Before you pack your coat away in the spring, make sure to wash or dry clean it (according to individual items care instructions) and then pack it away in a dust cover or vacuum-sealed bag. That way it will be pristine and ready come the end of fall.
Rivkie is a fashion editor, writer and stylist with over fifteen years' experience in the industry. Having studied design and pattern cutting at the London College of Fashion, Rivkie fell in love with styling and journalism, covering fashion weeks in London, Paris and New York.
Specialising in plus size fashion, Rivkie has long championed that style is for everyBODY and has been a regular talking head on a host of radio stations and television shows, pushing for greater representation for plus size women and fashion throughout her career.