Should women over 40 cut their hair? Our beauty editor says no, and here's why
Should women over 40 cut their hair? Our beauty editor and top stylists wade in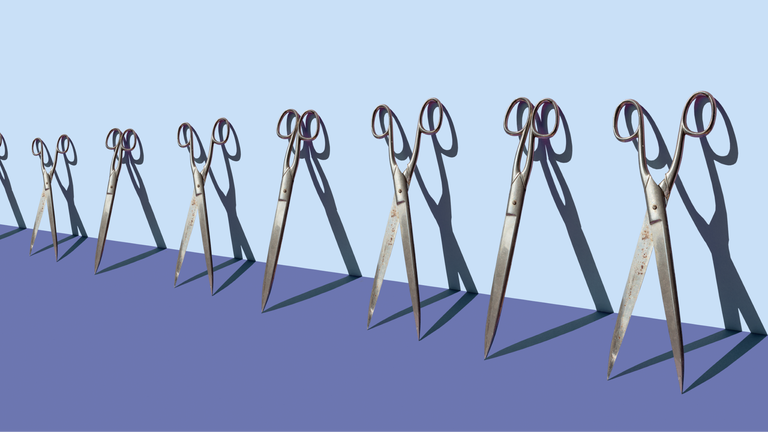 (Image credit: Getty images)
Should women over 40 cut their hair? Let's begin by saying, no, I don't think anyone should have their haircut dictated to them, particularly not because of something as arbitrary as age.
If your long flowing hair is your pride and joy, you keep it in great nick with the best hair dryer and treat it right with regular trims and masks et al then brilliant. Keep on keeping on and don't even think about chopping it off simply to conform to a socially constructed expectation of "appropriateness".
Having said that, there is a clear trend for shorter haircuts past a certain age. Think about your friends and family in their 40s, 50s and beyond – mostly short-haired, right? And I doubt all these women are all simply being cowed by tradition, so there must be something in it.
I caught up with two top stylists to investigate.
Should women over 40 cut their hair?
Katie Allan, creative manager at Charles Worthington Salons, says, "It's true, a lot of clients at 40+ prefer their hair to be no longer than shoulder length," says Katie. "The reason for this varies, but it's mostly due to having damage and brittle-looking or thinning hair. Taking into consideration that most woman above the age of 40 colour their hair to hide greys, this can make it more vulnerable to damage. Often when the hair is longer than shoulder length, the condition of the hair can become compromised and it can start to look unhealthy, and this can be ageing."
This all sounds pretty reasonable (if a smidgen depressing) and is backed up by A-list anecdotal evidence. In the year she turned 50, supermodel Cindy Crawford admitted to cutting five inches off her hair, trimming her signature flowing mane into a slightly shorter mid-length style.
However, far from bending to pressures from society, Crawford was simply "trying to be kinder" to her hair. After decades of heat styling, her hair was damaged, so a cut seemed like the simplest and best way to restore health and vitality.
Hollywood actor Demi Moore, has taken a different approach to her hair
Rather than going for the chop, she simply took a step back from heat styling to protect her hair. The 57-year-old has no plans to cut short her signature long locks anytime soon. But over the years, her hair has become finer, so she changed her styling habits, cutting out unnecessary curling or regular use of even the best hair straighteners to keep it in good condition.
"If I'm not working or going to an event, I don't blow dry my hair, or flat iron it, or curl it," Demi told US beauty bible Allure. "I have a lot of hair, but it's fine, so I find giving it a break from those stressors really helps to keep it healthy."
However, although stars like Demi have chosen to maintain their longer style, short haircuts for women over 40 are an undeniably popular choice. Why is that the case?
Why do women over 40 choose to cut their hair?
John Frieda salons senior stylist Nadia Dean agrees that shorter hair appeals to women as they get older: "Some women feel that long hair is pulling their features down and not giving their face the lift it needs. You can make changes to your cut at various points in life, just like hair colour and makeup, but not necessarily go for a big chop at a certain age milestone."
Of course, it's not just our ever-changing looks that drive a desire for a shorter 'do – lifestyle and fashion play important roles, too.
"I don't believe anyone should change their hair just because of their age," says Katie. "However, I do believe that if your lifestyle has changed, then it can be the right decision. Shorter hair is typically a lot easier to maintain, so many women will come in for a less demanding hairstyle. Regardless of the reason, I would recommend most women have a shorter style, as I think it can make a woman appear more youthful."
What are the most flattering styles for women over 40?
"I personally love a blunt midi length with internal shape on my clients of 40+," says Katie. "This is for two reasons. Firstly, it's an easy wash-and-go, and secondly, it's classic and stylish. If my clients are feeling a little braver, then I recommend going for more of a pixie – an asymmetric fringe with soft graduation in the nape. This can be stunning for the profile!"
Nadia agrees that shaping is crucial. "If your hair is finer, or the texture isn't what it was, then a really good cut would work," agrees Nadia. "It could be a few layers that gives you more width and lifting effect or a fringe hairstyle, which is almost always flattering. Fringes can disguise frown lines and look really cool; long bob hairstyles are a good intro to shorter hair. Be wary of long straight hair, which can look harsh on features, and make sure you give a restyle lots of thought in advance.
Ultimately, both experts and I agree that this is all about the individual. "A great cut should flatter and enhance your best features; there are lots of long styles that are great for older women, which are less angular," says Nadia.
"Haircuts should be chosen for the individual client, not for age."
Amen to that.
Fabulous short, mid-length and long hairstyles for 40-somethings
Need some inspiration? Check out a range of styles from actresses in their 40s that prove you can wear your hair at any length, at any age.
Short: Naomi Watts
The Oscar-nominated Australian actor frames her features by opting for a short bob that works beautifully with her fine blonde hair.
Short: Lena Headey
The striking Game Of Thrones star wears any style well, but she particularly rocks this short choppy cut with its tousled top.
Short: Michelle Williams
Michelle's platinum pixie crop looks great dressed up or down. This short cut disguises fine hair and draws attention to Michelle's killer cheekbones.
Mid-length: Retta
Here, Good Girls and Parks And Recreation star Retta sports a lob with soft tousled curls for a distinctly feminine look. The peachy pink proves bold colours can be flattering and feminine.
Mid-length: Kate Winslet
Oscar winner Kate wears her hair just below the shoulders in a flattering mid-length style and honeyed tones that complement her skin.
Mid-length: Kerry Washington
Kerry's oval-shaped face allows her to wear her hair at all lengths, but this sophisticated, wavy lob adds a touch of contemporary cool.
Long: Sofia Vergara
Sofia is known for wearing her hair long. She shows no sign of stopping – and why should she? She looks stunning with long straight locks with caramel lights that complement her skin tone.
Long: Jennifer Garner
Proof that long is luscious, Jennifer's loosely curled locks are layered to frame her face and help create a little volume, while ultra-fine highlights lift the look.
Long: Halle Berry
Halle's style is supremely flattering. While her hair comes past her shoulders, it's lifted by layers, including a layered fringe and mid-blonde highlights that frame her face to perfection.
As woman&home's Beauty Channel Editor, Fiona Mckim has tried more beauty products than she's had hot dinners and nothing makes her happier than raving about a brilliant find on womanandhome.com or her instagram grid (@fionamckim if you like hair experiments and cute shih-tzus). Fiona joined woman&home as Assistant Beauty Editor back in 2013, working under industry legend Jo GB, who taught her everything she needed to know (clue: learn about ingredients and employ extreme cynicism).