The best flower fragrances for spring that will leave you smelling fresh, not stuffy
All the floral perfumes full of lovely flower fragrances we're loving this spring that won't leave you smelling like a florist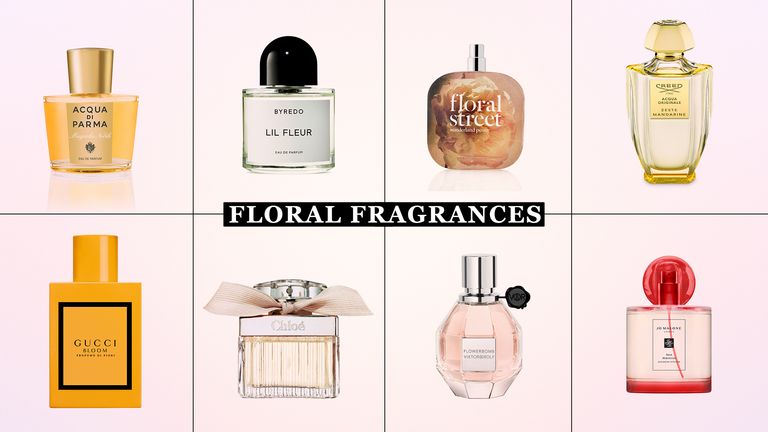 (Image credit: Future)
As soon as the spring months hit, the brighter skies and growing blooms outside tend to ignite that creeping urge to go and splash out on some floral perfumes full of flower fragrances.
While most of us have probably got a steady perfume arsenal already, the change in weather (which inevitably always brings a shift of mood and perspective) leaves us craving something fresh, upbeat, and outdoorsy.
So just like the season switch calls for a change in skincare ingredients and a usually much lighter and fresher skincare routine, it also leaves us moving away from deep and heady perfumes and towards lighter flower perfumes.
But with flower fragrances can often come the risk of smelling like you've just walked through a field of blooms or had an unfortunate encounter with some stubborn lily pollen, so if you're after floral perfumes that are a bit less in your face, then it's important to choose your spritz carefully and opt for one with a number of well-blended notes.
Luckily, whether you're looking for a signature flower fragrance or are a self-confessed perfume polyamorist (guilty) and want a new addition to your collection, there are plenty of nuanced and delicate floral perfumes to choose from if you want to embrace the spring without smelling like you've just stepped out of a stuffy florist.
1. Jo Malone Red Hibiscus Cologne Intense
Top notes: Mandarin | Heart notes: Red hibiscus, ylang-ylang, jasmine | Base notes: Vanilla | RRP: $198/£134 for 100ml
Red hibiscus shines through in this sweet and floral scent that conveys the tropical notes without being sickly, while mandarin lifts it with a touch of soft citrus.
---
2. Acqua Di Parma Magnolia Nobile Eau de Parfum
Top notes: Calabrian bergamot, Sicilian lemon, Sicilian citron | Heart notes: Magnolia, Bulgarian rose, tuberose absolute, jasmine sambac absolute | Base notes: Sandalwood, patchouli, vetiver, Madagascar vanilla | RRP: $167/£142 for 100ml
Delicate notes of magnolia, rose, tuberose and jasmine are lifted by juicy citruses in this fragrance, which is grounded by warm woody notes that linger on the skin.
---
3. Gucci Bloom Profumo di Fiori Eau de Parfum
Top notes: Jasmine sambac absolute | Heart notes: Natural tuberose, jasmine bud extract and ylang ylang | Base notes: Sandalwood accord, sun drenched wood accord, orris concrete, benzoin and musks | RRP: $135/£105 for 100ml
Where there's a floral perfume, there's Gucci. First, their Gucci Flora won fragrance fans the world over, and then Gucci Bloom came along - and we love this newest twist on the Bloomr range, which blends sophisticated florals with bright but creamy woody and musky notes for an elegant floral finish. It has become our latest obsession!
---
4. Creed Zeste Mandarine EDP
Top notes: Lemon, orange & petitgrain | Heart notes: Lemon & mandarin | Base notes: Orange blossom, orange, patchouli & petitgrain | RRP: $315/£220 for 100ml
Creed's newest offering is all about transporting you to sunny and flower-ridden distant shores. Patchouli and orange blossom bring nuanced floral notes to the perfume, which are softened by the citrus hint from the fruits.
---
5. Viktor&Rolf Flowerbomb Eau de Parfum
Top notes: Tea, bergamot, and freesia | Heart notes: Sambac jasmine, cattleya orchid, and centifolia Rose | Base notes: Amber, cashmeran, and patchouli | RRP: $165/£110 for 100ml
While this sounds like it would be one of those that leaves you smelling like a florist, it's lifted by zesty tea and bergamot and grounded by creamy cashmere and warm amber for a comforting floral all-rounder.
---
6. Coach Floral Eau de Parfum
Top notes: Pineapple sorbet, citrus coeur, and pink peppercorn | Heart notes: Rose tea, jasmine sambac, and gardenia | Base notes: Crystal musks, creamy wood, and patchouli essence | RRP: $102/£69 for 90ml
This rosy jasmine offering is complemented by juicy pineapple for a touch of tart sweetness, while woody and musky base notes give it a warmth that tones down the floral heart.
---
7. Floral Street Wonderland Peony Eau De Parfum
Top notes: Blackcurrant, pink pepper, Sicilian lemon | Heart notes: Pink berries, pink guava, violet, peony accord, and raspberry flower | Base notes: Vanilla bean, pink candy floss, cedarwood, and vetiver | RRP: $116/£98 for 100ml
Peony has become the standout flower of the spring months, so of course, we had to include this ode to the beautiful bloom, which is packed with juicy fruits and sweet base notes for a lovely spring spritz.
---
8. Byredo Lil Fleur Eau de Parfum
Top notes: Cassis, tangerine, saffron | Heart notes: Damascena rose (oil), leather | Base notes: Blonde woods, amber, vanilla | RRP: $210/£178
Nuance is what Byredo does best, and we love their expert blending in this floral offering. Rose is the star of this spritz that is grounded by sweet vanilla and warm amber. And the touch of saffron adds a hint of earthiness that we love.
---
9. Chloé Signature Eau de Parfum
Top notes: Lychee | Heart notes: Damascena Rose essence | Base notes: Amber| RRP: $132/£89 for 75ml
A global bestseller that has spawned many a bargain dupe, but nothing will ever live up to the original that heroes the rose note and introduces a curious hint of sweet and juicy lychee as warm amber lingers throughout the day.
---