The best self tan to achieve flattering, believable bronzing for every skin tone
The best self tan to suit everyone, from mousse to mists and instant body makeup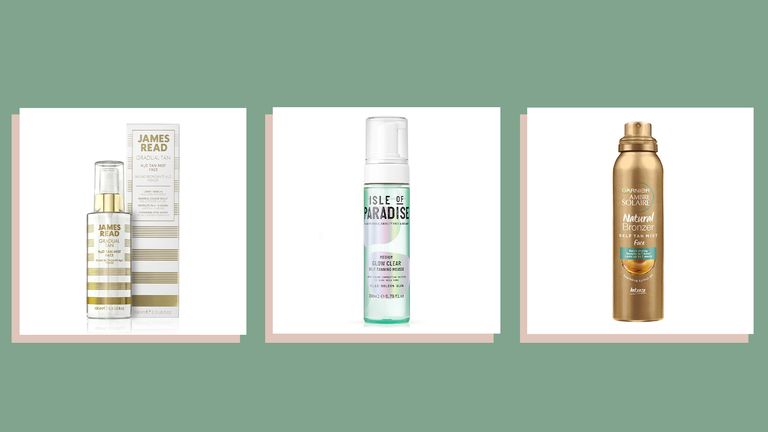 (Image credit: Future)
The best self tan for you depends on a few factors. Shade, texture of product and budget all play a part, but even more important than that is your own personality and tanning behavior. The scope of self tanners runs from nervous first-timers who want the tiniest hint of glow to hardcore bronze-happy babes who wouldn't leave their house without a coating of ultra-deep mousse. Happily, the self tan market is so vast there's a product out there to suit both sides of that spectrum and everyone between.
In this respect, self tan has more in common with complexion makeup like the best foundation than it does other body products like summer nail colors or the best body exfoliators. The choice is deeply personal, and the options can seem overwhelmingly vast. But it's worth doing a bit of research and finding the best self tan, as once you've nailed what suits your lifestyle you'll be set. Set to enjoy the tone-enhancing, glow-imparting and general confidence-boosting powers that a great tan can bring.
Needless to say, no skin or beauty expert would ever recommend frying yourself in the sun to build a golden glow when it is so easily achieved from a bottle. What's more, modern tanners have come a long way since the orange, biscuit-scented formulas you might remember from the early days of DIY bronzing. Whether you're a novice with no idea how to fake tan or seasoned pro looking for your next bronze hit, there's a self tan type to suit everyone. From creamy mousses and gradual body lotions to light mists that make the best fake tan for face or instant body makeup, these are the very best of each variety on the market today.
How to pick the best self tan for you
The varieties of self tan might seem limitless, but they broadly fall into four categories. Use our expert-led cheat sheet to work out which variety of tanner best suits your needs.
Developing self tans
The classic home tanning product. These usually come in mousse or liquid form and tend to give the deepest color in one go. "These are created for the well practiced tanner at home, due to the long lasting effects," says spray tan guru to the stars James Harknett. "They're also Ideal for a holiday, for those who don't want to sunbathe but long for that sun-kissed glow. The benefits are color that can last a good week with an aftercare regime. The downside is without correct skin preparation the tan can sometimes blotch, streak and not develop evenly."
Gradual tanning lotions
These look and behave like body lotions but offer subtle, developing bronze that you can add to day by day. "These are great for a first time self-tanner as it allows you to build your tan up," says James Read, spray tan artist and founder of James Read Tan. "The more you apply, the more golden your tan becomes. The first application will give you a weekend away look, the second a darker tan. Go for a third application if you want to look like you've just spent two weeks in Barbados."
Instant wash-off tanners
These act like foundation or bronzer for your body, can be applied speedily without any developing time then washed off when you're done. "A non commitment tan. Think body makeup to give an instant glow and even out imperfections," explains James Harknett. "These are Ideal for that last minute invite as it dries in seconds and can be rinsed away fast if something goes wrong. Ideal for first time and nervous tanners, but the downside is all that work of applying a beautiful tan is washed away in one shower."
Facial tanning drops and mists
These tend to be clear, gradual and include a mixture of skincare ingredients and tan. "They're perfect for anyone who wants a self-tan that allows them to carry on using their favorite skincare and makeup," says James Read. "Tanning drops are great for customizing your glow—the more you drop, the more you glow and people love to have this choice as it puts them in control. Mists are fuss-free, won't transfer onto clothing or bedding and are great to mist over makeup, sunscreen, or moisturizer."
The best self tan, as chosen by our experts
Classic developing tans
1. St Tropez Ashley Graham Ultimate Glow Kit
Best mousse/liquid developing tan overall
Specifications
RRP: $53/£38
Texture: Mousse
Key features: Coconut water; white flower scent
Reasons to buy
+Easy to use+Hydrating+Classy fragrance
St Tropez might just be the biggest name in sunless tanning and this new-gen developing tanner shows why they've held that position for over a decade.
It's a classic mousse that develops in around four to eight hours, after which you rinse the guide color and go. There is nothing particularly new about this tanning protocol but what St Tropez have done is simply finessed every element of the experience. The mousse is ultra creamy and hydrating and doesn't dry out your skin, the guide color is natural-looking enough to be worn through the day and thanks to an uplifting floral fragrance it smells like summer, not biscuits.
The longer you leave it on for, the deeper the shade. This makes it a pleasingly customizable option for various skin tones and tanning desires. We found 2-3 hours ample for a natural-looking glow. This limited-edition kit—a collaboration with supermodel Ashley Graham—packages it up with a mitt, which is handy. Here's hoping this product lives on forever in the permanent collection.
2. Isle of Paradise Glow Clear Self Tanning Mousse
Best budget mousse/liquid developing tan
Specifications
RRP: $28/£19.95
Texture: Mousse
Key features: Avocado oil; color correcting; 3 shades
Reasons to buy
+Very hydrating+Customizable shade+No messy guide color
Reasons to avoid
-Best for confident tanners
A-List tanner Jules Von Hep's brand brings positive vibes only to the self tan market with it's inclusive campaigns and joyful products for every skin tone. This particular product works much like a traditional tanning mousse, with a few crucial differences.
Firstly, and most notably, it's transparent. This will be a good thing for confident tanners, who can pop it on before bed or at the beginning of a day and gradually develop a tan without worrying about guide color transferring onto sheets, clothes or just simply looking a bit odd. That said, if you aren't a regular tanner you might prefer to use a tan that you can see where you've put it to avoid streaks.
Color aside, this also stands out as the three shade options—light, medium, dark—each offer color-correcting properties and are packed with nourishing oils like chia seed, avocado, and coconut. You can sense this in the rich texture of the mousse and plump bounce of skin after applying. The color, once developed is on the deeper side, so if you are fair definitely stick with light unless looking ultra bronzed is the goal. Those with deeper skintones will likely adore the proper tan 'hit' of the medium and dark shades.
3. Amanda Harrington The Body Set
Best luxury mousse/liquid developing tan
Specifications
RRP: $123/£89
Texture: Mousse
Key features: Includes primer and brush; 3 tones available
Reasons to buy
+Complete tanning and contour system+Luxurious finish +Caters for many tones
Reasons to avoid
-Time-consuming
Yep, that's nearly $125 (£90) for your self tan, but in all fairness you do get three products for that investment, plus a specific tanning protocol that is a real cut above the usual mousse and mitt job.
Essentially, A-list tanner Amanda Harrington has elevated self tanning to an art form with her specific protocol. Begin by applying the hydrating primer and bronzing mousse with rubber glove-clad hands, then buff buff buff with the giant brush. Next, follow a detailed illustrated guide to re-bronze outer legs, stomach and arms for body contouring trickery.
Leave it to develop overnight (where despite a fairly deep guide color it somehow fails to rub off on your sheets) wash it off and marvel at the natural tone and undertone, thanks to a choice of three shades, plus a hydrated, subtly enhanced silhouette. There's no denying it's more effort than slapping on your tan and being done with it but for a special occasion the results make it more than worthwhile.
Gradual tanning lotion
4. Sienna X Gradual Self Tan Lotion
Best gradual tanning lotion overall
Specifications
RRP: $23/£16.95
Texture: Lotion
Key features: Aloe vera; cocoa butter; coconut scent
Reasons to buy
+Olive undertone+Skin nourishing ingredients +Non-sticky texture
Reasons to avoid
-Nozzle can get clogged
Sienna X create some of the most revered-by-professionals spray tans on the market, with a sideline in excellent home products too. The secret? Undertone. Almost everything this brand does shares a brilliantly natural-looking olive base that's miles away from the orange disasters some might associate with self tanning.
This gradual lotion would be a great introduction to the brand, offering the option to build up a believable bronze color bit by bit. Apply it as you would your body lotion, enjoy the tropical coconut fragrance and non-claggy texture, and repeat as you like on subsequent days.
Some gradual tans require a good two to three applications before you even notice a difference but this offers a subtle yet tangible glow right from go one, without being scarily noticeable. A little goes a long way, so it's great value too. One gripe: After repeated use the skinny pump nozzle can get a little clogged up. It's easily picked out so no great issue, but seeing as this is pretty flawless otherwise it would be nice to have that little packaging issue ironed out.
5. Dove DermaSpa Summer Revived Body Mousse
Best budget gradual tanning lotion
Specifications
RRP: $14/£9.99
Texture: Mousse
Key features: Moisturizing formula; 2 shades
Reasons to buy
+Nourishing feel+Very gradual +Great value
Reasons to avoid
-Easy to apply too much
If you are a total self tan newbie and want a product it would be nigh-on impossible to mess up, Dove's recently reformulated mousse should be on your shopping list.
First and foremost, it's very gradual. So much so that after one application you might think, huh, did that do anything? Rest assured it did as after round two you'll see a subtle golden color start to build. The beauty of this layered approach is, should you miss a patch or not wash your palms thoroughly enough, each coating is such a subtle veil of color there's no chance anyone else will spot it.
Shade aside, the texture is a bouncy rich mousse that's supremely easy to apply using your hands (or a mitt, if you prefer) and smells fresh, fruity, and summery. A little goes very a long way, which is mostly a good thing as you're less likely to miss large areas, but do be careful when pumping it out of the aerosol or you could end up with far too much on your hands.
6. COOLA Sunless Tan Dry Oil Mist
Best luxury gradual tanning lotion
Specifications
RRP: $59/£43
Texture: Oil
Key features: Argan oil; aloe vera
Reasons to buy
+Luxurious texture+Subtle color+Exotic fragrance
Reasons to avoid
-Oil not for everyone
Despite a longstanding belief amongst tanners that oil is the enemy of self tan, this clever product proves the two can make happy bedfellows under the right circumstances.
This mist comes from a brand better known for their weightless SPF formulas and doesn't specifically bill itself as a gradual tanner. It does seem to fit the criteria however as the nourishing dry oil formula is more than happy to be left on the skin, behaving more like a classic body oil but offering subtle and buildable bronzing.
Obviously, not everyone likes oils. But this is a dry and quickly-absorbed oil that won't ever leave you feeling slick or make a mess on your clothes. It also smells absolutely delicious, like a pina colada mixed with sun cream. So not only will your skin have a post-holiday glow, it'll have a mid-holiday fragrance too.
Instant self tan
7. Vita Liberata Body Blur
Best instant self tan overall
Specifications
RRP: $41/£29.95
Texture: Cream
Key features: Shea butter; glycerin; soft focus particles
Reasons to buy
+Ultra transfer-proof+Blurring finish+A little goes a very long way
Reasons to avoid
-None, this is excellent
We'll come right out with it: This is the Beyoncé of instant tans. It's no exaggeration to say you wouldn't catch us on holiday or in a party dress without a bit of this on our legs.
Essentially it acts like body makeup and glosses over all those little things that might make one reluctant to wear a mini—mottled skin, cellulite, thread veins, and little bruises that hang around long after you knock your shin on the coffee table. Even if you don't especially want to look bronzed, it will even everything out, blur over bumps and give skin a soft focus sheen that will boost your confidence.
Often the main fear with instant tans is that they will rub into clothes or dribble down our ankles at the first hint of precipitation, but this is totally unbeaten for its staying power and has a five-strong shade range that should adapt to most tones.
8. Bondi Sands GLO Matte One Day Tan
Best budget instant self tan
Specifications
RRP: $14/£9.99
Texture: Cream
Key features: Cucumber fruit water; matte finish
Reasons to buy
+Natural-looking color+Water resistant +Instant effects
Reasons to avoid
-Matte finish won't suit all
An excellent, budget-conscious choice for occasions when there's just not time to wait eight hours for a tan to develop. Apply it as you would any instant tan or body make-up—fingers is usually fine, although a mitt can make blending a bit easier—then leave it for a few minutes to set in place before dressing.
As with most instant tans this is best suited to use on the body, as even this universal shade definitely gives a great thwacking hit of bronze color that can look a bit much on the face. It's matte, which is certainly preferable for a natural look, but if its a high-glamour glow you seek you might prefer something with a radiant finish.
As for the transfer test, this fared very well indeed, surviving a hot, humid day and brief dip in a paddling pool. It requires a bit of welly to remove in the shower but most tanners will find it a fair trade for an instant tan you can trust not to smudge onto your sofa.
9. Alleven Colour Shield Hydrating Tinted Protection
Best luxury instant self tan
Specifications
RRP: $97/£70
Texture: Mist
Key features: Argan oil; 6 shades
Reasons to buy
+Very high coverage+Airbrushed effect+Good shades for darker tones
Reasons to avoid
-Can be messy to apply
Like all the best instant products, this sits somewhere between body makeup and self tan. The main USP is a classy mist-it-on protocol that gives legs, arms, and anywhere else you fancy a smoothed-out bronzed and airbrushed appearance.
The application takes a little bit of getting used to—hold it fairly far away and mist in long sweeps over the skin. Don't go to close or an stay in constant motion for the best chance of smooth application success. It's worth getting the knack though, as once it's on this stuff is hardcore transfer-proof and seriously flattering. The six-strong shade range extends from very light to the very deepest tones, meaning you can pick a true match for skin perfecting or deeper one for tanning.
Whatever you use this for, you'll love the way it makes your skin look and how much you can trust it not to budge. So much so you'll forgive a little mess from the spray (easily wiped off the bathroom tiles, promise).
Facial self tan
10. James Read Gradual Tan H2O Tan Mist for Face
Best facial self tan overall
Specifications
RRP: $28/£20
Texture: Mist
Key features: Rose water
Reasons to buy
+Light, fresh mist +Gradual tanning +Hydrating
Reasons to avoid
-Mist won't suit all
If you're not in the market for an all-over tan, perhaps a hit of healthy glow in your complexion could work instead? If so, you couldn't do much better than this hydrating mist from tanner-to-the-stars James Read.
This is tanning at it's very easiest and most pleasant. Just spritz the aloe vera and rosewater-infused water onto clean skin, let it dry for a minute or two then you're done. Expect a subtle color to begin developing after four hours or so, then you can top up as and when you wish to build. There's no grubby guide color and nothing to wash off, plus it plays nicely with other skincare and makeup.
It's hard to imagine who wouldn't like this, although if you like to completely control where your self tan goes then the mist action might bother you, in which case facial drops or a serum would suit. As a pro tip, James recommends to "leave the mist in your fridge especially in the summer months for a cooling effect."
11. Garnier Ambre Solaire Natural Bronzer Quick Drying Dark Self Tan Face Mist
Best budget facial self tan
Specifications
RRP: $12/£8.49
Texture: Mist
Key features: Apricot oil; one hour developing
Reasons to buy
+Speedy developing +Easy mist action+Good color
Reasons to avoid
-May be too dark for some
This product looks a lot more intimidating than it really is. This largely comes down to the aerosol can which might not be the go-to facial tanning option for beginners, conjuring up images of a high-speed blast of bronze. Newbies shouldn't discount this though, as what emerges is a super-fine and evenly spread mist of translucent tanning water. Hold it far away, as ever with sprays, and you'll be golden.
Can aside, there is plenty to love about this, not least the exceptionally good value price tag. The dark shade probably won't suit very fair skin but if you're naturally olive or deeper, it'll offer a decent level of bronzing in as little as one hour. You're looking at four hours for the full effect, a pleasingly speedy result.
In fact, everything about this is quick. Applying, drying and developing. It settles nicely under makeup as long as you give it a minute first, then you can just forget about it until that golden, streak-free glow starts to emerge.
12. Tan-Luxe Super Glow Hyaluronic Self-Tan Serum
Best luxury facial self tan
Specifications
RRP: $48/£35
Texture: Serum
Key features: Hyaluronic acid; botanical seed extracts
Reasons to buy
+Very nourishing formula+Customizable tanning+Mixes well with other skincare
Reasons to avoid
-Fragrance won't suit all
Sitting right in the sweet spot between self tan and skincare, this clever serum would suit anyone who finds traditional tanners drying, or pore-clogging.
You can tell from the moment you drop the silky serum on that this is absolutely packed with hyaluronic acid (HA) It's got that slippery, almost viscose texture typical of HA products, which means you know it's going to plump up your skin while also developing a nice bronze color. And what a color it is—subtle, glowy, and far from orange. It's no surprise this brand was founded by a Scottish entrepreneur. Take it from a Celtic writer: If you can bronze our complexions believably, you've got this tanning thing sewn up.
The other beauty of this product is how you can tailor it to your needs, use anything between two and 12 drops to determine how deep the shade develops. You can use it neat or mix it in with your other skincare to create a glow-giving cocktail. It's great for travel too, allowing you to top up a natural glow or turn any face cream or body lotion into a gradual tanner.
woman&home thanks James Harknett and James Read for their time and expertise.
As woman&home's Beauty Channel Editor, Fiona Mckim has tried more beauty products than she's had hot dinners and nothing makes her happier than raving about a brilliant find on womanandhome.com or her instagram grid (@fionamckim if you like hair experiments and cute shih-tzus)

Fiona joined woman&home as Assistant Beauty Editor in 2013, working under industry legend Jo GB, who taught her everything she needed to know (clue: learn about ingredients and employ extreme cynicism).
In a previous life, Fiona studied journalism back home in bonnie Scotland and honed her skills as a features writer at publications including Junior and Prima Baby, with a brief and terrifying stint on the showbiz pages of a tabloid newspaper in between. She's a skincare fanatic who can't resist adding an extra step to her routine, adores fragrance, has fun with makeup and never turns down the chance to test a new hair tool. Basically, she loves it all.

When not slathering herself in self tan or peering at a tiny ingredients list on a moisturiser, you'll probably find Fiona enjoying something to do with food - cooking it, eating it, cajoling her friends into trekking across London to try a hyped pop-up in a dirty car park.
Come to think of it, the hot dinners and beauty products are probably about even.